The Open is over. The top 1 percent of 262,036 athletes have qualified for the next stage of the CrossFit Games season—the Regionals. Starting on May 9th, the men and women who have qualified for Regionals will compete over the course of three days to determine the 40 men, 40 women and 40 teams that will be heading to the CrossFit Games in July.
Now, you could always choose to stream the events live on games.crossfit.com, but nothing compares to watching the action from the stands in person. If you won't be able to make it to the Games this summer, the Regionals are the next best thing. Who knows? Someone from your Regional might end up standing on top of the podium at the CrossFit Games, and you'll be able to say that you watched them compete in person! 2015 marks the introduction of the new "Super Regionals". In years past, the top 48 men and women and the top 30 teams from each region in the Open were invited to compete at one of 17 Regionals worldwide. In 2015, those numbers changed—though it varies from region to region:
Top 20 men, 20 women and 15 teams advance from regions in the U.S. and Canada.
Top 30 men, 30 women and 20 teams advance from Europe and Australia.
Top 10 men, 10 women and 10 teams advance from Latin America, Asia and Africa.
Those regions have been combined to create 8 new Regionals:
Canada West and North West Regions → West Regional
Canada East and North East Regions → East Regional
NorCal and SoCal Regions → California Regional
North Central and Central East Regions → Central Regional
South West, South Central and Latin America Regions → SouthRegional
Mid Atlantic and South East Regions → Atlantic Regional
Europe and Africa Regions → Meridian Regional
Australia and Asia Regions → Pacific Regional
From these 8 Regionals, the top 40 men, 40 women and 30 teams will advance to the ultimate proving grounds in Carson, California.
So what does this all mean? The Regionals are going to be more competitive—and more exciting—than ever before. Here is all the information you need to watch the competition(s) in person:
Dates and Venues
May 15-17, 2015 
South Regional
South Central, South West and Latin America
Dallas Convention Center
Dallas, Texas
Atlantic Regional
Mid Atlantic and South East
Georgia World Congress Center
Atlanta, Georgia
May 22-24, 2015
California Regional
NorCal and SoCal
Del Mar Arena
Del Mar, California
East Regional
North East and Canada East
XL Center Arena
Hartford, Connecticut
Pacific Regional
Australia and Asia
Win Sports & Entertainment Center
Wollongong, Australia
May 29-31, 2015
West Regional
North West and Canada West
Tacoma Dome
Tacoma, Washington
Central Regional
North Central and Central East
Minneapolis Convention Center
Minneapolis, Minnesota
Meridian Regional
Europe and Africa
Ballerup Super Arena
Copenhagen, Denmark
Getting tickets and pricing
Tickets to the regionals are on sale now. You can buy three-day or one-day passes through the "Get Tickets" block on the right-hand side of the CrossFit Games site.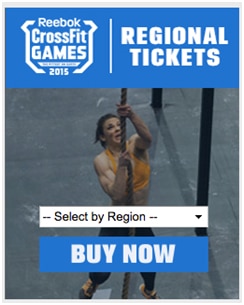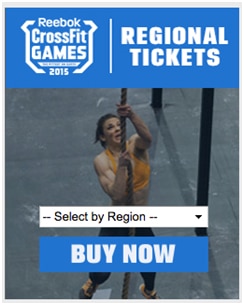 Three-day passes: US$50
Single-day passes: US $20
Hotels near the venues
http://www.crossfithotels.com/
Image courtesy of Phillip Elgie Media