With the absence of official CrossFit Facebook and Instagram accounts the birth of Sanctional events, a new scoring system, and some interesting wildcard invitations this year's CrossFit Games has thrown us all for a loop. Whether you dig the chaos of uncertainty, or you're a traditionalist at heart, it would be nice to have some sort of clarity as to what's going on in Madison this year.
With the Games just one day away, a lot of us are still pretty confused. So, in an attempt to clear some things up, we created a survival guide with the top 5 things to keep you in the know as you brace for Thursday's dramatic elimination event.
1. Wildcards
Wildcards are not a new idea. CrossFit has implemented its use in previous years. However, this year's choices seem to have a lot of people up in arms as it welcomes Hunter McIntyre, a pro American obstacle course racer to the field. The job of the Games is to find the fittest on earth, so drawing competitors from other sports isn't the worst idea. Another recipient of a wildcard slot is CrossFit legend, Ben Smith. Having competed in the Games every year since 2009 and standing on the podium for four of those years, the shift in qualification standards and wildcard rules gave him a well-deserved spot after overcoming a brutal knee injury this year. This leaves two open wildcard slots that have yet to be announced.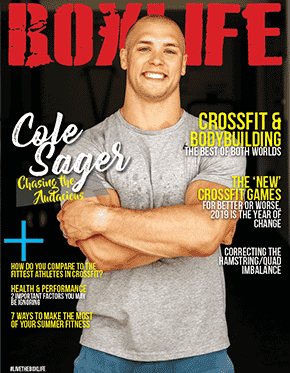 2. Cuts in the field
With the new Sanctional events this year bringing in more competitors from all over the world, the need for an accelerated elimination process was required. Amidst all the crazy changes, rest assured that one thing is guaranteed this year: the first event will be savage. One thing's for sure, this event will keep your attention as it promises to eliminate almost half of the field. With Dave Castro leading the charge, there's no way to know how this event will actually unfold-maybe you're picturing something as simple as Fran or something epic like a helo drop into the ocean for a brutal swim, no one can be certain.
3. Out with the old, in with the new… scoring system
For those that believe all events should be measured equally, this particular change will not make you too happy. CrossFit's new scoring system will consist of six separate cuts. As you read previously, the first cut will bring the field down from 148 men and 134 women to 75 competitors on each side. As the Games progress, the cuts will continue down from 75 to 50, then down to 40, 30, 20 and finally leave the competition with 10 for the final. While the maximum number of points athletes can earn during any event stays at a fixed 100, as the Games continue, the gap in points given will increase to each individual. While this scoring system will keep the competition close at first, by the end, athletes will be able to make up serious ground with the 10-point gap between finishers. This change will make it more difficult for competitors like Mat Fraser to pull away with the victory early on and easier for athletes who hang around and look for that big wheelhouse workout late in the game.
4. Broadcasting
Despite the whirlwind of change, you would think we could at least rely on consistency in how to access footage from the Games. Nope, not this year. With CrossFit trying to put on display how diverse and widespread the sport has grown, it only makes sense that they would allow each country to broadcast in their own unique way to their own unique cultures. In the past, big names in media (CBS and ESPN) have been given broadcasting rights. However, in lieu of the other changes, CrossFit has made the streaming of the Games accessible to anyone. An open-source broadcast allows fans and partners to share the content from their own perspectives. Followers will be able to access a channel menu guide to choose the format in which they watch.
5. Castro will still lead the charge
Whether you think it's a good thing or a bad thing, have no fear, we at least know that Dave Castro is, "…the director of the Games. Nothing's changed," according to Greg Glassman.
On top of the confirmation from Glassman, Castro's social media presence makes it clear that he is still very much involved.
https://www.instagram.com/p/B0fEJbvAmym/?igshid=1ix05rlyls56f
Image courtesy of CrossFit Inc.