Kristan Clever wins the Spirit of the Games Award.
Finishing 4th in the SoCal Region, she was invited to compete at the 2013 Games having been a former Games champ. This year, she maintained a positive attitude throughout the weekend, placing 32ndand competing on an injured ankle.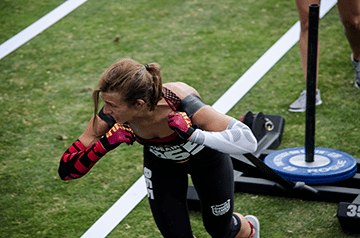 Though she placed 19th overall, Kaleena Ledeairou, 27, from CrossFit Port Chester, showed what she's made of taking 1st in three of the eight events: Row 1, Burden Run, and Naughty Nancy.
Hack's Pack UTE wins the Affiliate Cup for the 2nd year in a row but will not be the same squad next year.
"We've made a lot of sacrifices logistically to work together as a team. It took a lot of effort. We have very capable individuals at my gym that could have stepped in, but it was important for us to repeat with the same team, not just from the same gym. We made it work this year, but we have too much talent to stick with the Affiliate Cup. We have a few people that will get a kick in the butt to go Individual. We have one guy moving on to bigger, better things. So you won't see the same team next year, but I do hope that my gym represents well," said team leader Tommy Hackenbruck when asked if Hack's Pack will go for a three-peat.
Games rookie Amanda Goodman took the Soccer Stadium by storm when she completed her 235lb Clean & Jerk with impeccable technique, coming in 1st on the Clean & Jerk Ladder event.
She went on to successfully clean 240 but would miss the jerk.
Dave Castro talks Games programming.
"We spend a lot of time going back and forth planning the Games. We make good ones, we make bad ones. Even in application, it's an experiment. In the process, I was watching and planning the workouts for next year. Some ideas you have to hold off on until the timing is right."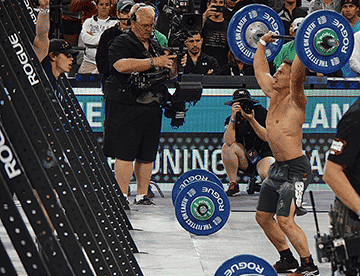 Event 9 on Saturday night is a Throwback to 2007.
The Individual athletes took a step back in time as they were asked to complete 2007's first CrossFit Games workout. A 1000m row, with 5 rounds of 25 pull-ups and 7 push jerks (135/85lbs) for time. Josh Bridges took 1st in this event, beating his personal record with a time of 8:33.8.
Event Milestone: For the first time in Games history athletes surpassed the 400lb for rep threshold. The Cinco 1 event required individual male athletes to deadlift 405lbs 5x during the 3 rounds of the Cinco 1 event.
The Games keep growing. This year the CrossFit Games welcomed 25,000 spectators more than a 2x increase from 9,000 fans in 2012.
The strength is in the hair. Canadian Lucas Parker known for his beard and Aja Barto known for his long locks tied for 1st in the Clean & Jerk ladder with successful lifts at 355lb.
Rookie Standouts. Garret Fisher, 22, and Alessandra Pichelli, 27 both from the NorCal Region had exceptional rookie performances placing 5th and 4th respectively. Fisher had seven top-10 finishes this year, while Pichelli, the former team Games competitor had five top-10 finishes and took 1st in the Legless Rope Climb event.
Consistency. Athletes making their 6th consecutive Games appearance and tying the record held by Chris Spealler: Matt Chan, Jason Khalipa and Rebecca Voight.
The fittest training partners on Earth. For six weeks prior to the Games, first and second place finishers Samantha Briggs and Lindsey Valenzuela lived and trained together. "It definitely helps because you push each other, and then when you're on the competition floor, you're there with a friend, says Briggs."
Rich Froning proves once again that he is the fittest man on Earth
, taking the top spot at the CrossFit Games for the third year in a row and  just over $275,000 in prize money.