"Have you ever heard the saying, 'Quit while you're ahead?'" These are the words of Michele Letendre, who qualified for her sixth consecutive CrossFit Games in May when she finished third at the East Regional. Six straight Games appearances is an astounding achievement, but we won't see any more from Letendre—at least as an Individual competitior.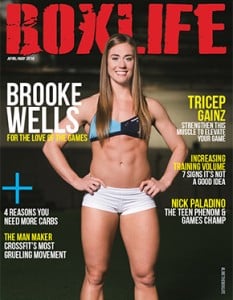 "There's been a priority shift," says Letendre, 30. "I love competing, but I also love coaching, I love working, I love life, I love variety—and I'm missing that right now. So I'm looking forward to having a normal life—doing my gardening, going to pottery classes, making food without thinking about macros, that kind of thing. So I'm thinking about living a bit more normally and shifting more towards coaching."
Though the 2016 Games may be Letendre's swan song, she also speaks of how training for the sport has impacted her life in a positive way. "[Training] has made everything a lot easier, because the amount of work ethic you need to build up to tolerate the training throughout the years makes the challenges of life easier. You get hit by waves of stress, injuries, media requests, but once you can handle that you can handle whatever life throws at you."
She also reveals that we, the CrossFit community, are mostly unaware of the dark moments that competitive athletes go through in training and competition. It's at those times, Letendre says, that she's had to rely on family and her relationships to see her through. "My boyfriend is the reason I'm competing this year. I didn't want to compete again after the Games last year, but my boyfriend knows me better than I know myself and he told me to give it one more year, and he was right."
That's not to say that Letendre won't miss being a competitive athlete on CrossFit's biggest stage. "That's one thing I've been trying to come to terms with. I've gotten used to hearing my name over the loudspeaker at the Games, but next year I won't hear that anymore. That's going to be hard, and I can't really prepare myself for that kind of disappointment—that's going to happen. I have to keep myself busy, and that's why I'm planning on taking pottery classes and things like that. But it is going to be a hard transition."
Our Top Pick
Transparent Labs Creatine HMB
Based on our testing, this is the best creatine for most people. It has the perfect dosage of creatine monohydrate per serving, which has been proven to increase muscle mass.
Pros:
Promote strength and muscle gains

Tested for purity and safety

Free from artificial colors
See on Amazon
See on Transparent Labs
Fortunately, Letendre's passion for coaching will soften the blow of moving away from competitive CrossFit. "Coaching gives me a real sense of satisfaction. When you compete, it's all about you. But when you're coaching, you see people who come so far and accomplish things they never thought they could, and it's one of the most amazing things I've been able to do and be a part of."
So when you tune in to the CrossFit Games this summer, be sure to soak in the exploits of one of CrossFit's greatest ambassadors as she bids farewell to the individual sport.
Michele Letendre career bio:
CrossFit Games Appearances: 2011 (25th), 2012 (24th), 2013 (13th), 2014 (4th), 2015 (18th)
Photo courtesy of CrossFit Inc 2014