You were wrong if you thought there was nothing you could do to make your treadmill training more intense.
Treadmill exercises can be effective on their own, but add some extra weight and get ready for a fitness party.
It doesn't matter if it's light weights or heavier ones. This extra push will break the plateau of your treadmill training.
Throughout this article, we'll review the right way to add weights to your treadmill workout and the benefits it can bring to your health and fitness journey.
Benefits Of Adding Weight To Your Treadmill Workout
Treadmill training has many benefits, including better cardiovascular health and strengthening of your lower body muscles.
Sunny Health & Fitness Electric Treadmill
Based on our testing, this is the best budget treadmill for beginners. For less than 400$, it has most essential features that you've come to expect, it's small and sturdy, frankly it offers great value for money. It's also backed with an 8 years warranty.
However, adding extra weight will open multiple possibilities for upper-body strength exercises while increasing your body's endurance levels.
Depending on where you place the extra weight, you can tone your shoulders and arms while building middle-body strength in your core.
Your leg muscles will also experience muscle growth, especially your quadriceps, glutes, and hamstrings.
Adding extra weight to your treadmill routine will improve your cardio workouts and your upper and lower body muscle tone.
Types Of Weight To Add To Your Workout
There are multiple ways of adding weight to your treadmill workouts, from wrist weights to dumbbells and weighted vests.
Although almost all options are valid, it usually boils down to the individual fitness experience, safety and preference.
It's worth mentioning that depending on your training intention, the type of weight should adapt accordingly.
A weighted vest is a solid option if you want your hands free and still get a hard workout. And if you still need your hands but need less intensity, then wrist weights or dumbbells are the way to go.
Let's go through all the types of weights individually to make things easier for you.
Wrist Weights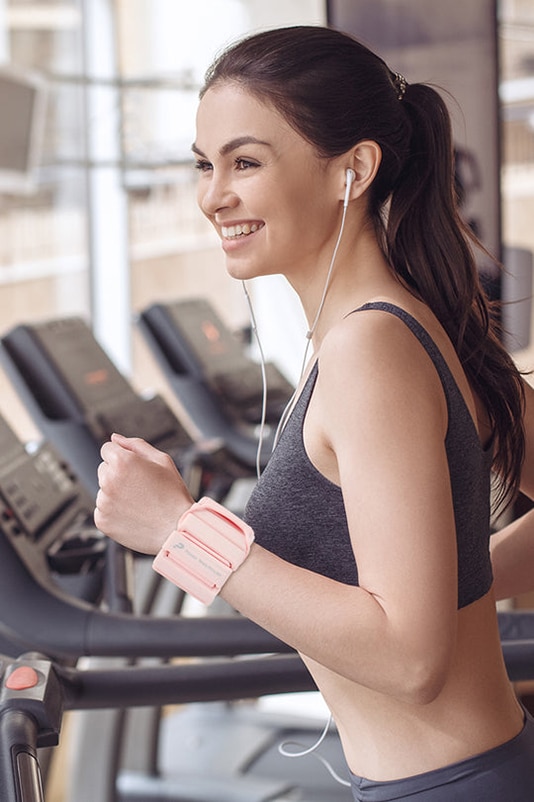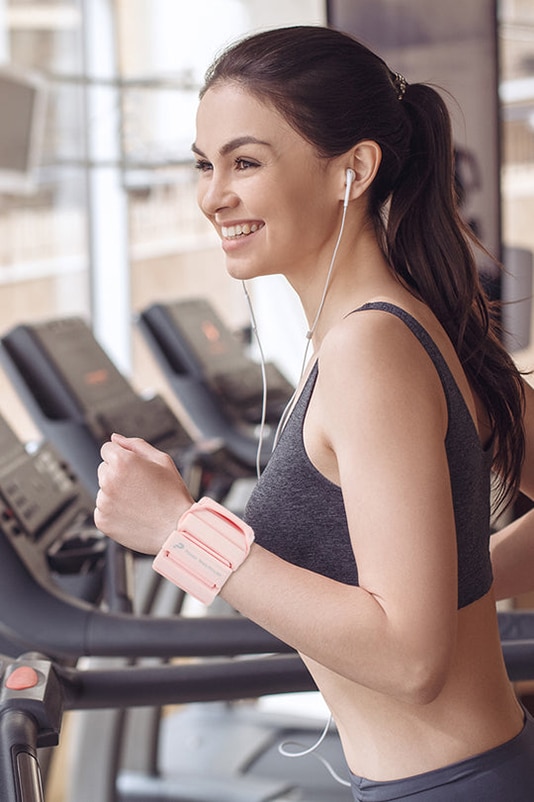 Wrist weights are the most accessible and easy to use of all the options. You wrap them around your wrists and jump into your treadmill training session.
One of the apparent advantages is having your hands free for drinking water, drying your sweat, or anything else.
You can do bicep curls, shoulder presses, lateral raises, or other upper-body exercises.
A crucial aspect of wrist weights is their safety. You'll benefit from the upper body training while keeping your hands free in case of a sudden stop.
Weighted Vest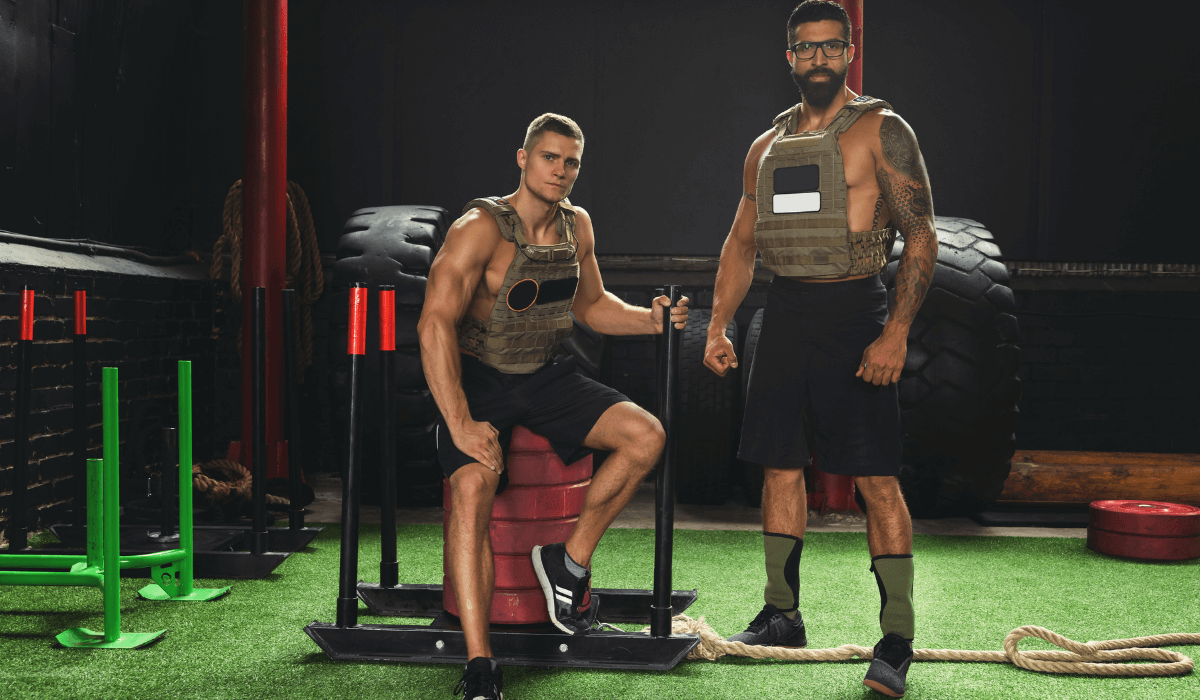 Wearing a weighted vest is one of the safest and more effective ways of adding heavy weight to your treadmill workout routines.
You'll feel the hefty sensation throughout your entire body, making it sometimes hard to breathe during an intense session due to an increased energy expenditure (1).
The vest won't necessarily target your upper body (arms, shoulders, back), but it will create the conditions that will push your fitness to the edge.
It won't matter if you go at a slow pace, expect a burning feeling in your quad muscles, low back, hamstrings, and calves.
Like wrist weights, weighted vests will allow you to have your hands free for any circumstance, which is great for safety!
Ankle Weights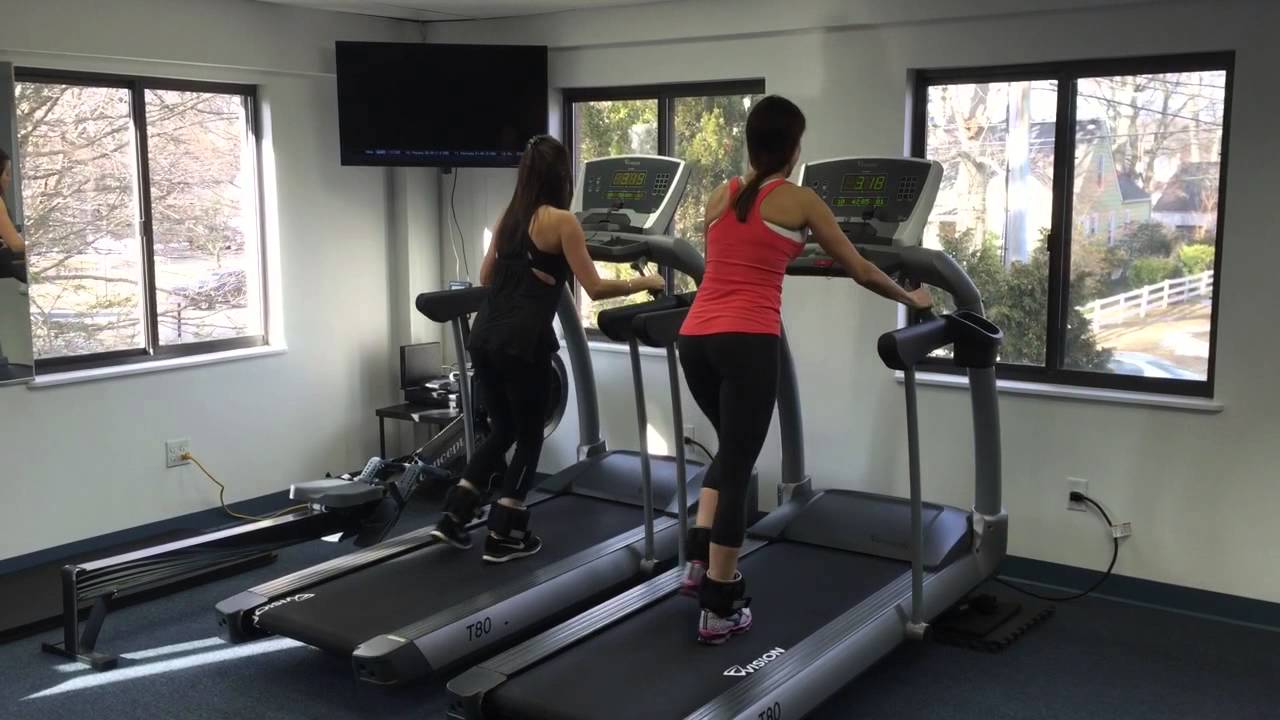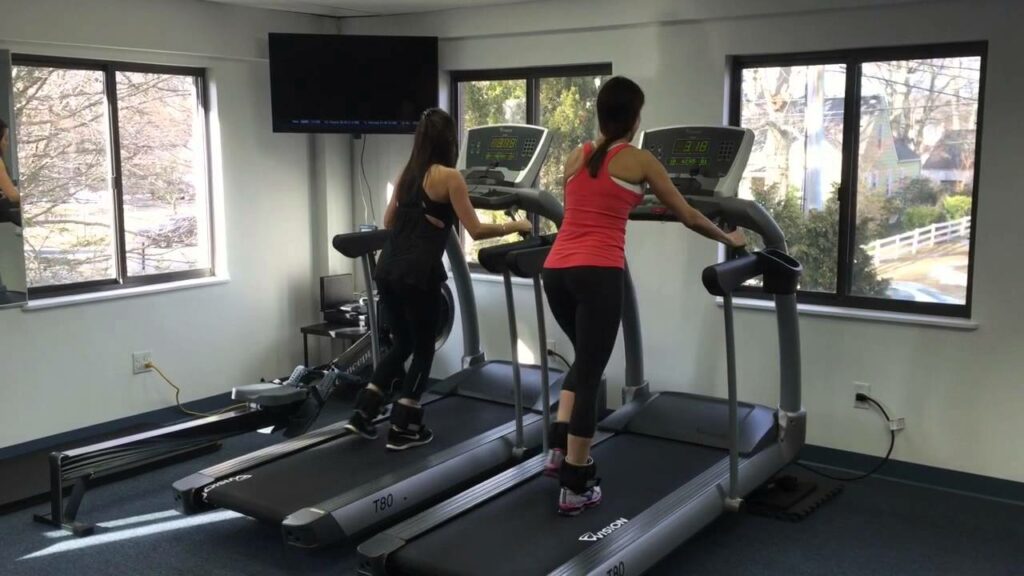 If you thought treadmill workouts were great for your lower body (they are), wait until you add a pair of ankle weights.
Any set of ankle weights will catapult the muscle recruitment of your lower body, including your hip flexors, glutes, hamstrings, quadriceps, and calves.
Sunny Health & Fitness Electric Treadmill
Based on our testing, this is the best budget treadmill for beginners. For less than 400$, it has most essential features that you've come to expect, it's small and sturdy, frankly it offers great value for money. It's also backed with an 8 years warranty.
Even if you're going at a moderate-easy pace, you'll notice a rapid increase in calorie burn and heart rate.
Nevertheless, beginners should be cautious about wearing ankle weights because it could alter the running and gait mechanics, especially with an incline setup.
But, for the most part, they're safe and easy to use for most of the population, even the elderly.
Dumbbells
Freeing your hands is essential for balance and stability when using a treadmill.
Although dumbbells are a valid option, we rarely recommend them as they are less safe compared to other options due to having your hands compromised.
However, picking a pair of light dumbbells can add great intensity to your entire treadmill workout.
In terms of use, they're similar to wrist weights and a fun variation to add to your list of treadmill workouts.
Picking The Right Type Of Weight For You
As we mentioned earlier, the type of weight will depend on your experience, fitness level, the stimulus you're after, and safety.
Most beginners are comfortable with wrist and ankle weights, while more experienced individuals will default to weighted vests and dumbbells.
Personal preference will always play a role in these decisions, but it certainly will be good to have the correct information to choose what's best for your goals.
Safety Notes
Although adding extra weight to your treadmill workout has many benefits, safety should be your #1 priority.
Limiting your exposure to risk can pay dividends for you and your loved ones. So, before jumping to your next workout, have these notes in mind:
– Aim for hands-free options.
– Keep a clean area around the treadmill in case of any falls.
– Pick a manageable weight.
– Try not hitting muscle failure.
– Know when to stop.
– Walk before you run.
And most importantly, have fun!

Is Holding Weights On A Treadmill Good?
Although we recommend having your hands free on a treadmill, as long as it's a manageable weight, there's no problem with holding weights on a treadmill.

Is It Safe To Use Ankle Weights On A Treadmill?
For the majority of the population, yes, it is safe. Beginners should be cautious since it could alter gait and running mechanics.

Will Walk With Ankle Weights Tone My Bum?
They will help you tone your lower body, including your glutes.