There's nothing quite like a good elliptical workout to target all the right muscles and get your heart rate pumping. You can use the elliptical for both high-intensity exercises and light cardio workouts at your own pace.
But no matter what kind of exercise you're doing, the one thing you don't want to compromise on is your footwear as the foundation of your fitness endeavors. And not just any pair either, you need the best shoes for elliptical training to provide support, cushioning, and balance. We're here to help you find the best fit for your feet and your workout routine.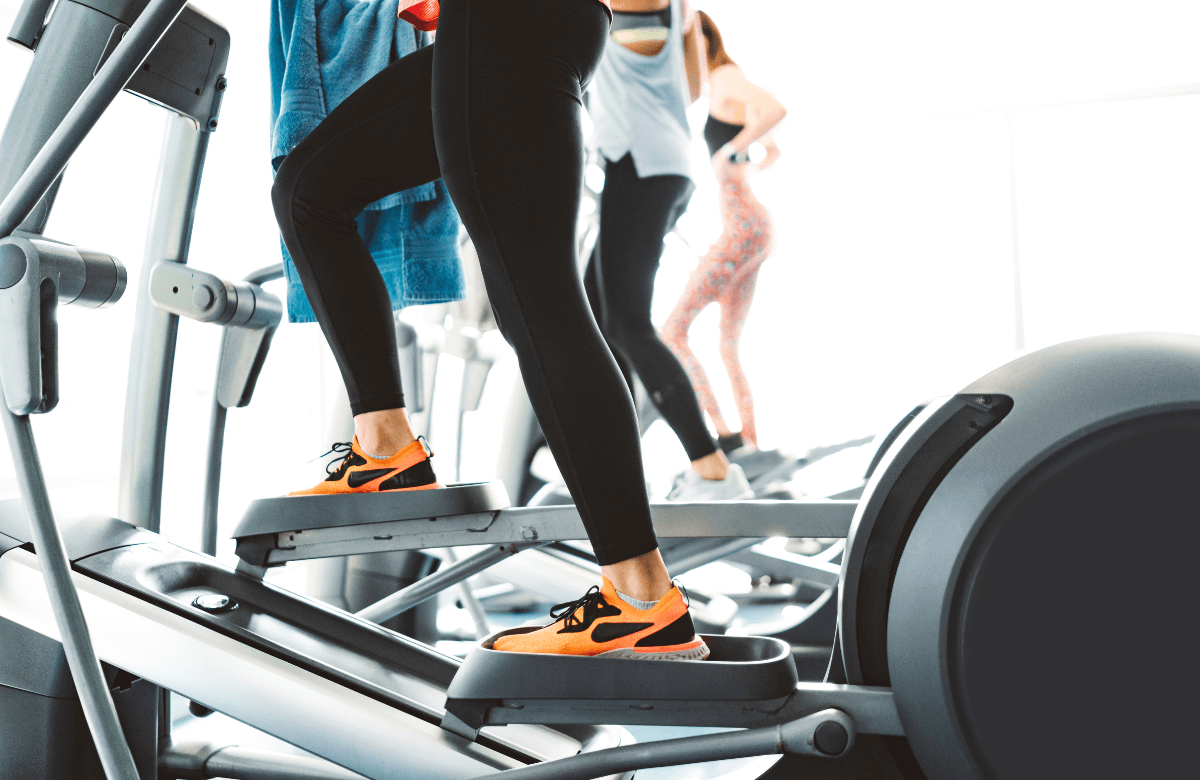 In A Hurry? Here's Our Best Picks
Product's name

Best Overall


ASICS Men's Gel-Venture 8 Running Shoes

Most Durable Option


PUMA Men's Tazon 6 Wide Sneaker

Most Lightweight Shoe


Nike Mens Free Rn 2018 Running Shoe
Final Thought
The ASICS Gel-Venture 8's cleverly designed outer sole takes precedence in the long term, as it offers not just traction, but also shock mitigation with each stride.
One of the defining features of the Tazon 6 is its remarkable durability.
These extremely flexible shoes from Nike have proven to be some of the lightest and most flexible options for elliptical machine exercise plans.
Materials
Synthetic Mesh
Synthetic Leather
Breathable Textile Lining  and Mesh Upper
Heel Drop
9-12 mm
5-8 mm
5-7 mm
Size Range
7-15
7-13
6-15
Available Colors
Multiple
Black and White
Multiple
Weight
11.7 Oz
11 Oz
8 Oz
Price
$
$
$$
Learn more
See at Amazon
See at Amazon
See at Amazon
Why You Should Trust BoxLife
With our fierce passion for the fitness industry, we've always taken it upon ourselves to do thorough research whenever we find exercise machines and equipment worthy of a closer look. The BoxLife family consists of individuals of varying backgrounds and fitness levels, with countless run-ins with different brands and products.
We're well aware that buying fitness equipment isn't exactly the cheapest or easiest thing to do. That's why we take the time to look at all aspects of a certain product, from price range and availability to product performance and safety. In other words, we make sure that any advice we give our readers is backed up by facts, not just hearsay.
Who Is This Guide For?
It's simple, really – we're trying to help out anyone who wants to tackle an elliptical machine workout as their newly-adopted exercise routine. This can include people of all ages, sizes, and fitness levels since these devices are designed to accommodate different body types and intensities. And when you have proper athletic shoes for that purpose, you can reap the benefits of each session in a more effective manner.
Sunny Health & Fitness Magnetic Elliptical
Based on our testing, this is the best budget Elliptical for beginners. For less than 475$, it has most essential features that you've come to expect. It's compact and sturdy, frankly it offers great value for money. It's also backed with an 3 years warranty.
How We Picked the Best Products
We had to broaden our investigative horizons toward other users' experiences with these products to make sure that our recommendations were as reliable and accurate as possible. We scoured online discussion threads on Reddit and Quora for some realistic and honest reviews from people who have already tested out these shoes on their own elliptical machines.
Moreover, we dove into consumer reviews on Amazon to see what the generalized consensus was with regard to the performance of each pair. We took note of the positive and negative aspects that were commonly discussed, with the latter including possible defects and issues that may have occurred during use.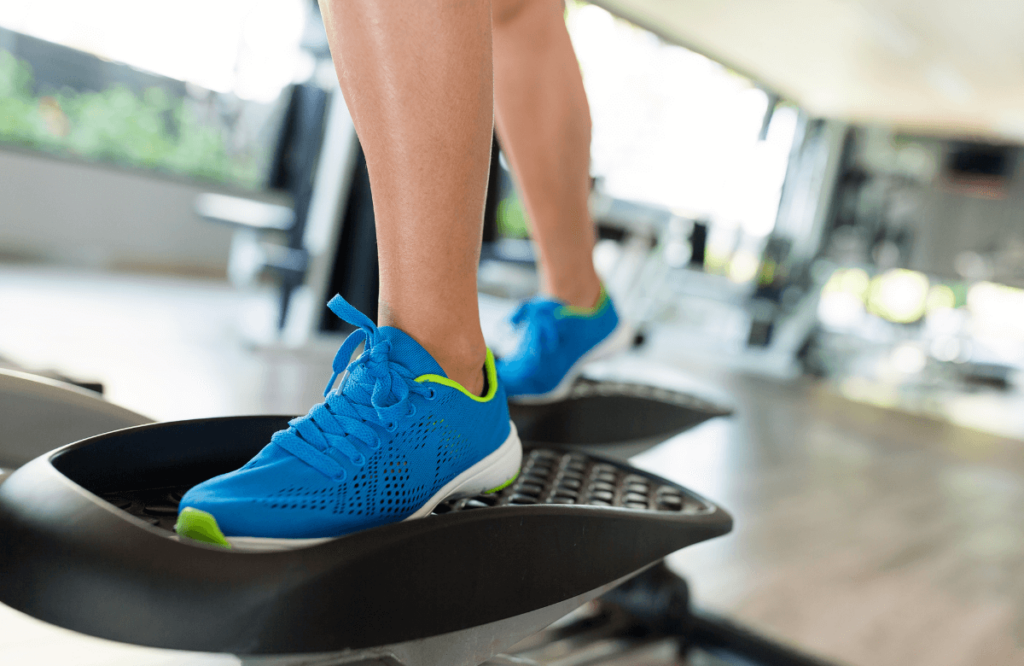 How We Graded Each Product
Once our initial evaluation took its course, we proceeded to categorize each pair of shoes according to different criteria. Naturally, each manufacturer takes a slightly different route in terms of minor details and perks, which is why the general rundown of our grading system looked something like this:
Build Quality – This is an indisputable must-have for any kind of fitness equipment, especially one that will be going through a lot of wear and tear. Since workout shoes take the brunt of our weight and the force associated with exercise, they need a solid foundation and reliable construction to last us through the long run.
Comfort and Flexibility – Being sturdy and comfortable aren't two mutually exclusive qualities. You can have a pair of shoes that doesn't limit your movements, yet still provides a great deal of structure and support. The way certain models feel on your feet and how much they actually aid your workout is definitely something to consider.
Breathability – Sweating is an integral part of both low-impact and high-intensity workout plans, and elliptical trainers are no exception. When your whole body is trying to regulate its temperature, having occlusive and non-breathable footwear can significantly impede that process and make the exercise even more uncomfortable.
Weight – We can all agree there's definitely a difference in weight between regular types of shoes and those designed for the gym. The latter should be as lightweight as possible, with some models even being promoted as barely-there designs for ultimate performance. But even among those, subtle differences still exist that can be the deciding factor in your purchase.
The Best Shoes for Elliptical Training
When the same set of criteria was applied to all potential candidates for best elliptical shoes, we ended up with a shortlist of three noteworthy products that stood out from the rest and were certainly worthy of further exploration:
The gel cushioning of the Venture 8 means that these are incredibly supportive shoes, with a rounded heel design and adequate padding along the entire sole. The durable soles with rubber inserts have excellent traction and shock absorption capabilities, offering a solid, comfortable experience that doesn't get in the way of your workout.
Pros
Sturdy rubber outsole with ASICS High Abrasion Rubber for increased traction
Rounded heel design for a more natural footprint
A lightweight, breathable upper mesh
Removable sock liner that is replaceable with a medical orthotic
Cons
Slightly shorter laces compared to other models
Might be a bit too narrow for wider feet
Key Specs
| | |
| --- | --- |
| Materials | Synthetic Mesh |
| Heel Drop | 9-12 mm |
| Size Range | 7-15 |
| Range of Colors | Wide Range of Options |
| Weight | 11.7 Oz |
Why It's Great
The ASICS Gel-Venture 8's cleverly designed outer sole takes precedence in the long term, as it offers not just traction, but also shock mitigation with each stride. Even though ellipticals are generally seen as low-impact workouts, the consistent rotation and momentum of the pedals can take their toll on your joints over time. The deep pattern of the outsole should help to make that journey a bit easier and soften the blow on any joint-related issues.
Moreover, the cushioned midsole has just enough arch support and stability to keep your feet in place without adding too much bulk. It allows you to flex your feet and toes more naturally, while still being secure enough to ensure proper control over the machine. In addition, the removable sock liner can be replaced with a more suitable orthotic if needed. This is a particularly useful feature for those suffering from plantar fasciitis or other similar conditions.
Finally, the synthetic and mesh material blend of the upper is super lightweight, breathable, and aesthetically pleasing. It effectively minimizes perspiration and overheating, while still having enough structure and firmness to ensure it stays in place without slipping. In short, it's a great all-rounder with plenty of features for a very reasonable price.
A truly heavy-duty contender, the Puma Tazon 6 features a non-marking rubber outsole for maximum grip and extra traction, as well as an injected EVA foam midsole for superior cushioning. The combination of both technologies makes the Tazon 6 a very reliable choice in terms of longevity, performance, and overall build quality.
Pros
A stable platform and midsole construction
Convenient low-top design for unrestricted movement
Thermoplastic Polyurethane (TPU) shank system for improved midfoot support
EcoOrthoLite sock liner for enhanced breathability
Cons
A bit rougher tongue padding with no extra cushioning
Lack of color options
Key Specs
| | |
| --- | --- |
| Materials | Synthetic Leather |
| Heel Drop | 5-8 mm |
| Size Range | 7-13 |
| Range of Colors | Black and White |
| Weight | 11 Oz |
Why It's Great
One of the defining features of the Tazon 6 is its remarkable durability. The full rubber outsole plus the TPU shank system, which is essentially a blend of thermoplastic polyurethane and a special foam, both work together to extend the shoe's lifespan significantly. This results in a pair of athletic shoes that is able to withstand the repeated pressure and force of each elliptical session, while still providing a sufficient level of cushioning.
Another great aspect of these sports shoes is their synthetic leather upper, which is minimalist and lightweight, yet still feels fairly sturdy. The modest padding along the edges and the five-loop asymmetrical lacing system are resilient enough to keep your feet secure without being too tight. The leather overlays offer ample support for your heel and arch, while the EcoOrthoLite breathable sock lining makes sure that your feet don't get too hot or sweaty.
In addition to its exceptional durability and amazing comfort, the Puma Tazon 6 is also quite aesthetically pleasing. The low-top design provides a modern and stylish look, while the minimalistic color choices are subtle yet appealing even in a rough and tough setting. On top of that, the sleek design has become a trademark for the Tazon line, with signature elements such as the white stripe on the side and the iconic Puma logo on the front.
Nike is one of those brands that you can't help but associate with quality and performance, and the Free RN 5.0 follows through with that same promise. At just 8 ounces, it's one of the lightest cross-training shoes you can find on the market, putting no strain on your feet or limiting your movements. The unique low-density memory foam insoles are just as supportive and stable as their heavier counterparts, while the dynamic fit technology ensures a snug and secure fit.
Pros
Feather-light design and construction
Extremely flexible and breathable bootie upper
Made from a minimum of 20% recycled materials
Durable rubber soles with a hexagonal groove pattern for enhanced traction
Cons
The foam sole cushioning tends to wear out after a while
The sewn-in tongue can be off-putting for some users
Key Specs
| | |
| --- | --- |
| Materials | Breathable textile lining and mesh upper |
| Heel Drop | 5-7 mm |
| Size Range | 6-15 |
| Range of Colors | Wide range of options |
| Weight | 8 Oz |
Why It's Great
These extremely flexible shoes from Nike have proven to be some of the lightest and most flexible options for elliptical machine exercise plans. The bootie design features a laser-cut perforated upper that allows the air to circulate freely, preventing any build-up of heat or sweat and keeping our feet cool. The breathable mesh lining wraps snugly around your foot, providing support and stability even when you're pushing yourself to the limit.
The outsoles, on the other hand, are made from an environmentally-friendly rubber compound that provides decent traction and complete grip on the pedals of your elliptical trainer. Each stride becomes easier with the hexagonal pattern tread, and the way the lugs are shaped helps to disperse any pressure evenly. As you alternate between forward and reverse motions, these comfy shoes will follow your foot movements naturally and create a smooth transition.
Plus, the heel-to-toe drop is minimal, ensuring proper distribution of weight and joint support, with no discomfort or injuries. The softer densities of the insole cushioning are virtually undetectable, yet they absorb the shock that typically travels up your spine during workouts. But be careful of the wear and tear that will eventually happen with extended use.
The Buying Guide
Even if you've seemingly done all the necessary research on the best shoes for elliptical training, you shouldn't underestimate individual preferences. After all, you'll be wearing these shoes every single time you begin your elliptical trainer exercise, so you can't automatically assume that the ones you've set your eyes on will deliver in all the ways you need them to.
Traction
This refers to the maximum grip an outer sole has on different surfaces, which is critical for maintaining stability with elliptical workouts. The way the soles of your shoes are designed will determine how well they can grip the pedal and prevent any slipping or sliding.
Look for an elliptical shoe pair with lugs or treads and a wide and deep pattern, as these will provide the most security. The more defined and pronounced the pattern, the better it is at gripping without causing discomfort. Of course, you don't need to invest in the most rugged of designs, but you should at least make sure that the traction is suitable for your chosen exercise plan.
Additionally, durable rubber materials work best in this scenario as they won't be prone to abrasion or breakage. This is because your foot will be making contact with the same area of the sole multiple times throughout each session, and solid rubber can handle the pressure much better than any other material.
Pivoting is another aspect of traction that you should have a look at, as it will enable your feet to move in any direction with ease. Having flexible soles will naturally allow more freedom of movement and fewer chances of injury. Since fatigue is a major foot issue during elliptical exercises, you need to make sure the outsoles move with your feet instead of remaining stationary.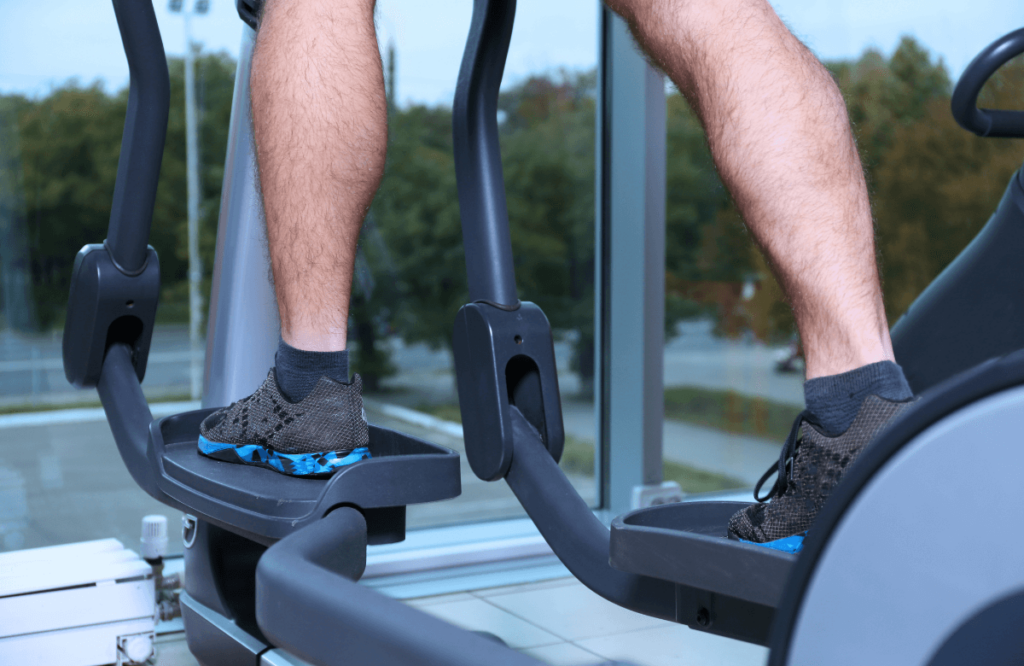 Stability and Support
Most people assume that doing elliptical exercises doesn't require any special support, but this is far from the truth. While the way you move your feet on the pedals in a repetitive motion certainly doesn't put any major strain on your ankles and feet, you're still using your body's muscles and joints to stay upright.
The best shoes for elliptical training need to provide adequate arch support as well as cushioning around the ankle and heels. The quality of the padding should be on the softer side so that it can absorb any impact, while still offering enough response to keep your foot stable.
Having a heel counter helps to reinforce the ankles and keeps you from slipping out of the shoes even if you're doing intense workouts. Look for designs that include stabilizing technology like shanks and heel cups, as these will help to prevent foot and ankle fatigue even during longer sessions.
Additionally, some sports shoes also feature a reinforced toe box that provides protection against any accidental toe-stubbing that might occur. This is especially useful when doing a workout on machines with a wider platform as you'll have more room to stretch and flex your feet, increasing the chance of you sliding and stubbing your toes.
Sunny Health & Fitness Magnetic Elliptical
Based on our testing, this is the best budget Elliptical for beginners. For less than 475$, it has most essential features that you've come to expect. It's compact and sturdy, frankly it offers great value for money. It's also backed with an 3 years warranty.
Size and Fit
Even the most comfortable shoes won't do you any good if they don't correspond with your foot size. While this might seem like a no-brainer, you'd be surprised at the number of people that go a size larger or smaller than they actually need.
A good rule of thumb is to try on different pairs towards the end of the day when your feet have expanded slightly from walking around. This will give you a more accurate idea of how they fit and whether your feet will be comfortable in them even after a long session on the elliptical.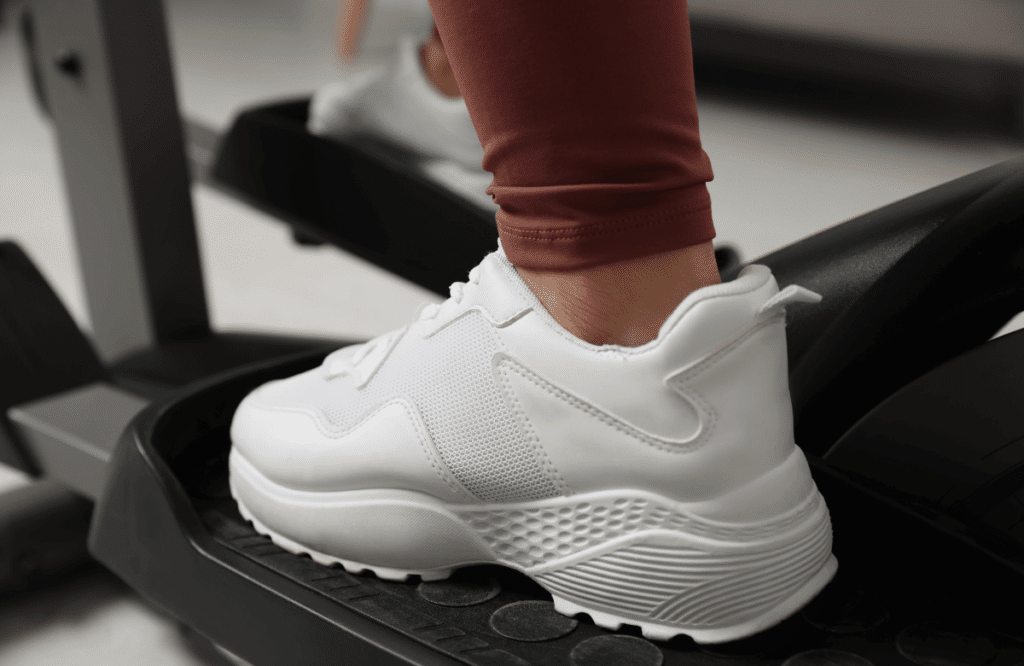 FAQ
What kind of shoes should you wear on an elliptical?
Even though there isn't a specific kind of shoe made for elliptical training, picking shoes with plenty of traction, stability, and support will help with your performance and prevent any injuries. These are normally found in regular athletic or running models, which focus on providing the right cushioning and protection.
How do I stop my feet from hurting on the elliptical?
If your feet are feeling sore after using the elliptical, you should consider changing to a pair of shoes with more cushioning and arch support. If that doesn't work, try going for a larger size so that you can easily move your feet without feeling any pain or discomfort. Additionally, make sure to take breaks between sets and have a proper warmup before starting any exercises.
Is there a wrong way to do the elliptical?
Believe it or not, there actually is, If you're putting too much pressure on your toes or if you're leaning too far forward, you risk putting unnecessary strain on your joints and muscles. You should always keep a straight posture and move your feet in a smooth, even motion. If you feel any pain or discomfort, adjust your position until it goes away.