There's hardly a type of workout that isn't determined by proper footwear, and the squat is no exception. When you have proper stability and control during a squat, you're able to lift heavier and longer without compromising form or injury. If you stick to unsupportive or awkward-fitting shoes, you won't be able to perform at the level you'd like or reach your fitness goals at the rate you'd hope.
With this in mind, you can't just go with any old shoe for squats. You'll need to make sure the shoe provides enough stability, support, and cushioning in all the right places. While regular pairs of running shoes may work in a pinch, they won't be ideal for long-term use when squatting. This is why we've done the legwork and put together a comprehensive list of the best squat shoes for better form, comfort, and overall performance.
In a Hurry? Here are our best ranked Products
| Product Image | Product Name / Primary Rating / Primary Button |
| --- | --- |
| | |
| | |
| | |
| | |
Why You Should Trust Us
Our extensive strength training and exercise backgrounds give us a unique insight into the ins and outs of different workouts, from the traditional to the unorthodox. The diverse BoxLife team includes strength coaches, personal trainers, weightlifters, and CrossFit devotees who are constantly checking out new equipment and doing research to make sure our readers are informed about the latest trends.
We also have a wide range of personal experiences that we draw on for our reviews. We've gone through the testing process and understand how a product performs in different contexts, so we can spot those nuances that make certain products stand out from the rest. This allows us to be very thorough in our review process, and we've applied our strict criteria to select the best squat shoes for all kinds of athletes.
Who Is This Guide For?
If you need a reliable pair of shoes that can improve your overall squat performance, you could certainly benefit from our guide. We've included several options that cater to different preferences and sizes, with an in-depth look at each product's features, pros and cons, and who would benefit the most from using them. It doesn't matter if you have your own home gym or you're more of a CrossFitter, having the right pair of squat shoes can take your workouts to the next level.
How We Picked the Best Products
Our personal experiences doing squats alone weren't enough to determine the objective frontrunners of the squat shoe market, so we took a peek at what others have to say about specific weightlifting shoes in terms of performance. We read through reviews and opinions from both athletes and fitness professionals across Amazon, Titan, and Rogue Fitness in an effort to get a better picture of which products excel in the eyes of most.
We also had a look at discussion threads across Reddit and Quora, two of the most free-flowing and outspoken sources of conversations on the internet, to see how other lifters experienced their squat shoes in real life. These sources, along with our personal experience and expertise, gave us a solid base from which to pick the best.
How We Graded Each Product
Once we had a preliminary list of shoes for weightlifting, it was time to place them into a comprehensive grading system. Each pair was put against a strict set of criteria to determine their overall performance and suitability for various types of squats. Some had more points than others for specific rankings, but they all had to satisfy the following:
Heel Height – Elevated heels on weightlifting shoes are perhaps the most crucial aspect when it comes to squatting. A slightly raised heel helps keep your weight distributed correctly, with better balance and stability. Most of them fall in the 8-10 mm range, but the construction of some shoes can make them feel less elevated. The more elevated the heel, the better your chances of hitting your squat goals.
Midsole Type – The way a midsole works largely determines how comfortable and supportive the shoe is during squats. In this regard, you can opt for one of two choices – Thermoplastic Polyurethane (TPU) or Ethylene Vinyl Acetate (EVA) midsoles. The TPU is more flexible and durable, while the EVA provides better shock absorption but isn't as long-lasting or stable.
Supportive Qualities – A good pair of squat shoes should provide you with enough stability and support to get through even the toughest workouts. The fit, lockdown, and arch support are some of the most important factors for this ranking, as they determine how well your foot is secured during squats. If you have greater support, then the chances of slipping or losing form are far less.
Traction – How well a shoe holds to the ground can have a major impact on the quality of your squat. The better the traction, the more power and control you'll have during your sets. We looked at the tread pattern and material to determine how a shoe stands up in this area. Generally speaking, shoes with herringbone or honeycomb patterns perform better in this regard, thanks to their deep cuts and grip.
Upper Material – Since this part of the shoes for squats makes up the bulk of their construction, we paid close attention to the materials used. We looked for breathable and durable fabrics, as well as synthetic overlays for added support. Their inherent flexibility and stability go a long way in creating the perfect fit for squats, while also providing comfort and support. Additional aspects like reinforced seams, integrated lace systems, and metallic eyelets can also play a role in the overall grade.
The Products
When we had a general idea of each product's performance from our criteria, it was time to check out some of the top contenders for the titular spot. Some had better marks than others in certain areas, but they all had great reviews and a good reputation among lifters.
Best Overall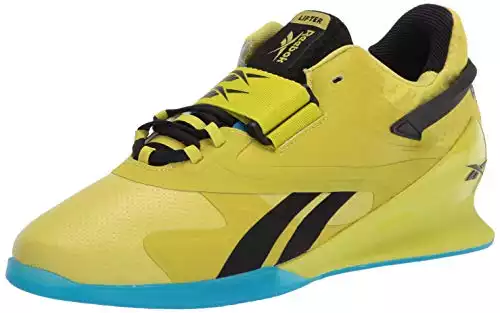 As part of the Reebok mission to become the best fitness brand in the world, the Legacy Lifter 2 is a significant step in that direction. It brings forth a combination of comfort, stability and power that can take your squat game to the next level. The flexible upper and TPU midsole provide the ideal balance between maneuverability and structure, with the right amount of heel elevation and arch support to help you hit those numbers. They differ from normal shoes in that they have a raised heel and higher arch, designed to enable you to stay in a better position for squats.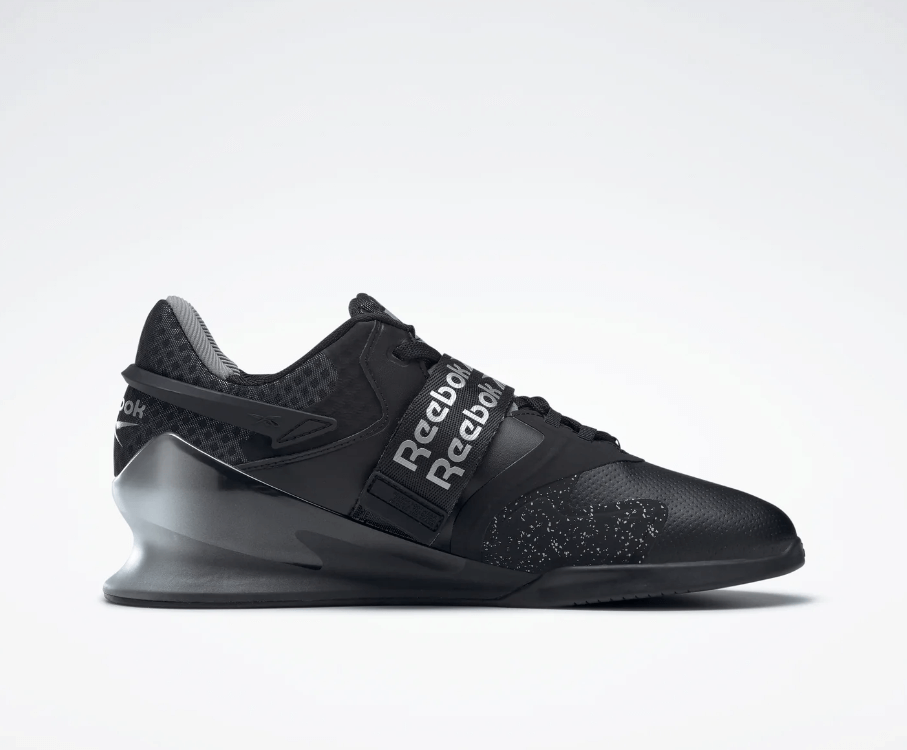 Pros
22mm TPU midsole for great stability
Anatomical design for increased power
A removable strap that provides better lockdown
Additional antimicrobial lining that reduces odor
Cons
Shorter velcro straps that aren't as adjustable
Higher price point than other options
Key Specs
| | |
| --- | --- |
| Heel Height | 22mm |
| Sole Material | Grip Rubber |
| Upper Material | Textile Faux Leather |
| Sizing | True to Size |
Why It's Great
The thermo-polyurethane midsole makes the Legacy Lifter 2 one of the most supportive and stable shoes on the list. It relies on soft cushioning for shock absorption and energy transfer, as well as anatomical contours to provide an optimal fit and balance. The sole feels neither too firm nor too flexible, which inherently gives it a great balance of stability and maneuverability. Raised-heel shoes are generally better suited for squatting, and the Legacy Lifter 2 does not disappoint in this regard.
As for the upper construction, the faux leather and mesh provide a breathable and comfortable fit, with the addition of an antimicrobial lining that reduces odor buildup. It doesn't feel overly tight or restrictive, allowing for plenty of room to move without sacrificing stability. The ankle collar is also a bit higher, providing greater support and security when doing squats, especially with heavy lifts. The more you move and flex, the more support you get.
Finally, the tongue pump is another notable feature, as it helps keep your foot secure while also providing a better range of motion. It's basically an enhanced lacing system that gives you more control over the fit and feel, making it one of the most versatile shoe options on this list. It acts as a secure lock-in that lets you adjust your fit as needed, without sacrificing stability. Not to mention the excellent grip and traction that comes with a herringbone pattern, with deliberate cuts for optimal performance.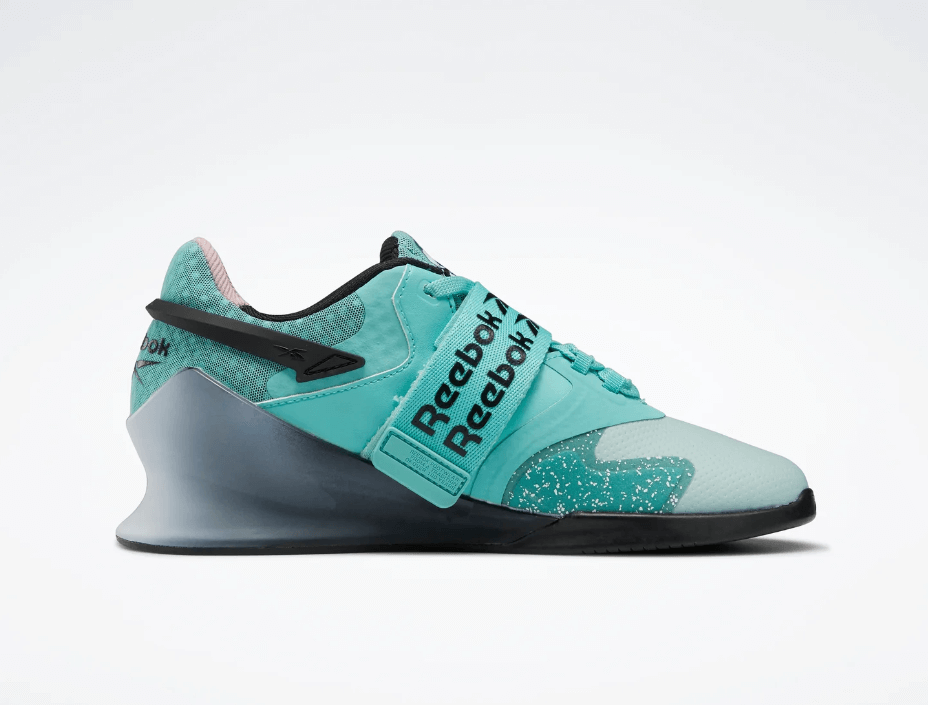 Who It's Best For
The cleverly designed features and the optimal heel elevation make the Reebok Legacy Lifter 2 one of the best weightlifting shoes you can get. It's definitely a better choice for intermediate and advanced lifters since they need more stabilization and support to hit their goals but that doesn't mean that beginners can't benefit from its performance. The all-encompassing and ever-adapting fit can help prevent injuries and other related issues, which can be quite helpful for anyone starting out.
Best for Narrow Feet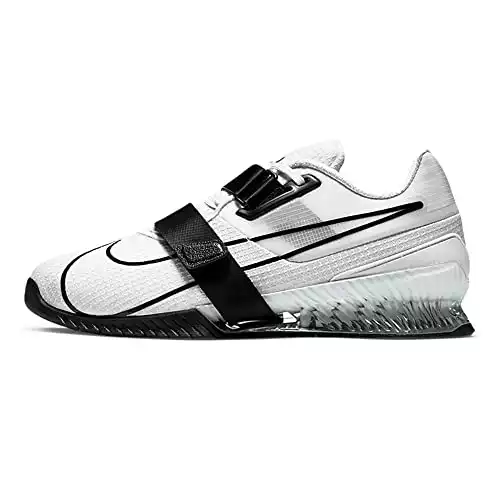 Nike Romaleos 4
The sheer amount of stability and support you get from the Romaleos 4 is quite impressive
Pros:
A fully integrated lacing system

Dual-density cushioning for superior comfort
Cons:
May be too constricting for wider feet
See latest price
There's hardly any sports or fitness brand that could even come close to the standing of Nike and they have earned every inch of it through stellar performance and good old hard work. The brand's dedication to ever-evolving technology is evident in the Romaleos 4, a shoe specifically designed for narrow feet. It merges the flexibility and support of a TPU midsole with the breathability of a lightweight upper fabric, as well as an innovative sole design to provide the perfect fit for your delicate feet.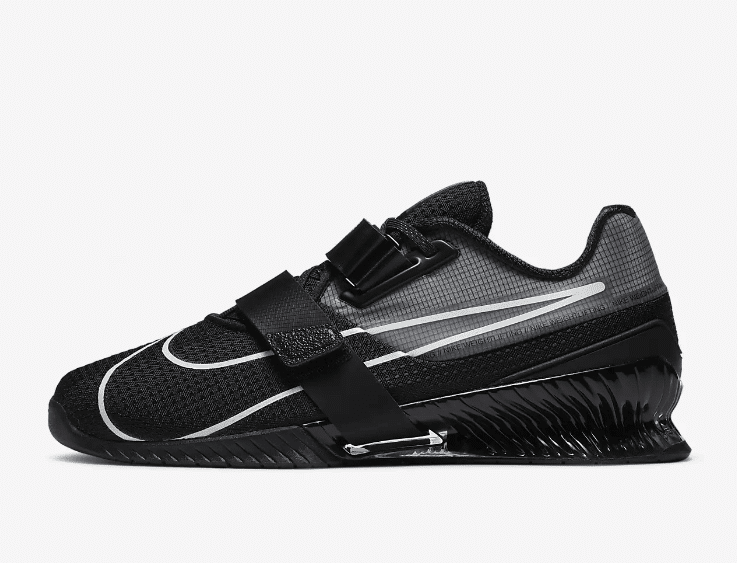 Pros
A fully integrated lacing system that provides a better fit
Dual-density cushioning for superior comfort
TPU midsole with anatomical contours for increased stability
Distinct rubber heel pattern that improves traction
Cons
May be too constricting for wider feet
May not be suitable for high-impact activities
Key Specs
| | |
| --- | --- |
| Heel Height | 20mm |
| Sole Material | TPU Plastic |
| Upper Material | Woven Fabric |
| Sizing | Runs Small |
Why It's Great
The sheer amount of stability and support you get from the Romaleos 4 is quite impressive, even compared to some of the more expensive models we've reviewed. The midsole is made from a firm thermoplastic polyurethane material that offers great rebound and energy transfer, as well as a flawless balance between flexibility and support. The anatomical contours encourage proper form when squatting, while the low platform helps keep you from leaning too far forward. When you take into account the dual-density cushioning, it's easy to understand why this shoe is so popular with lifters.
The breathable mesh upper is made with a lightweight fabric that's supportive and flexible enough to provide a comfortable fit. Nike has also implemented an innovative lacing system that not only improves the overall fit but can also be used for better lockdown and increased stability. The elevated heel position also features a distinct rubber pattern that provides superior grip and traction, allowing you to make quick adjustments during your workout without slipping. If you need a flexible shoe option that feels secure and snug, then the Romaleos 4 is definitely worth a try.
Moreover, the cushioning setup is one of the most comfortable we've seen yet. It uses two separate foam layers for a softer and more responsive feel when on your feet, especially during deep squats. As an added bonus, it comes with an additional removable insole that provides extra cushioning and arch support, as well as a better heel-to-toe transition. While there's no denying that these features come at a cost, they're well worth it if you have narrow feet and are looking for a top-notch weightlifting shoe.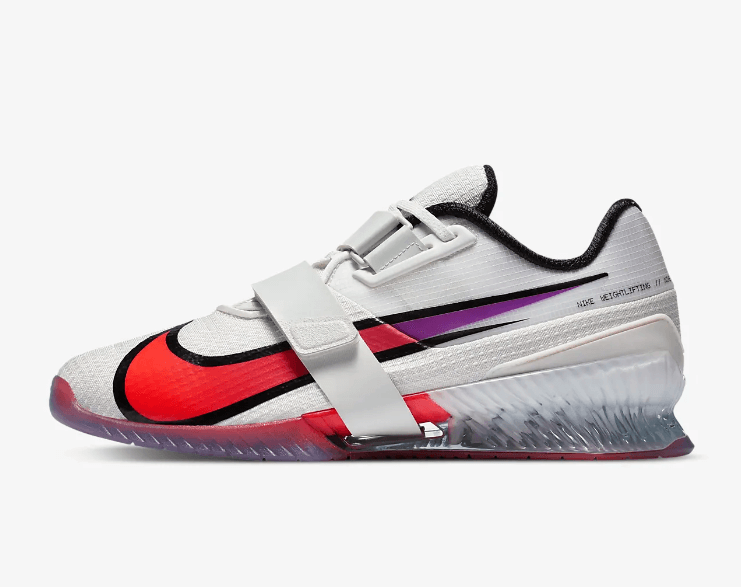 Who It's Best For
The stable base and the snug, cozy fit make the Romaleos 4 a fantastic option for anyone with narrow feet. Its flexible upper and anatomical designs ensure that it adapts to your movements without compromising on stability or support. It takes on an almost tailored look and feel, allowing you to move freely while still maintaining the ideal alignment for proper form and balance. It's certainly something any lifter of any skill level should consider if they've been struggling to find a shoe that fits their less-than-average feet.
Best for Wide Feet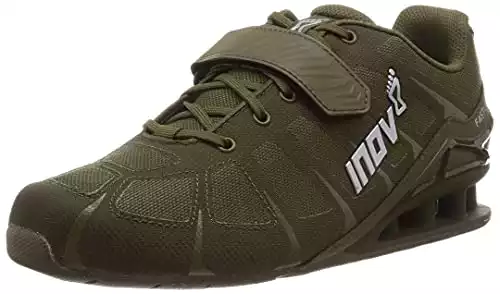 Inov-8 Men's Fastlift 360
This pair of weightlifting shoes is all about providing a flawless balance between stability and freedom of movement
Pros:
Power lift design with a wider and more stable base

Ballistic nylon upper for durability and flexibility
Cons:
The midfoot strap may come undone during more intense workouts
See latest price
The wide base of the Inov-8 Fastlift 360 takes on a more traditional approach when it comes to weightlifting shoes but with a few interesting twists. It combines the classic power lift design with an advanced sole design for increased stability and maneuverability. Despite its wider construction, the shoe is still fairly lightweight, with cleverly placed support structures and a textile upper to make sure there's no instability or discomfort. It feels incredibly solid and secure on your feet, with some handy innovations that make sure it stays that way.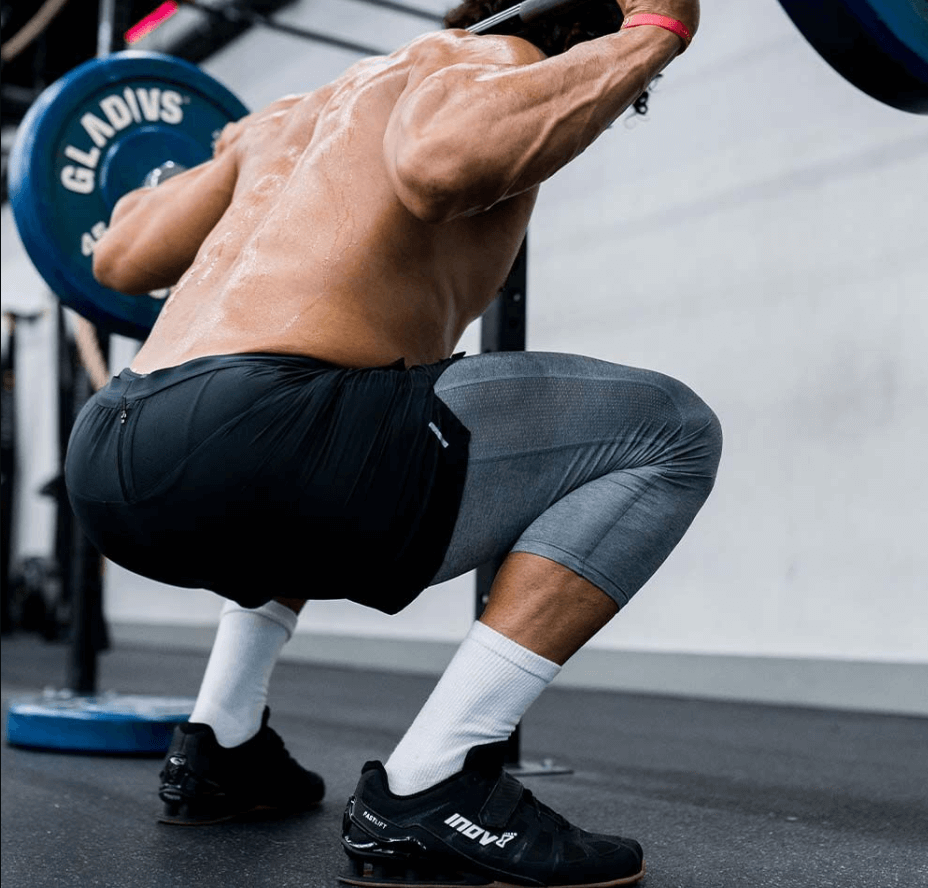 Pros
Power lift design with a wider and more stable base
Ballistic nylon upper for durability and flexibility
Unique Apex lacing system for better lockdown
Strategically placed traction points for better grip
Cons
The midfoot strap may come undone during more intense workouts
May not have enough cushioning for some
Key Specs
| | |
| --- | --- |
| Heel Height | 16.5mm |
| Sole Material | Rubber |
| Upper Material | Synthetic |
| Sizing | Wider |
Why It's Great
This pair of weightlifting shoes is all about providing a flawless balance between stability and freedom of movement. The mid-foot strap helps keep your foot secure while simultaneously allowing more flexibility in the toe area, so you get more range of motion without cutting down on flexibility. Even though it may come undone during more intense sessions, it holds up quite nicely during regular workouts. Plus, it's a nifty feature to have if you like to have extra control over their foot position. This type of shoe is inherently more stable, with a more powerful base that improves balance and stability.
Additionally, the upper is made with a ballistic nylon material that's both durable and flexible. This means you get the support you need without losing out on breathability or comfort, which can be quite a struggle with some of the other products available in this category. The sole also features a unique design that provides superior grip and traction, allowing you to adjust your stance with ease. You can get into an upright position quickly and with minimal effort thanks to the strategically placed traction points.
Lastly, the lacing system is one of the best we've seen yet, with its Apex straps that provide extra lockdown and support. The rigid midsoles are made from a lightweight foam material, which while not giving you much cushioning does keep your feet fairly comfortable during your workouts. Not to mention the metal eyelets and double straps that act as external supports, allowing you to adjust your lacing for better lockdown during heavy squats.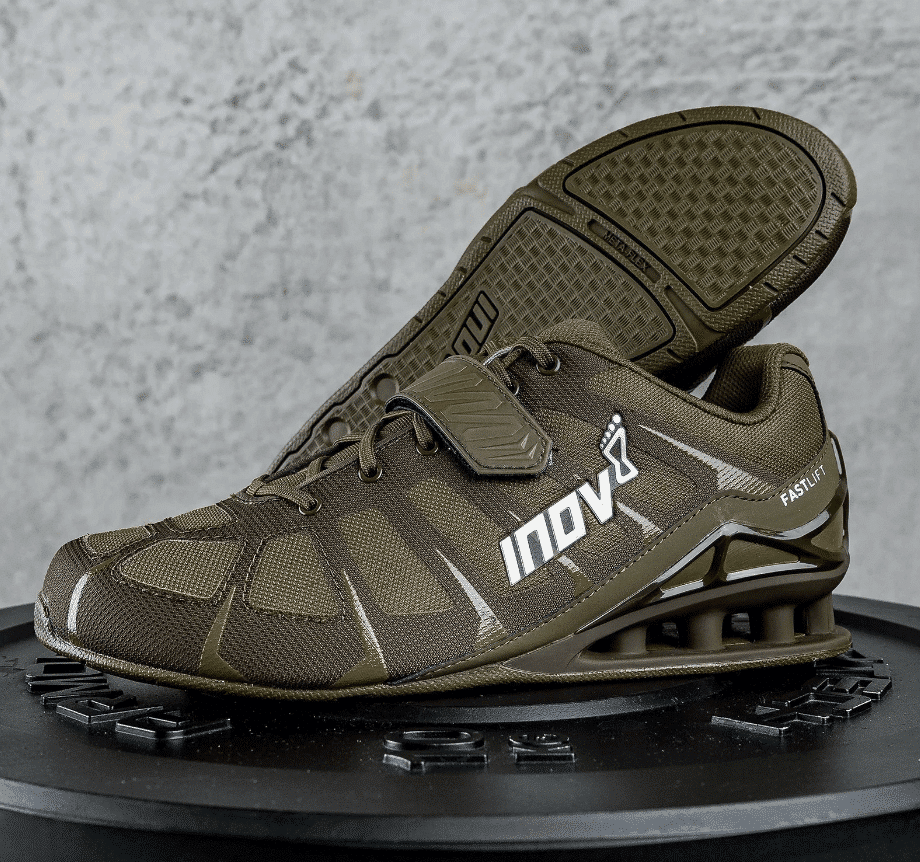 Who It's Best For
If your squat position calls for more stability and you have wider feet, then the Fastlift 360 is definitely worth checking out. Its distinct sole design, extra support straps, and wide platform provide more control over your range of motion while also keeping you firmly rooted to the ground. It's ideal for anyone who wants a more traditional weightlifting shoe that allows them to stay in control of their movements all throughout their workout session. The more you use it, the more you'll appreciate its features and stability, as well as the cozy fit that delivers superior performance.
Best for Beginner Lifters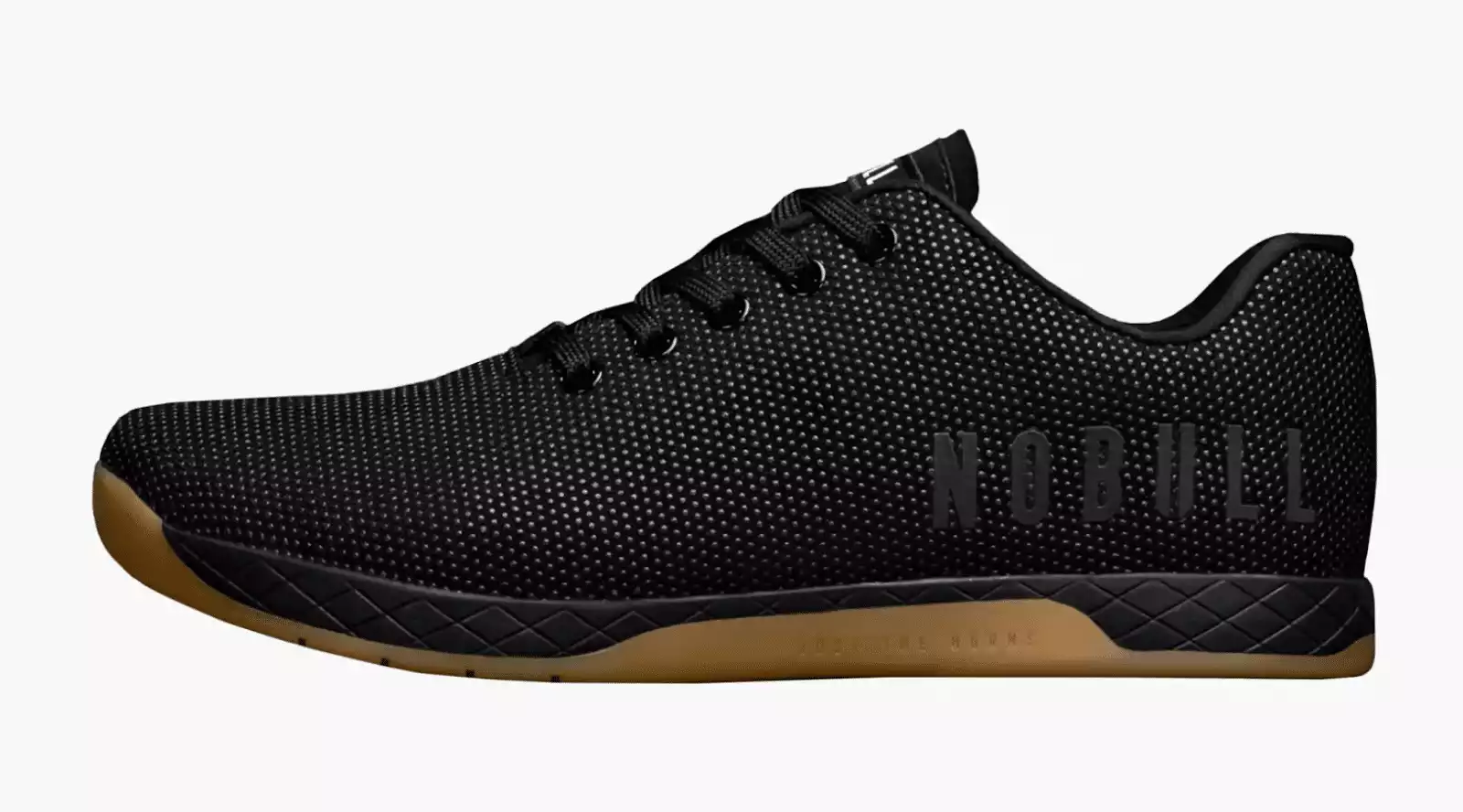 NOBULL Trainer
This minimalist shoe pair is a well-crafted and airy option
Pros:
Supportive midsole

Wide range of color options
Cons:
The rigid upper construction may not be suitable for some

Not as durable
See latest price
While regular shoes have a lot in common with these minimalist trainers, the NOBULL Trainers offer a remarkable spin on the traditional design. They're not as rigid as some of the more high-end and heeled shoe options available, but their lightweight construction makes them ideal for anyone just getting into weightlifting. Their heel drop is considerably lower than the other options on this list, but they're by no means flat shoes that don't offer any support.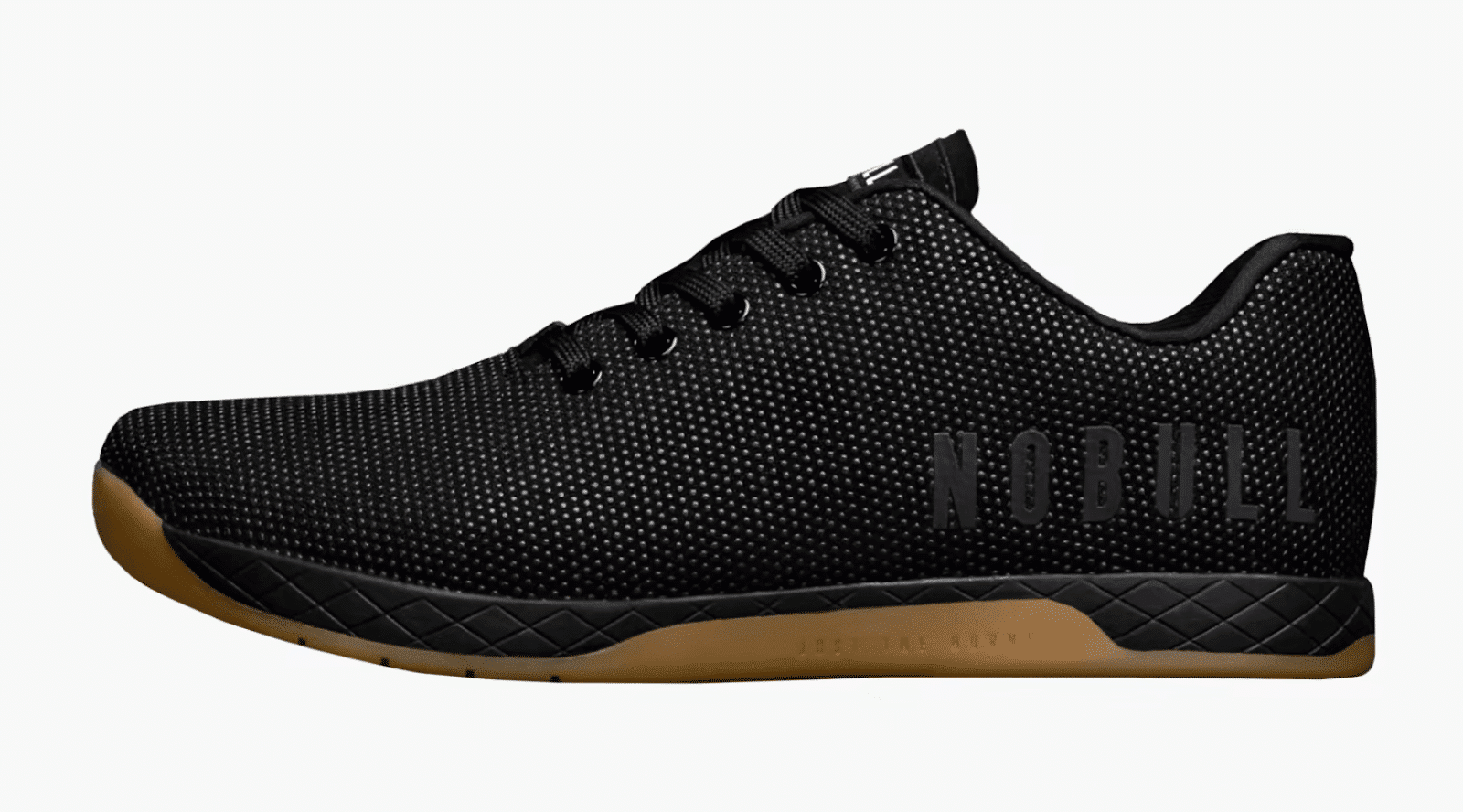 Pros
Supportive midsole for superior grip and traction
A wide range of color options is available
Flat soles for stability and balance
Breathable, lightweight upper with extra ventilation
Cons
The rigid upper construction may not be suitable for some
Not as durable compared to other shoes on this list
Key Specs
| | |
| --- | --- |
| Heel Height | 4mm |
| Sole Material | Herringbone Textured Rubber |
| Upper Material | SuperFabric |
| Sizing | True to Size |
Why It's Great
This minimalist shoe pair is a well-crafted and airy option that gives you the opportunity to improve your form and balance without dealing with any extra weight or rigidity. It's equipped with a supportive midsole that provides a good base for your squats and an innovative sole design that helps you keep your feet firmly planted on the ground.
In addition, the shoes have a unique honeycomb pattern for additional grip and traction, ensuring that you won't slip or skid during your workouts. The upper is made with a breathable and lightweight material, making sure your feet don't get overheated, and the extra ventilation gives you an extra layer of comfort. The single strap design and flat sole also provide a snug fit, allowing your feet to stay in place as you move. Not to mention the reinforced heel counter that keeps your feet secure while still giving you the freedom you need to perform.
Plus, the slip-on sock liners make it easy to slip them on and off, while the wide range of colors available gives you ample scope for customizing your look. Each option feels just like a regular sneaker with the added bonus of superior grip and stability when performing squats. Their dynamic design and light construction also give you more control over your movements, which is great for anyone just starting out with weightlifting.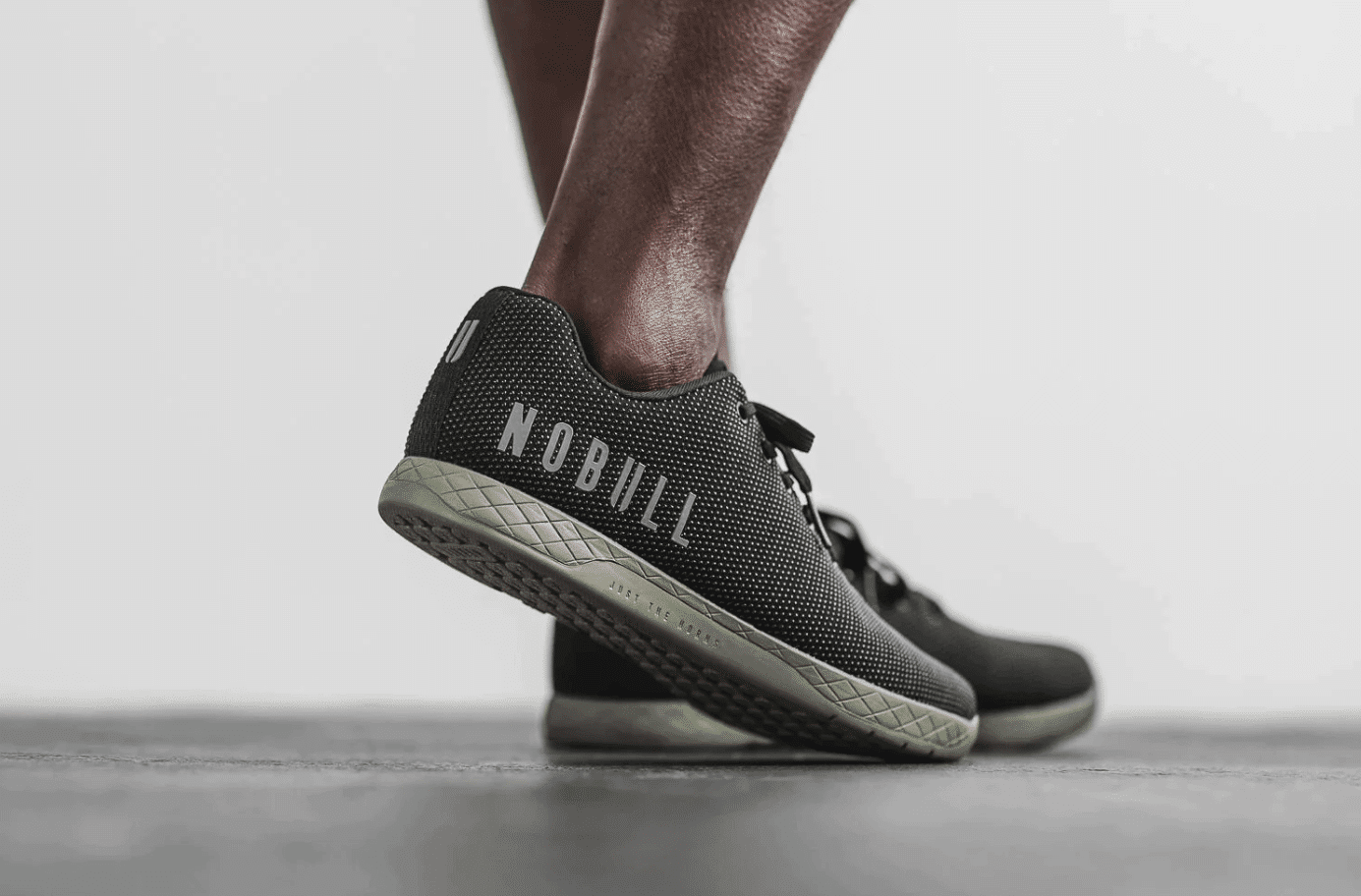 Who It's Best For
A hybrid shoe option like the NOBULL Trainers takes on the conventional look while adding its own individual features to the mix. They're ideal for beginner lifters who are just getting into weightlifting or anyone who wants a more manageable yet supportive shoe for their squats. The low heel drop is perfect if you're still trying to get the hang of weightlifting while the extra grip and stability give you more control over your movements. If you want a comfortable, versatile shoe that can help you improve your form without weighing you down, then this is definitely worth checking out.
Squat Shoe Shopping 101: Our Guide to Making the Right Choice
When it comes to strength training, squats are one of the most effective exercises for building lower body strength. Whether you're a seasoned lifter or just starting out, wearing the right shoes is crucial for getting the most out of your squat workouts.
But what exactly should you pay attention to when buying squat shoes to help you make an informed decision and elevate your squat game?
Heel Height
The heel height of squat shoes typically ranges from 0.5 inches to 1 inch. The ideal heel height depends on your biomechanics and squatting style.
High Heel (1 inch or more): These are suitable for individuals with limited ankle mobility or those who prefer a more upright torso position. They are often favored by powerlifters.

Medium Heel (0.5 to 1 inch): This is a versatile option that works well for most lifters, offering a balance between ankle mobility and stability.

Low Heel (0.5 inch or less): These are closer to regular athletic shoes and are better suited for weightlifting or squat variations that require a deeper range of motion.

Sole Material
The sole material of your squat shoes plays a significant role in stability and power transfer. Look for squat shoes with a firm, non-compressible sole made of materials like TPU (thermoplastic polyurethane) or hard rubber. A firm sole ensures that you can maintain a solid base and prevent energy loss during your lifts.
Shoe Fit
Proper fit is essential for comfort and performance. When trying on squat shoes, make sure that your toes have enough room to wiggle without feeling cramped. The heel should fit snugly without excessive movement, as any slippage can lead to instability during squats.
Also, different brands may have variations in width. Choose a width that accommodates the shape of your foot comfortably. Keep in mind that sizing can vary between brands, so it's crucial to try on the shoes or consult sizing charts provided by the manufacturer.
Lacing System
Squat shoes come with various lacing systems, including traditional laces, BOA dials, or Velcro straps. The choice of lacing system is a matter of personal preference. However, make sure the system allows you to secure the shoe tightly for maximum stability and support during squats.
Durability
Investing in a durable pair of squat shoes is essential, especially if you plan to use them regularly. Look for shoes with reinforced stitching, high-quality materials, and a well-constructed sole to ensure they withstand the rigors of heavy lifting.
Price
Squat shoes come in a range of price points, from budget-friendly options to premium models. While it's tempting to go for the cheapest option, remember that quality matters. Invest in a pair that meets your specific needs and provides the necessary support and stability. A good pair of squat shoes can last for several years, making them a worthwhile investment in your fitness journey.
Brand Reputation and Reviews
Before making a final decision, research the reputation of the brand and read reviews from other lifters. User reviews often provide valuable insights into the comfort, durability, and performance of squat shoes. Additionally, seek recommendations from experienced lifters or trainers who can offer guidance based on their expertise.
Try Before You Buy
Whenever possible, try on squat shoes in-store to ensure they fit comfortably and provide the desired support. This allows you to assess the fit and comfort firsthand, reducing the risk of purchasing shoes that may not be suitable for your needs.
Purpose
Consider your specific training goals and the type of squats you'll be performing. Different squat shoes are designed for powerlifting, weightlifting, or general gym use. Choose a pair that aligns with your primary training focus to maximize performance.
Weightlifting Versus Powerlifting
If you're primarily focused on weightlifting, you may want to consider specialized weightlifting shoes with a raised heel and a more flexible forefoot. These shoes are designed to support the specific demands of Olympic lifts like the snatch and clean and jerk.
For powerlifting, where maximal stability is crucial, opt for shoes with a flat sole and a higher heel for enhanced stability during squats and deadlifts.
Why Are Squat Shoes Important?
Squat shoes are designed with a raised heel, which helps improve ankle mobility and provides a more stable base for lifting heavy weights. The raised heel encourages a more upright torso position during squats, reducing the risk of leaning forward and compromising form.
Squat shoes have a flat, non-compressible sole that helps transfer power efficiently from your legs to the ground, enabling you to lift heavier weights. Proper footwear can prevent slips and injuries that may occur when squatting in non-specialized shoes, such as running sneakers.
Frequently Asked Questions:
Why are squat shoes so expensive?
Squat shoes can be relatively expensive due to several factors: high-quality materials, specialized design, durability, and brand reputation. Squat shoes are constructed to withstand the rigors of heavy lifting, using materials that provide stability and support. Additionally, well-known brands often invest in research and development to create innovative features, which can contribute to the higher cost.
What is special about squat shoes?
Squat shoes are specially designed for weightlifting and squatting exercises. They typically have a raised heel, which aids ankle mobility and allows for a more upright torso position. The non-compressible, firm sole enhances power transfer and stability during lifts. These unique features make squat shoes ideal for achieving proper form and maximizing performance in squats and related exercises.
Will I squat more with squat shoes?
Squat shoes can help some people lift more weight due to improved stability, better form, and increased power transfer. However, the extent to which you can lift more weight may vary depending on your individual biomechanics and training goals. Squat shoes are not a guaranteed solution for everyone, but they can certainly enhance your squatting performance if they align with your needs and preferences.