Deadlifting is undoubtedly one of the most effective ways to target both your lower and upper body strength. It's a compound lift that engages multiple muscle groups and deadlift accessories can significantly help maximize your gains.
It doesn't matter if you're doing regular deadlifts or competing in professional powerlifting events, knowing which items can help you lift heavier with proper form has its own set of advantages. But which products make the cut for the best deadlift accessories and how exactly do they help?
In A Hurry? Here's Our Best Picks
Product's name

Must Have


Dominion Strength Training Leather Weight Lifting Belt 3...

Great Alternative


Gym Chalk

Your Support Pal


Gymreapers Knee Wraps (Pair) With Strap for Squats,...

Least Essential


Gymreapers Lifting Wrist Straps for Weightlifting,...
Final Thought
A weightlifting belt prevents over-exertion of the spine and helps you maintain the conventional stance that's required for these types of exercises
At the core of all gym chalk is a tried-and-tested magnesium carbonate formula that works wonders in improving your grip and balance.
With each movement requiring a full range of motion, knee wraps can help greatly reduce the risk of injury
They're a handy addition for both high-intensity or normal deadlift exercises since they provide a secure grip, help you lift heavier weights, and protect your wrists against fatigue.
Materials
Leather
Magnesium carbonate
Elastic and Cotton Blends
Cotton, Nylon or Leather
Size
XS - XXL
3.5" x 3.5" x 1.75" (Standard Chalk)
Only One
S - XL
Colors
Various
White
Various
Various
Types
Buckle and Prong
Liquid and Solid Chalk
Velcro Straps
Buckles, Lasso or Velcro Straps
Price
$
$
$
$
Learn more
See at Amazon
See at Rogue
See at Amazon
See at Amazon
Why You Should Trust BoxLife
Each member of the BoxLife team is fiercely dedicated to fitness training and general well-being. We've all been through the trial and error process of discovering what serves our individual exercise goals best, from conventional deadlifts to assisted machines.
Using this pooled knowledge of various training cycles, we're able to critically assess each product and its application in the realm of deadlifting. We extensively research, test, evaluate, and curate each item to see whether it's a worthwhile addition to your gym arsenal.
Who Is This Guide For?
We're striving to improve the fitness experience for anyone that wants to boost their deadlift performance. This full-spectrum workout can benefit both beginners and experienced lifters alike. With the proper accessory training and targeted exercises, both can tackle heavy weights safely and efficiently.
Our Top Pick
CAP Barbell - The Beast
Based on our testing, this is the best budget barbell for beginners. For less than 150$, you get a good, durable barbel made of Japanese stell with black matte finish. Frankly, it offers great value for money. It's also backed with an 1 year warranty.
How We Picked the Best Products
Aside from our own approach to training with deadlift accessory exercises, we turned to the internet's finest fitness forums to gather more information from trusted sources. We took into account customer reviews, product feedback, and other user-generated content from Reddit and Quora, where we found comprehensive solutions to common deadlift questions.
We also browsed through major retailers like Amazon, Titan, and Rogue Fitness to determine how each item was priced, what the consumer base said about it, and which products topped the list for best overall value. We cross-referenced our findings and made sure only the cream of the crop made it to our final selection.
How We Graded Each Product
Since different deadlift accessory sets have their own unique features, we took care to analyze each item based on its individual components. We tried to tie those individual components to specific goals and functions, to help you understand each product's applicability to a range of deadlift training needs.
Durability – Regardless of how complex or straightforward your training regimen is, there's no substitute for a well-built product. We looked at the construction of each item to ensure its long-term performance, even in high-demand scenarios or workouts with heavier weights.
Function – Sure, a product might look great, but does it actually do what it's supposed to? Is there a purpose to each item's specific function, or is it just there for added convenience? There's a fine line between useful accessories and unnecessary additions, which is why we were laser-focused on how each option can benefit you in the long run.
Value for money – You don't necessarily have to stretch your budget to the breaking point just to get solid deadlift accessory sets. Even the more affordable options have some impressive features, with the right balance of functionality and affordability.
The Best Deadlift Accessories to Buy in 2023
While the standard deadlift workout consists of only a few basic movements, even the most experienced users could benefit from specific accessory exercises. We took it upon ourselves to find the most suitable candidates for the best deadlift accessories that deliver on their promise.
When it comes to deadlifting, a belt can be your secret weapon for lifting heavy weights and protecting your spine.
Wearing a belt during deadlifts can help increase intra-abdominal pressure. This extra pressure helps to stabilize your spine and prevent any unwanted rounding, which can lead to injury. It's like having a built-in support system for your lower back.
But wait, there's more! Wearing a belt can also help improve your form. When you have that extra support, it can help you maintain a more upright position throughout the lift. This means you're less likely to rely on your lower back muscles to do the heavy deadlift and more likely to engage your glutes and hamstrings, which are the powerhouse muscles for deadlifting.
So, if you want to deadlift like a pro and keep your spine safe and sound, don't forget to buckle up with a trusty belt. It's the ultimate accessory for any serious lifter.
Pros
Minimizes the impact on the lower and upper back muscles
Offers extra resistance and control
Provides protection and reduces the risk of injury
Acts as mental support and increases confidence
Cons
Can be uncomfortable for some users
Might result in dependency and lack of proper form
Key Specs
| | |
| --- | --- |
| Materials | Leather and Nylon |
| Size | XS – XXL |
| Colors | Various |
| Adjustment System | Buckle and Prong |
Why It's Great
When you think about it, the entire movement of a deadlift training session consists of stabilizing the core to lift heavy weights. You're essentially relying on your back muscles for most of the work, with consistent and often intense pressure on your lower back. A weightlifting belt prevents over-exertion of the spine and helps you maintain the conventional stance that's required for these types of exercises.
In terms of materials, both leather and nylon are acceptable options that offer enough flexibility and adjustability for all body sizes. The former might be more expensive, but it's also more durable and provides good all-around performance. The latter is usually cheaper and more lightweight, with greater breathability that reduces sweat buildup.
Additionally, the size range should vary according to your waist measurements. Most models come with a customizable buckle and prong system with multiple holes, giving you more control over the tension and fit. Don't go for a size that's too small, as the belt won't be able to protect your back properly or provide enough support.
Similarly, opting for a larger model won't give you the desired results. Sometimes you might need to consult a medical professional to determine which type and size would be best for your body.
Who It's Best For
The sheer practicality and convenience of a weightlifting belt have helped it become a mainstay in the fitness industry. Even if you're not necessarily looking to increase your deadlift performance, a belt can still be a solid investment and a great way to reduce the risk of injury.
Gym chalk, the powdery substance that makes you look like you've just survived a snowstorm, is not just for show. When it comes to deadlifting, chalk can be your best friend.
Firstly, chalk reduces the amount of moisture on your hands, which means you'll have a better grip on the barbell. No more worrying about the bar slipping out of your hands and crushing your toes.
Secondly, chalk helps to reduce friction between your hands and the bar, allowing you to slide your hands up and down the bar more easily. This means you can focus on lifting heavier weights without the distraction of an uncomfortable grip.
It's a relatively affordable solution that can improve your overhand grip and control, as well as minimize friction with the metal bar for all deadlift variations.
Pros
Maintains a firm hold on heavy weights and prevents slippage
Reduces moisture and sweat buildup on the hands
Facilitates a better feel for the bar and increases tactile feedback
Budget-friendly and easy to use
Cons
Can be messy at times
Might require a chalk bag or block for storage purposes
Key Specs
| | |
| --- | --- |
| Materials | Magnesium carbonate |
| Size Range | 3.5″ x 3.5″ x 1.75″ (Standard) |
| Colors | White |
| Types | Liquid and Solid Chalk |
Why It's Great
At the core of all gym chalk is a tried-and-tested magnesium carbonate formula that works wonders in improving your grip and balance. Its inherent absorbent properties create a dry layer between your palms and the bar, acting as a protective barrier and boosting the chances of a successful lift.
When it comes to actually using the chalk, you have two main options – liquid or block form. The first option is rather easy to apply and comes in various types, such as liquidized blocks or spray chalk. The latter is usually a more traditional approach – you break up a big block of chalk and use it by rubbing it on your palms and fingers.
As for the actual material, liquid chalk is usually preferred for its convenience and mess-free application. It's also strongly recommended for outdoor training since it doesn't create much dust and won't blow away like traditional chalk. On the other hand, blocks of chalk are better for indoor use since they last longer and don't need to be replaced as often.
Who It's Best For
While it's mainly targeted toward users with sweaty palms, gym chalk can yield excellent results for all lifters of all levels. If you already have decent grip strength and a stronger pull, it can help stabilize and keep your wrists in a neutral starting position as you begin the lift.
Knee wraps are like hugs for your knees, providing support and stability during heavy deadlifts. Not only do they make you look like a hardcore lifter, but they also have some serious benefits.
These long and elastic straps wrap snugly around the knee joint and serve two main purposes – clocking in more reps and reducing joint-related issues. They provide stabilization for the knee as you lift heavy weights, all while increasing the body's range of motion. They're appropriate for both conventional and sumo stance exercises, with a focus on overall muscle activation.
Pros
Promote versatile movement and increase reps
Help reduce strain on the knee area
Secure and comfortable fit
Easy to adjust and remove
Cons
A proper wrapping technique is required to ensure the desired effect
Suitable for specific exercises and lifts only
Key Specs
| | |
| --- | --- |
| Materials | Elastic and Cotton Blends |
| Size Range | Only One |
| Colors | Various |
| Adjustment System | Velcro Straps |
Why It's Great
The wide stance and upright position are two of the main features of powerlifting, and they can be quite hard on the knees. Since you're using this type of equipment with great intensity and near-maximal weights, you could quickly create some serious knee problems if you're not careful. With each movement requiring a full range of motion, knee wraps can help greatly reduce the risk of injury.
The typical wrapping fashion involves the outside of the wrap going around your leg first, followed by the inner part that you pull tight. You start at the top and work your way down, making sure to evenly distribute the tension along your lower legs. Once you're done, you should have a good look at the final result and make sure there's no skin showing around the area that you've just wrapped.
Our Top Pick
CAP Barbell - The Beast
Based on our testing, this is the best budget barbell for beginners. For less than 150$, you get a good, durable barbel made of Japanese stell with black matte finish. Frankly, it offers great value for money. It's also backed with an 1 year warranty.
As for the specific way they're wrapped, you could go with one of three options – spiral, triple-X, and bowtie methods. The first one involves a crisscross pattern, while the second one uses two and three turns for each knee – with the third option being a combination of the two. How you wrap it will depend on your own level of comfort and the nature of the exercise.
Who It's Best For
It's suitable for anyone that wants to boost their leg strength levels without sacrificing stability and comfort. Knee wraps are especially beneficial for heavy squatting, as they help reduce knee flexion and joint strain while maintaining an upright standing position.
Lifting straps, those handy-dandy straps that wrap around your wrists and the barbell, are a deadlifter's secret weapon. These are the wrist equivalent of knee straps, as they have a similar purpose. They're made from long strips of cotton or leather, with a loop at one end that attaches to the barbell and another loop at the other end that goes around your wrist. The whole point is to increase the amount of weight you can lift, as well as to protect your wrists from fatigue and possible injury.
Pros
Increase grip strength and allow you to lift heavier weights
Firmly attach the barbell to your wrists, providing optimal control
Stabilize your wrists and keep them in a proper lifting position
Fully customizable and comfortable to wear
Cons
Some users can become over-reliant on them
Can be slightly uncomfortable at times
Key Specs
| | |
| --- | --- |
| Materials | Cotton, Nylon or Leather |
| Size Range | S – XL |
| Colors | Multiple |
| Adjustment System | Buckles, Lasso, or Velcro Straps |
Why It's Great
Your knees aren't the only ones that need protection when powerlifting. Your wrists are arguably just as vulnerable since you rely on them to hold the barbell in place when you're performing all kinds of deadlift variations. Your general strength movement can only do so much, and if your wrists can't keep up with the force you're exerting, you could be in for a lot of trouble.
With this in mind, lifting straps are a terrific way to facilitate proper grip training and better performance. You can also use them to increase the amount of weight you can lift without having to worry about overloading your wrists or losing control of the barbell. They're made from durable materials – which range from leather, cotton, and nylon – with each offering its own level of comfort and support.
In terms of the tightening mechanism, Velcro straps are a solid and straightforward option for beginners since they offer a quicker way to adjust and remove the main band. Straps with buckles are generally more secure and provide a firmer hold, but require more time to take on and off. Finally, lasso-style straps have more flexibility since you can quickly adjust the tension and release it in an instant.
Who It's Best For
They're a handy addition for both high-intensity or normal deadlift exercises since they provide a secure grip, help you lift heavier weights, and protect your wrists against fatigue. They're also suitable for those who want to increase their deadlift strength or want to avoid wrist strain.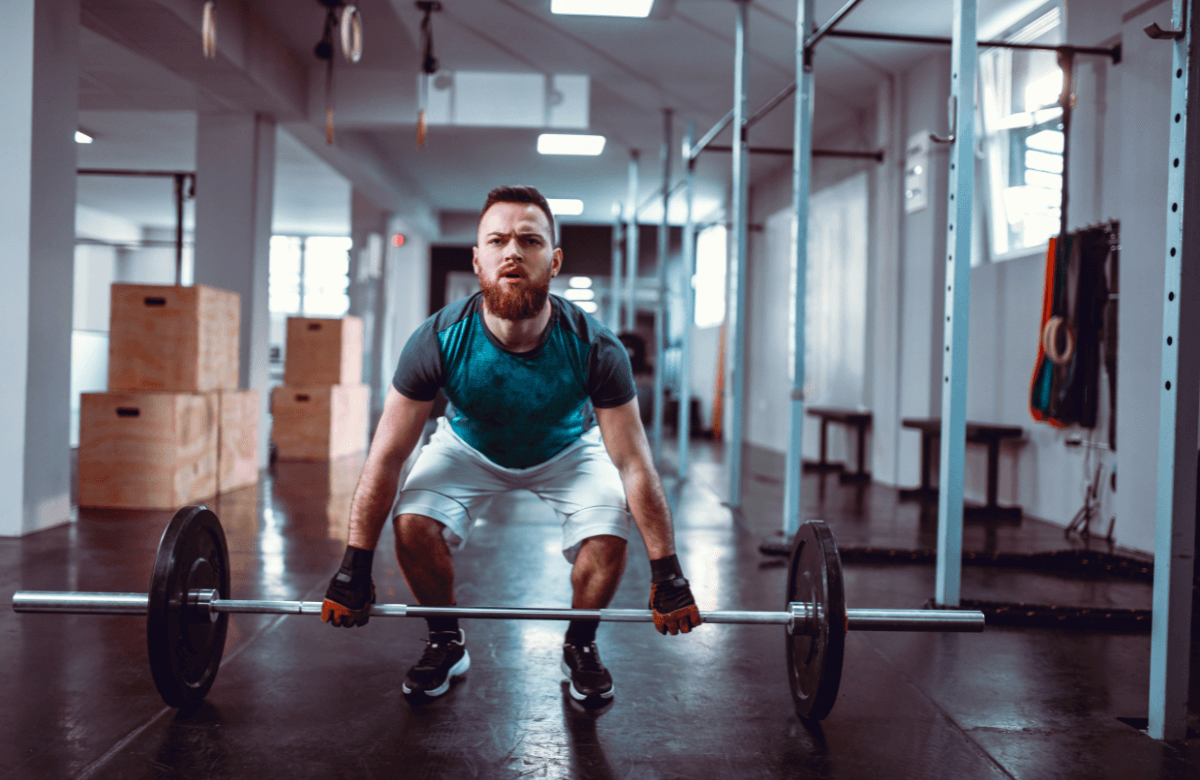 The Ultimate Guide to Buying Deadlift Accessories
While all these options are arguably quite useful for training your entire body in a variety of ways, they're not all equally suitable for everyone. Sometimes this can be an obvious choice based on the type of product, while other times it requires a bit more thought and research.
Training Regimen
Consider how many times per week you'll be lifting and what type of movements you'll do – as this will determine the specific type of belt, wraps, or straps you'll need. For instance, a powerlifter typically requires more support and rigidity compared to an Olympic lifter, as the latter requires more mobility and flexibility.
Another example would be deficit deadlifts, as these need more support around the ankles and heels – making them a better fit for wraps than belts. You might also want to get an elevated surface to mitigate the risk of spinal compression and strain.
Similarly, if you're doing multiple sets per week of heavy deadlift exercises with some rest time in between, you may require a more robust belt or strap. But if you're doing mostly light exercises one or two times a week with some high-intensity ones thrown in for good measure every now and then, something simpler may be more suitable.
Stitching
This goes out to all the fabric-based products – such as lifting straps and knee wraps. While the particular material that makes up the item isn't necessarily important as far as performance goes, you'll still want to make sure it's well-stitched and durable enough for intense workouts and weeks of training.
Look for thick, double-stitched seams for maximum strength and longevity. These normally feature reinforced stitching around the main moving parts, such as the Velcro straps or buckles – which are designed to take the brunt of the load. Other parts – such as the loops or handles – should have a tighter weave to ensure they don't come apart easily when you're lifting heavy.
If you notice any loose threads or fraying edges, this indicates a lackluster quality that might not hold up for long. Even if the item is relatively cheap, you don't want to be replacing it every few months.
Texture and Comfort
Regardless of which advanced training method you choose, you'll want to make sure that the belt, wraps or straps you get feel comfortable against your skin. For example, if you're using a belt for deadlifts, it should fit snugly against your waist without pinching or being too loose. The muscles responsible for this motion should also be able to move freely without any restrictions.
As for texture, some models feature a coarse material that may cause some discomfort during the lift, while others feature a softer material that's more comfortable and provides better adherence. While the former is generally preferred to avoid a weak grip during the exercise, the latter can still provide a secure hold without compromising your comfort.
Care and Maintenance
It's no secret that workout accessories tend to accumulate a lot of sweat, dirt, and grime over time – which can lead to bacterial build-up and an eventual breakdown of the fabric itself. This is why regular cleaning and maintenance is a must for any gym-goer who wants to keep their equipment in mint condition for as long as possible.
For fabric-based products like lifting straps and wrappers, you'll want to machine wash them in cold water. This will help remove any layers of sweat and dirt that collect over time, as well as kill off any bacteria that might be present.
Price Range
While going for the pricier accessories in an attempt to tackle stronger deadlifts and reach your goals faster may sound appealing, it's not necessary. You can find a variety of quality belts, wraps, and straps that won't break your budget. After all, their main goal is to give you a safer deadlift experience than you would have without them, not necessarily to make you a more advanced lifter.
However, this does raise the question of quality as cheaper models may not be as durable or long-lasting. Leather would naturally be the most expensive option, while nylon is usually cheaper but still provides enough traction and dedicated support. The same goes for knee wraps that are overly stretchy or too stiff. They don't need to be overly thick or have extra cushioning, but they do need to provide the right amount of support during your workout.
Frequently Asked Questions
What accessories help deadlift?
There's a wide range of accessories that can help with deadlifts, such as weightlifting belts, gym chalk, knee wraps, and lifting straps. All these items have optimal features that help you get a better grip, protect your wrists and ankles, and avoid fatigue while lifting heavier weights. Having an excellent accessory exercise program in place is essential for proper form, and can help you increase your deadlift lockout strength.
Are accessories important for powerlifting?
It's not that you can't perform usual floor deadlifts without the help of accessories, but powerlifting requires the use of these items to maximize your form and output. Since you're dealing with heavy loads in multiple sets per week, you're going to need some extra range support and protection. So, in that sense, they're an integral part of the powerlifting training program.
Does deadlift build muscle faster?
Absolutely, deadlifts engage the muscle fibers across the whole body, allowing them to be worked more efficiently than any other exercise. You'll get a full-body workout at once – from your upper back strength and pelvic floor muscles to your forearm muscles and shoulder area. Additionally, the deadlift exercise puts your body under heavy tension, which is a form of progressive overload that helps increase muscle growth even faster.