At first glance, doing pull-ups may seem like an easy enough task – all you need to do is grab a bar and lift yourself up, right? However, the reality is that this exercise can be quite challenging, especially for newcomers to the fitness world. Not only are you testing your strength, but also your stability as you try to lift your body up and over the bar.
Sure, having some core strength and an iron grip are crucial factors, but you can also benefit from the use of pull-up bands to help make the exercise easier. These elastic wraps provide assistance as you pull yourself up, increasing your range of motion and allowing you to make a smooth transition from pull-up to pull-up. You get some much-needed support and can focus on proper form and technique.
In a Hurry? Here are our best ranked Products:
Product Image

Product Name / Pros

Primary Rating / Primary Button

Lightweight and portable

Non-slip grip for better control

Great for beginners and elite athletes alike

Wide range of strength levels and sizes

Fantastic band tension and durability

Super-strong construction for heavier workouts

Natural latex construction

Multiple sizes

Anti-slip design
Why You Should Trust Us
At BoxLife, we take great pride in our dedication to providing unbiased, accurate and comprehensive reviews of a wide range of fitness products and accessories. Our team of experts has spent countless hours researching and testing each item, with a focus on the overall user experience and general customer satisfaction.
Our team consists of a diverse range of individuals at various stages of their fitness training journey, with different body types and fitness goals. This multi-faceted approach to testing allows us to provide an honest and unbiased evaluation of the products we review. We're able to look at one item from various perspectives, which in turn gives us a better idea of how it'll work for different types of people as well as the safety and budget considerations one may have when shopping.
Who Is This Guide For?
It doesn't matter if you're just beginning your fitness journey or are already a seasoned athlete, anyone who requires some pull-up assistance for their training sessions will benefit from this guide. Whether you're looking to get started on your pull-up goals, build strength and stability or take your fitness routine up a notch, having the right pull-up bands can help you make the right progress towards your goals.
How We Picked the Best Products
Aside from our own multi-perspective testing, we also looked at what others had to say about each product to get an all-encompassing view of each contender for the best pull-up bands. As such, we looked at user comments on discussion threads across Reddit and Quora, where each product was evaluated on its own merits. We came across plenty of helpful insights from experienced fitness experts as well as everyday users, which gave us more than enough information on which to base our picks.
Moreover, we took a peek at the more general customer reviews across the Amazon, Titan, and Rogue Fitness pages, which helped us gauge how well the product was performing in the market. We considered the overall ratings and customer feedback to get an understanding of how effective each model is and whether it stands up to its promises.
How We Graded Each Product
Once we'd done our research, we put all of our picks on an even playing field and put them through a comprehensive testing process. We evaluated each product according to a strictly controlled set of criteria, with a focus on:
Materials and Durability – Since you'll be using the band for a variety of pull-up exercises, it's important that you have something that will last and won't snap after just a few uses. It has to take the brunt of your weight and still come out unscathed, with no fraying or tearing. With that said, the most common materials used for pull-up bands are latex, rubber and cloth, all of which have their own unique perks and potential drawbacks.
Strength and Support – Not only are these bands meant to support you during pull-ups, but they should also be able to handle your body weight without compromising on the quality of the exercise. Every model has a specific range of resistance levels it can handle that's directly illustrated by the thickness and length of the band. The more experienced you get, the more challenging and heavier the exercises you can do.
Comfort and Fit – Given their tight and somewhat constricting nature, pull-up bands can be a tad uncomfortable if you don't get the right size. The ideal fit should be snug and secure without digging into your skin or feeling too tight around your joints. Moreover, the way they feel should not hinder your activities or movements in any way – so any irritation or discomfort should be addressed accordingly.
Value For Money – Shopping for any kind of fitness product should include an evaluation of the monetary value you're getting in exchange for your money. Depending on the brand, material quality and features, prices can vary significantly between models. We made sure to consider the price-to-value ratio of each product in order to find the best bang for your buck.
The Products
We put each pull-up band through rigorous testing and evaluation based on the criteria outlined above, and hereby present to you our picks for the best pull-up resistance bands for your strength and conditioning needs.
Best Overall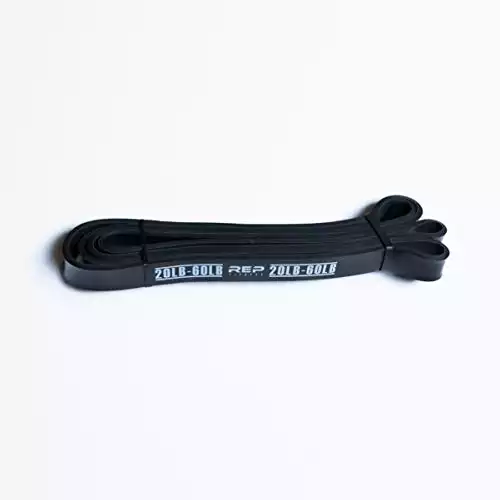 REP FITNESS Pull-Up Bands
There's hardly a name more trusted in the fitness world than REP Fitness, which makes their Pull-Up Bands a top pick for all your pull-up needs
Pros:
Lightweight and portable

Non-slip grip for better control
Cons:
Only one size that's 38'' long
See latest price
There's hardly a name more trusted in the fitness world than REP Fitness, which makes their Pull-Up Bands a top pick for all your pull-up needs. Their dedication to providing quality products and services is apparent in the design and construction of these bands, which deliver in terms of comfort, durability and strength.
Their multi-layered latex construction ensures a long shelf-life and great performance, while the soft cotton cover improves comfort and prevents skin irritation. Their carefully designed handles provide extra support and proper feedback during your exercises, with continuous loops that make it easier to adjust and switch out different sets.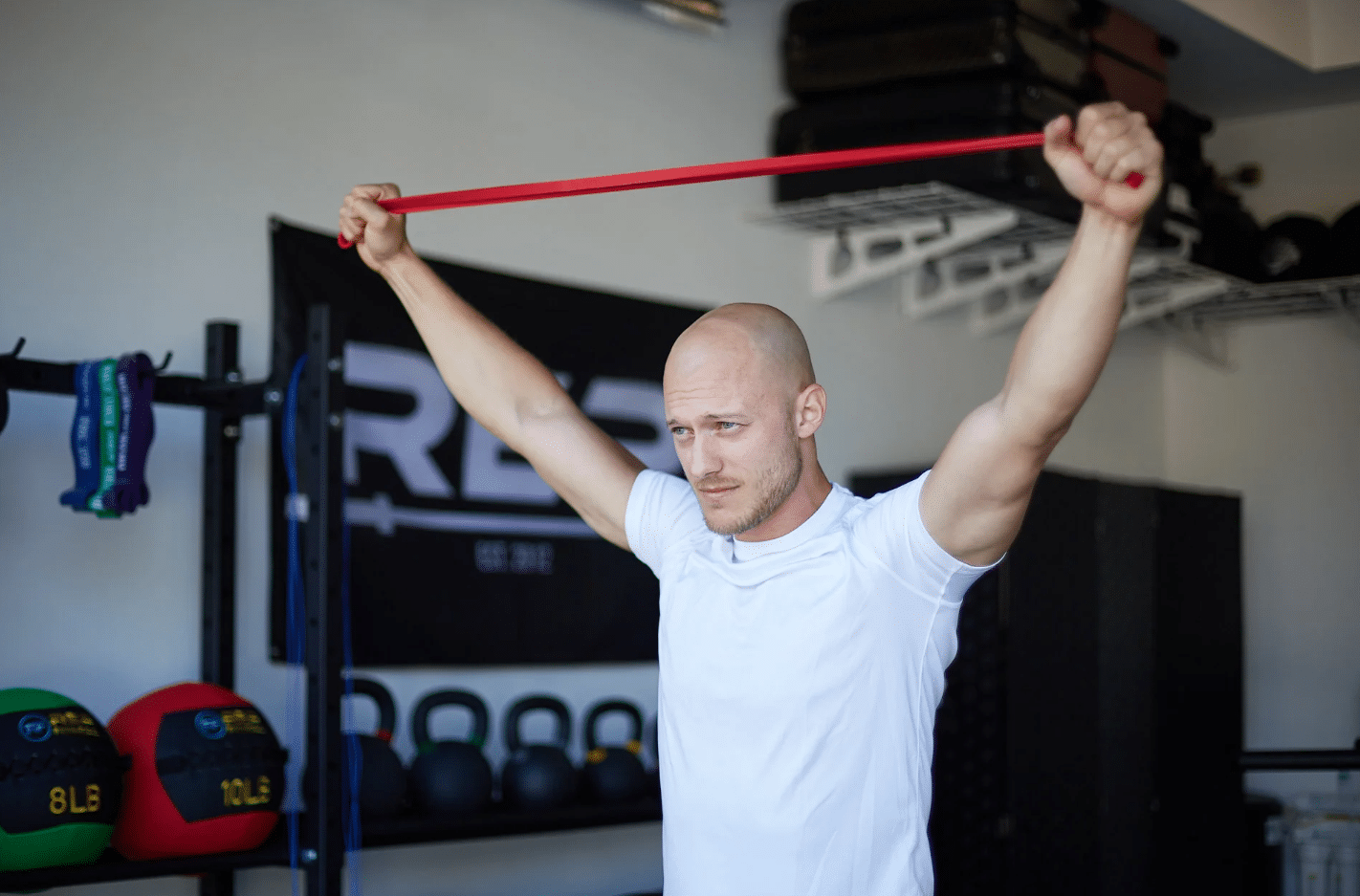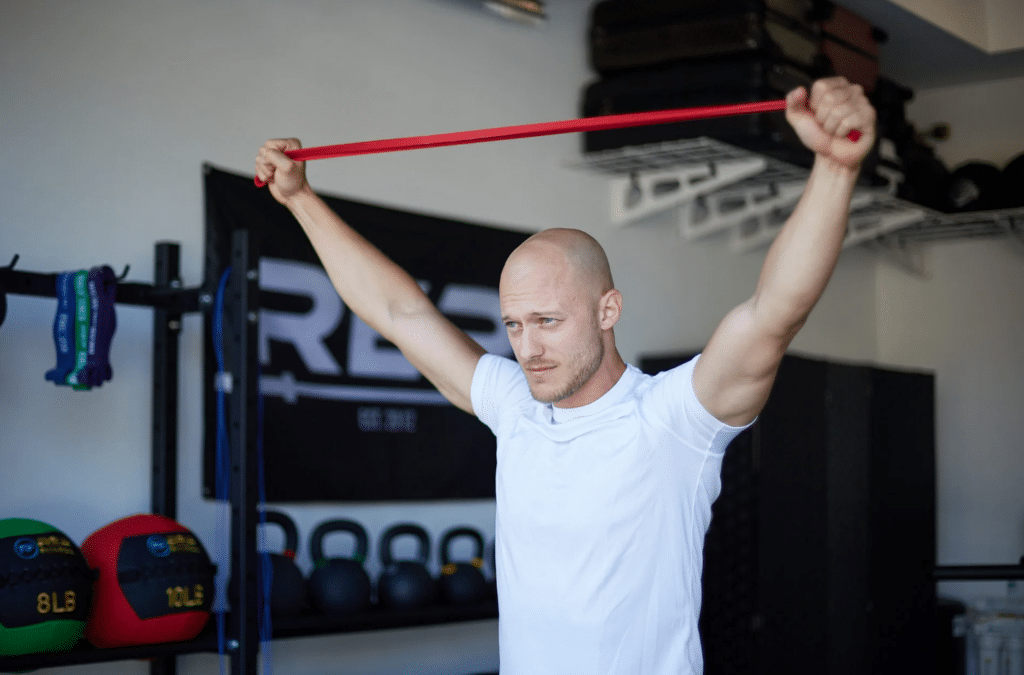 Pros
Relatively lightweight and portable
Non-slip grip for better control
Multi-layered latex construction for durability
Soft yet firm built that won't snap or tear
Cons
Only one size that's 38" long
Slightly more rigid compared to other models
Key Specs
| | |
| --- | --- |
| Length | 38" |
| Resistance Range | 15 – 175 lbs |
| Material | Multi-Layered Latex |
| Color Options | Yellow, Red, Black, Purple, Green, Blue, Orange |
| Average Price | $28.99 |
Why It's Great
The REP pull-up bands are designed with comfort and durability in mind, as they feature a soft cotton cover that prevents skin irritation. They're made up of multiple layers of reinforced latex, each one adding to its strength and resistance. These bands have a non-slip grip that helps you keep the band in place while you perform your exercises with greater control, with even more durability ensured by the heavy-duty stitching. Once you place them on the pull-up bar, you can be sure they won't slip off or break during your workout.
While they may not be the thickest band around, they still provide a good deal of resistance. The more weight you put on them, the more resistance they offer, which can be quite useful for pull-up progression training and other gradual-increase workouts. Plus, the amount of weight each pair can handle is clearly displayed on the bands themselves, allowing you to easily identify which band best suits your needs. The thinner band varieties are geared towards beginners, while the thicker ones are more suitable for high-intensity training and advanced athlete exercises.
This inherently means they're quite effective at managing a wide range of weights, but only up to the 175 lbs mark. While this may be a downside for those looking for something heavier, it doesn't have to be limiting in terms of the kinds of exercises you can do.
They also come in a number of sizes to accommodate different wrist shapes, with plenty of versatility for greater comfort. Their tubular design brings more agility and ease of use, with better stability and more control. While some of the most common mistakes made with pull-up bands are related to incorrect form and abandonment due to lack of progress, the REP models will help you stay on track and get the most out of your pull-ups.
Who It's Best For
If you want to invest in a complete and quality set, you can never go wrong with the REP Fitness Pull-Up Bands. Their resilient build and reliable performance make them perfect for an array of exercises, whether you want to do simple pull-ups or more complex powerlifting workouts. They're also quite reliable in terms of comfort and fit, with multiple sizes for the best performance. Plus, their non-slip grip ensures better control while still being fairly lightweight and portable.
Best for Athletes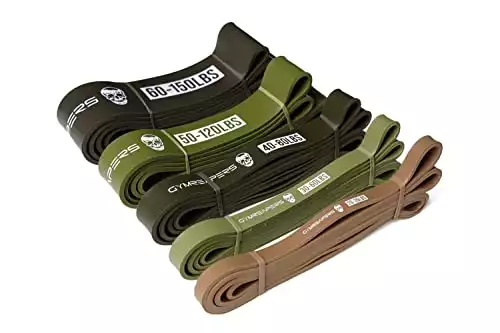 Another pillar in the fitness world is Gymreapers, with consistent and intuitive products like their Pull-Up Assist Bands. Crafted to the highest standards of quality and reliability, these bands provide an all-around incredible performance that makes them a top pick for athletes and experienced lifters alike. Combining the strength of heavy-duty latex with premium stitching, you're guaranteed a long life from your set. Regardless of the movement pattern you prefer, their bands facilitate an intense and effective workout for users of all skill levels.
Source: Gymreapers
Link – https://www.gymreapers.com/cdn/shop/articles/resistance-pullup-bands-routine.jpg?crop=center&height=1200&v=1619797176&width=1200
Pros
Natural latex construction with increased breathability
Multiple sizes to suit different wrist circumferences
Enhanced grip and control with an anti-slip design
Heavy-duty stitching for longevity
Cons
Not suitable for heavier powerlifting exercises
Limited to two package options
Key Specs
| | |
| --- | --- |
| Length | 41" |
| Resistance Range | 10 – 150 lbs |
| Material | Natural Latex |
| Color Options | Desert Tan, Ranger Green, Dark Earth, OD Green, Coyote Brown |
| Average Price | $15.99 – $84.96 |
Why It's Great
The sheer breathability and versatility these band sets bring to the table are an unprecedented combination. With a natural latex construction that's designed for increased breathability and comfort, you can count on these bands to provide the best in terms of performance and durability. Moreover, they boast a wide range of sizes so you can get the most out of your workouts without worrying about discomfort or skin irritation. A general rule of thumb is to go for the smaller sizes if you're looking for a more intense workout, and the larger size if you need something more moderate.
The anti-slip design ensures better control over the band, making for a smoother and more comfortable workout experience. And, with heavy-duty stitching that's designed to ensure longevity and resilience, you can rest assured knowing these bands will last you a long time. Each set comes with reinforced loops for easy use and rigid edges for better grip and control. The stronger band tension brings an unprecedented level of tension and improved performance in all your pull-up and strength workouts.
Even though they don't offer the heaviest resistance, these bands can still be used for a variety of exercises. They're quite flexible and offer a good amount of resistance for lighter strength and conditioning workouts. Plus, the reinforced edges make them quite useful for targeted exercises like shoulder presses and triceps extensions. While they don't have the levels of resistance labeled on the bands themselves, the color-coded system makes it easy to identify which one fits your needs the most.
Who It's Best For
If you're an athlete looking for a reliable and comfortable set of bands, the Gymreapers Pull-Up Assist Bands can offer the level of quality and performance you need. Made for increased breathability and better control, these bands are perfect for lighter strength and conditioning workouts as well as more targeted exercises.
Their inherent flexibility and wide range of sizes make them perfect for any kind of workout, whether you're a beginner or an experienced lifter. The reinforced edges deliver better control and grip so you don't have to worry about the bands slipping while you're lifting.
Best Heavy-Duty Bands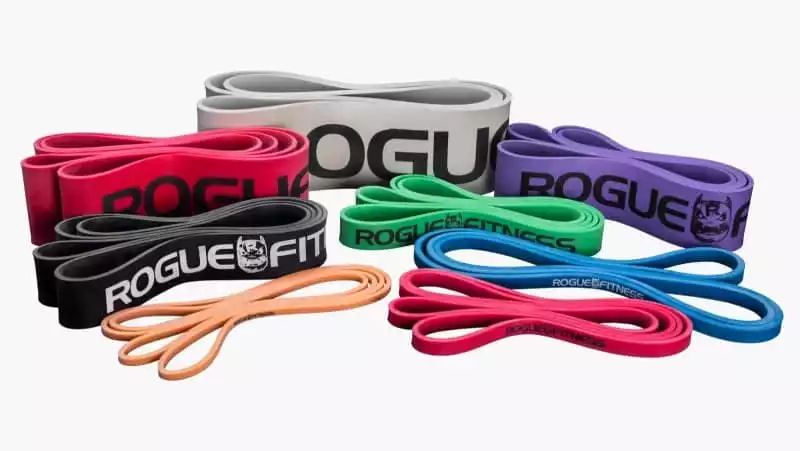 Rogue Monster Bands
The pull-up package from Rogue Fitness is the definition of inclusivity and overall quality.
Pros:
Fantastic band tension and durability

Super-strong construction for heavier workouts
See latest price
When it comes to heavy bands for more power-oriented workouts, Rogue Fitness has nailed it with their Monster Bands. Each band is made of a high-grade, abrasion-resistant rubber that's designed for maximum longevity and performance.
They're not limiting or restrictive, as each band comes with a welded seam that ensures maximum flexibility and reliability. Given their build and design, they offer the heaviest resistance compared to any other band. With constant tension, you can count on them to help you reach your maximum potential, as well as keep you safe during each workout session.
Pros
Fantastic band tension and durability
Super-strong construction for heavier workouts
Welded seam ensures maximum flexibility
Heavy gauge rubber for increased abrasion resistance
Cons
Don't have the most affordable price
Not suitable for anyone with latex allergies
Key Specs
| | |
| --- | --- |
| Length | 41" |
| Resistance Range | 15 – 200 lbs |
| Material | Natural Latex |
| Color Options | Green, Red, Blue, Purple, Orange, Black, Gray |
| Average Price | $17 – $71 |
Why It's Great
The pull-up package from Rogue Fitness is the definition of inclusivity and overall quality. Not only do these bands offer the highest levels of resistance, but they also offer lighter and more beginner-friendly options. Thicker varieties may be best for powerlifting and bodybuilding, while the thinner varieties are perfect for plyometric or stretching exercises. The individual bands bring a lot of versatility to the table, with an impressive range of resistance strength and tension.
All of the bands come with a welded seam that ensures maximum flexibility, offering a stable and reliable performance. And, with a heavy-gauge rubber construction that's designed for increased abrasion resistance, you can count on this bundle package to last you a lifetime. The natural latex is quite comfortable and doesn't cause any skin irritation, allowing for a pleasant and relaxing workout. The looped bands are quite easy to attach and remove, with a simple and intuitive design for improved convenience.
While the price range isn't the most affordable out there, it's a fair price for what you're getting. You can choose from several different package options, each of which includes a wide variety of bands and accessories like an anchor setup and storage bag. Plus, Rogue offers a lifetime warranty on their products which inherently gives you more peace of mind when you're performing more difficult and strenuous exercises. The latex bands are quite durable and can take a significant amount of stress and wear and tear.
Who It's Best For
With eight different levels of extra resistance, there's an all-encompassing package of bands for any level of strength. Professional powerlifters and bodybuilders will find their needs met with the range of heavy-duty, high-tension bands available. However, beginners and those just looking to tone up can still access lighter levels of resistance for more manageable exercises. Their state-of-the-art construction allows them to be used in any environment, from home gyms to commercial facilities with minimal to no fraying or damage.
Best for Full-Body Workouts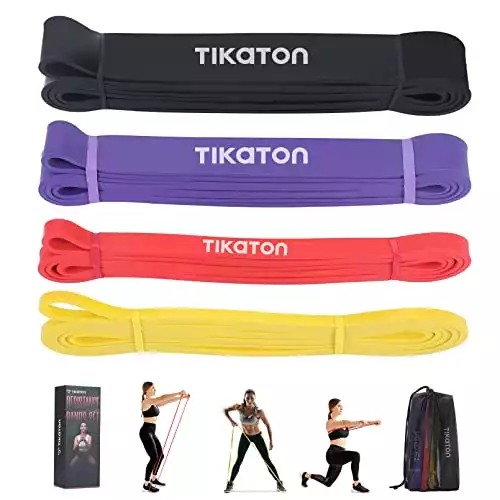 Tikaton Resistance Bands
These bands from Tikaton are perfect for anyone looking to gain strength, tone up, or just stay fit.
Pros:
Great for beginners and elite athletes alike

Wide range of strength levels and sizes
Cons:
Not enough support for a heavy lifter
See latest price
As far as rubber bands go, Tikaton's Pull-Up Assist Bands Set is a fantastic combination of quality and versatility when it comes to resistance training. Their undeniable flexibility and durability are quite suitable for full-body workouts, from upper-body exercises like pull-ups and chin-ups to lower-body exercises like squats and deadlifts. They support correct form and offer just the right amount of resistance for each exercise with stable and reliable performance.
Source: Amazon
Link – https://m.media-amazon.com/images/I/71b0bNOStWL._AC_UF1000,1000_QL80_.jpg
Pros
Solid option for full-body workouts
Great for beginners and elite athletes alike
Offers a wide range of strength levels and sizes
Resistance bands are thick and durable enough to last a long time
Cons
Don't offer enough support for a heavy lifter
Not ideal for powerlifting or bodybuilding
Key Specs
| | |
| --- | --- |
| Length | Varies |
| Resistance Range | 8 – 125 lbs |
| Material | Natural Rubber |
| Color Options | Black, Purple, Yellow, Red |
| Average Price | $44.99 |
Why It's Great
While heavier bands may offer more resistance and support for powerlifting or bodybuilding, these bands from Tikaton are perfect for anyone looking to gain strength, tone up, or just stay fit. Their focus is on the upper portion of the body, with reliable and comfortable bands that offer just the right amount of support for pull-ups, chin-ups, or any other upper-body exercises. Every time you put on a band, it'll give you the perfect amount of tension and resistance to help you reach your goals and tone the desired muscle groups.
These bands are made of high-grade, abrasion-resistant rubber that's designed to last you a long time. It's engineered for maximum flexibility and just the right amount of resistance with its adjustable band system. It's also quite comfortable, with a reinforced interior grip that allows for more control and stability during your workout, as well as a tactile feel that offers proper grip and traction. They're not exactly heavy-duty bands, but they have enough tensile strength to support your training and won't succumb to excessive wear and tear.
Plus, the included anchor setup ensures you can use them in any environment, from the gym to your own home. Not only that, but they also come with an included storage bag, so you can easily take them with you anywhere you go.
The light band design won't weigh you down or take up too much space, which means they're quite suitable for bodyweight athletes on the go. Even if you don't regularly attend the gym, you can still benefit greatly from using this set out in the park or at home. The convenience of the setup and portability means it's possible to enjoy both indoor and outdoor workouts with ease.
Who It's Best For
If you want to focus on the upper body as part of your fitness routine, this band selection from Tikaton can bring it to another level. It's great for beginners and experienced lifters alike, with adjustable bands that offer just the right amount of resistance. The focus on the upper body makes them perfect for pull-ups, chin-ups, and any other upper-body exercises.
They're also suitable for anyone who likes to travel or stay fit on the go, with a lightweight design that won't weigh you down or take up too much space. With an anchor setup included in each package, it's easy to set up and use in any environment. No more getting stuck in one place – take your workout with you and reap the benefits of a full-body workout anywhere, anytime.
Expert Tips for Buying Pull-Up Bands: Your Ultimate Fitness Companion
Pull-up bands have emerged as an indispensable tool for anyone looking to enhance their strength, flexibility, and overall fitness. These versatile bands can be used for a variety of exercises, making them a must-have for both beginners and seasoned fitness enthusiasts.
However, with the plethora of options available in the market, it's crucial to know what factors to consider when buying pull-up bands to ensure you're making an informed decision that aligns with your fitness goals. Let us walk you through everything you need to know before buying pull-up bands.
Resistance Levels and Types
The most fundamental aspect of pull-up bands is their resistance level. These bands come in various resistance levels, usually denoted by colors or labels like "light," "medium," or "heavy." Selecting the appropriate resistance level is crucial to effectively target your muscles and progressively challenge yourself. As a rule of thumb, it's wise to start with a band that provides comfortable resistance and gradually move up as your strength improves.
Material and Durability
Pull-up bands are typically made from either natural latex or fabric. Latex bands offer excellent elasticity and are often color-coded for different resistance levels. On the other hand, fabric bands are more durable and less prone to snapping. When considering material, think about your intended use, whether it's for stretching, assisted pull-ups, or other exercises.
Weight and Strength Capacity
Different pull-up bands have varying weight and strength capacities. Before purchasing, ensure that the band you're interested in can support your body weight or the weights you'll be using. Always choose a band that has a higher weight capacity than your actual weight or the load you'll be using for exercises.
Band Length and Size
The length and size of the pull-up band play a role in the types of exercises you can perform. Longer bands provide more flexibility in the range of motion, while shorter bands are better suited for more controlled and targeted movements. Consider the space you have available for exercises and choose a band length that fits your workout area.
Versatility
A high-quality pull-up band should offer versatility in terms of exercise. While they are commonly used for pull-ups and chin-ups, they can also be incorporated into stretching routines, mobility exercises, strength training, and more. Look for bands that come with guides or online resources demonstrating various exercises you can perform.
Portability and Storage
If you plan to use your pull-up bands at home or while traveling, portability becomes a significant factor. Opt for bands that are lightweight, easily foldable, and come with a carrying pouch. This ensures you can maintain your fitness routine wherever you go.
Comfort and Grip
The grip and comfort of a pull-up band are vital for a safe and effective workout. Some bands feature textured surfaces or handles to improve grip, while others are designed for direct contact with your skin. Choose a design that aligns with your preferences and provides a secure grip during exercises.
Budget Considerations
Pull-up bands come in a range of prices, often determined by factors like material quality, brand reputation, and included accessories. Set a reasonable budget based on your needs and preferences, and explore options that offer the best value for your investment.
Brand Reputation and Reviews
Research and read reviews from other users to gauge the reputation of the brand and the quality of the pull-up bands. Reputable brands often provide better customer support, accurate resistance levels, and durable products.
Warranty and Return Policy
Check the warranty and return policy offered by the manufacturer or retailer. A good warranty indicates the brand's confidence in the product's durability. Additionally, a clear return policy ensures you have options in case the band doesn't meet your expectations.
In conclusion, pull-up bands are a fantastic addition to any fitness routine, offering a wide range of benefits and exercise possibilities. Investing in high-quality pull-up bands can significantly enhance your workout experience and contribute to your overall fitness journey.
The Power of Pull-Up Bands: 10 Benefits That Transform Your Fitness Journey
In the ever-evolving landscape of fitness equipment, pull-up bands have emerged as a game-changing tool that caters to fitness enthusiasts of all levels. Whether you're a beginner seeking to build strength or a seasoned athlete aiming to diversify your workout routine, pull-up bands offer a plethora of benefits that can elevate your fitness journey to new heights.
1. Progressive Resistance and Strength Building
At the heart of pull-up bands lies their unique ability to provide progressive resistance. As you pull the band, the resistance increases, challenging your muscles throughout the entire range of motion. This allows you to gradually build strength, making pull-up bands an ideal tool for both beginners and experienced athletes striving to conquer new heights of power.
2. Assisted Pull-Ups and Dips
One of the most renowned uses of pull-up bands is for assisted pull-ups and dips. By looping the band over a pull-up bar or parallel bars and placing your foot or knee in the loop, you can reduce the weight you're lifting, making these exercises more accessible. This assisted approach allows you to perform full sets with proper form, effectively targeting specific muscle groups without straining or risking injury.
3. Enhanced Flexibility and Mobility
Pull-up bands excel beyond strength training. They're exceptional tools for enhancing flexibility and mobility. Incorporating bands into your stretching routine can amplify the benefits of static stretches, helping you reach deeper stretches and promoting greater joint flexibility over time.
4. Muscle Activation and Isolation
Isolating specific muscles during exercises is key to balanced muscle development. Pull-up bands facilitate muscle isolation by providing targeted resistance to a particular muscle group. This enables you to concentrate on muscle activation, promoting well-rounded strength and reducing the likelihood of muscular imbalances.
5. Versatility in Exercises
The versatility of pull-up bands is a true game-changer. They can be seamlessly integrated into numerous exercises beyond pull-ups, such as bicep curls, tricep extensions, squats, and shoulder presses. This diversity allows you to create a comprehensive workout routine that engages multiple muscle groups.
6. Safe and Joint-Friendly Workouts
For people with joint concerns or injuries, pull-up bands offer a low-impact alternative to traditional weightlifting. The controlled resistance of the bands minimizes joint stress while still providing an effective workout. This makes them an excellent option for rehabilitation and for maintaining fitness during recovery periods.
7. Portable Fitness Companion
Whether you're traveling, heading outdoors, or simply prefer working out at home, pull-up bands are the ultimate portable fitness companions. They take up minimal space and can be effortlessly stowed in a backpack or suitcase. With pull-up bands in tow, you can maintain your fitness regimen no matter where life takes you.
8. Suitable for All Fitness Levels
One of the standout advantages of pull-up bands is their inclusivity. With a range of resistance levels available, individuals of all fitness levels can find the band that suits their needs. Beginners can start with lower resistance bands, gradually progressing as their strength improves, while seasoned athletes can opt for higher resistance levels to keep pushing their boundaries.
9. Cost-Effective Fitness Solution
Compared to traditional gym equipment, pull-up bands offer a cost-effective solution for achieving your fitness goals. They provide the benefits of weight resistance training without the need for heavy, expensive equipment. This affordability makes pull-up bands an accessible choice for anyone seeking to enhance their workout routine without breaking the bank.
10. Fun and Dynamic Workouts
Monotony can dampen any fitness journey. Pull-up bands inject a dynamic element into your workouts, keeping things interesting and challenging. Experimenting with different exercises and resistance levels ensures that you'll always find new ways to engage your muscles and stay motivated.
In conclusion, pull-up bands have revolutionized the way we approach fitness. From progressive strength building and assisted exercises to flexibility enhancement and safe joint-friendly workouts, their benefits are undeniable. Versatile, portable, and suitable for all fitness levels, pull-up bands are a versatile tool that can transform your fitness journey by providing effective, efficient, and enjoyable workouts. Whether you're a beginner or a seasoned fitness enthusiast, incorporating pull-up bands into your routine
Frequently Asked Questions:
Are Pull Up Bands Effective?
Yes, pull-up bands are effective tools for various fitness goals. They provide progressive resistance, which means the resistance increases as the band is stretched. This helps build strength, improve muscle activation, and enhance flexibility. Pull-up bands can be particularly effective for assisted pull-ups, muscle isolation, and diverse exercises beyond traditional pull-ups.
Which Band to Use for Pull-Ups?
The band you should use for pull-ups depends on your fitness level and goals. Beginners might start with a lighter resistance band, while more advanced individuals can opt for heavier ones. Experiment with different bands to find the right level of assistance that allows you to perform pull-ups with proper form while still challenging your muscles.
How Much Weight Do Bands Take Off Pull-Ups?
The amount of weight that pull-up bands take off varies based on the resistance level of the band and your body weight. On average, a pull-up band can provide assistance equivalent to around 10 to 50 pounds (4.5 to 22.7 kg) of weight. Thicker bands typically offer more assistance, while thinner ones provide less assistance.
Can Pull Up Bands Break?
Pull-up bands are designed to withstand the forces generated during exercises, but they can break if not used correctly or if they're worn out. It's important to inspect your bands regularly for any signs of wear and tear, such as fraying or weakening. Using the appropriate resistance level for your weight and ensuring proper form while exercising will help prevent bands from breaking.
Do Banded Pull-Ups Build Muscle?
Yes, banded pull-ups can effectively build muscle. They target various muscle groups, including the back, biceps, and core. By providing progressive resistance, banded pull-ups stimulate muscle growth and strength development. Over time, as you progress to performing unassisted pull-ups, the muscle gains from banded pull-ups can contribute to a well-rounded physique.
Which Color Resistance Band is Strongest?
The color coding of resistance bands can vary between manufacturers, so there's no universal standard for color strength. However, in many cases, the black or purple bands tend to be the strongest or heaviest resistance levels. Always refer to the manufacturer's provided guidelines or resistance level indicators to ensure you're using the appropriate band for your fitness level.