For the first time in CrossFit Games history, a podium finisher has been stripped of his finish for testing positive for PEDs (performance enhancing drugs). Ricky Garard, a 23-year old Australian and 2017's 3rd place finisher will lose his $76,000 winnings from the 2017 Games and will be banned from any CrossFit sanction event through the 2021 season. His invitation to participate in the 2017 Reebok CrossFit Invitational has also been rescinded. With Garard's disqualification, Canada's Patrick Vellner will move up to third-place. The reaction to this point has been mixed.
Garard's post Games drug test revealed Testolone and a beta-2 agonist known as Endurobol, two banned substances according to the CrossFit Games Rulebook. Testolone, also known as RAD140, belongs in a class of drugs known as SARMS. Testolone's supposed benefits include 'drastic improvements in endurance and recovery and considerable improvements in strength and lean mass'. Endurobol, also known as Cardarine or GW501516, is one of the newest PEDs gaining huge traction in the endurance world. Both drugs come with buyer-beware side effects including Endurobol's possible increase in cancer rate and tumor size.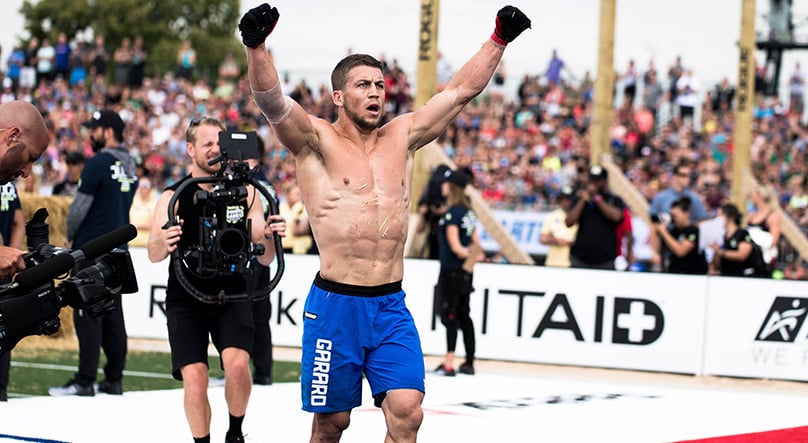 Response From CrossFit HQ (via games.crossfit.com)
"The CrossFit Games have never had a top individual athlete test positive for PEDs until this case," said General Manager of the CrossFit Games Justin Bergh. "Historically, the most frequent causes for a failed test have been masters athletes failing to read and accept our policy for hormone replacement in competition, and individual and team athletes using supplements containing banned substances not found on labels. Garard's case does not appear to be accidental, and we take this result very seriously."
"The Games are an opportunity for athletes to prove their fitness through competition. The diversity of our events is part of what validates the claim that these are the fittest people on Earth," Bergh said. "Drug testing is another important test, which ensures that the training and talent of the athletes are what determine the outcome. Garard failed to validate his performance this year and will face a four-year suspension from competition. We will closely evaluate the circumstances of his case and others, and adjust our directed testing accordingly. All athletes can be confident that CrossFit will aggressively pursue and punish anyone who attempts to use drugs to gain an advantage in competition."
Our Top Pick
Transparent Labs Creatine HMB
Based on our testing, this is the best creatine for most people. It has the perfect dosage of creatine monohydrate per serving, which has been proven to increase muscle mass.
Pros:
Promote strength and muscle gains

Tested for purity and safety

Free from artificial colors
See on Amazon
See on Transparent Labs
"Any athlete who uses performance-enhancing drugs is directly attacking his fellow competitors, our community and our sport," Bergh said. "It is our responsibility, along with athletes themselves, to identify those threats and remove them. As the heads of the sport, we will do our part to provide the means necessary to ensure this continues to happen."
Reaction From Ricky Garard (via Instagram)
As you can appreciate my world has come crashing down, it is heart breaking & it's hard to comprehend that I am in this position.
On the pursuit of becoming all I could be as a CrossFit athlete, I have obviously taken the rules & boundaries to the very edge. I looked into, researched & was willing to dabble into ways that could improve my performance legally & within the rules, with no intention whatsoever to be a cheat.
I was taking the same supplements at The CrossFit Games as I did at The Pacific Regionals. Therefore, I didn't feel the need to change anything. I thought I was legitimately competing within the rules with no unfair advantage over others.
But, after further investigation & very specific testing it has been revealed that my research has failed me & I have received a positive test for SARMS. To be clear these supplements were taken in tablet form with nothing ever injected.
Everyone in life makes mistakes, it's how you learn from them that separates the great from the mediocre.
These actions don't define me, this sport doesn't define me.
It's the lessons & growth of my character that truly matter.
In time, I know this will be the best thing that ever happened to me. I wanted the title, I wanted to win & I was willing to do everything in my power to achieve that goal.
Not for one second should you take away the hard work, sacrifice & dedication of my efforts.
At 23 years old I have a lot of years left in my life, I have endured the process & I have become something because of it.
In the end, I am apart of their sport, The CrossFit Games. They have rules, guidelines & policies to abide by. I have unintentionally fucked up, their evidence has proven me guilty & I will own my actions day by day for the rest of my life.
I really hope The CrossFit Games continues to tighten up their testing procedures, enforce the same level of strictness to all other competitors like they have to me & they continue to strive towards a legit drug free sport. It's tough to be on the receiving end when I know and have seen other top athletes in the sport intentionally out smarting the system, getting away with it & ruining the integrity of the sport.
Because of this outcome I will learn a lot about myself, wipe my tears & be accountable for every single decision I make in this life. Ultimately that is what it means to be a man.
I am reminding myself that sometimes life seems to be destroying you when it's actually saving you, time will only reveal what it's saving me from?
Haters will hate, and that's ok. They are entitled to express their insecurities to the world. I will focus & deal with what is within my control.
This news is heavy, it's real, but I will get myself together and keep moving forward.
Sorry to anyone I have affected personally & sorry to anyone that is sharing my pain. I trust that the people closest to me will understand, remain loyal and be there to support me.
I am coming to terms that nothing will ever be given to me in life, I know how to earn it the hard way & I will do just that for whatever it is I pursue next.
Reaction From Patrick Vellner (via Instagram)
Last night I was named the Third Fittest Man on Earth for the second consecutive year. Not to cheers of the Crossfit community, or to the joy of my family, but alone at home, sitting at my kitchen table doing homework. I am happy and proud to be now named to the podium. I am overwhelmed and excited and frankly a little giddy. However, I'm also disappointed. Those precious moments at the Crossfit Games are ones that I work so hard all year for, and they are moments that I can never get back. I lost an event win, I lost the experience of having back to back podiums, and worst of all, I lost the chance to stand on that podium with a fellow Canadian. I'm glad that Crossfit is catching some big fish and showing that their testing works, but I'm sad to see this stain on the sport. Integrity in sport is so important. When someone cheats, they aren't simply cheating the sport, they are cheating the other athletes who have sacrificed a lot to get where they are. This is just sad and unfair.
There are no shortcuts to success. Success is made at the gym on a Tuesday afternoon when you are one piece into a 5 piece workout and you want to just call it and go home to watch Netflix, but you don't. Success is looking at the guy next to you and knowing if he works hard, you gotta work harder. It is built one rep, one grind, one workout at a time.
So to anyone out there who thinks it might be a good idea to give him or herself that extra edge. Put down your PED and pick up a goddam barbell.
Our Top Pick
Transparent Labs Creatine HMB
Based on our testing, this is the best creatine for most people. It has the perfect dosage of creatine monohydrate per serving, which has been proven to increase muscle mass.
Pros:
Promote strength and muscle gains

Tested for purity and safety

Free from artificial colors
See on Amazon
See on Transparent Labs
Thanks everyone for the support. Let's work for a better, cleaner 2018 season.
Picture courtesy of Reebok