If you're looking for a superb elliptical machine for home use and you've got a bit of a budget, the Sole E95 elliptical is an excellent choice. It's the second-to-top-tier option in Sole's "E" range, with its big brother being a light commercial machine.
The E95 is an upper-class offering that'll give you everything you need to have an amazing workout right in the comfort of your own home. Our Sole E95 elliptical review will tell you all you should know about this machine before investing in it… But we can assure you, you'll never need another elliptical for home use again.
In A Hurry? Here's The Main Specs
Product's name

Great Product For Everyone


SOLE Fitness E95 Indoor Elliptical, Home and Gym Exercise...
Final Thought
You'll have everything you need for an effective, intense workout on this machine.
Floor Space
82" L x 71" H x 31" W
Weight Capacity
400 lbs
Stride Length
Adjustable 20"-22" stride length and Pedal size: 15"
Resistance Levels
20 levels of ECB resistance
Programms
10 Preloaded workouts: 6 Standard Programs
2 Custom Programs
2 Heart Programs
Warranty
Lifetime Frame
5 Years Electronics
5 Years Parts
2 Years Labor
Price
$$
Learn more
See at Amazon
Sole E95 – A Great Product
Great Product For Everyone
You'll have everything you need for an effective, intense workout on this machine.
The Sole E95 elliptical is the company's shining star. It's got all the features of a gym-worthy machine, with some creature comforts that make it ideal for those who want to get a superb workout at home.
In comparison to the previous Sole E series ellipticals, the E95 has the best screen of the lot. It also offers the option to use your mobile device to stream workouts for a more immersive experience.
It's a step up from the E20, E25, and E35, so if you want a more intense workout, this is definitely the one you need. A more robust flywheel, magnetic resistance, excellent stride length, adjustable pedals, and the ability to connect a wireless chest strap heart rate monitor make it a super choice for almost anyone to get a full-body workout. 
Sunny Health & Fitness Magnetic Elliptical
Based on our testing, this is the best budget Elliptical for beginners. For less than 475$, it has most essential features that you've come to expect. It's compact and sturdy, frankly it offers great value for money. It's also backed with an 3 years warranty.
Who Should Get the Sole E95?
The Sole E95 elliptical is the perfect choice for those who want to take their workouts to the next level. If you're looking for a step-up machine from your entry-level elliptical, this is a fantastic next step.
It's a great choice of elliptical for those who want something robust, powerful, and gym-quality at a very competitive price.
Pros
Whisper-quiet drive operation 
Heavy 27-pound flywheel 
Adjustable stride length 
Includes a chest strap HRM 
Excellent quality for its price range 
Cons
Only 10 built-in programs
Short people may find the stride too long
Not a small machine 
Sole E95 Specs
You'll have everything you need for an effective, intense workout on this machine. Here's what the Sole E95 elliptical brings to the table.
20 levels of resistance
20 levels of incline
10 onboard programs
10.1-inch screen
Adjustable, cushioned pedals
Adjustable stride length
Pulse rate grips
USB charging port
27-pound flywheel weight
Effective rear stabilizer
Moving and stationary handlebars
Compatible with chest HRM straps (included)
Excellent warranty
Now that you have an idea of what this elliptical offers, let's dig into each feature in more detail. Once you've read the entire Sole Elliptical E95 review, you'll know if this machine is the one for you!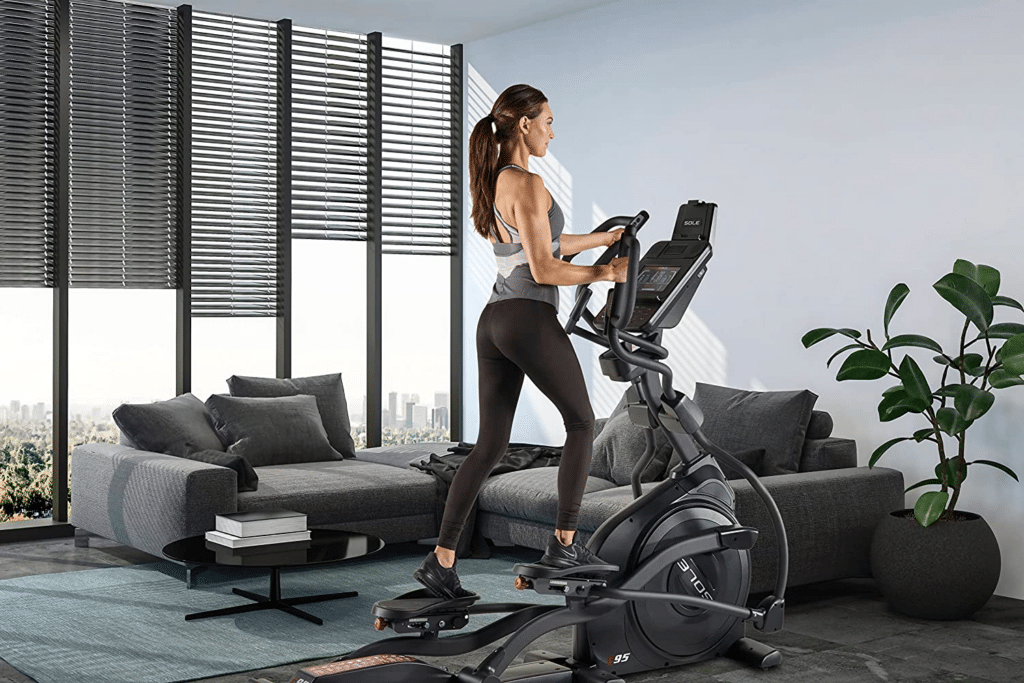 In-Depth Sole E95 Elliptical Review
Learn everything there is to know about the Sole E95 elliptical so you can make sure it's the kind of exercise machine you want.
Frame
The steel frame is sturdy and powder-coated so it looks sleek and is resistant to rust. It has a modern look to it, so you don't need to worry about it looking out of place in your home.
It's longer than average, but that's due to the extended rear stabilizer. It might add length, but together with the front and middle stabilizers, it's effective at reducing any hint of instability.
Footprint and Portability
The E95 isn't small. It has a footprint of 71″ in height, 82″ long, and 31″ wide. It isn't a foldable elliptical, so you'll need to make sure you have enough space for it in your home before buying.
It does feature transport wheels and a lifting handle so you can roll it from place to place if necessary. But note that it's quite heavy, at around 235 pounds.
Flywheel
The E95 has a powerful 27-pound flywheel, something that sets it apart noticeably from other E series models. You can feel the difference when you start pedaling.
It's a front-drive flywheel, heavy enough to facilitate a smooth, even pedal motion and add additional resistance for those who want a solid workout.
Stride Length
One of the things we love about this elliptical is that it has an adjustable maximum stride length—from 20 to 22 inches. This is fantastic for taller users, but if you're on the shorter side, it might actually be a little too long for you.
Both Forward and Reverse Motion
The E95 also supports both forward and backward motion, which adds an extra element to your workouts. Prepare for a more challenging workout that works your muscles a little differently!
Handles
This elliptical features both stationary handles and moving handlebars, so you have the option of doing a combination lower and upper body exercise, or focusing solely on the lower body while stabilizing yourself on the handles.
The stationary handlebars are attached just below the console, easy to grab and hold at any time. They're also a super handy anchor point for getting on and off the machine easily and safely.
The movable handlebars are attached directly to the pedals so you can get a smooth motion going between hands and feet. One of the greatest things about these handlebars is that they offer multiple holding positions, thanks to the P-shaped handle.
All sides of the handle have ergonomic grips, so you can choose from an upper and a lower vertical grip position, and two horizontal grip positions.
You'll also find incline and resistance controls on the handlebars, so you never need to actually let go to increase or decrease the challenge of your workout. Plus, heart rate sensors are built into the handles as well.
Adjustable Pedals
The foot pedals are of a good size and have a raised lip around the front and a subtle texture to prevent your feet from sliding around. They're also nicely cushioned, so they add a bit of comfort.
We love that the oversized foot pedals are adjustable. They're designed with a 2-degree incline that takes strain off the ankles and knees, but there's also an adjustable dial on each pedal that allows you to make micro-adjustments to the pedal angle so you can find the perfect comfortable position for your feet.
Sunny Health & Fitness Magnetic Elliptical
Based on our testing, this is the best budget Elliptical for beginners. For less than 475$, it has most essential features that you've come to expect. It's compact and sturdy, frankly it offers great value for money. It's also backed with an 3 years warranty.
Resistance
The Sole E95 elliptical features electromagnetic resistance that's incredibly smooth and creates a feeling of natural motion. With 20 different resistance levels—plus the heavier flywheel—you should be able to get an amazing workout no matter your preferred amount of opposing force.
The drive system is surprisingly quiet, so you should be able to work out at your normal capacity without disturbing anyone.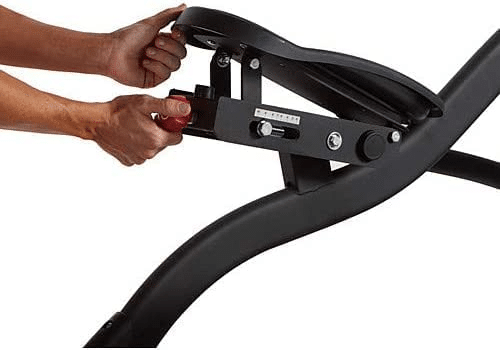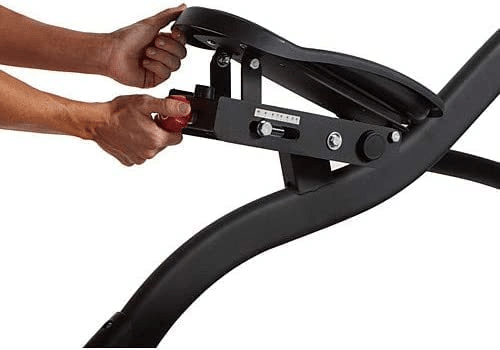 Incline
Featuring 20 levels of Power Incline, this machine offers an excellent challenge even aside from the built-in resistance. If you start a built-in training program, the Power Incline feature will adjust automatically as you move through the program.
Console
The console features one of the E95's most loved features: a 10.1-inch, backlit screen, showing blue text and numbers on a white background, easy for almost anyone to see.
On this workout display, you'll be able to view stats like your speed, incline level, power, pulse, calories burned, the program you're currently using, and a workout summary at the end of your session. 
Aside from the screen, the console includes a tablet stand so you can use your own device for streaming workouts, two speakers, a fan, a set of buttons below the screen, an AUX jack, a headphone jack, and a USB charging port.
The console is also adjustable so you can tilt it to your preferred angle. This is a useful feature that makes it more user-friendly for a variety of different users.
It's also Bluetooth-enabled, so you don't even need to plug anything in. Just connect your phone or MP3 player and you'll be good to go.
Pre-Programmed Workouts
There are 10 onboard workouts you can choose from, including 6 standard programs, 2 heart rate programs, and 2 custom programs that allow you to set your own.
Max User Weight
The Sole E95 features an impressive weight capacity of 400-lb. This is significantly more than most in its class, which is a big USP.
One of the biggest contributors to this is the three-stabilizer system that makes it incredibly sturdy. No matter what your fitness level is, you should be able to start working out comfortably and safely on this machine.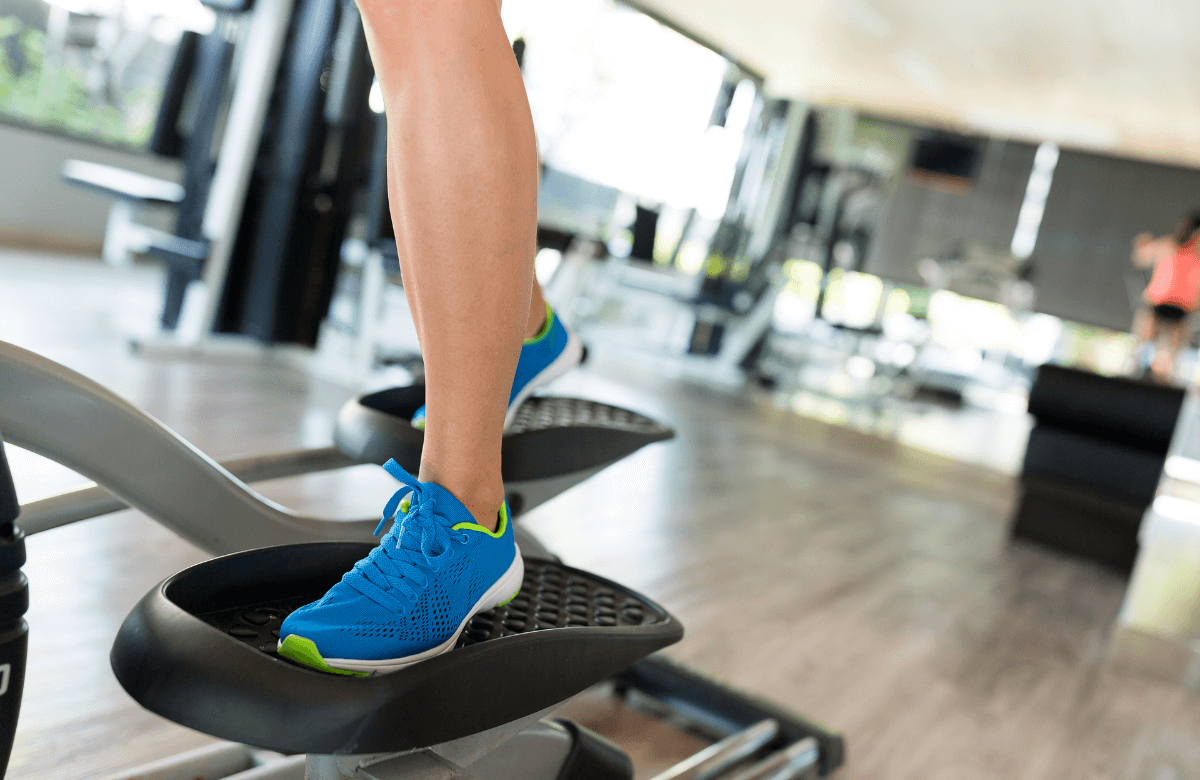 Sole E95 Features
Here are the key features that users love about the Sole E95.
Bluetooth-Enabled
There's no need to plug your phone or MP3 player into the elliptical. Bluetooth makes it really easy to connect your phone so you can listen to music, without needing to have your phone actually connected to the machine.
Preloaded Workouts
Not sure exactly how to do a decent workout? No worries—just select a program and go with the flow. If you do have more knowledge about how you'd like to structure your own workouts, you can create your own custom workouts.
But for those days when you want to just plug-and-play, you can choose from 6 standard workouts and 2 heart rate workouts, depending on your goals.
Media Holder
An integrated tablet holder allows you to stand your tablet or phone on the console. Keep in mind that it will overlap with the screen to some extent, so you won't be able to see all the data.
But it does make it simple for those who want to stream workouts on their device, or simply catch up on their favorite TV series while exercising!
Built-in Speakers
The speakers on the elliptical are actually fairly decent. There's one on each top corner of the console, so the sound comes right to you… And saves your phone or device battery!
They're Bluetooth-enabled, so simply connect your phone or device and you can blast your motivational music throughout your workout.
USB Charging Port
We love that you can charge your device on this elliptical while you're working out, whether you're using it or not. The USB port adds an element of convenience that you don't find on many other machines.
Heart Rate Chest Strap Compatible
If you want to use a chest strap heart rate monitor for more accurate HR metrics, you can connect it directly to the Sole e95 and get your heart rate data on the screen.
If you buy the machine through the manufacturer—and some other retailers—you'll get a chest strap free with your purchase.
Water Bottle Holder
Right below the console, between the two stationary handlebars, you'll find a handy water bottle holder. It's big enough to hold a decent-sized bottle so you can stay well-hydrated during your workout.
Cooling Fan
Above the screen, there's a small fan. It offers a light breeze that can help cool you down during less intense workouts, but it might not help much during intense sessions. The adjustable console helps you to aim it just right.
Fitness Tracking
You can use the Sole Fitness app to track your fitness data, if you want more metrics than just the basics on the screen. The elliptical can also link up to a number of other apps, like MapMyRun and Apple Health.
STUDIO App
For an extra $20 per month, you can get access to Sole Fitness's STUDIO app, which provides you with hundreds of interactive, engaging workouts you can stream.
If you're already using a tablet or phone on the device media shelf when you're working out, this could add an extra element of fun and challenge to your experience.
Whisper Quiet
The front-drive system and heavy flywheel make for a very quiet machine. This is a bonus if you live in a small apartment or tend to exercise at strange hours—no worries about disturbing others!
Warranty
Sole Fitness offers an exceptional warranty. The E95, like the other E-series Sole models, has a lifetime warranty on the frame, a 5-year warranty on the electronics and the parts, and 2 years on labor.
Is the Sole E95 Elliptical Easy to Use?
The Sole E95 is quite easy to use. It doesn't need to be connected to the internet, the screen is large and easy to see, and it's very user-friendly.
The only thing that may be difficult is moving it around. You'll more than likely need two people, unless you're above average in terms of strength.
Is the Sole E95 Elliptical Easy to Assemble? 
According to multiple users who have set up the Sole E95 elliptical, it's not too difficult. However, the size of some of the parts may make it a bit cumbersome, so it might be a good idea to get someone to help you with it.
Alternatively, you can pay an extra fee for their professional assembly service and a Sole Fitness representative will come set it up for you. This may be best for those who live alone or who aren't able to get someone to come help them.