Looking for your first elliptical? Sole E25 Elliptical reviews indicate that it's a great entry-level choice!
It's got the best of everything you need for your first one—it's budget-friendly, manufactured by a reputable brand, has a sturdy build, and contains everything you need to just get on and exercise.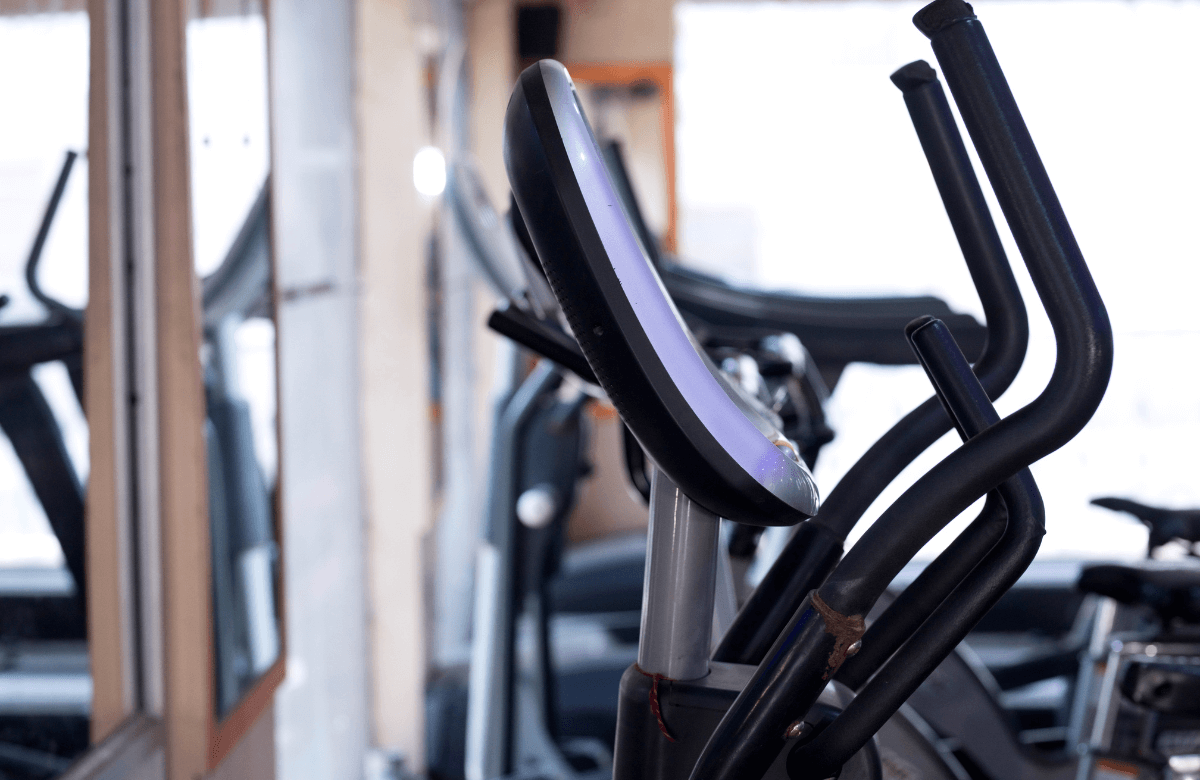 It's also known to be one of the smoothest ellipticals in its price range, so you can't go wrong choosing this one for home fitness.
We've scoured the information out there to bring you our Sole E25 Elliptical review, including pros, cons, features, and everything else you should know before buying.
In A Hurry? Here's The Main Specs
No products found.

Product's name

A Fantastic Machine For Its Price




No products found.

Final Thought
The Sole E25 may be an entry-level elliptical, but it's a fantastic machine for the price range.
Floor Space
71" (h) x 70" (L) x 24" (w)
Weight of Elliptical
212 lbs.
Weight Capacity
350 lbs
Stride Length
20" stride length with 15" Cushioned Foot-pedals that can be adhutsed
Incline
1 – 20 Power Adjustable incline levels
Resitance Levels
20 Levels magnetic resistance
Foldability
Doesn't fold
Warranty
Lifetime Frame
3 Years Electronics
3 Years Parts
1 Year Labor
Price
$$
Learn more

No products found.
Sunny Health & Fitness Magnetic Elliptical
Based on our testing, this is the best budget Elliptical for beginners. For less than 475$, it has most essential features that you've come to expect. It's compact and sturdy, frankly it offers great value for money. It's also backed with an 3 years warranty.
The Sole E25 may be an entry-level elliptical, but it's a fantastic machine for the price range. It's a touch on the heavy side, but that's testament to its amazing build quality. It also means it has an impressive weight capacity.
The elliptical offers enough resistance for beginners to get a great workout. As you improve, you may wish to invest in one with more resistance, but this one will see you through many workouts before you get to that point.
A great stride length, built-in programs, incline options, and a smooth, easy movement make this an excellent choice for new elliptical users, those on a budget, and anyone looking for a great quality exercise machine.
Pros
20 Levels of Power Incline 
Varied and high-intensity workouts 
350-pound user weight capacity 
Excellent value for money 
Cons
Stride length isn't adjustable 
Some may find the display a tad small 
Who Should Get the Sole E25 Elliptical?
The Sole E25 is a superb choice for those who are new to the elliptical and looking to increase their fitness levels. People looking for a way to get fit and tone both upper and lower body muscles will appreciate this machine.
It's a great option for those who want a machine that doesn't need Wi-Fi to run. It's also worthwhile for those who are on a budget, thanks to its affordable price tag.
Sole E25 Elliptical – Key Features
Despite being an entry-level machine, the Sole E25 elliptical comes with numerous handy features that help give you an excellent workout. These include:
20 levels of resistance
20 incline levels
10 built-in programs
Adjustable, cushioned pedals
Pulse heart rate grips
Cooling fans
Good-sized flywheel
Bluetooth speakers
Compatible with chest straps
That's what you can look forward to if you choose to buy this machine. Let's dive into a more detailed Sole E25 elliptical review… By the end of it, you'll know if it's the one for you or not!
In-Depth Review of Sole E25 Elliptical
To give you the best understanding of the E25, we're split our review into multiple sections. You'll learn about everything from the build of the elliptical to what's onboard so you can decide if it'll work for you. Let's go!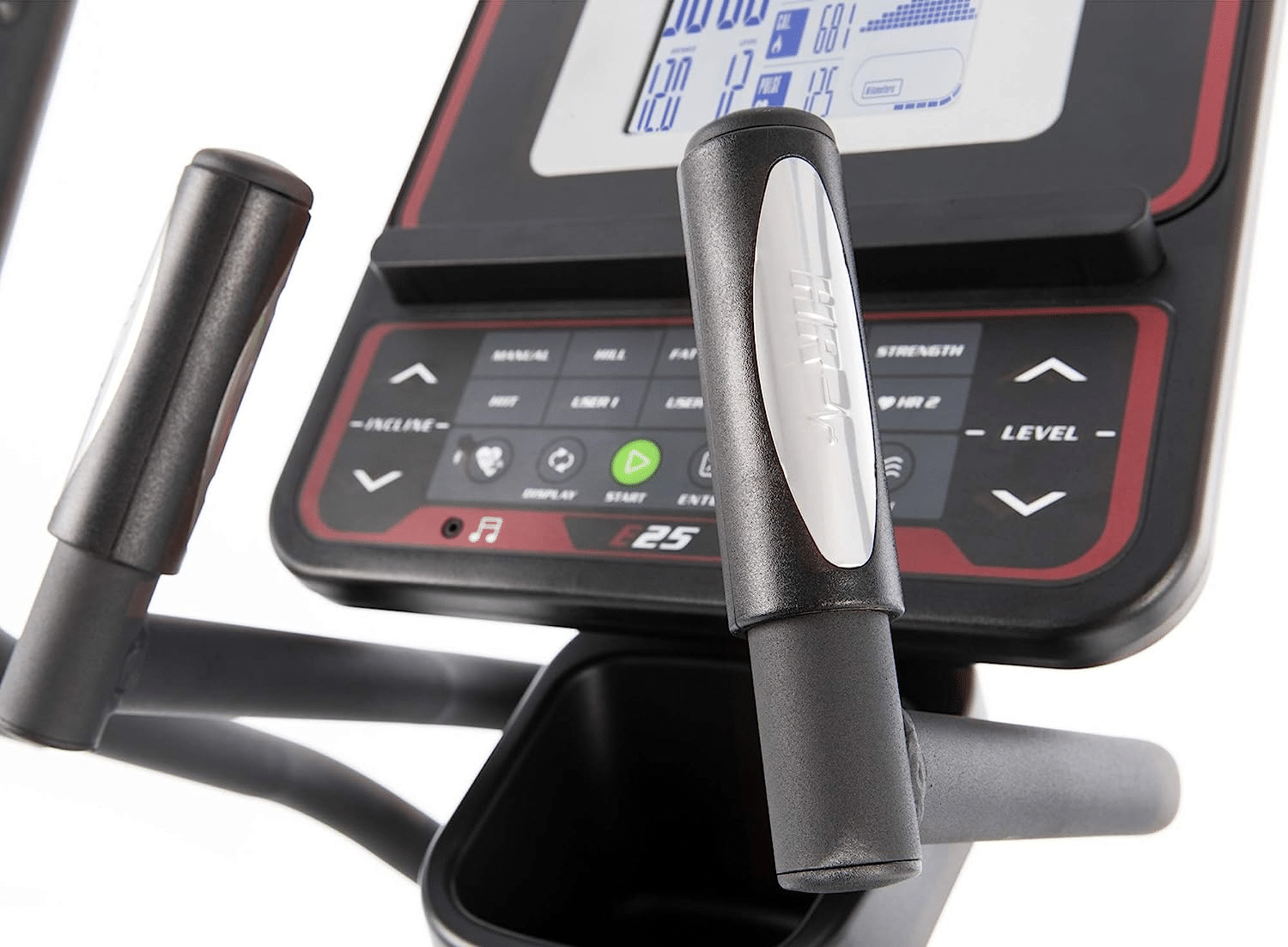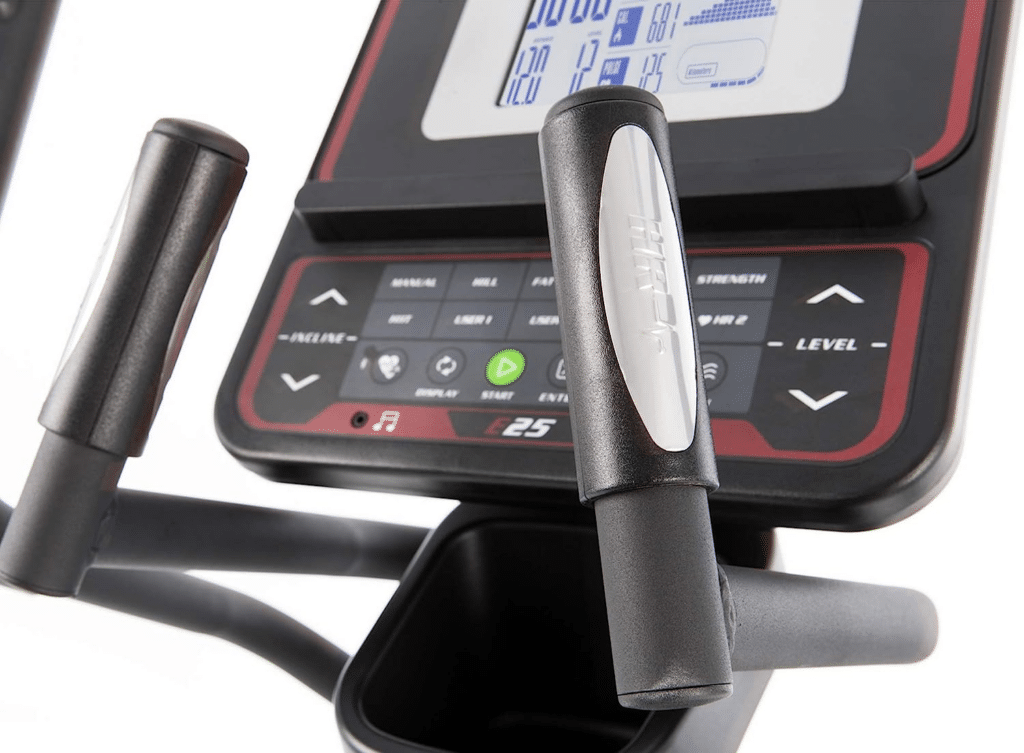 Design
This is a surprisingly durable elliptical, featuring a solid steel frame that's powder-coated and resistant to rust. That's partly the reason for its heft weight, but it means it's going to last a long time with good care.
It has moving handlebars that are attached to the pedals, but also features stationary handlebars if you prefer to use those.
One of the things we like quite a lot is that the machine features a weighted stabilizer in the back, which keeps the elliptical firmly planted on the floor as you exercise.
There are other stabilizers in the front and middle, as well as leveling beams to ensure the machine stays even on the ground.
It's important to note that this isn't a folding machine, so it'll have to be placed in an area that's a permanent home. You can lift and roll it, but it's heavy and awkward, especially for a single person to do alone.
Footprint and Portability
The E25 elliptical takes up floor space of 71" H x 70" L x 24" W. It's not small, but while it may take up some space, it has the bonus of being big enough for you to use comfortably and safely.
It's important to know that it might not be the best choice for apartments or tight spaces, because of this.
This particular elliptical may also not be the best option for single people. It weighs a whopping 212 pounds, so it's not easy to move alone. While there are wheels underneath and a bar to grab and move it, the shape makes it awkward and tricky.
Drive System & Flywheel
There's a front-drive system on this elliptical, so the sturdy 20–pound flywheel sits right in front of you as your feet are moving. It's surprisingly quiet, so you can easily use this machine at night or in the early morning if you prefer exercising at those times.
Stride Length
The Sole E25 features a stride length of 20 inches, which is great for most people. Those who are particularly short or unusually tall may find it too much or too little, but for anyone who falls under "average" height, it'll be fine.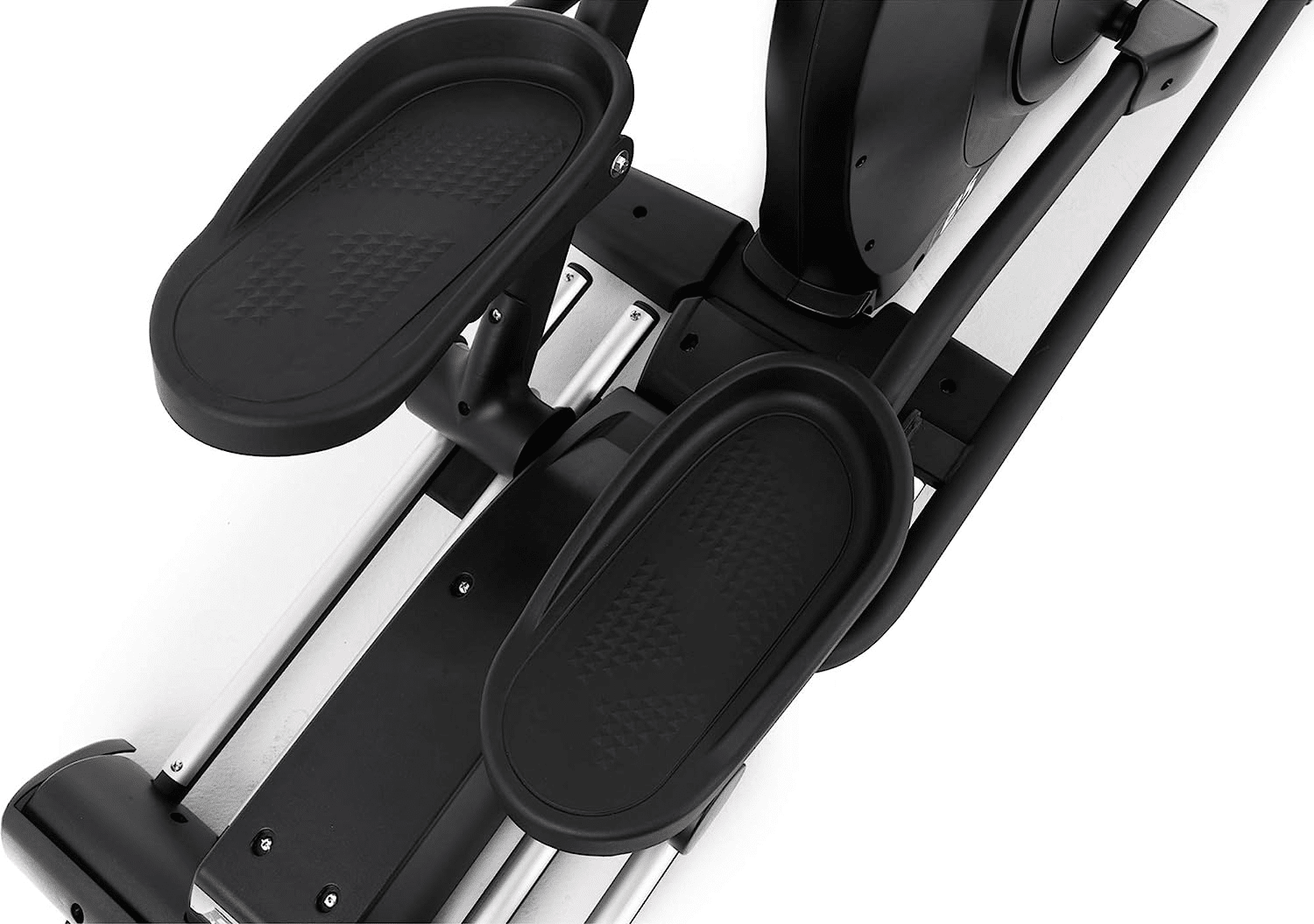 Pedals
Although the elliptical is generally low-impact already, these pedals have been designed specifically to reduce joint pain even more.
The foot pedal design was created with the help of physical therapists, and features a 2-degree slope inwards that's said to minimize pain in the knees and ankles.
The foot pedals are very adjustable, so you can get them to your exact level of comfort. There's a handy dial on the back of each one that allows you to make any adjustments needed.
It's unusual to find such adjustability on an entry-level machine such as this one, so it's much appreciated.
They're also nicely cushioned for comfort and feature a textured surface to help keep your foot in place as you're exercising.
Handles With Grip Heart Rate Monitor
While the moving handlebars help you to get a bit of an upper body workout, the stationary handles are much appreciated as they provide a firm grip for getting on and off the elliptical easily and safely.
The stationary handlebars also include a built-in grip heart rate monitor so you can keep an eye on your heart rate as you go. Take note, though, that the HRMs on machines are notoriously inaccurate, so it's a better idea to invest in a smartwatch that uses your own body data to provide an accurate number.
Sunny Health & Fitness Magnetic Elliptical
Based on our testing, this is the best budget Elliptical for beginners. For less than 475$, it has most essential features that you've come to expect. It's compact and sturdy, frankly it offers great value for money. It's also backed with an 3 years warranty.
On the moving handlebars you'll find easy-access buttons that allow you to adjust your resistance or incline on the go.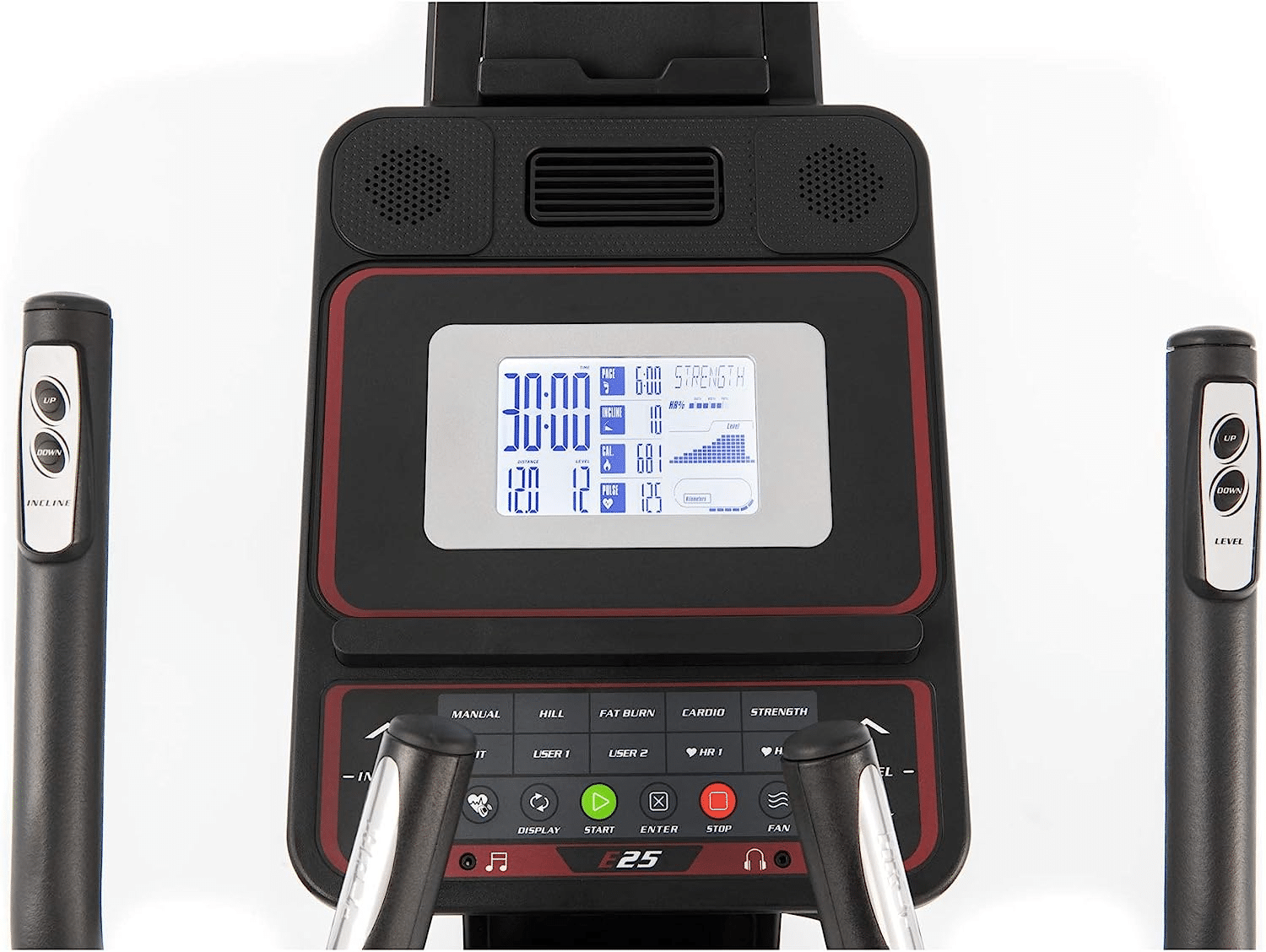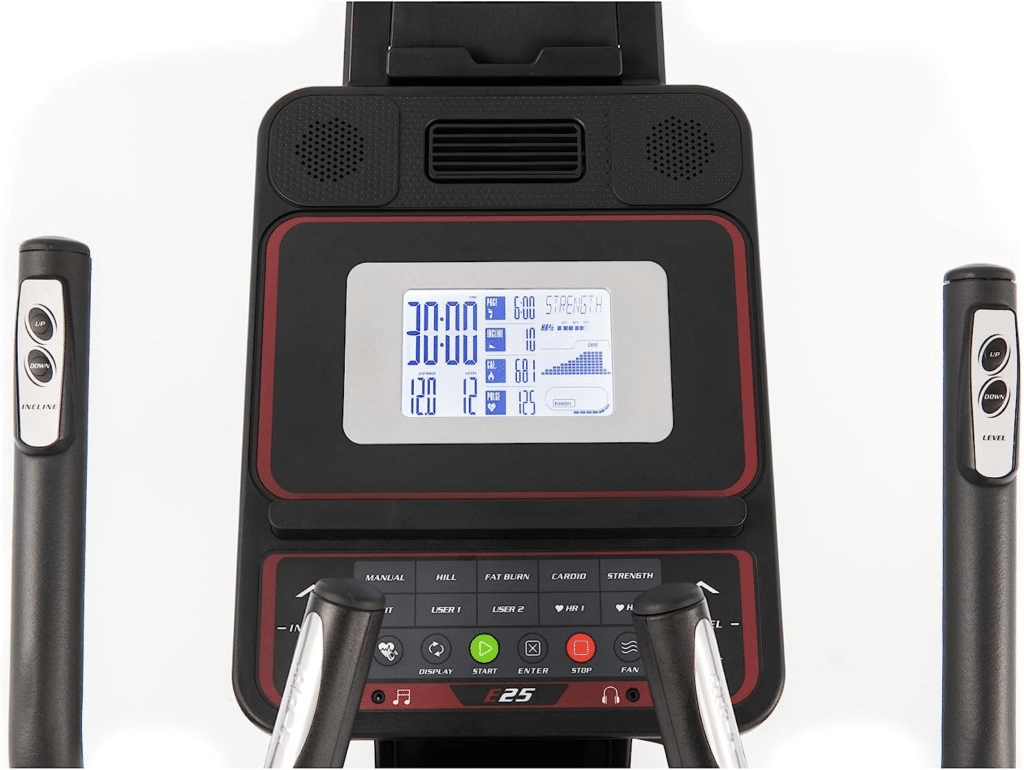 Console
The E25 has a 6.5-inch LCD screen. It's not huge, but it's more than enough to view your stats and data. It's backlit by an easy-to-see white light, making it easy to exercise in all lighting conditions.
One of the nice features of this screen is that it shows a workout intensity graph as you're moving through your workout. It also gives you animations to let you know when the intensity is about to change if you're doing a preloaded workout.
As well as the screen, there are large, easy to use buttons. You'll find a fan above the screen, but it may be a little high for some of the shorter users.
There are also 2 speakers and an AUX-in port which allows you to connect your phone to the machine so you can play music. It's also Bluetooth-enabled if you prefer to do this that way. There's even a USB port so you can charge your phone or tablet if you need to.
Incline
The E25 features 20 incline levels. Doing an elliptical workout at an incline helps to target different muscles to walking on a flat setting—your glutes, hamstrings, and inner thighs get more of a workout.
Note that choosing a preloaded program will update the incline automatically as you move through the program. Otherwise, you can set it to your own comfortable incline and do your workout in "manual mode".
Resistance
There are 20 resistance levels built into this machine. It uses magnetic resistance that provides strong force but also remains exceptionally quiet.
Like the incline function, the resistance may change with pre-programmed workouts, or you can simply change it yourself in "elliptical mode".
Preloaded Workouts
The E25 comes with 10 preloaded programmes on the console. They're simple and don't require a connection to the internet to use—simply select one and the elliptical will do the hard work of changing resistance and incline for you.
There are 6 standard programs to choose from, 2 customizable programs, and 2 heart rate-based programs.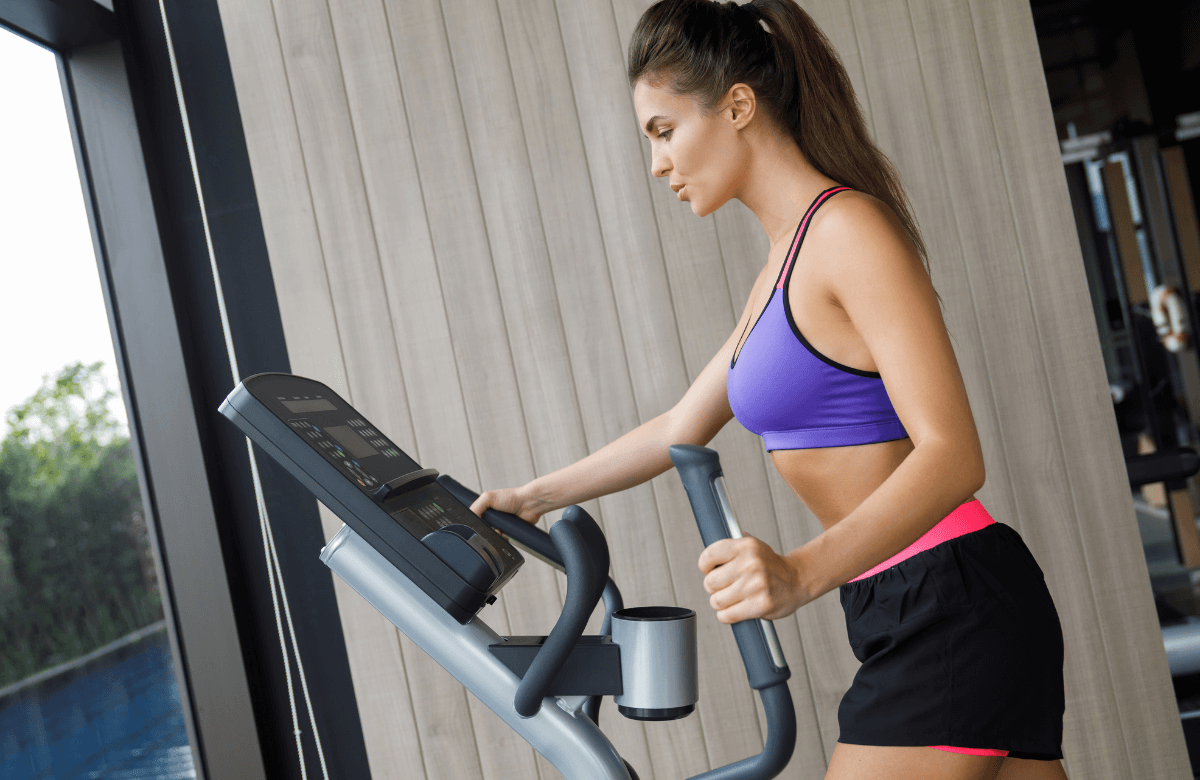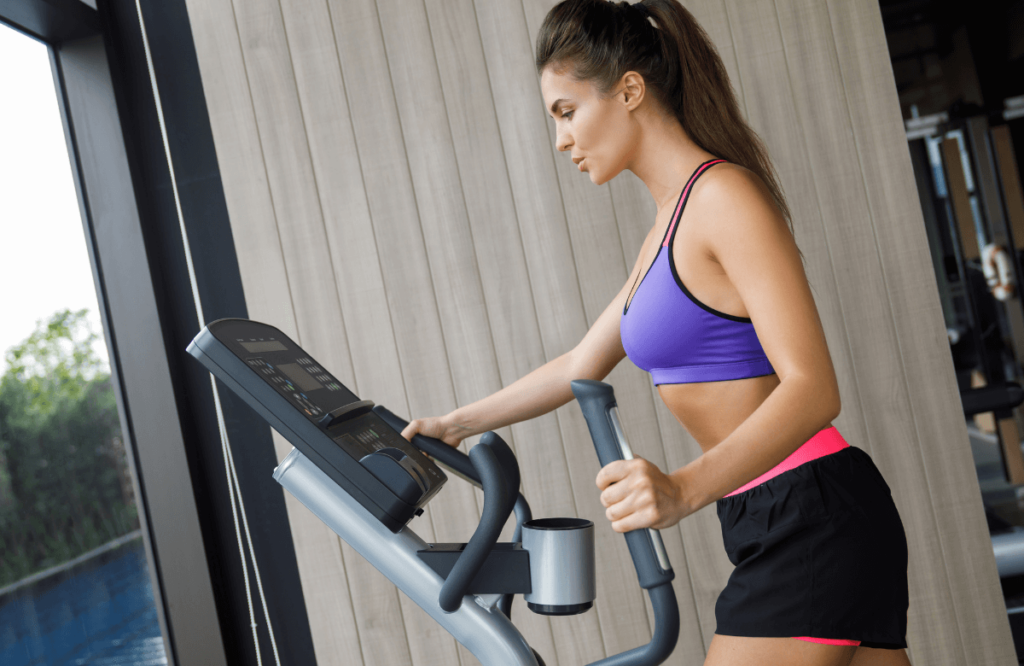 Weight Capacity
One thing that its chunky 212-pound weight does give the E25 is an impressive 350-pound weight capacity.It should be able to handle almost anyone's weight so it's an excellent choice for people of all levels.
Warranty
One of the best things about this elliptical is its warranty. Often, entry-level ellipticals don't have a great one, but Sole impresses with a lifetime warranty on the frame and a 5-year motor warranty.
On top of that, there's a 3-year parts warranty and a 1-year labor warranty. This is on-par with—and better than some—those boasted by more expensive machines.
Nice-To-Haves
We've covered the key features. Now for the nice-to-haves! The Sole E25 offers a range of nice extra features that make your elliptical experience more pleasant.
Access to STUDIO Training App
While the actual elliptical doesn't need to connect to the internet, you can sign up for the STUDIO App to get access to more interactive, more challenging workouts.
When you buy the Sole E25, you'll get a 90-day free membership. If you like it, you can sign up at $19,99 per month. Make sure the place you buy it from offers the free membership though—not all retailers necessarily will!
STUDIO offers over 3,000 on-demand classes in a variety of types and durations. Some are instructor-led while others are built-in and run without an instructor. The app is designed to link up to any Sole equipment, so it's a bonus if you happen to have other Sole stuff. 
One of the things we like about the app is that there are two specific ways to keep you motivated. If you're competitive, there's a community leaderboard which shows your position based on heart rate.
The other thing that helps you stay motivated is that you earn FITCOIN for every workout you do. You can use these to redeem special offers and rewards.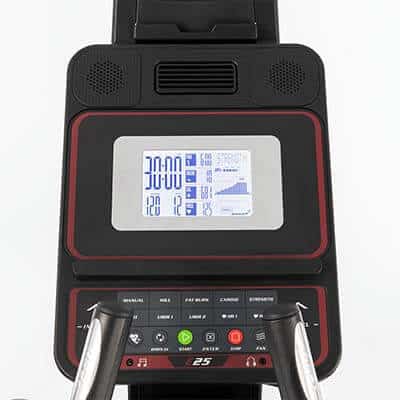 Heart Rate Monitor
The Sole E25 comes with a heart rate monitor that you strap around the chest. This is one of the most accurate kinds, so this is a huge bonus. While you can stick to the grip monitors on the handles, they're not accurate. Take note that not all retailers will offer this, so double-check before you buy.
Bluetooth Compatibility
Although you can connect your phone to the elliptical directly through the AUX port, Bluetooth connectivity is nice to have. If you can't find a cable or prefer to leave your phone further away, it's handy.
Take note, though—the elliptical is not compatible with Bluetooth earphones. It's an "in" port only, not an "out" port!
Water Bottle Holder
There's a handy water bottle holder right in the middle underneath the console. It's big enough to handle a decent sized bottle, and don't neglect your hydration during your exercise, even if it's not intense!
Tablet Holder
There's an integrated tablet holder right underneath the screen, on which you can place a tablet or phone. Be aware that it will obstruct the view of the screen.
It features an adjustable clip, so you can place almost any size device on it safely. You could even read a book if you wanted to!
Built-In USB Port
The addition of a USB charging port is a nice touch. This allows you to charge a device through the elliptical if you need to, which is convenient.
FAQ
How Much Noise Does the Sole E25 Elliptical Make? 
Reports indicate that the drive system is extremely quiet. While we don't have an exact decibel measurement, the fact that it uses magnetic resistance makes it even quieter. Customers have mentioned its quietness as a pro. 
You should be able to have effective workouts on it late in the evening or early in the morning without disturbing anybody. The only possible exception is if the elliptical is right next to the bed.
Is It Easy to Assemble? 
The E25 comes with assembly instructions, but some users have reported finding them difficult to understand. This means assembly may take a little longer than expected, but you can budget for 1 to 2 hours. 
We recommend having 2 people assembling the elliptical, especially considering it weighs over 200 pounds once assembled. If there's 2 of you, it will be easier to move into its final position once it's fully assembled.