Over the years sport has become a multi-trillion dollar business. A multitude of powerful companies ranging from car manufactures to broadcasting outlets throw huge sums of money at the world's biggest sporting events in the hope of attaching their brand to them. Why? Because millions of people watch those events and will be exposed to the company's message—and may just buy their product. That same thinking extends to the sponsorships of athletes. For years, the best athletes in every sport have been paid to wear, eat, and display the products of their sponsor. In 1984, Michael Jordan signed one of the most famous endorsement deals in history with Nike for $500,000, which included his own shoe line—the Air Jordan. Sales of the Air Jordan sneaker earned Nike $130 million in 1985 alone (Nike's annual revenue was $134 million in 1981). As you can see, throwing big endorsement deals at famous athletes is a profitable tactic for companies, and in the 21st century we are still seeing ridiculous contract offers all the time (such as Nike's $1.1 billion, five-year deal to be the NFL's exclusive provider of onfield apparel).
CrossFit's foray into the world of sponsorship has been interesting. After all, unlike most other sports, CrossFit was first created as a strength and conditioning program from which a sport—and an affiliate community—organically developed. Add to that fact that the CrossFit Games is still in its infancy, and one can see how Reebok's 10-year, $150 million sponsorship and marketing deal with CrossFit (which includes a co-branded apparel and footwear line, as well as Reebok acting as the title sponsor for the Games until 2021) pales in comparison to the sort of deals that athletes in other major sports are getting. However, with the continued growth of the sport, we are seeing some promising steps forward. Last year, ESPN and CrossFit, Inc. agreed to a multi-year extension of their existing contract that ensures the sports broadcasting giant remains the exclusive rights holder to televise the CrossFit Games. In the same year, Rich Froning signed a long-term contract with Reebok, a deal which will ensure that Froning remains a Reebok endorsed athlete throughout his professional career, "as well as becoming one of the highest paid Reebok athletes on their roster." Reebok didn't disclose any specific information with regards to how long the contract runs or how much they will be paying Froning, but suffice to say that a long-term contract and a statement that he will be one of the highest paid athletes on the Reebok roster equals a significant payday. Of course, Rich Froning isn't your typical CrossFit competitor. Any athlete that wins the Games for four consecutive years is going to get a deal that is significantly higher than what's available to anyone else—even if they are a Games veteran.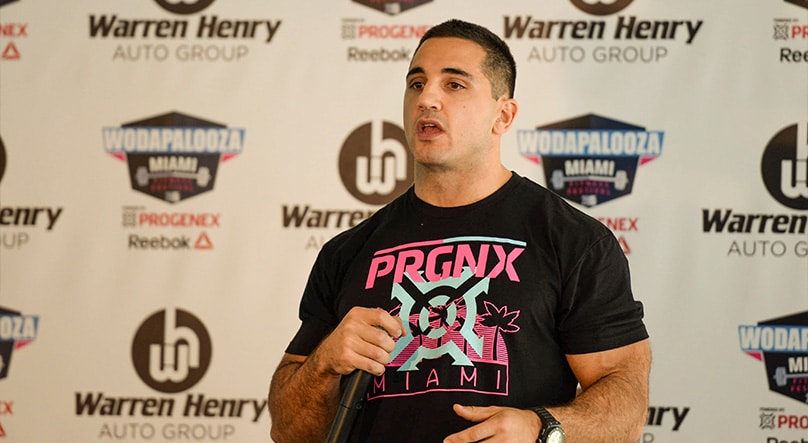 With the continued growth of the sport, there are now a plethora of apparel, supplement and equipment companies sponsoring some of the top athletes in CrossFit. But how does one go about securing a sponsorship in the first place?
We spoke to three people who know a thing or two about such matters. Jason Khalipa is the 2008 CrossFit Games champion and a 7-time Games competitor. He owns and operates NorCal CrossFit, which has four locations in California alone. His personal sponsors include Rogue, Reebok, Progenex, ROCKTAPE and QALO. Rick Fagan has 25 years of experience in the music industry as a tour manager, negotiating sponsorship deals and contracts for groups that include the Rock and Roll Hall of Fame and Pro Football Hall of Fame. He has brought that experience to CrossFit and now represents Games athletes Emily Bridgers, Elizabeth Akinwale and Scott Panchik. Brooke Ence has been competing in CrossFit since 2009, and in 2015 she won the California Regional, qualifying for her first CrossFit Games. She is sponsored by Pure Pharma, Kill Cliff and Noble.
Here's their advice on how to get sponsored.
Our Top Pick
Transparent Labs Creatine HMB
Based on our testing, this is the best creatine for most people. It has the perfect dosage of creatine monohydrate per serving, which has been proven to increase muscle mass.
Pros:
Promote strength and muscle gains

Tested for purity and safety

Free from artificial colors
See on Amazon
See on Transparent Labs
Ask yourself: Why are you looking for sponsors?
The first and arguably most important step in finding sponsorship is asking yourself why you want it in the first place. "I think the first question the athlete has to ask themself is, 'Am I doing this for the money, or am I doing this for another reason?'" says Khalipa, whose first sponsorship with Rogue included a free pair of shoes and 'a couple hundred bucks'. "Any athlete who tries to get into CrossFit for sponsors and is trying to get paid has another thing coming to them. The bottom line is that there are only a handful of people making a full-time living competing in CrossFit. Not only do you have to make it to the Games, but you have to finish in the top 10 consistently to be getting deals that earn you a full-time living." Indeed, many Games athletes own and operate their own affiliates, as the winnings they do earn and sponsorships they have are not enough to provide for a full-time living (especially when you consider the time they must spend training and getting ready for competition). "There are athletes in CrossFit who compete with the goal of getting sponsored, but it remains a goal for them because it never happens," says Ence. What CrossFitters should be doing, Ence argues, is focusing on their performance.
Focus on your performance, not getting sponsored.
It stands to reason that companies aren't going to look to endorse athletes until they reach a certain level in the sport. In fact, companies might not even know of you until you make a splash in the Open (top 10 worldwide) or Regionals (top 10, qualified for Games). As such, athletes need to concentrate on becoming as competitive as possible, and to an extent, ignore the luring distraction of getting sponsored. "All I did to get sponsors for the first time was be myself," says Ence. "I focused on a goal that had to do with my performance—it had nothing to do with getting sponsored."
Through consistently high performances at competitions, athletes will start to generate some buzz, and companies will come knocking on their door, looking to piggyback off of the press that athlete is receiving—understandably so. However, when sponsorship offers start coming in, athletes must be wary of the potential pitfalls.
Make sure you understand the contract.
Khalipa says, "Something that Regional athletes need to be aware of is to not get overly excited if some company called WOD Spider 2 [a fake company Khalipa is using as an example] reaches out to them and signs them for a two-year agreement, and all of a sudden they win Regionals and do really well at the Games. Now these athletes have a long-term contract with a company that no-one's ever heard of that's going to lock them up. And what did they get for it? Some free gear and a couple hundred bucks. What did the company get for it? A ton of free press. So the athlete needs to ask themselves, 'What is the company going to do to elevate me?'"
As Khalipa points out, athletes who receive sponsorship offers from companies need to be fully aware of the details of the contract before they sign anything. Once again, if they are purely motivated by money, then they might be tempted by the first offer they receive and unwittingly get locked in to a long-term deal that does little to promote their careers. This is when the athlete may have to consider outside representation to handle and advise them on sponsorship offers.
Now, Jason Khalipa is a unique individual, as he has built a personal brand and company (NorCal CrossFit) largely without the help of sports agents. "If you do decide to get an agent, the relationship between you and the agent needs to be clearly noted," says Khalipa. "Your agent should only get paid if they're bringing something to the table that you wouldn't have gotten if it wasn't for them. But if you're telling me that an agent has anything to do with you winning the CrossFit Games, that's probably a stretch." In fact, Khalipa recommends that athletes consider enlisting the services of lawyers (to read over the fine print of contracts and sponsorship offers) and accountants (to make sure they understand just how much money they are receiving in the deal—and after taxes) and bite the impact of a one-time payment, rather than coughing up 10% of whatever earnings they make in winnings or through a contract to an agent.
However, Khalipa does admit that there is a space for agents in CrossFit. Fagan notes the importance of the relationships that agents are able to cultivate between athletes and companies that match well together. "Yes, the money on offer is important, but it's also important to find a good match between the two entities with regards to the marketing plan, the mission statement of the company, if their outlook matches with the athlete. There are various things to look at on different levels, and then it just comes down to the contracts and what the athlete's worth is at that time. You obviously want to make sure that you as the agent look after the athlete, but it's also important that the athlete and company have an aligned vision."
Partner with a company that you want to represent.
To Fagan's point, many top athletes in CrossFit have sponsorship agreements with companies whose products they were using before they signed any kind of deal. Khalipa mentions how he bought a rubber wedding ring from QALO, and a year later the company reached out to him to inquire about setting up a sponsorship deal. To quote Khalipa, "I already bought their product, so why the hell wouldn't I get sponsored by them? If you look at sponsorships purely from a financial perspective, in the long run there may be issues. But if you look at it in terms of, 'Do I like this product, do I like this company, do I think signing with them will add value to both parties?' that's the critical part."
Indeed, both Ence and Khalipa stress that athletes understand that partnerships with a sponsoring company represent a two-way deal. "You have to be able to offer them [the company] something," says Ence. "Either you are an extremely marketable person, or you are an extremely good athlete. Or you can be both—where people love to watch you perform and enjoy you as a person." So while athletes can expect support from their sponsors in terms of free products and monetary benefits, they must also prepared to be positive ambassadors for their sponsors in return. This could be through the way they represent themselves and their brands on social media, or how they interact with the affiliate community at large.
"Regional athletes need to look at the holistic picture. Yes you need to perform well, but you have to think about how you can add value to the brand that's behind you," says Khalipa. "If all you're doing is sitting at home and training, and then you perform satisfactorily at the Games, that's not going to add much value. Because guess what? The day you don't perform well at the Games—or you stop qualifying—then you have nothing to fall back on. But if you're out in the community doing seminars, teaching people, being a good coach and a good person—now you're adding value to the brand." And after all, that's what a good sponsor is looking for.
Q&A with Mike Kratochwill, Senior Director of Asset Marketing @Reebok
What is the criteria Reebok uses for determining to sponsor an athlete?
Reebok uses a number of different criteria when determining which athletes to sponsor, including their overall performance accomplishments, how they fit with the values of the Reebok brand, and how we believe they can represent the brand in a positive way.
An athlete's social media presence is one consideration in our decision-making process, but is secondary to how we feel they will represent our brand and how their values line up with ours.
What do you expect from an athlete in return for your sponsorship? What should the athlete expect? What is the sponsor/athlete relationship?
What we expect from an athlete is a strong commitment to our brand and product. We want them to be actively involved in the product creation process. They also need to support us for brand photo shoots, media and PR events, Reebok Fit Hub store events, and any other brand building activities. We expect them to wear our product – during competitions, when they are training in their gym and outside of the gym. What an athlete can expect from Reebok is a truly personal relationship where we genuinely care about each athlete as a person. We are committed to them, as much as they are to us. We regularly communicate with our athletes and provide a very high level of service. If they need something from Reebok, they get it, and they get it quickly.
Do you have athletes contact you for sponsorship requests? What is the likelihood of you signing said athlete? What is the best method for an athlete to 'get' sponsored?
We do have athletes that reach out to Reebok for sponsorships. However, in general, we reach out first as we keep a close watch on who the best athletes are out there and who we think will best represent the Reebok brand. The best way to get sponsored is to perform at an extremely high level and to live the values of the brand you want to work with and be a part of. For Reebok, that means someone who honors the body they've been given and who sees fitness as a way to be a better version of themselves – and lives life with that mindset.
What is the typical sponsorship contract you offer to athletes? (Length/money) Are there different types of sponsorship?
Athlete contracts vary significantly based on the athlete, from the total compensation level of the contract to the number of years.
Our Top Pick
Transparent Labs Creatine HMB
Based on our testing, this is the best creatine for most people. It has the perfect dosage of creatine monohydrate per serving, which has been proven to increase muscle mass.
Pros:
Promote strength and muscle gains

Tested for purity and safety

Free from artificial colors
See on Amazon
See on Transparent Labs
What are some of the things athletes need to be wary of when they're looking to get sponsored?
One thing that athletes should be wary of is trying to represent too many brands at once. When this happens, the overall impact of the athlete can become diluted to the one brand. This does not mean they should not have multiple sponsors, as we fully understand it is important for an athlete to take advantage of their earning potential. However, they should be very selective, and limit their sponsors to just a few quality partners.
Do you ever have to deal with a conflict of interest with athletes who might have multiple sponsors?
I wouldn't say we have a conflict of interest with athletes who have multiple sponsors as these other sponsors are not direct competitors. However, we are very aware of how much an athlete supports our brand versus other brands and this does play a role in how we value the athlete