Trying to decide between Aviron vs Ergatta rowing machines? Both are top-quality machines that go beyond standard rowers, and either one would be an excellent choice. But while they serve the same purpose, the two are actually quite different in many ways!
Some of the differences could make or break your decision between the two. We've compared the two rowing machines in detail so you can understand every difference—small and significant. Knowing all the information is the first step to making an informed decision!
Read through our thorough review before you choose your own rower. Who knows—you may just find that one stands out way above the other!
Product's name

Premium Rower


Aviron Impact Series Rower

Excellent Rower



Pros
- Excellent gaming content 
- Instructor-led workouts 
- 22-inch touch screen 
- 375-pound weight capacity 
- Up to 100 pounds of resistance 
- 16 resistance levels 
- Comfy, rotating handle 
- Sturdy frame 
- Suits rowers of all heights 
- Thriving social community 
- Affordable membership 
- Foldable 10-year frame warranty 
- 1-year parts warranty 
- Classic water rower 
- Great gaming content 
- 17.3-inch touch screen 
- Stunning design 
- 500-pound weight capacity 
- Double rail for increased stability 
- Automatic difficulty adjustments 
- Assessment workout upfront 
- Music streaming features 
- Affordable membership 
- Ability to pause membership 
- Stores upright 
- 5-year frame warranty 
- 3-year parts warranty 
- 1-year tablet warranty 
- 1-year labor
Cons
- Speakers face the wrong way 
- Lower weight capacity
- Less comprehensive warranty
- Can't adjust resistance on the fly 
- No instructional videos 
- Speakers face the wrong way
Price
$$
$$$
More Info
See at Aviron
See at Amazon
What Makes Aviron & Ergatta Different From Other Rowers?
Both the Aviron and the Ergatta rowing machines are gaming rowers. This means that you're not only getting a great workout, but you've got a good dose of fun and friendly challenge to go along with it, in the form of video games.
While they technically perform the same functions as any other old rower, unlike the classic rowers you find at the gym, these ones have some serious screens on them. This is so you can follow along on your gaming content as you work your way through fun home workouts.
Our Top Pick
Transparent Labs Creatine HMB
Based on our testing, this is the best creatine for most people. It has the perfect dosage of creatine monohydrate per serving, which has been proven to increase muscle mass.
Pros:
Promote strength and muscle gains

Tested for purity and safety

Free from artificial colors
See on Amazon
See on Transparent Labs
Best Rower for Beginner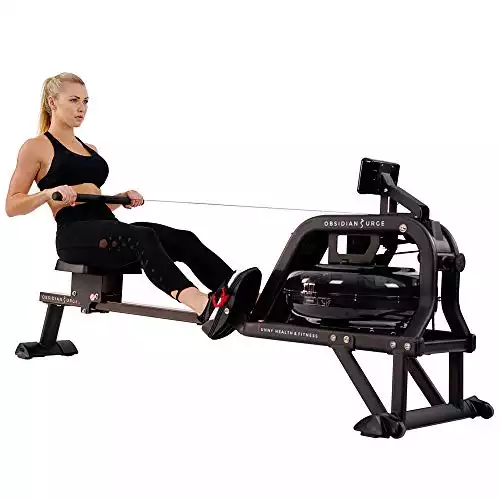 You can just do plain old rowing on both Aviron and Ergatta rowers, but why do that when they're jam-packed full of fun stuff?
Detailed Comparison: Aviron vs Ergatta
Both Aviron and Ergatta have the same function and features, but they're quite different in many ways as well.
Here's the Aviron: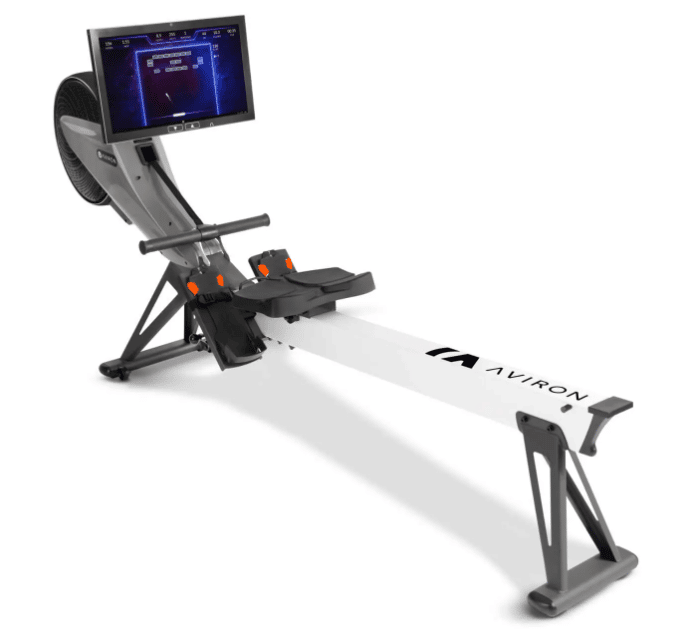 And here's the Ergatta—quite different, as you can see!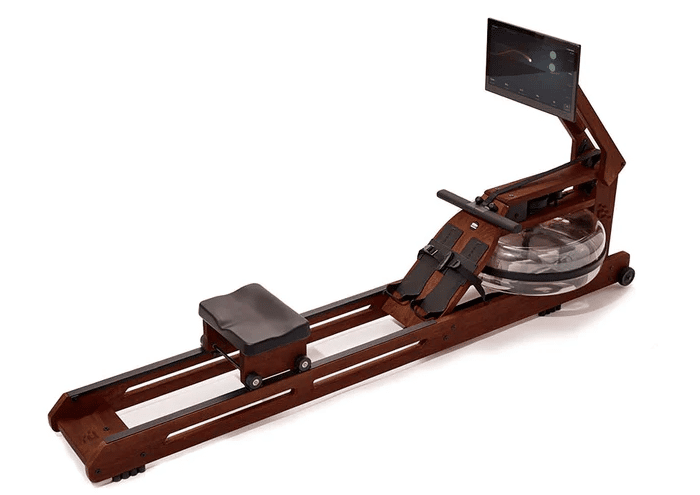 Check out our comparison between the two to figure out which is the right choice for you!
Rower Options
Aviron
Aviron as a brand offers two different series of rowing machines—the Impact Series and the Strong Series. The Impact rowers are their standard, while the Strong Series rowers are reinforced, offer lumbar support, can handle extra weight, and are kitted out with more accessories.
It's important to note that whichever one you choose, the gaming content, resistance type, and workout effectiveness remain the same. For the purposes of this review, we're comparing the Impact series to the Ergatta, as it's the more standard option and the closest in comparison.
Ergatta
There's only one Ergatta design. What you see is what you get! There's no variation in wood type or design here—just the classic Ergatta rower.
Resistance Type & Design
Aviron
The Aviron rower is an air-resistance and magnetic-resistance hybrid rower. There's a fan and flywheel combo to generate resistance, and you can choose from 16 different magnetic resistance levels thanks to the 2 different types of resistance.
One of the best features of the Aviron rower is that it allows up to 100 pounds of resistance. This is significantly more than others—by almost 3 times, actually! This allows you much more versatility in terms of your workout choices.
As for the frame, this thing is sturdy! Made of a combo of steel and aluminum, it weighs a hefty 97 pounds, which is a great indication that it's a well-built, heavy-duty rowing machine. Despite that, it folds in half and features wheels, so even the most petite of users should be able to move it if necessary.
The Aviron has been considerately designed to be suitable for rowers of all heights. It features a comfortable seat on a monorail at 20 inches high, so even taller rowers can easily get on and off without needing to squat too much. There's also a bit of extra length on the rail for a full stretch even if you've got longer legs.
The round handle is easy to grip and it also rotates, so you can keep a good grip on it without needing to readjust your hands completely. It also features an unusually wide seat, but has a reputation for being a little on the firm side.
Ergatta
The Ergatta is a classic water rower, which means that in order to adjust the level of resistance on the machine, you need to add or remove water from the tank. Alternatively, you just need to row harder to increase the resistance.
Our Top Pick
These kinds of rowing machines provide the most similar experience to rowing on the water. This might be the best choice for competitive rowers who are after that "real-life" rowing experience from the comfort of their own home.
One of the most notable features of the Ergatta is its stunning contemporary design. This rowing machine looks more like a modern piece of furniture than an exercise machine! A cherry wood frame looks sleek and elegant, allowing this rowing machine to fit seamlessly into most home decors.
It's important to note that while the Ergatta is lighter than the Aviron—76.5 pounds—that's without water in the tank. When it's filled to capacity, it weighs around 103 pounds. While it doesn't fold, it's easy to tilt upwards and store in a vertical position.
It has a double-rail design, which adds a touch of stability to the rowing motion. It's a little shorter than the Aviron, but can still comfortably accommodate rowers of around 6'8" or so. The handle is ergonomically designed and textured, to stay comfortable especially when your hands are sweating. The seat is smaller than the Aviron's, but more comfortably padded.
Gaming Content
Now for the fun stuff! The gaming content. This is what sets both of these rowers apart from your regular rowing machines, so let's dive in.
Aviron
The Aviron rowers feature plenty of workout variety in exciting video-based content. They're split into a couple of different categories, which you can select at any time depending on your mood and goals for the workout:
Best Rower for Beginner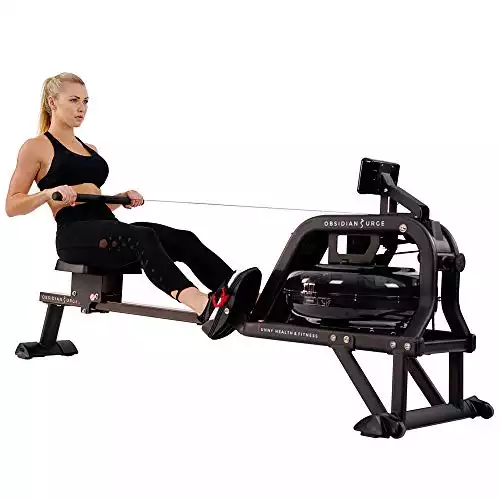 Games: fun games like target shooting, running away from zombies, or "flying". These are less workout-based, but still allow you to work up a sweat. You can also host a public or private race that others can participate in.
Power Play: gaming-inspired workouts with more of a focus on fitness. Goal-oriented, keeping you on track to your fitness milestones.
Coaching Programs: An instructor guides you through studio workouts, based on specific goals. You could choose interval training workouts, or a steady-state distance workout.
Guided Workouts: Contains both rowing and non-rowing on-demand workouts, developed and led by different instructors.
Virtual Rowing: Freestyle rowing in multiple beautiful destinations around the world.
Competitions: Compete in virtual races against other users. A bit of friendly competition!
Pros vs Joes: An exciting feature that allows you to do virtual competitive races against virtual professional athletes. Do your best!
Streaming Features: Watch Netflix, Hulu, YouTube or more while you're working out.
As well as a ton of gaming content, Aviron comes with a thriving social community of fellow rowers. You can follow friends, take part in challenges, and work your way up the global leader rankings. Oh, and if you're looking for fellow rower love… They even have a matchmaking service!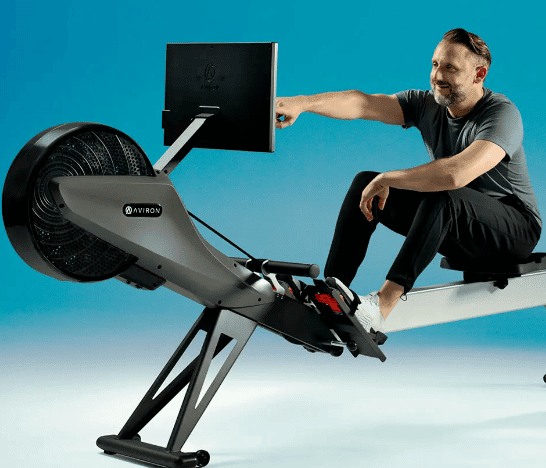 Ergatta
Ergatta's gaming content is somewhat less comprehensive than Aviron's. For some, this may be preferable—sometimes, less choice can be more! You'll still get plenty of option, though, including:
Goal-oriented game-inspired workouts
Do HIIT interval workouts
Take part in a private or public race
Enjoy scenic free-rowing
Customize free rowing with goals
Try group challenges
Race against others
The difficulty of the gaming content adjusts automatically, based on your performance. Structured to provide a great workout and entertainment at the same time, there's more than enough fun to be had on this machine. You can also keep track of where you rank on the global leaderboard.
Ergatta machines do have music streaming features. You can choose a Feed.fm radio station to listen to while you're rowing. This music feature means you don't have to connect any other devices if you want to jam while you row.
One of the interesting features that Ergatta has over Aviron is that it gets you to do an assessment workout upfront so it can tailor your workouts to your skill level. This is much appreciated, as it allows you to get an appropriate workout right from the beginning.
The one aspect in which Ergatta falls short is instructional videos. While Aviron offers some guided workouts—excellent for less experienced rowers—Ergatta doesn't. This may change your mind about which rower to buy, if it's something you specifically want. The social features are also lacking in comparison to the Aviron community.
Membership
Aviron
You don't need a membership to make use of your Aviron rowing machine. But… If you don't sign up, you won't be able to take full advantage of all the fun stuff.
You'll be able to do basic rowing workouts and track performance data, but you'll miss out on the most fun part… Not to mention that it's a waste of money to buy an expensive gaming rower and only use it for basic workouts.
The good news is that an Aviron membership is relatively affordable. For just $29 a month you can enjoy all the spectacular features that Aviron offers. If you choose to pay an annual lump sum, that fee goes down to $25 per month.
Ergatta
You need a membership to access Ergatta's game-based platform. Without it, you'll be able to do open rowing only, which is a little on the boring side when you own a fancy gaming rower!
They have very similar membership costs to Aviron, with a $29 per month plan, payable annually for $319 (one month free). However, they do offer a free 30-day trial period, so you can really get a feel for it before deciding if you're all in.
You can also pause your membership at any time. It can remain paused for a maximum of 3 months in a 12-month period, which is extremely handy if you're paying monthly and you need a bit of breathing room for a month or two.
Screen Quality
Aviron
Of course, screen quality makes a difference to your gaming experience. The Aviron rowing machine features a sizable 22-inch screen, which delivers an excellent viewing experience with great video quality.
It has touchscreen capabilities, plus a few external buttons to turn the screen on and off, adjust the volume, and set the resistance. You should note that shorter rowers may struggle to reach the screen when their feet are strapped in!
One of the downsides of this particular screen is that the speakers are mounted on the back of the screen. While it's a space-saving idea, it means the sound is projected away from you, so you'll have to keep the volume up pretty loud to hear it over the noise of the flywheel.
Ergatta
Ergatta's screen is somewhat smaller, at 17.3 inches. It's also a touchscreen, with everything controlled on the screen and no external buttons. Like the Aviron, the speakers are located on the back of the screen. They aren't as strong as the Avirons, but the water-rower sound also isn't as loud as the Aviron, so it comes out roughly the same.
Like the Aviron, the screen may be tricky to reach if you're on the shorter side and you're strapped into the pedals. So make sure you set everything up before you start!
Size & Space Considerations
Aviron
The Aviron rowing machine has a floor space footprint of 97 inches in length, 21 inches wide, and 43 inches in height, when it's ready for use. Once folded, it's 54 inches long, 21 inches wide, and 62 inches high.
The monorail measures 46 inches in length and is 20 inches high. Each foot pedal is 13 inches long and the seat measures 13 by 10 by 20 inches. The belt drive is 30 inches from where it appears out of the flywheel.
As we're talking about convenience here, it may be helpful to know that the Aviron is also fairly quiet. As it uses a mixture of air and magnetic resistance, it only puts out around 60 decibels. It's suitable for limited space and in homes where there are multiple people.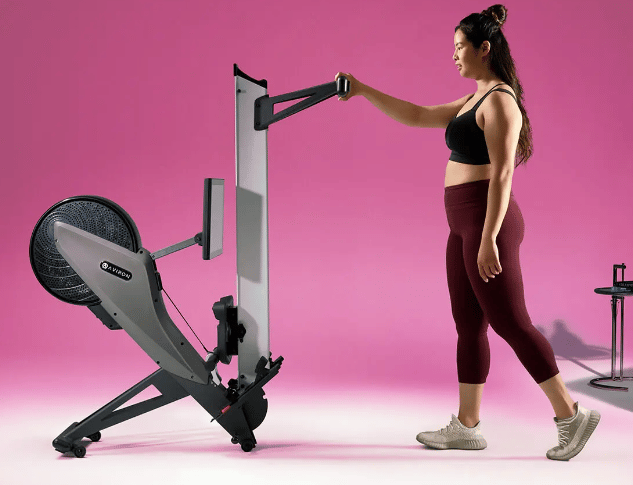 Ergatta
When laid out fully, the Ergatta spans 86 inches by 23 inches, by 40 inches in height. In its upright storage position, it takes up 23 inches in width and 86 inches in height.
It features a double rail of 40 inches long at 6 inches high, with the seat measuring 12 by 8 by 12 inches. The pedals are an inch shorter than the Aviron's, at 12 inches long each. The belt driver is also slightly shorter, at 20 inches.
It's unclear of the noise level the Ergatta emits, but it's generally accepted that water-resistance rowers sound more pleasant and aren't as loud as others.
Weight Capacity
Aviron
The Aviron can handle a weight capacity of 397 pounds. This is a decent weight capacity, making it accessible to rowers of almost all body sizes and compositions.
Ergatta
The Ergatta comes out on top for max weight capacity, being able to handle 500 pounds of weight quite comfortably. Just about anyone can get on this rowing machine and have a great workout. To support this high weight capacity, the rail is doubled up to provide extra support.
Warranty
Aviron
The Aviron rowing machine features a 10-year warranty on the frame, although with the hardcore steel and aluminum construction, it's not likely to need repairing or replacing any time soon.
There's also a 1-year warranty on other parts. It's important to keep your rower clean and well-maintained, so you shouldn't need to take advantage of this warranty.
Ergatta
The Ergatta rowing machine features a 5-year warranty on its frame. This is half of what the Aviron offers, and cherry wood isn't quite as sturdy as the metal frame of the Aviron. However, if you take good care of it, you shouldn't need to use the warranty.
On the other hand, Ergatta has a 3-year warranty on parts, three times as long as that of Aviron. You'll also get a year-long warranty on the tablet and 1-year labor, which is something Aviron doesn't offer.
However, there is a slight caveat—you have to register your Ergatta rower within the first year in order to get these warranties. If it slips your mind or you get busy, you'll only get a year's warranty on parts.
Price
Aviron
The Aviron Impact Performance rower sells for $1,899 on their website. You can buy packages that include accessories, which go up in price. The Strong Series rower goes for $2,199. Both options can be financed, which is a nice option to have. It's the more affordable option.
Ergatta
The Ergatta is the more expensive of the two, going for $2,499. They also offer financing options, which is appreciated.
Aviron vs Ergatta: Which Is Best For You?
Aviron vs Ergatta isn't an easy debate! They're both popular rowers and well worth the money you'll pay for them. If you've reached the end of this article, you already should have a better idea of which one suits you.
If you're still unsure, here's what we suggest.
Want adjustable resistance levels
Are looking for a budget-friendly option
Are a taller rower who needs a little more space
Want instructor-guided workouts
Need a large screen
Want a stylish rower that fits your home decor
Like the soothing sound of water as you row
Are after the most realistic-feeling rowing experience
You need a high weight capacity
Whichever one you choose, you're on the right track if you're after effective home workout equipment. Both are top-quality, awesome rowers that you'll use for years to come. Have fun!