Standing at 5'7" and weighing 160lbs, Cody Anderson didn't turn a lot of heads when he qualified 2nd out of the North West Regionals, punching his ticket to his first CrossFit Games. No one might have given the 22-year-old much notice when he arrived in Carson, but one thing's for sure: by the time he left, everyone knew his name.
Cody Anderson found CrossFit when he was 18-years-old. His mother, a massage therapist, had an office right next to Central Oregon CrossFit, and suggested that he give it a try. As was the case for a lot of us, it was love at first sight.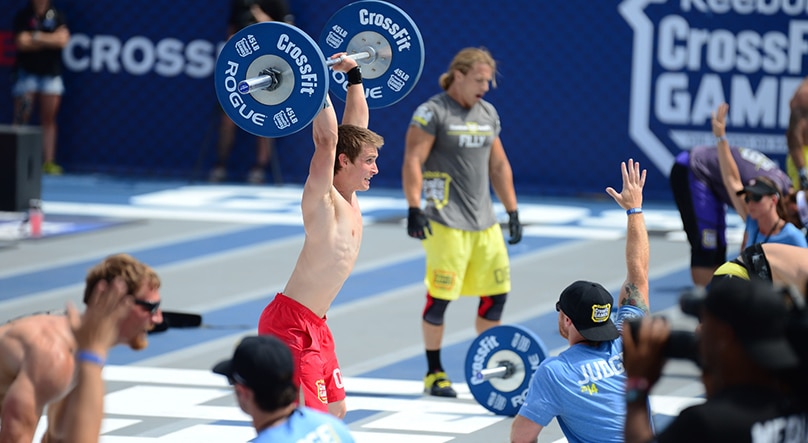 "I kind of fell in love with it right off the bat. It just made more sense to my body than doing bicep curls and stuff on machines. It almost felt like cheating at first—getting kipping pull-ups and stuff like that. I just loved the functionality of it and getting to use my whole body and taking advantage of the efficiency our bodies are meant to move with," says Anderson.
Efficiency of movement is something Anderson knows a lot about. He had spent five years training as a gymnast from ages 8 to 13, and these skills immediately carried over to CrossFit. Anderson competed in his first Regionals in 2013, but had to pull out after injuring his back in the deadlift/box jump event. In 2014, Anderson returned to Regionals with a vengeance, walking a total of 280ft on his hands in event 2 and finishing event 7 (64 pull-ups and 8 overhead squats at 205lbs) in a blistering time of 1:56. It was a sign of things to come from the Oregon native.
Fast-forward a few months to late July and the start of the 2014 CrossFit Games. Nobody really knew much about the young rookie, but things were quickly about to change. After placing 38th in the Beach event, Anderson took 25th in the following event, the Overhead Squat. While that might not sound like a high finish, you might change your mind when you learn that he moved an incredible 325lbs at a bodyweight of 160lbs.
Our Top Pick
Transparent Labs Creatine HMB
Based on our testing, this is the best creatine for most people. It has the perfect dosage of creatine monohydrate per serving, which has been proven to increase muscle mass.
Pros:
Promote strength and muscle gains

Tested for purity and safety

Free from artificial colors
See on Amazon
See on Transparent Labs
"I think people started to pay attention to me more after the Overhead Squat, and after the muscle-ups I got a little bit more attention again, so that was a new experience for me. I'd never had anyone ask for my autograph so that was crazy when people started asking me for it."
Ah yes. The muscle-ups. Anderson put his gymnastics background to good use and wrote himself into CrossFit folklore during the Muscle-Up Biathalon after completing the entire event without dropping from the rings once. That's 45 muscle-ups with three 400m runs thrown into the mix. Needless to say, Anderson was the only athlete to go unbroken in the event, taking his first ever CrossFit Games event win.
All of a sudden, he was the talk of the Games. Now, everyone knew who Anderson was. But he still had a few surprises left in store for the fans.
The Clean Speed Ladder was arguably the most exciting event of the Games, with athletes having to move through an ascending ladder of barbells that rose in weight each time. Obviously, this would be an event for the big boys, right? Well, in a sense, it was. Neal Maddox and Jeff Evans, two of the biggest athletes in the field, finished 1st and 2nd respectively, each cleaning 345lbs in the final round of the event. But perhaps the biggest surprise of all was the performance of Anderson.
"He weighs 160 lb., he's a smaller guy. We knew he was going to do pretty well on the muscle-up workout, but what I was most impressed with, was him on the clean ladder. The guy PR'd his clean. … (he looks) not as strong as you'd think he is. And he just crushed it—310lbs, finished the ladder off and I was just inspired."
—Jason Khalipa on Cody Anderson
That's right. In the semi-final round, Anderson (at a bodyweight of 160lbs, in case you forgot), cleaned 310lbs—almost double his bodyweight. Obviously the rookie is far stronger that his slender frame would suggest. But how was Anderson able to move such heavy loads?
"For me, it's always been more of a technique thing rather than a mass thing. I only weighed 135 when I started CrossFit, so I've put on close to 30lbs over the course of four years," says Anderson. "
I've always wanted to get stronger but I didn't want to solely focus on that. So I worked on technique a lot but I was still PR'ing on everything and staying at the same bodyweight."
Anderson drove home this point a couple more times at the Games, finishing 4th in the Push Pull event and 9th in Thick 'N Quick—once again going unbroken on four rope climbs and three overhead squats at 245lbs.
"The overhead squat is kind of an exception for me because of my gymnastics background. It helped me mobility-wise and with my core strength for that movement. But there were other events that I definitely surprised myself with. I was really surprised with my performance in the Push Pull event because we only have one sled at our box, and I don't use it very often."
It didn't seem to matter much. After all, technique and proficiency in the overhead squat is a powerful combination that can translate to success in a number of movements.
Anderson left Carson with a 22nd place finish overall, earning the respect and attention of the CrossFit community. As a testament to that fact, Anderson has recently signed a sponsorship deal with the biggest sports company in the world—Nike.
So what's next for the 'surprise of the Games'?
"I'm going to try and make it back in 2015. I'm going to try and hit my weaknesses, try and fix my holes, but ultimately I'm not going to be super disappointed if I don't. I'm just going to work as hard as I can, try and improve on the things that I'm not good at trust that God has a plan and things are going to work out the way he wants them to."
Photo courtesy of CrossFit Inc.
Our Top Pick
Transparent Labs Creatine HMB
Based on our testing, this is the best creatine for most people. It has the perfect dosage of creatine monohydrate per serving, which has been proven to increase muscle mass.
Pros:
Promote strength and muscle gains

Tested for purity and safety

Free from artificial colors
See on Amazon
See on Transparent Labs