If you live in a small apartment, or you don't have a spare room for a gym at home, owning a treadmill can be a home decor nightmare.
Treadmills are one of the biggest items of fitness equipment, so they're not easy to hide. There's no attractive treadmills either – they are what they are! In this article we're going to look at how to hide a treadmill without spending big money.
We'll give you several innovative solutions to help stop your living space from being dominated by your workout equipment. We'll also look at different room options, seeing if there's space you could put your treadmill in that would make hiding it easier.
How to hide a treadmill on a budget…
Get Custom Made Treadmill Covers
The quickest way to hide your gym equipment is with a cover. Whilst it might not always be the most elegant solution, it's an effective one. An indoor treadmill cover allows you to hide your exercise equipment. They're also quick to remove when you want to get a cardio workout in.
Our Top Pick
Sunny Health & Fitness Electric Treadmill
Based on our testing, this is the best budget treadmill for beginners. For less than 400$, it has most essential features that you've come to expect, it's small and sturdy, frankly it offers great value for money. It's also backed with an 8 years warranty.
The best option is to get a custom made treadmill cover. It'll look neater, will fit better and will best protect your equipment from dust accumulation.
Materials for internal covers
An indoor treadmill cover should be lightweight, so it's easy to put on and take off. All it's doing is hiding your piece of equipment and protecting it from dust and damage. This means it doesn't have to be insulated or waterproof.
If the treadmill is near a sunlit window it needs to be made from a reflective material. This prevents pieces of equipment being sun damaged.
Good quality cotton is appropriate for most indoor covers.
Materials for external covers
If your treadmill is being stored outdoors, you'll need to buy a treadmill cover made from an insulated, waterproof and reflective material. An outdoor treadmill cover has to withstand the elements effectively… modern treadmills aren't cheap to replace if they're damaged!
Make sure any external covers placed on cardio equipment are weighed down. You don't want them to blow away with a big gust!
Behind plants
A clever way to hide a treadmill is behind large house plants. They can offer a natural barrier, they look great and they are moveable. They're a cheap solution to a problem too. They're also non-permanent, so if you change your mind you can move them to another area of the house.
Create a drape/curtained area
Another way to hide your exercise equipment is with a drape/curtain area. A little like a hospital ward (without the negative connotations!)
By creating a curtained area you can hide several pieces of exercise equipment, even creating a little private gym space. A curtain rod mounted to the ceiling could direct the curtain wherever you needed it to go. You could even install a bow-shaped curtain rod to section off a smaller area.
Another benefit – it allows you to add a splash of color in the middle of a room!
Reduces noise levels
Adding soft furnishings in rooms will help to deaden sound. By fixing a heavy curtain around your treadmill, you'll reduce the noise levels during use. They don't have to be specialist gym curtains – any thick curtain will suffice. Always make sure they're floor to ceiling, otherwise you lose some of the benefit.
Adding an equipment mat under your treadmill helps to reduce noise levels too.
Behind furniture
Sometimes it's not practical to add divider drapes in a room, so another way to hide your treadmill is behind other items of furniture.
If you live in an open plan space, tall furniture such as book shelves, entertainment units or wardrobes can act as natural room dividers. By placing them together your tall items of furniture will hide a cardio machine and create a private space for you to exercise.
Makeshift walls can be made quickly and without expense if you already have the necessary furniture. You can hide your exercise machine within minutes!
Folding Screens
The quickest way to hide a piece of fitness equipment is behind a folding screen. The average treadmill measures 70-85″ long by 30-40″ wide, so the privacy screen needn't be huge. If you want to make it a design feature, you could even get one of the decorative folding screens.
The great thing about using a decorative screen is that it's a flexible solution. You can move it easily, unlike drapes or a wall which are more permanent. They're also much quicker to install! A panel folding screen can be picked up for very little money.
What rooms are best to put treadmills in your house?
If you've got the benefit of extra space, there are a few rooms you can hide your treadmill in. Here's a few tips for each of those rooms…
Garage
Your biggest issue in a garage is protecting your treadmill from damage from the conditions. You've also got a potential issue with cold and/or damp. Many modern treadmills have an interactive display screen, so they need to be kept as dry as possible.
An insulated treadmill cover is your best bet here. It hides the treadmill and protects it.
Our Top Pick
Sunny Health & Fitness Electric Treadmill
Based on our testing, this is the best budget treadmill for beginners. For less than 400$, it has most essential features that you've come to expect, it's small and sturdy, frankly it offers great value for money. It's also backed with an 8 years warranty.
Basement
Many people keep their exercise equipment in the basement. You can suffer with the same issues as the garage though – cold and damp are potential problems. An insulated treadmill cover is the best bet. If your basement is warm and dry, you can hide a treadmill with a foldable screen.
Outdoors
Some people will put their treadmill outdoors. Whilst this is great for keeping it out of the house, you still may want to hide it. Even high-quality, modern-looking treadmills are still pretty ugly!
The best way to hide a treadmill outdoors is with an outdoor treadmill cover. It's weather-protective and easy to fit and remove. I would avoid any kind of curtain systems or panel room dividers – they could blow over in the wind, and wouldn't protect the machine from rain at all.
Office
A lot of people like to keep their treadmill in their office. Walking meetings, or even working from homemade treadmill desks has become popular. Like in any other room, they can be hidden with nice room dividers.
When money is no issue…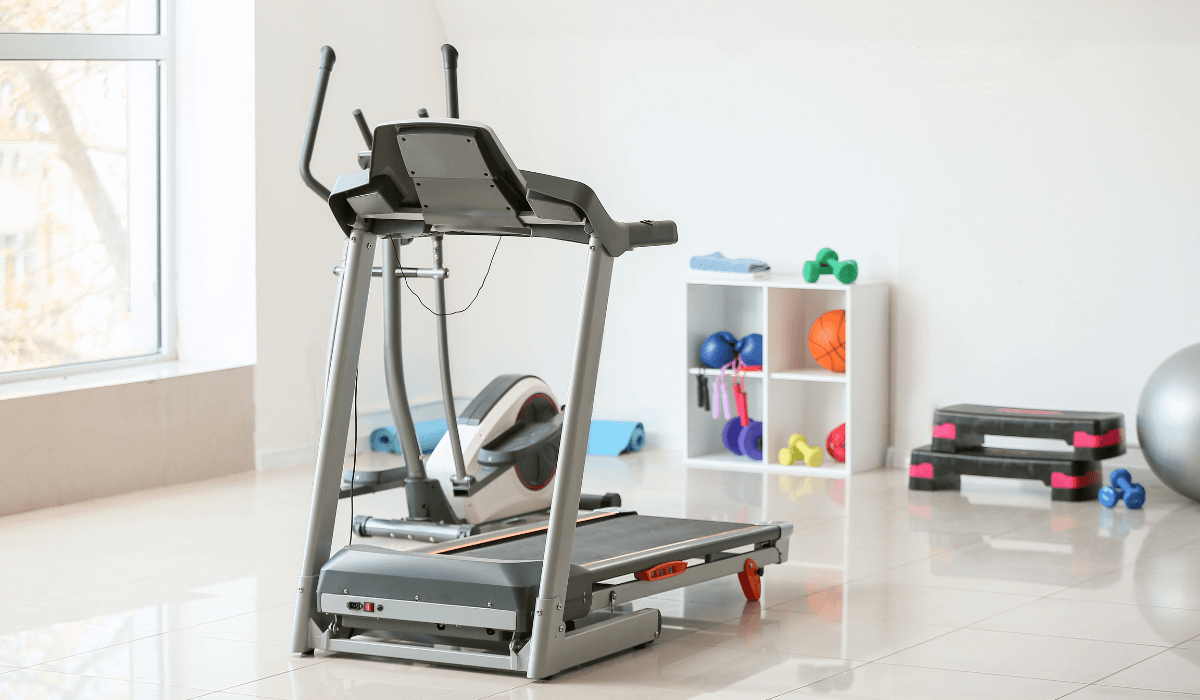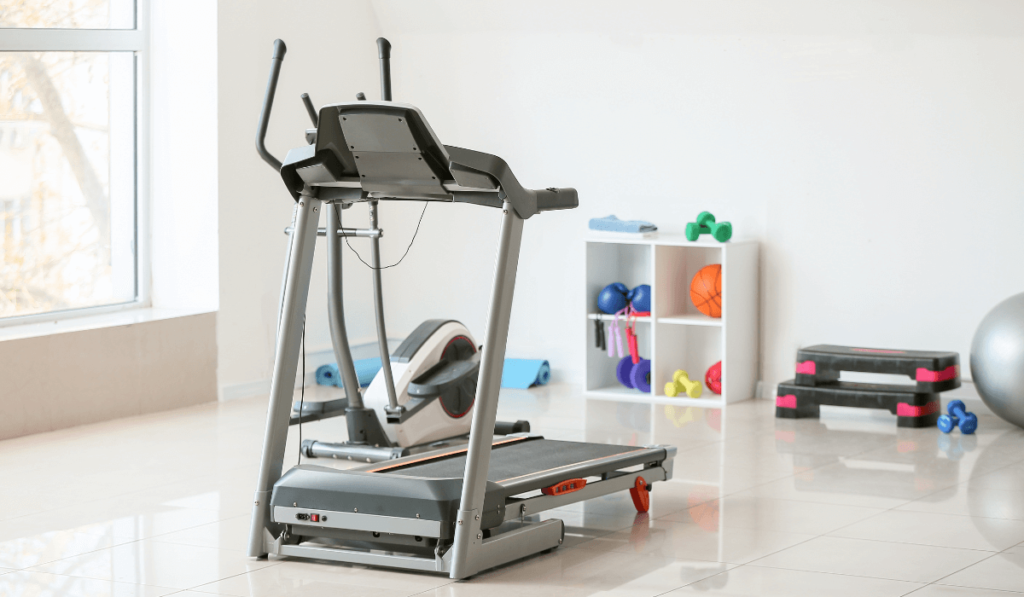 If you don't mind spending big money, you can create false walls inside existing rooms. This can create spaces for your exercise equipment. Of course you need adequate space to be able to do it, but it's possible to do it quickly and without any serious disruption to your property.
This is the best and most permanent solution to the problem, plus it helps to create a dedicated exercise area in your living space.
Take these ideas on how to hide a treadmill and get creative with them. It's possible to hide a treadmill, you'll have to get creative and think about the solution that works best for you. The good news is, you can hide your exercise equipment without spending a lot of money.