Are you looking to invest in new fitness equipment you can use at home? Don't want to overspend on several devices that may not live up to their expectations? By and large, rowing workouts are considered one of the most efficient cardio-intensive and full-body exercises for all fitness levels and goals.
Among the top contenders, Hydrow and Peloton are certainly making waves in their own right. But how exactly do they differ? Well, strap in and get ready to row – we've detailed the major aspects of both machines in our Hydrow vs Peloton head-to-head comparison.
Product's name

Our Top Pick


Hydrow Connected Rowing Machine, Subscription Required

Great Alternative




No products found.

Verdict
One of the major selling points of this device is its sleek design and the cleverly developed base that keeps it securely in place, even during the most demanding types of workouts.
The standout feature of the Peloton Row is undoubtedly the stunning swivel screen with front-facing speakers.
Frame
Aluminum and Steel
anodized and powder-coated Aluminum with a plastic hub
Screen Size
22"
23.8"
Dimensions
86″L x 25″W x 47″H
24"D x 96"W x 14"H
Warranty
12-month limted warranty, with option to extend
12-month limited warranty with no option to extend
Price
$$
$$$
More Info
See at Amazon
See at Peloton
How Am I Qualified to Write About These Products?
As a long-standing fitness and gym-going enthusiast, I'm no stranger to any form of exercise equipment. After a consistent commitment to health and wellness, I've grown familiar with the ins and outs of more general equipment like treadmills, weights, and resistance bands. But when the at-home rowing craze began, I knew I had to get in on the action and try it out for myself.
Since many of us don't have the space or the funds to purchase multiple products, we have to be judicious when it comes to what we invest in. And indoor rowers certainly offer that full-body workout that we all crave, so I had to make sure that I was making a sound investment with either Hydrow or Peloton.
Who Is This Guide For?
In short, anyone who is looking for a comprehensive at-home exercise machine which can deliver an intense workout but won't occupy more than a few feet in terms of space. Not only does it save you plenty of money in the long run, but you can also row at any time of day and as often as you want – no gym membership required.
Best Rower for Beginner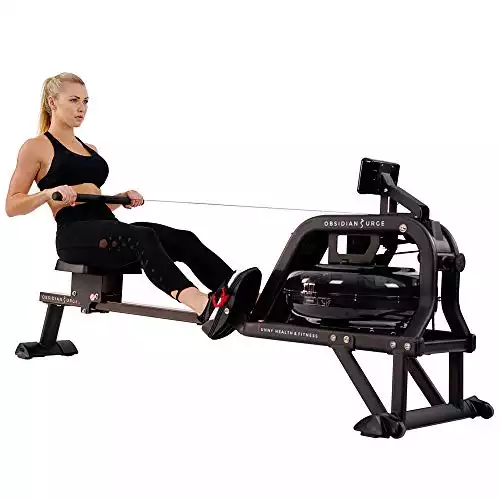 Regardless of the workout type, this form of exercise delivers a wide variety of movements that mimics an authentic rowing experience. It doesn't matter if you're just dipping your toes in the fitness waters or if you've already had some experience with other machines – Hydrow and Peloton are both suitable options that can help you reach your fitness goals.
How We Picked the Best Products
With the overflow of information and personal reviews available online, we had to take on a systematic approach to comparing the two products. We studied hundreds of customer reviews on their respective websites, with a focus on the overall quality and effectiveness of the machines.
We made sure to check out the biggest fitness communities on social platforms like Reddit and Quora for the most up-to-date insights on the products and their features.
How We Compared Each Product
For a truly linear comparison, there has to be some middle ground that both parties can contribute to in their own way. Despite originating from two different brands, the Hydrow and Peloton share a number of common features that make them both unique in the fitness sector. We had a look at the following aspects when doing the Hydrow vs Peloton breakdown:
Construction quality – We checked for durability, overall build, and the components used for each machine to see if they could withstand regular use. The way individual components make up the entire machine ultimately determines its lifespan.
Design – Aside from the physical elements, we also took into account how each machine's design would affect the user's comfort and the overall experience. Sometimes, the wrong design can make even the best machines feel clunky and ineffective.
Use of technology and interactive features – In a hyper-connected and digitalized world, the use of smart technology and tracking features can make a huge difference. We looked at how each machine incorporated this into its interface and exercise experience.
Portability and footprint – Despite being a singular rowing machine, one of the major selling points of these devices is the fact that they can fit into a small space, often being folded up and moved out of sight when necessary. But where does the line between storage and sheer bulkiness stand?
The Products
When all the research and analysis were done, we were able to compare the two products side-by-side and come to a conclusion. How you decide which one to purchase is ultimately up to you, but the overall scores and highlights of each product can help you make an informed decision.
Our Top Pick
One of the major selling points of this device is its sleek design and the cleverly developed base that keeps it securely in place, even during the most demanding types of workouts.
Sitting at the very top of the rowing machine market, the Hydrow Rower uses computer-controlled resistance to power the electromagnetic drag mechanism. The dedicated flywheel and the two magnets on either side of it sync up in perfect harmony that closely resembles the feeling of rowing on actual water. This might not be a deal-breaker for you, but the extra resistance kicks up a notch when gliding close to the closest end of the stroke.
Pros
Smooth rowing stroke thanks to its magnetic resistance and patented draw mechanism
Interactive HD screen with access to live and on-demand rowing classes
Comes with ergonomic handlebars that include heart rate monitors
Live leaderboards and milestone rewards to keep you motivated
Cons
Higher price range for a single-user machine
Hydrow membership not included from the start 
Key Specs
| | |
| --- | --- |
| Size | 86″L x 25″W x 47″H |
| Resistance Type | Electromagnetic |
| Max User Weight Capacity | 375 lbs |
| Device Material | Aluminum and Steel frame with a flat anthracite polymer body |
Why It's Great
One of the major selling points of this device is its sleek design and the cleverly developed base that keeps it securely in place, even during the most demanding types of workouts. The aluminum rail is also surprisingly light and easy to move when needed. It can't be folded or disassembled, but this feature isn't as big of an issue due to its already compact footprint.
As for the interactive features, it comes with a brilliant swivel screen that's angled perfectly for easy viewing and has Bluetooth capabilities, which makes it compatible with most fitness apps. The Hydrow membership allows you to access an entire library of classes and professional training advice, for a monthly subscription of $38.
You can try out the complete library for free for the first 30 days to see if this is something you'd like to invest in. If you opt out, you can use the basic workout settings in the 'Just Row' mode without any additional costs. This, in itself, is more than enough for the average workout experience that doesn't require any extra bells and whistles.
Great Alternative
The standout feature of the Peloton Row is undoubtedly the stunning swivel screen with front-facing speakers.
The much-hyped and much-anticipated Peloton Row certainly lives up to its expectations. It comes with a series of technological innovations that offer seamless and comfortable workouts every single time. Its magnetic resistance provides an even and consistent drag thanks to the steel brake and the custom flywheel.
Pros
Live feedback on proper form and technique with the Form Assist feature
Shipping and full set-up included in the price
Can be folded up and stored in a small space
Ergonomic seat with adjustable foot straps
Cons
A somewhat short 12-month warranty
Slightly heavier build and bulkier frame 
Key Specs
| | |
| --- | --- |
| Size | 24″D x 96″W x 14″H |
| Resistance Type | Magnetic resistance |
| Max User Weight Capacity | 300 lbs |
| Device Material | Anodized and powder-coated Aluminum rail with a molded plastic hub |
Why It's Great
The standout feature of the Peloton Row is undoubtedly the stunning swivel screen with front-facing speakers. The tech-savvy and aesthetically pleasing display can be tilted and twisted to your desired angle and comes with a built-in leaderboard that can be used to compete with other rowers out there. The competitive aspect is particularly valuable for those who want to up their game and reach new heights.
Whether you're looking for a challenging workout with customized audio and visual cues, or a more relaxed session with simple rowing motions, you're in complete control of the pace and intensity. Plus, with the added benefits of monthly challenges and exclusive competitions, your motivation levels will always be at an all-time high.
Of course, you have to add a monthly membership to the Peloton app to access its extensive library and instructor-led studio classes, but if you really want to get the most out of this machine, it's worth every penny. You can even get training advice on your breathing technique and posture from the device's Form Assist feature.
The Buying Guide
Aside from the specific features that make up each product, you'd have to consider your own individual needs and preferences when deciding which machine to add to your fitness space. You don't exactly have to break the bank for either product, but there are certain things that you should look out for when narrowing down your options.
Comfort and Capacity
It doesn't matter if your focus is strength training or cardio workouts, having a comfortable seat and a spacious footrest are both defining factors of your performance. While the Peloton Row ever-so-slightly edges out its competitor with its ergonomic design, the Hydrow has a lot to offer in terms of space and maneuverability.
Plus, the user weight limit might be something you should pay attention to if you're shopping for a household machine. The Hydrow can hold up to 375 lbs, while the Peloton is limited to 300 lbs. Seeing as we all have different starting points in terms of weight and a wide range of goals, these two variables could potentially make or break your decision.
Connectivity and Hardware
If you don't plan on using a separate app, the built-in display and digital capabilities of the Peloton Row certainly give it an edge over the Hydrow. However, these premium-level specs do come with a hefty $44 price tag, as opposed to the monthly subscription model of its competitor. How much you'd be willing to spend on a device that offers the same basic functions is up to you – and your wallet.
Additionally, having access to useful metrics like stroke rate, heart rate monitor, and speed can be extremely helpful in tracking your progress. While both products have built-in leaderboards and performance stats, the Peloton Row's smart capabilities definitely give it the upper hand.
Assembly and Storage
Many of us don't get the chance to assemble exercise equipment all too often, so it makes sense to look into the ease of setup as a crucial aspect. Luckily, both devices come with detailed instructions and simple tools that make assembly a breeze.
When it comes to storage, however, the Peloton takes the cake as it comes with an upright storage kit for vertical stowing. This is basically an anchor system that lets you store the device up against a wall and out of sight. In this way, you can keep your home gym neat and organized while saving up on precious space.
Best Rower for Beginner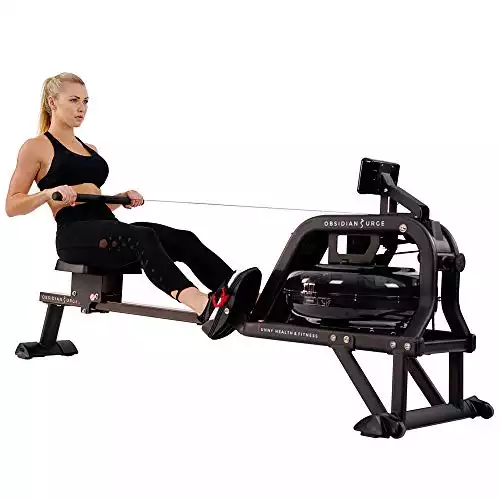 FAQ
Are Hydrow machines worth it?
All things considered, the machines definitely deliver both in terms of features and performance. The level of comfort and connectivity offered by the Hydrow line makes them a great buy for fitness enthusiasts, especially those who are looking for good value for their money if they have the budget for it.
Is Hydrow or Peloton better?
The answer to this question depends on what you need the machine for. If you're after a sleek, high-end water-rowing experience with an extensive library of classes, then Hydrow might be exactly what you need. However, if you want a device that offers more in terms of digital capabilities and performance tracking, then you should consider splurging on the Peloton Row.
How much will the Peloton rower cost?
High-grade features and professional-level specs definitely raise the price of the Peloton Row. The base model retails for $3,195, with additional charges for the accessories and content subscription fees. The highest model with the most advanced features, however, will set you back $3,570.