If you've dipped your toes into rowing as your indoor training of choice, chances are you've heard of Concept2 as one of the leading brands on the market. Their innovative designs have made them a staple for both competitive and recreational rowers alike, with their flagship Model D Indoor Rower being one of the most sought-after machines around.
So, what's so special about Concept2 Model D? Is it truly worth every penny? Are all the Concept2 Model D reviews matching up with its performance? To answer these questions and more, let's dig into this machine's main specs.
In A Hurry? Here Are The Specs Of This Product
Product's name

Great Product Overall


Concept2 RowErg Indoor Rowing Machine - PM5 Monitor, Device Holder,...
Verdict
The Concept2 Model D sets the bar for performance and functionality
Machine Size
96" L x 24" W x 14" H
Materials
aluminum, stainless steel
Type of Resistance
Air
Price
$
More Info
See at Amazon
How Am I Qualified to Write About This Product?
As a long-time gym rat and a dedicated fitness junkie, I've had the chance to try out a variety of rowers throughout the years. It turned out, buying a good quality rower is not as easy as it seems, since there are tons of features to pay attention to.
Sometimes, you just don't get what you pay for, or that particular piece of equipment doesn't live up to the hype. Plus, there's the whole commute to the gym, gym fees, and other hassles. Pair this with the rise of home and garage gyms as a way to cope with the pandemic, and I felt obliged to set up something in the comfort of my own home.
And when you're dealing with limited space and budget, you become more selective of the things that you include in your home gym. That's when I decided to take a closer look at Concept2 Model D Rower and see whether it actually offers an excellent full-body workout like it's marketed. And I was pleasantly surprised at the quality of the air rower and how it held up against my rigorous assessments.
Best Rower for Beginner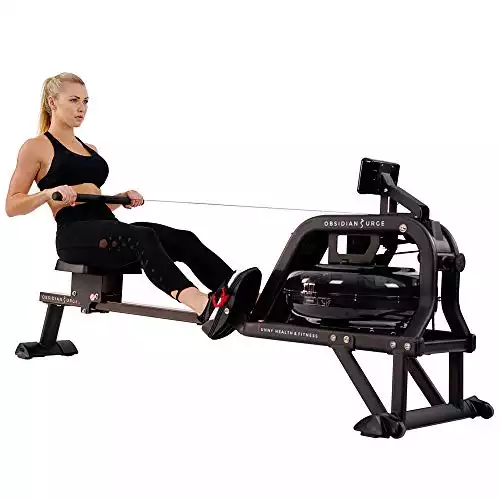 Who Is This Guide For?
This guide is for virtually anyone who wants to target a comfortable workout with all the convenience of a home gym setup. Whether you are a competitive athlete looking to shave off some seconds on your rowing sessions, or a casual fitness enthusiast who wants to get fit and healthy in the comfort of your own home, the Concept2 Model D can help you reach your goals.
And since the superb frame quality is the major highlight of this product, it's particularly useful for bulkier or heavier individuals who may need a more robust frame that can support their body weight. This also means that the machine can withstand vigorous active use time, offering a solid foundation for those who want to engage in a more intensive and demanding workout every day.
But if you're a bit sensitive to chain noise and wouldn't really appreciate the loud spinning flywheel taking over your house, then I advise you to look elsewhere. It can be quite distracting, especially when you start to row faster, so people living in an apartment building or even a detached home may want to consider another option.
How We Graded the Product
To avoid a purely subjective perspective, we decided to check out the discussion threads on major social media platforms like Reddit or Quora to see what existing users had to say about the Concept2 Model D Rower. This would allow us to gauge how well-rounded the machine is and how it holds up against the competition.
We also took a peek at the product's consumer ratings on Amazon, Rogue Fitness and Titan to get a better idea of the overall consensus. The way we see it, this would provide us with a sufficient and reliable snapshot of the device's performance.
When all the above mentioned sources were neatly compiled and synthesized, we graded the device on the following criteria:
Design and Stability – Any piece of exercise equipment must be able to handle intense bouts of exercise without tipping over or breaking down. Does the robust frame fare well under duress?
Resistance Level and Performance – We focused on the efficiency of the method of rowing resistance used by the Concept2 Model D and how it performs in a real-life scenario. Is it easy to adjust or switch up the resistance? Do you get a steady and consistent performance for every stroke rate?
Fitness Technology – In an increasingly digital-driven world, fitness technology has become an industry standard. Does the Concept2 Model D Rower live up to this expectation? Is there a companion app that you can use to track your workout data or customize your routine?
Ergonomics – Regardless of the type of indoor training routine you're aiming for, you want an ergonomic design that promotes a proper and healthy posture. This can only be achieved through a contoured seat and extra cushioning, an adjustable footrest, and comfortable handles to ensure correct body alignment.
Price Range – Not everyone has the same budget. That's why we analyzed the cost of the Concept2 Model D compared to its competitors for a better understanding of its value in the market. Sometimes, having expensive features can bump up the price and make it impossible to afford.
A Great Rower
The Concept2 Model D sets the bar for performance and functionality
Seen as a true staple in the indoor training scene, the Concept2 Model D sets the bar for performance and functionality. Its somewhat imposing build and flywheel-driven mechanics might be intimidating for some, but this is one of the most reliable and well-constructed air-resistance rowers you can get. And when you combine that with the abundance of compatible accessories, the overall value of the device increases exponentially.
Pros
Robust frame that is designed to withstand heavy daily use
A highly adjustable strap on both footplates to ensure a comfortable posture
Smooth flywheel-driven mechanics that provide consistent air resistance
Vertical folding design for effortless storage and transportation
Cons
Takes up quite a bit of floor space
Slightly narrow seat for such a large frame
Key Specs
| | |
| --- | --- |
| Concept 2 Rower Dimensions | 96" L x 24" W x 14" H |
| Type of Resistance | Air |
| Max User Weight Capacity | 500 lbs |
| Frame Material | aluminum frame and welded stainless steel track |
| Finish | double powder coat with a glossy exterior |
Why It's Great
The key thing that sets this machine apart from its competitors is the level of thought and attention to detail that's put into its design. From the speed of delivery to the premium packaging and commercial-grade construction, the Concept2 Model D R air rower effortlessly stands out from the crowd. Even the most inexperienced user can figure out the basics of rowing almost instantaneously, which adds to its overall appeal.
From the moment you set it down on the floor, you can immediately feel the presence of a top-notch piece of equipment. The frame is solid and stable, providing a much-needed sense of security during your workout. It doesn't shift or wobble and can easily handle the intense strain of our movements and rowing stroke.
Speaking of the rowing motion, the air-resistance flywheel system works like a charm. It's responsive and adjustable, allowing you to increase or decrease the resistance to your desired intensity level. The nickel-plated steel chain supports the even glide of the comfortable seat across the aluminum monorail, requiring minimal maintenance and oiling for long-lasting performance.
The stainless steel seat track provides a nice balance between functionality and durability, while the ergonomic handle makes it easier to grip tightly. It has a 10-degree bend for a more natural grip and range of motion. The handles are covered with molded rubber grips that absorb excess sweat, but can cause irritation and blisters when you first start using them.
What's more, the adjustable foot strap comes in handy for those who prefer to row with their feet slightly elevated, while the pivoting foot plates give you a thicker platform for better stability and control. If you're taller or shorter than the average user, you can easily adjust the monorail height to fit your body type. In this way, the Concept2 Model D can easily accommodate users of all sizes.
Additionally, Concept2's integrated PM5 performance monitor offers much in the way of tracking and analysis. This user-friendly device allows you to observe your progress over time, customize your rowing routine, and even access online leaderboards. This includes stats such as calories burned, average speed and strokes per minute, watts per hour, and even distance rowed.
The performance monitor is securely attached to an adjustable monitor arm that allows you to mount your device in the most comfortable position. All the information is displayed in beautiful color graphics and is easily navigated with the side-mounted buttons. It's powered by 2 D-cell batteries with a life expectancy of up to 2 years. The general battery life is estimated to be around 900 hours of use.
The auto-adjust type resistance gives you the chance to switch up the intensity of your sets and create custom workouts without even touching the console. In this way, you can give the preset workouts a try and increase the challenge one level at a time. You can still adjust the resistance level whenever you want, though, by simply selecting a higher number on the monitor.
Finally, the sturdy caster wheels mounted on the bottom of the air rower contribute to its remarkable portability, allowing for easy transportation and storage. You can even position it vertically against a wall when you don't need it, or let it rest on its side if the space is limited.
The Buying Guide
A Great Rower
The Concept2 Model D sets the bar for performance and functionality
Out of all the rowing machines at our disposal, getting a reliable rower that can provide an excellent full-body workout and has plenty of customization options is the pillar of success. Regardless of your own individual preferences and needs, some things are universal among avid rowers and have a major effect on the quality of your indoor training session.
Initial Setup
Since many of us don't get to try out different pieces of fitness equipment on a regular basis, opting for a device that has a simple and straightforward setup process has its own set of advantages. The last thing you want is to spend hours and hours fiddling with different parts just to get the machine ready for your next workout.
Luckily, most advanced rowers arrive partially assembled, and the Concept2 Model D is no different. All you need to do is secure a few screws, attach the ABS plastic monitor arm, and fill the frame with sand until it's properly balanced. The whole process shouldn't take more than 20 minutes and can be done without any additional tools.
Maximum Resistance
The adjustable damper setting offers a wide range of customization options for all types of users, from beginners to professional rowers. The scale ranges from 1 to 10, with ample resistance levels to choose from. Having the ability to switch between intensity settings without needing to modify the device itself is a nifty feature for those who like to mix things up and keep their rowing sessions fresh.
Best Rower for Beginner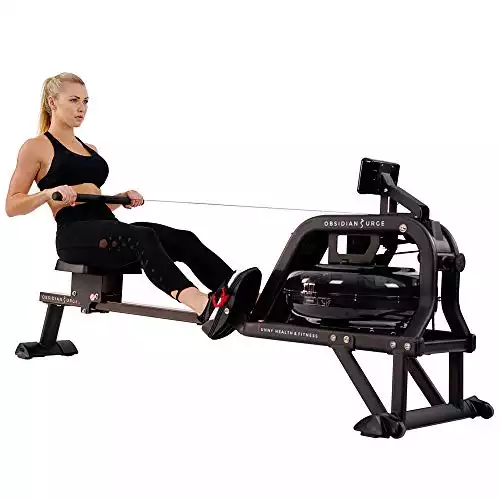 If you want to build muscle and tone up your body, you should stick to the 7-10 range. Anything lower than that won't give you the same kind of workout, and you won't see the same results. But if you want to maximize your endurance, then the 3-5 range is where you could find your sweet spot.
Feel and Comfort
When you're going to spend a considerable amount of time using the machine, you should make sure it's comfortable and easy on the joints. Any device that has a clunky feel or jerky movement can disrupt your workout, not to mention the physical stress it puts on the body.
Fortunately, that's not something you have to worry about with the Model D. The seat is nicely cushioned and is able to glide smoothly over a set of aluminum tracks. The seat height can also be modified to suit your preferences, laying down the groundwork for an enjoyable training session.
Moreover, the nickel-plated chain is specifically designed with this product in mind and runs like a well-oiled machine, with no unnecessary vibration. But even so, it does get a bit noisy, particularly during more intense workouts, which could be an issue if you live in a small apartment or have thin walls.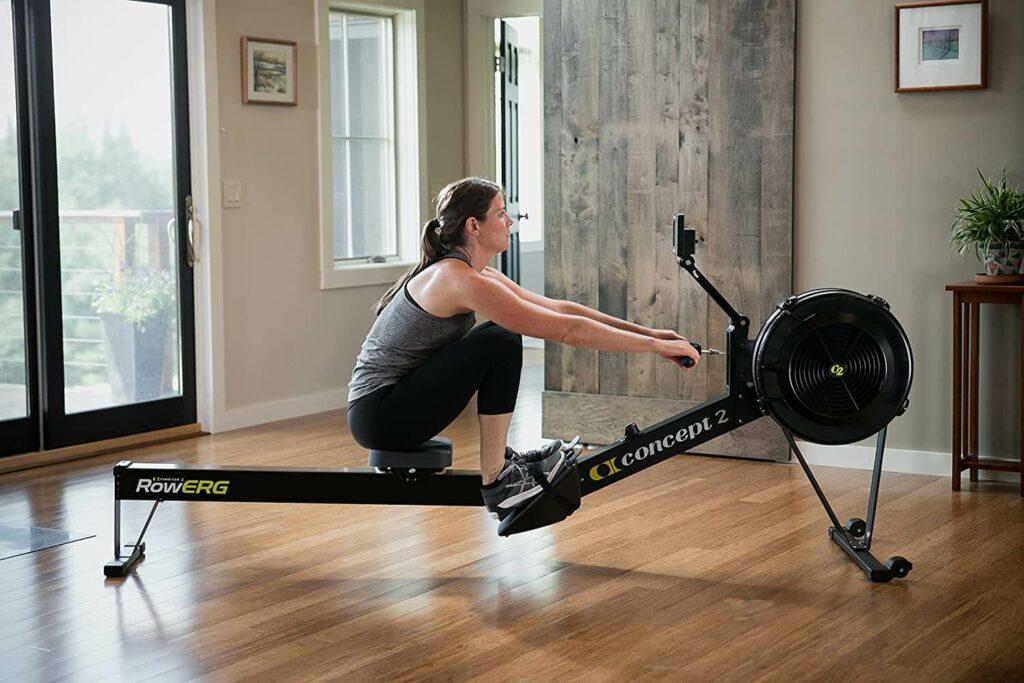 Warranties
Most pieces of fitness equipment come with a warranty that should cover any manufacturing defects or other malfunctions. When it comes to competitive rowers like the Model D, there's a very specific distinction between frame warranty and parts warranty. Some of the lower-end models might scrap the frame warranty altogether, while others may limit the parts warranty to a few years to eliminate the chances of negligence on the user's part.
In any case, the frame of the Concept2 rower is covered by a 5-year limited warranty, while all other parts and components, such as the air resistance system and the performance monitor, are covered for a period of two years. The time frame is quite reasonable, given the quality of the device, and should give you peace of mind in case something unexpected happens.
How long should you row on Concept2?
Generally speaking, a 20-minute rowing session is ideal for keeping up with a regular fitness routine. You can alternate 1 minute of high-intensity intervals with 1 minute of lower-intensity intervals, or you can opt for a steady-state workout and row at the same pace throughout the entire session.
Is the Concept2 rower worth it?
Given its solid build quality, reliable power transfer system, and ample customization options, the Concept2 Model D has certainly made a name for itself among other devices. Whether it's worth the price tag is ultimately up to you, but in terms of performance and functionality, it has plenty to offer.
Can you get in shape by just rowing?
Since it's a total-body workout, rowing is a fantastic way to build muscle and tone up your body. When you're doing the rowing motion, you're essentially engaging all of your core muscles as well as your arms, legs, and back. If you find the right intensity level for you and stick to it consistently, you can definitely get in shape with this type of exercise.