Do you want to give elliptical workouts a try but you're unsure which machine would best fit your needs and budget? Are you eager for a fully immersive workout experience without having to leave the comfort of your own home?
If that's the case, you should definitely stick around for our ProForm Carbon E7 Elliptical review to find out more about the features and benefits of this product. This highly versatile and quality machine is packed with features that allow you to customize your workouts and take full control over your training.
In A Hurry? Here's The Main Specs
Product's name

Great Customizable Product


ProForm Carbon E7 Smart Elliptical
Final Thought
With its adjustable stride length, incline, resistance levels, and multiple workout programs, the ProForm Carbon E7 elliptical is best suited for people looking for a customizable, full-body workout that can be tailored to their fitness goals.
Machine Size
68.5"D x 25"W x 67.75"H
Resistance Levels
24, Magnetic
Stride Length
19'' power-adjustable
Max User Weight
325 lbs
Machine Weight
202 lbs
Price
$$
Learn more
See at Amazon
Why You Should Trust Us
At Boxlife, we have a fully qualified team of experts who are passionate about working out and dedicated to giving you training advice on par with elite fitness trainers. With each member being at a different fitness level at the moment, we're able to look at the products through both beginners' and advanced athletes' eyes.
We've tested out various pieces of equipment through the years, from home gym set-ups to commercial-grade machines. We know where the line between quality and value lies, with a consistent focus on assessing the components and construction of each product. We never underestimate the importance of safety either, that's why we take extra care to make sure a product is suitable for home use.
Who Is This Guide For?
This guide is targeted towards individuals who want to get a challenging full-body workout without splashing out on a gym membership. It's perfect for those who are starting out their fitness journey and want to build up strength and endurance, as well as more experienced users who just want an effective and progress-based elliptical machine for their daily workouts at home.
Sunny Health & Fitness Magnetic Elliptical
Based on our testing, this is the best budget Elliptical for beginners. For less than 475$, it has most essential features that you've come to expect. It's compact and sturdy, frankly it offers great value for money. It's also backed with an 3 years warranty.
How We Graded the Product
While all elliptical trainers have their own set of distinct features and handy functions, we generally assess them based on a handful of general criteria for a more objective review. Even if some models exceed in certain categories while lacking in others, we consider the combination of all of these factors to determine our overall grading:
Performance Properties – Regardless of what your fitness goals are, you want an elliptical that's built to last and performs efficiently during your training. This includes overall operation and stability, as well as the range of resistance and incline levels. When these properties are balanced, you're able to get a fluid and challenging workout experience.
Tech Features – Smart machines are all the rage these days, with a plethora of helpful functions like Bluetooth-enabled digital tracking and remote assistance. Innovative tech features can be anything from a digital console to built-in heart rate monitoring and even onboard audio. But how much are any of those actually useful for your workouts?
Ergonomics – A criminally underrated aspect of any fitness equipment is accessibility and ergonomics. While the focus is on challenging workouts and building strength, users often forget that comfort and practical design are just as integral to their progress as anything else.
Price Range – There's always a subjective factor when it comes to budgeting, as everyone's definition of value differs. We assess the build quality and price range in proportion to each other, as well as compare it to similar products on the market. Does the Carbon E7 offer a fair price for its features?
Great Customizable Product
With its adjustable stride length, incline, resistance levels, and multiple workout programs, the ProForm Carbon E7 elliptical is best suited for people looking for a customizable, full-body workout that can be tailored to their fitness goals.
Packed with the latest and most advanced features that ProForm has to offer, the Carbon E7 offers a gym-level workout in the comfort of your home. It's often seen as a solid middle ground between the beginner-friendly Hybrid series and the high-end Pro ellipticals, boasting a wide variety of features that make it an enticing choice for any fitness enthusiast.
Pros
Integrated one-year iFIT subscription with a studio class library
0-20 degree power adjustable incline for additional customization
Built-in CoolAire workout fan on the main console
Decent warranty for a more affordable price class
Cons
No tilt feature on the smart HD touchscreen
Slightly complicated setup and assembly
Key Specs
| | |
| --- | --- |
| Machine Size | 68.5″D x 25″W x 67.75″H |
| Number of Resistance Levels | 24 |
| Stride Length | 19" power-adjustable |
| Maximum User Weight Capacity | 325 lbs |
Why It's Great
The digital resistance levels on the ProForm Carbon E7 are its most significant advantage, powered by a magnetic brake system that's both quiet and smooth. The flywheel glides effortlessly as you switch between levels, with 0-20 incline adjustments that help you customize and target specific muscle groups.
Moreover, the sleek console is also packed with helpful features like an integrated cooling fan, a vibrant 7″ touchscreen display, and touch-enabled performance tracking and workout stats. It monitors your heart rate, calories burned and distance traveled – all while you enjoy a studio class through the built-in dual 2" speakers.
The heart rate sensors are placed on the fixed handlebars and they're quite accurate in reading your pulse. If you want to focus on your upper-body workout as well as your legs, you can use the other set of movable and adjustable handlebars that are designed with comfortable foam grips.
Speaking of comfort, there's a general emphasis on ergonomics throughout the machine, with a solid steel frame construction and wide, slip-resistant pedals. The 19-inch, power-adjustable stride has enough space for taller users, allowing them to take full advantage of their range of motion.
Plus, if you're the kind of person whose toes always feel numb from long elliptical workouts, the Carbon E7 has a cushioned footpad with a slight incline to prevent that from happening. Your feet stay in place and your body gets the maximum benefit of the machine.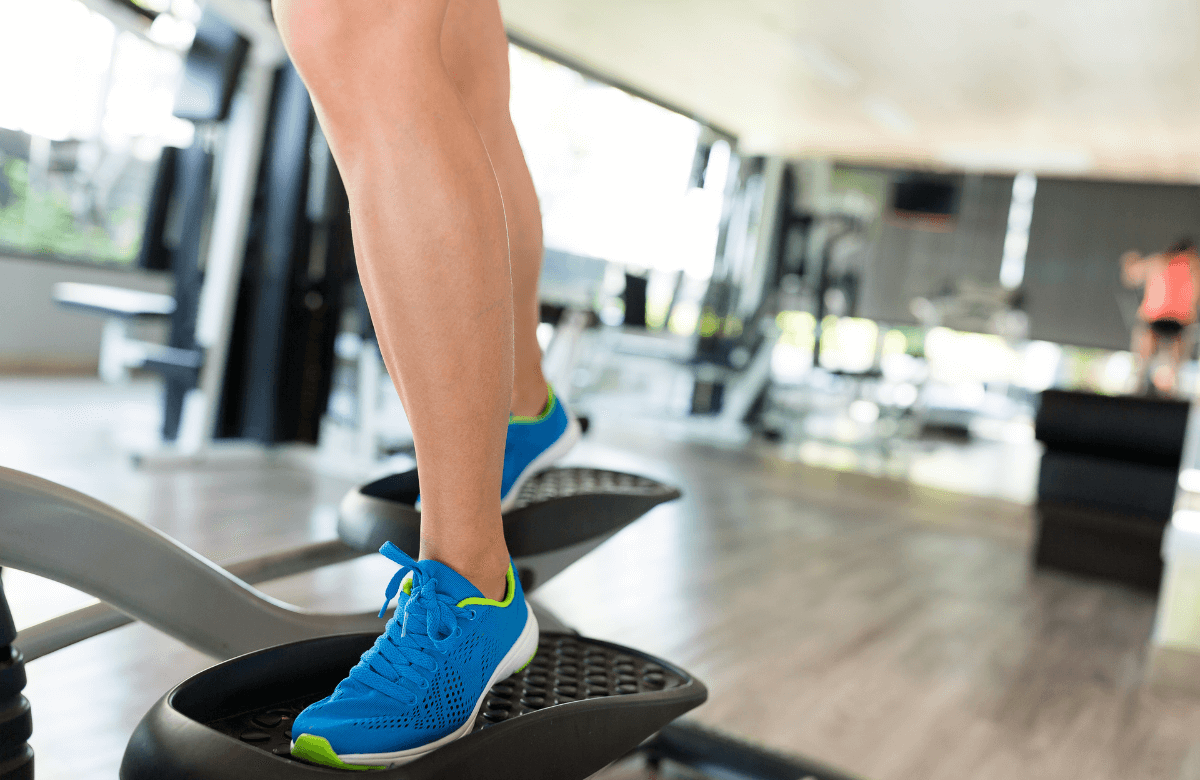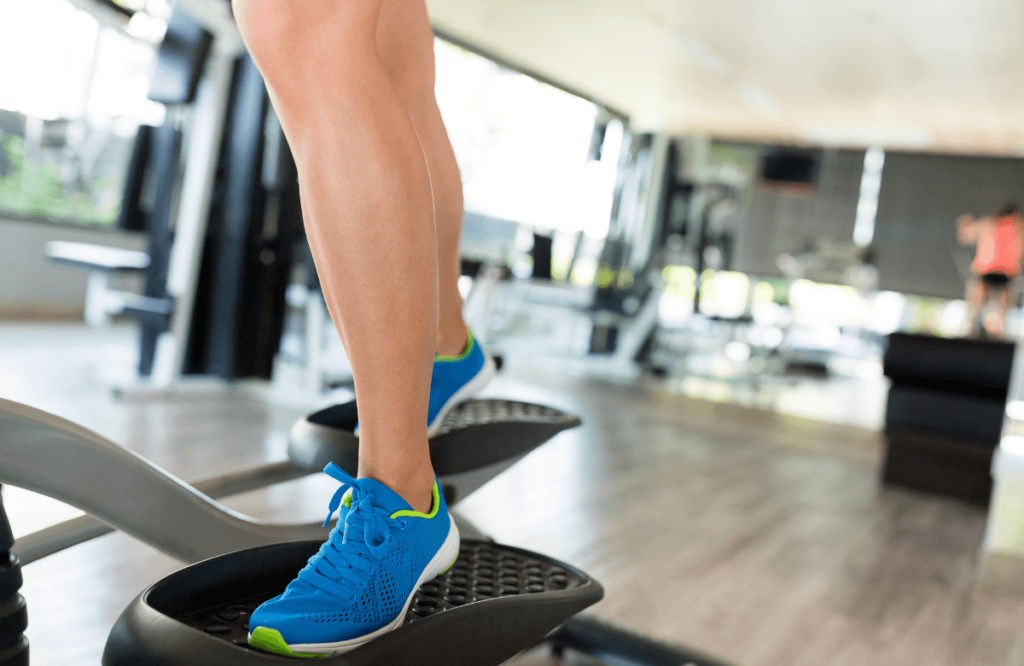 The Buying Guide
As part of our ProForm Carbon E7 Elliptical review, we have to look at users' individual needs and special requirements. The device itself is well-suited for both commercial and residential use, but that doesn't mean that it'll perform optimally in all circumstances and future workout sessions.
Size and Available Space
Even if you're eager to make the Carbon E7 your next fitness companion, you need to think about the available space you have in your home. Buying it and setting it up is one thing, but the machine needs enough room to be used properly as well.
Of course, you don't need to have a dedicated spot for it – the machine can be easily moved from one room to another using the front-mounted transport wheels. And while that sounds easy enough to pull off, it's not necessarily the most convenient solution. Plus, if you have lower ceilings, you might not be able to fit the full-sized machine through each doorway.
Weight Capacity and Intended Use
Most ellipticals come with an admirable weight capacity of up to 350 pounds, the ProForm Carbon E7 included. The solid steel frame is built to withstand plenty of use, but it's a good idea not to creep too close to the 325-pound weight capacity if you want to avoid any potential issues down the road.
As for the way you plan to use it, the E7 has a solid iFIT library with custom workout programs and fitness classes with professional trainers. Based on that, you should have enough material to go on, with a focus on your individual needs and fitness goals.
Warranty and Service
ProForm generally has great faith in its products and the Carbon E7 is no exception. The device comes with a sizable 10-year frame warranty that covers any kind of defect or damage that might occur due to normal use.
On top of that, the machine also has an impressive 2-year part and 1-year labor warranty. While most home elliptical machines will come with similar coverage, it's nonetheless a reassuring piece of information that can sway your decision in the right direction.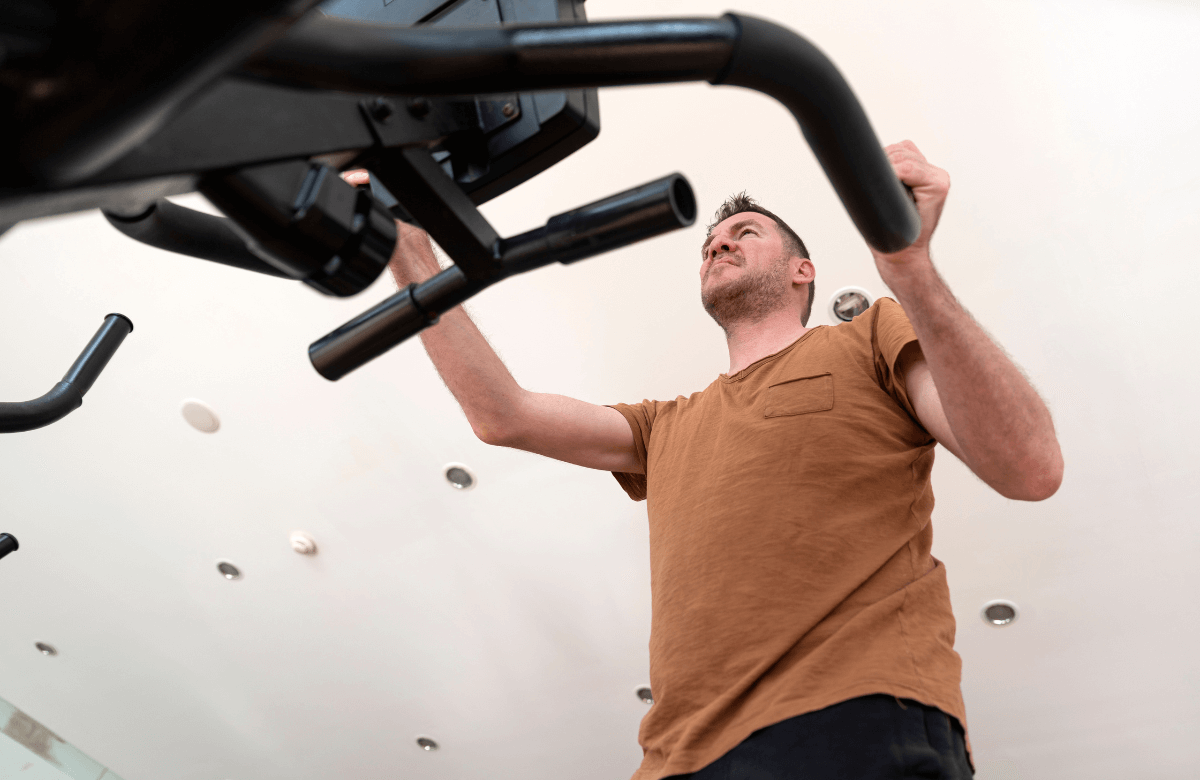 Can you use Carbon E7 without iFIT?
Yes, you can use the elliptical without the iFIT trainer. All you have to do is hold the iFIT button for 30 seconds to bypass the subscription and access the manual mode with 50 onboard workout programs.
How much does a ProForm E7 elliptical weigh?
The total shipping weight of the device is about 225 lbs, while the unpacked and assembled unit comes in at 202 lbs. These numbers are relatively average for a full-size elliptical machine, with most of the weight concentrated in the solid steel frame and the flywheel mechanism.
Does ProForm Carbon E7 have Bluetooth?
Despite its advanced features, ProForm Carbon E7 does not have Bluetooth compatibility. This means that you can't connect it to your mobile device or any other Bluetooth-enabled device. However, the E7 does have Wi-fi compatibility for easy access to iFIT workouts and other online content.