Do you want an efficient boost to your cardio workout programs? Is your workout space not fully optimized for a large setup? While even the most dedicated exercise enthusiasts can be hesitant about investing in their own gym-quality machines, the Sunny Health and Fitness Elliptical can help bridge the gap between commercial grade and a smaller, more convenient variety.
There's no doubt among Sunny Elliptical reviews that this relatively inexpensive machine is quite effective in boosting your pulse rate, getting those muscles working, and breaking a sweat on your own turf. But how exactly does it do that? We have the answers for you.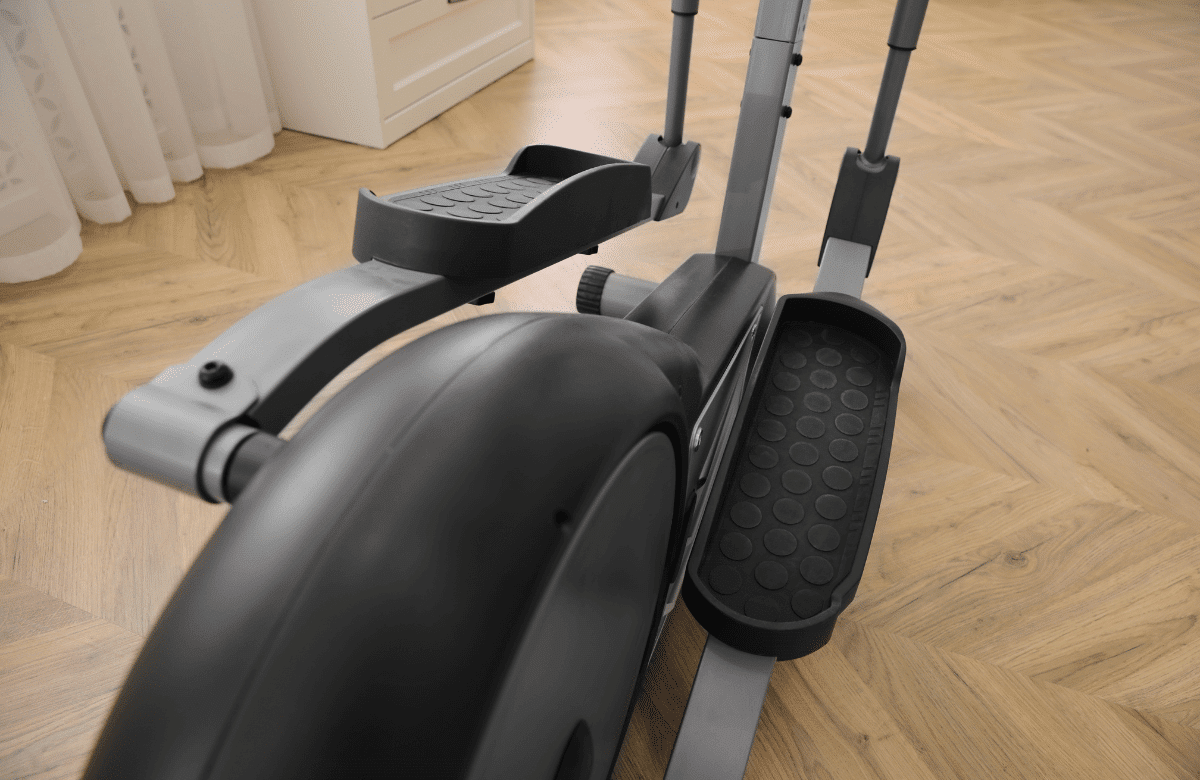 In A Hurry? Here's The Main Specs
Product's name

Great Performance, Foldability and Affordable


Sunny Health & Fitness Magnetic Elliptical Trainer Machine...
Final Thought
The Sunny Health and Fitness SF-E3912 Elliptical is ideal for people looking for a low-impact, full-body cardio workout with adjustable resistance levels and a compact design suitable for home use.
Machine Size
23"D x 64.5"W x 55"H
Stride Length
15.5"
Resistance Type and Levels
16, Magnetic
Number of Workout Programs
24.0
Max User Weight Capacity
330 lbs
Machine Weight
105 lbs
Price
$
Learn more
See at Amazon
Why You Should Trust BoxLife
The BoxLife team takes great pride in providing expert reviews on equipment that's designed to help you reach your fitness goals while ensuring your budget isn't stretched too thin. We're a jigsaw puzzle of fitness professionals, health enthusiasts, and tech-savvy individuals who come together to provide the most comprehensive look into all things exercise-related.
We're aware of the challenges that both committed and casual user profiles are faced with in terms of getting a proper home workout solution, and that's why we make sure to only provide accurate, unbiased, and critical reviews that you can rely on. We focus on functionality, safety, and affordability as our driving factors for each analysis.
Who Is This Guide For?
This guide is intended for anyone who's looking to invest in a compact and reliable piece of exercise equipment that could compete with traditional gym-style models. Whether you're looking to start your fitness routine or take it up a notch, our detailed review can shine a light on the device's strengths and weaknesses so you can compare them to your own requirements and custom workout programs.
Sunny Health & Fitness Magnetic Elliptical
Based on our testing, this is the best budget Elliptical for beginners. For less than 475$, it has most essential features that you've come to expect. It's compact and sturdy, frankly it offers great value for money. It's also backed with an 3 years warranty.
How We Graded the Product
With each manufacturer constantly trying to outsmart the other in terms of features, it can be all too easy to get lost in the nice-to-haves. Even the flashiest of elliptical trainers have their own limitations that are sometimes only visible upon further inspection. To balance these over-ambitious scales, we need to go back to these basic criteria:
Design and Construction – The general stability and strength of the frame, how well it handles weight and size, as well as the overall look and feel of the unit will ultimately determine the device's functionality and longevity. We all want a well-built machine that can withstand consistent workout regimens at various intensity levels.
Tech Features – In an increasingly digitalized fitness landscape, it's no surprise that many users rely on technology to measure their results and guide their progress. Some models have optimized tracking features, wireless capabilities, and other nifty features in more advanced ways than others, which inherently affects the user's experience with each device.
Ergonomic Features – There's a very fine line between robust and just plain uncomfortable. If something is sturdy and resilient, it doesn't mean it can't satisfy our ergonomic needs. That's why a proper handlebar design, cushion type, and angle of the seat will certainly contribute to the way we use a specific machine. This is a vital aspect of both safety and convenience.
Price Bracket – We believe that a good device should never be too expensive. An elliptical trainer can come at various price points, as long as they're all fair and reflective of the quality of the machine. There's nothing more disheartening than investing your hard-earned money in a piece of equipment that simply doesn't fit the bill.
The Sunny Health And Fitness Sf-E3912 brings out the signature features of cardio machines in a highly compact and surprisingly affordable package. Offering a high-tech motorized belt drivetrain, a heavy-duty steel frame, and several monitoring capabilities, this model was designed with an emphasis on performance without splurging on price. It certainly packs a punch for a budget machine, with premium-grade build quality and construction that can take on regular use over extended periods of time.
Pros
An advanced display screen that's way ahead of its price bracket
Sturdy and well-built frame from steel with a robust motorized belt drivetrain
Both fixed and full-motion handlebars for greater versatility
Quiet magnetic resistance system that lets you adjust the intensity without any disruption
Digital readouts make it easy to keep track of your progress
Cons
Slightly shorter stride length which might be uncomfortable for taller users
No online connective capabilities for interactive programming
Key Specs
| | |
| --- | --- |
| Product Dimensions | 23″D x 64.5″W x 55″H |
| Stride Length | 15.5″ |
| Levels of Resistance | 16 |
| Number of Workout Programs | 24 |
| Max User Weight Capacity | 330 lbs |
Why It's Great
For most devices with an affordable price, it's almost expected to compromise on either the construction or features. Sometimes they feel shaky during a usual workout or start to wobble whenever a more challenging workout tests their limits. But that's far from the case with the Sunny Health & Fitness Elliptical Machine. It's an exemplary piece of engineering that offers a sturdy frame and plenty of performance, with virtually no shaking or rattling.
Perhaps the leading reasons for this unrivaled stability are the device's built-in floor stabilizers on the bottom of the frame, as well as its fixed-position handlebars that reduce any swaying during more intense cardio sessions. Their triangular shape and optimized dimensions provide a happy balance between convenience and security, without compromising the integrity of the actual machine.
Another aspect of this budget-friendly machine that we absolutely love is its whisper-quiet magnetic resistance system that offers smooth transitions between intensity levels. The way it operates ensures there's virtually no disruption during your workouts, so you can maintain the flow and keep track of your progress.
Speaking of keeping tabs on your workout stats, the solid LCD screen that's planted in the center of the machine is a clear indication that this isn't your typical bargain fitness machine. While it's not overly complex, it displays all your progress with clear visuals and offers more than enough customizable options to suit your needs.
The heart rate pulse sensors that are integrated into the fixed handlebars are directly linked to the machine's display, so you can conveniently monitor your heart rate readings and other vital information during your workouts. This includes speed, time elapsed, rotations per minute (RPM), and calories burned, giving you full control over your cardio sessions.
Finally, the ergonomics aspect is handled in a highly competent manner as well. The Sunny Elliptical non-slip foot pedals are angled in an optimal 15-degree configuration to ensure proper form and alignment. This helps prevent any potential injuries or muscle strain, so you can focus on your workout and the results you want.
The Buying Guide
Even if you've confidently read up on all the Sunny Elliptical reviews you can find and you feel like you know all the ins and outs of the machine, that alone won't guarantee a quality purchase. You'll also need to factor in your personal preferences and the requirements of your current fitness plan to figure out whether it's a good fit for you.
Available Space
While this might seem like a no-brainer, you'd be surprised at the number of people that underestimate the amount of space they actually need to operate a piece of fitness equipment. The general dimensions of the Sunny Elliptical are listed in most reviews, but you need to add some extra room for comfortable movement.
Now, based on the numbers, this doesn't really qualify as a compact design, but it's not as bulky as other mid-range options tend to be either. But it is quite heavy – coming in at 105 lbs – which can be a bit of an issue if you need to move it around frequently.
Even though it has built-in transport wheels on the bottom, you'll still need to exert some effort to move it around. It's best if you can find a spot that allows for semi-permanent placement – keeping it in one place for longer periods of time, only relocating it when necessary.
Assembly and Maintenance
In terms of assembly, the Sunny Elliptical Machine is actually quite straightforward. It comes with comprehensive instructions and all the needed tools to piece it together, with around 45 minutes to an hour being the average completion time. You can do it yourself if you feel confident enough, but it's always best to have a second person assist with the process.
It's pretty easy to maintain as well – all you really need to do is periodically check for any loose parts and to make sure all the bolts are securely tightened. And since some users mentioned hearing squeaky pedals after extended use, you should also apply some lubricant to the necessary internal components every few months.
Workout Versatility
While the 24 workout programs that are pre-installed on the machine are more than enough to keep things interesting, you should make good use of the 16 digital resistance levels as well since they can really add diversity to your routine. Customizing your workouts is easy and intuitive, and you have the possibility to make manual adjustments during your session as well.
Unfortunately, the device lacks any online connectivity capabilities, so you won't be able to sync your data with any external apps or services. This also means that you won't be able to make use of any online gaming functionalities or access exclusive content like you can with some more expensive models.
Height Requirements
While this generally isn't a focal point in elliptical training, the way your height is reflected in the machine's functionality can be found in its stride length. Since taller people inherently have larger strides, they will need to look for more accommodating machines.
Coming in at a humble 15.5 inches, the Sunny Elliptical stride length isn't exactly the most accommodating, which limits its usability for taller users. Other, more expensive models have offerings closer to 18 inches, which is certainly a much more accommodating size. If you're over 6 feet tall, you should consider one of these alternatives.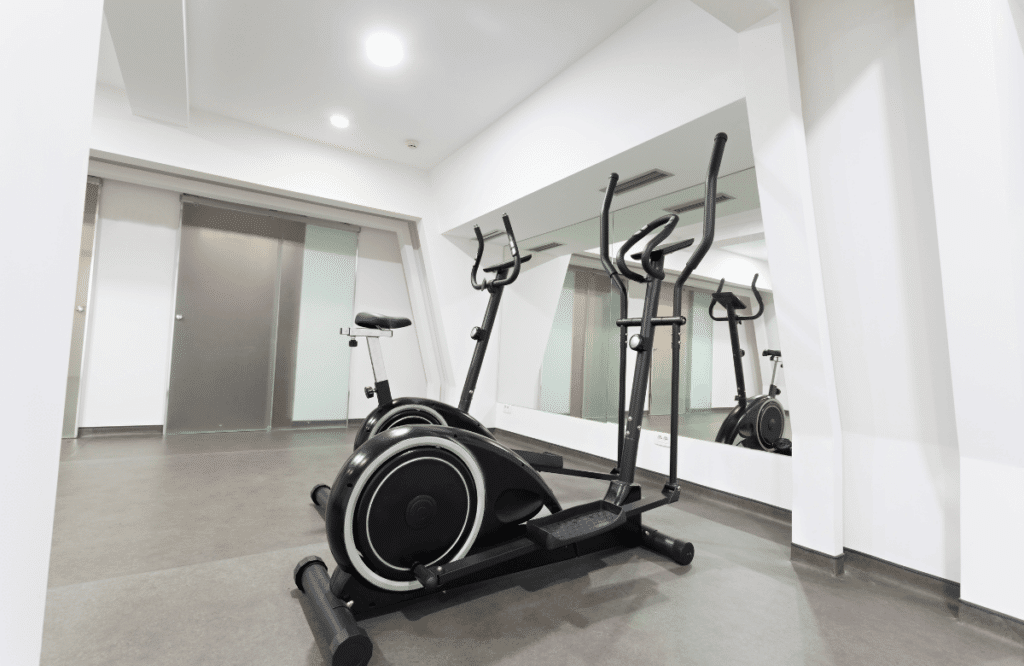 Warranty and Service
Despite its rough-and-tough exterior and powerful components, there's always at least a slight chance of mechanical malfunction or breakdown. No one can predict these things and even the best-reviewed pieces of equipment can be prone to issues, so having a solid warranty plan in place is essential.
When it comes to the Sunny Elliptical, you're looking at a three-year warranty on the structural frame with an accompanying 180-day policy on other parts and labor. The former is a respectable coverage plan given the machine's price range, but the latter is a bit on the short side. It's not necessarily the worst thing we've ever seen, but you should keep the limitations in mind before getting your hands on the product.
Are ellipticals good for losing belly fat?
Since they offer a challenging and intense upper body workout, ellipticals can be great for helping you lose belly fat while simultaneously toning your abdominal muscles. The alternating motion of the arms and feet is a great way to target your entire core, with the abdominal muscles contracting to provide balance and stability with each movement.
Is the elliptical better than walking?
In general, elliptical workouts tend to burn more calories than walking, and they provide a more comprehensive workout for your entire body. The greater intensity and range of motion offered by these machine-driven exercises provide a consistent and effective calorie burn that is more beneficial than traditional walking.
Is it better to go fast or slow on an elliptical?
This really depends on your personal goals. Going slower with a heavier resistance can help you build more muscle and focus on toning, whereas going faster at lighter intensity can be more beneficial for cardiovascular health. But be careful to not pedal too quickly as this can build up momentum and actually minimize the muscle engagement of each stride. Your best bet is to start off slow and gradually increase the intensity as you become more comfortable.