Are you looking to undertake rowing, but don't have the space or budget for a full-size machine? Feeling overwhelmed by the sheer complexity, size, and price of traditional devices? Luckily for you, and for anyone else with the same concerns, there are numerous compact and small home rowing machines that are just as effective in helping you achieve your fitness goals.
In a Hurry? Here are our best picks:
Product's name

Top Pick


Ergatta Rower

Budget Option


Stamina BodyTrac Glider 1050 Hydraulic Rowing Machine with Smart Workout...

Great Alternative


CIRCUIT FITNESS Circuit Fitness Deluxe Foldable Magnetic Rowing Machine...

Best for HIIT Training


CITYROW Max Rower - Portable Rowing Machine for Home - Gym Quality Exercise...

Budget Option


Concept2 Model D Indoor Rowing Machine

Best Air Resistance


NordicTrack Smart Rower with Touchscreen and 30-Day iFIT Family Membership
Verdict
Top Pick
Budget Option
Great Alternative
Best for HIIT Training
Best Air Resistance
Best Magnetic Resistance
Resistance
Resistance adjusts based on your input.
Adjustable, hydraulic cylinder resistance for a smooth rowing stroke
Whisper quiet magnetic resistance with controlled intensity

innovative water resistance technology; multilevel resistance options
Air resistance generated by the fanned flywheel; a unique spiral damper adjustable from a setting of 1 to 10.
26 digital resistance levels
Ergonomics
narrow and compact frame
seat rail with a textured grip and a good range of adjustability; Textured footplates with straps to keep your feet secure
High-density padded seat
The connected handle has a rubber grip for extra comfort and stability, while the backrest is molded to fit your body perfectly.
sturdy and ergonomic design
textured and adjustable footplates; oversized frame that can withstand vigorous exercise
Floor Space
About 2' x 2' in storage and 7' x 2' in use, our rower is small, mobile, and fits into any home.
Foldable arms for compact storage
heavier model, but still compact and foldable with wheels for easy transport
The CityRow folds up and can be stored horizontally or vertically
You can quickly breakdown the entire unit into two compact sections using the quick release, framelock mechanism (no tools needed), and caster wheels enable the easy movement of the entire rower
Front-mounted transport wheels
Price
$$$$
$
$
$$$$
$$
$$$$
More Info
View latest price
See at Amazon
See at Amazon
See at Amazon
See at Amazon
See at Amazon
How Am I Qualified to Write About Compact Rowing Machines?
When I was at the beginning of my training journey, I was adamantly visiting fitness centers and paying copious amounts of money to use their shiny exercise equipment. Not only was I going back and forth to the gym, but my idea of home fitness was also limited to squeezing in a few body weight exercises here and there.
Over time, I realized that these gym trips were getting increasingly expensive and that it was time to zoom out and take a look at the bigger picture. Was I really taking full advantage of my membership? Was I really getting the most bang for my buck? As it turned out, no. No surprise there either.
Enter, the pandemic. The timing was immaculate, really. Almost to a fault. With gyms closed and home exercise equipment becoming the new normal, I decided to embrace the change and take my fitness journey one step further.
Among my top priorities was getting a rowing machine, given its reputation as the ideal full-body workout with minimal effort. But, here's the issue – I didn't have much floor space or money to spare, and I'm guessing neither do most of you. I was fortunate enough to find the perfect combination of budget and size in my search for the smallest rowing machine out there. And I'm here to help you do the same.
Best Rower for Beginner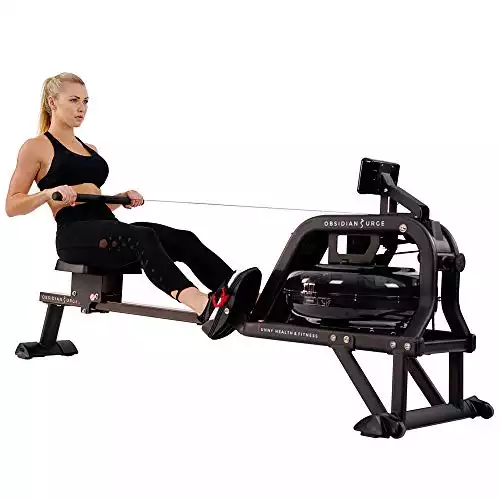 Who Is This Guide For?
Here's the thing – I believe that we all have the capacity to achieve our fitness goals, regardless of budget or size constraints. And indoor rowers are certainly one of the most well-rounded and effective pieces of equipment on the market.
It doesn't matter if you're an entry-level rower or a seasoned athlete who's been at it for a while, having a properly-sized device for your particular space is of paramount importance. The way I see it, the purpose of this guide is to help everyone weigh out their options and find the very best compact rowing machine for their specific needs. After all, why settle for anything less?
How We Picked the Best Products
With the wealth of information and products making waves on the deep sea of the internet, it's easy to get caught up in the hype and be swayed in an entirely different direction. Whether that's the right course for you, in particular, is entirely up for debate.
There's something to be said about doing your due diligence and not just taking things at face value. Sometimes what we see on the internet isn't always what it's cracked up to be. In order to take a methodological approach to this process, I conducted comprehensive research and viewed the products with a critical eye.
To make sure that the information I was using was accurate and up-to-date, I sourced some fresh details from reputable sites such as StartRowing, TreadmillReviewGuru, and TopFitnessMagazine. These sites provided me with plenty of insight into the latest models, specs, and features, ensuring that I wasn't only limited to my own subjective opinions.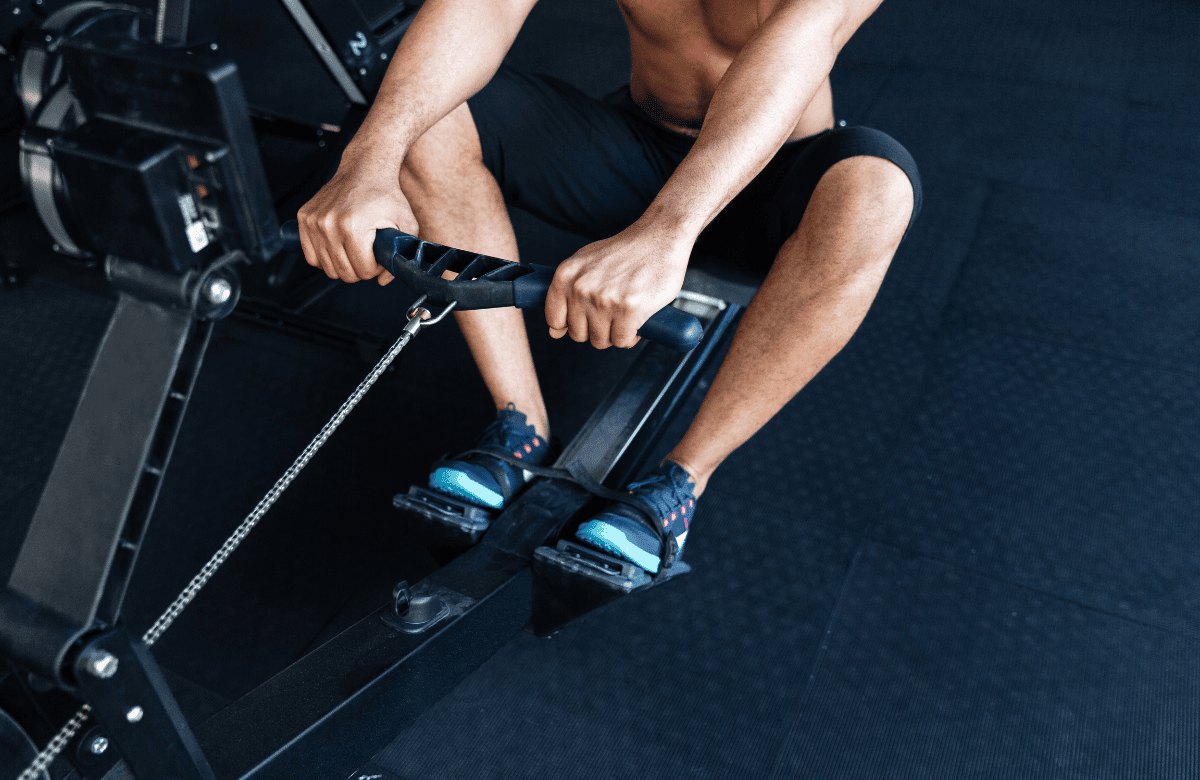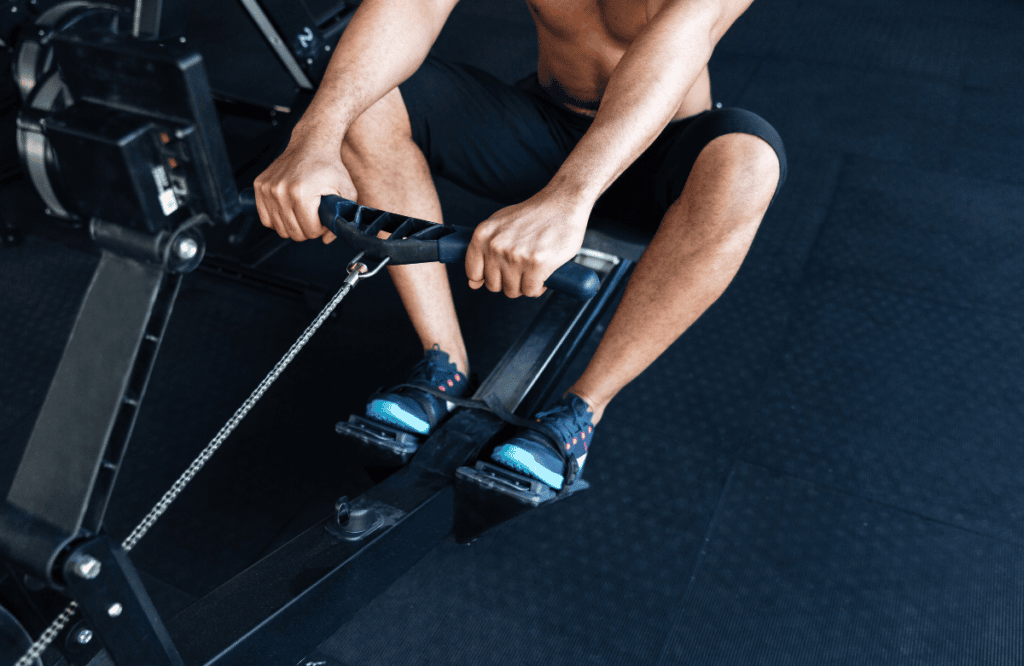 To further corroborate my findings, I also relied heavily on the vast array of consumer reviews on major retailers and forums. This gave me a well-rounded perspective on how the products actually stand up in real-world scenarios that aren't tied to only one specific fitness level or experience.
Of course, the leading social platforms Reddit and Quora were at the forefront of this process, with lots of experienced and knowledgeable members who've used these products for quite some time now. Likewise, Amazon was leading the charge in terms of retail sites, giving me access to customer reviews and ratings for all the products.
Naturally, the main objective was to find unbiased, reliable, and accurate information on each product before making a full-fledged recommendation. Any machine that failed to meet at least my basic criteria was eliminated from the list with haste.
How We Compared Each Product
The comparison process had to be laid out in a formal yet realistic way, with clear-cut criteria for each product. By drawing lines between each product's strengths and weaknesses, along with some common elements, I was able to make a fair assessment based on the following aspects:
Size and Design – Getting a compact rower with a small footprint is the main goal, after all. But just because it's small, doesn't mean it has to be flimsy or poorly designed. We took a look at the overall build quality, materials used, and portability of each machine. It doesn't matter if you value design over comfort or vice versa, it's the whole unit that needs to be taken into account.
Range of Movement – This is really the heart and soul of any rowing machine, in my opinion. Making sure that the device offers an adequate range of motion for your specific training goals and experience is rather important. Ensuring a smooth rowing motion with a natural feel is the key to getting the most realistic experience, akin to actual rowing on water.
Type of Resistance – This is an obvious one, yet it's still worth noting. The resistance types vary from model to model, from simple air-based models to top-of-the-line magnetic control. But even then, it's not just about the resistance types, but how adjustable and realistic they are. We took a look at each model to determine whether they meet your individual needs in this regard.
The Products
Once the main points of comparison were established and the individual units were evaluated properly, it was time to draw the line and make a final decision as to which one is the smallest rowing machine that provides the best value.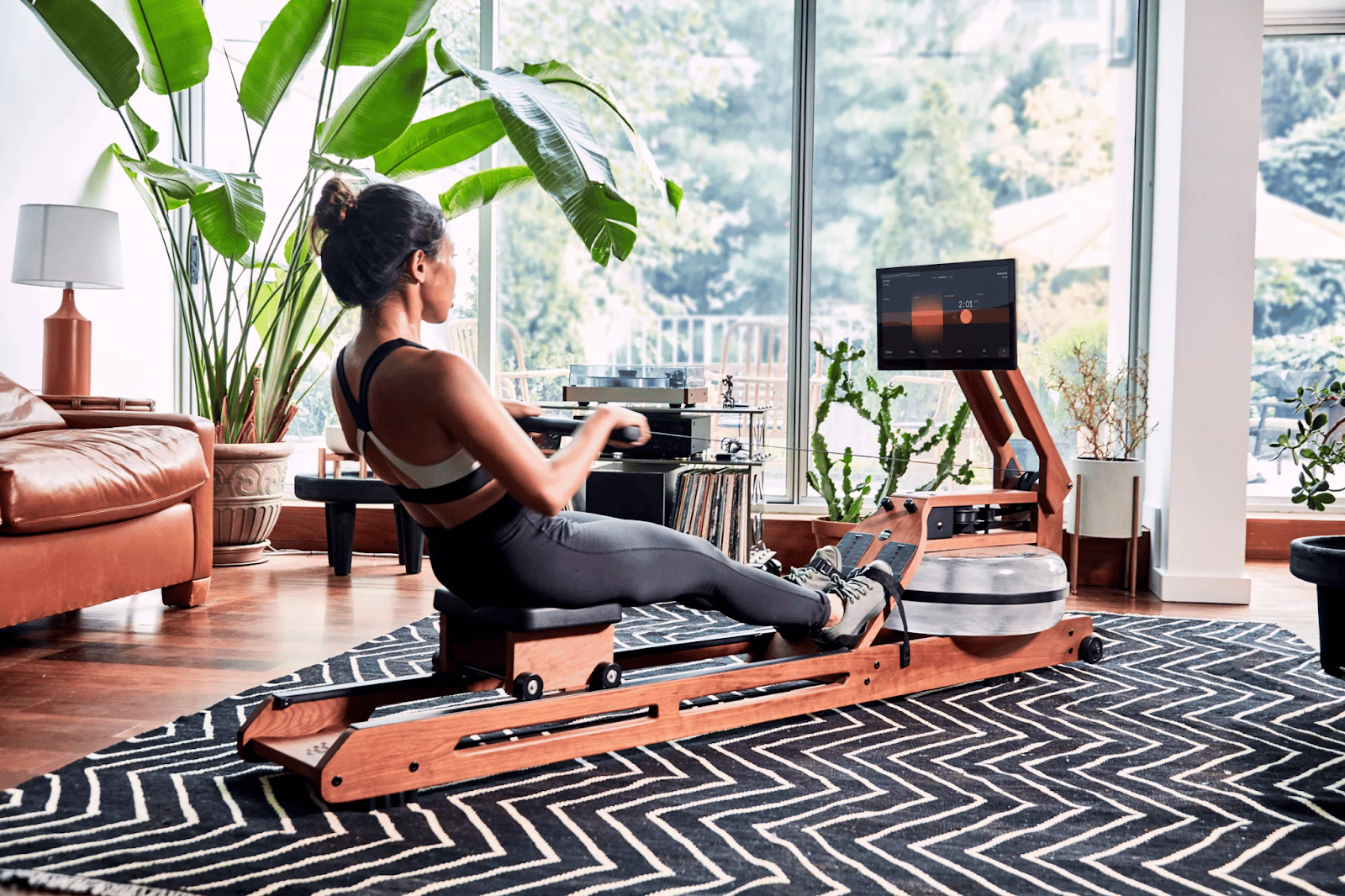 Primarily marketed as a 'living room ready' device, the Ergatta flagship rower feels and looks the part. It's one of the most advanced machines in its class, with an exquisite and polished cherry wood finish that creates a perfect backdrop for its supremely designed, ergonomically sound frame. The stunning hues and tones of the wood are flawlessly complemented by its smooth, sturdy aluminum rail.
Pros
Live-streaming fitness classes and races with leaderboards
Dedicated fitness app for tracking and monitoring your progress
Gorgeous wooden frame that looks amazing in any room
Foldable design and small footprint make it easy to store
Cons
On the pricier side, as compared to other models
Needs membership to access classes and the specialized race mode
The water-resistance mechanism takes some getting used to
Key Specs:
| | |
| --- | --- |
| Dimensions | 86" L x 23" W x 40" H |
| Machine Weight | 76.5 lbs |
| Maximum User Weight Capacity | 500 lbs |
| Type of Resistance | Water |
Why It's Great
Effectively leading the race among cardio machines, the Ergatta Rower has a slim, sleek profile and a high-end construction that make it stand out from the crowd. Not only does it look good, but its natural range of motion and adjustable resistance settings make it an ideal choice for anyone looking for a realistic rowing experience.
The foot pedals are slightly narrower than your average model, which could be an issue for super-tall people, but is generally comfortable enough for everyone else. Their textured surface and 4-way adjustability provide the perfect balance between stability and maneuverability. Combined with its adjustable rail height, it easily helps you find an upright position and the ideal stroke rate.
In terms of ergonomic design, the contoured seat and the extra-long handle provide an incredibly natural feel that lets you concentrate on your training and not worry about getting sore. And if you want to amp up the intensity, you can take advantage of the built-in programs and live-streaming options to challenge yourself and even compete with other smart home rowers from around the world.
And finally, the display console is super intuitive and easy to use. It streamlines your training session by providing all the necessary tracking information directly on your screen, such as strokes per minute, heart rate, distance, and calories burned.
Offering a simple, affordable entry into the world of small rowing machines, the Stamina BodyTrak Glider is a good starting point for anyone who wants to test the waters without splurging on equipment from the get-go. It has a slim, basic design with well-thought-out mobility features and a few nice extras. It doesn't have the same level of refinement or features as its more expensive counterparts, but it's a reliable workhorse for those on a budget.
Pros
Affordable solution for an entry-level rower with little experience
Customizable tension settings for a range of intensities
Foldable design and small footprint make it easy to store
Solid construction and robust frame
Users have free access to Müüv – the smart audio coaching app
Cons
Somewhat slippery foot pedals
Resistance feels a bit artificial and jittery
Limited warranty
Key Specs:
| | |
| --- | --- |
| Dimensions | 42" L x 58" W x 18" H |
| Machine Weight | 39 lbs |
| Maximum User Weight Capacity | 250 lbs |
| Type of Resistance | Hydraulic |
Why It's Great
The entire machine is primarily driven by a resistance knob that attaches to the hydraulic pistons underneath the seat. This results in a jittery but reliable experience, and you can modify the setting to your desired intensity level by simply turning the knob.
The padded seat is comfortable and moves smoothly, although it's not as elevated as other models. The accompanying seat rail features a textured grip and a good range of adjustability to ensure that you're always comfortable while rowing. You can move the seat backward and forward, as well as adjust the footrests to the right size.
Speaking of footrests, there's a noticeable lack of traction and stability, which can lead to slips if your foot isn't firmly planted on the pedals. Given the frequent stops and starts of rowing, this can be quite a nuisance and potentially dangerous if not addressed. The addition of foot straps would have been a nice bonus.
But given its price range, this is a great choice if you're looking for an affordable, no-frills option. When you're done with your workout, simply slide the seat forward, unscrew the dual pistons, and fold up the device for easy storage. It fits nicely in a corner and requires minimal space, so you won't have to worry about sacrificing additional floor area.
Best Rower for Beginner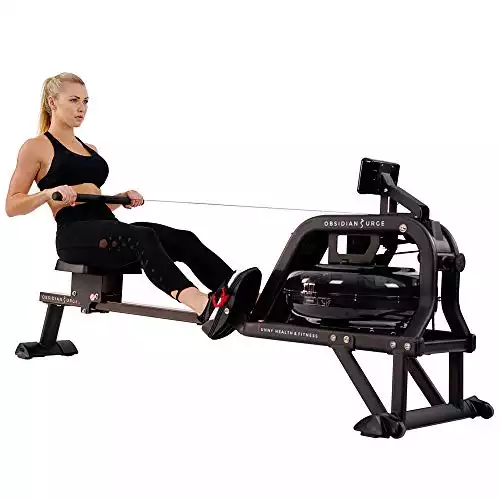 Great Compact Rowing Alternative
This heavy-duty machine packs a lot of power in a compact package. The added weight is actually a welcome addition in this scenario because it'll keep you firmly planted on the ground and provide a comfortable rowing experience overall. It feels solid and sturdy, and the finish is quite pleasing to the eye, with minimal to no rattling or squeaking.
Pros
Whisper quiet magnetic resistance with controlled intensity
Straightforward display monitor with simple navigation
High-density, comfortable seat for ease of operation
Different rowing modes for varied exercise routines
Cons
The LCD monitor isn't backlit, making it difficult to read in low light
Lack of online features and tracking capabilities
Key Specs:
| | |
| --- | --- |
| Dimensions | 91" L x 20.5" W x 31.5" H |
| Machine Weight | 90 lbs |
| Maximum User Weight Capacity | 300 lbs |
| Type of Resistance | Magnetic |
Why It's Great
One major advantage of this magnetic rowing machine is its incredibly quiet operation. It uses a solid, 12-level magnetic resistance system that spins the flywheel among the pistons. This results in a silky and silent flow, which is great if you're trying to exercise without disturbing others in the house.
The foam-covered handlebars have a comfortable grip and can be customized according to your height. The seat is wide and cushioned for extra comfort, and it slides easily along the steel frame with a relatively low amount of effort. The smooth motion is further enhanced by the adjustable footrests, which ensure that you stay securely planted on the pedals while rowing.
The built-in monitor seems a bit lackluster in comparison to other options, but it still manages to display all the relevant information. You can view your time, distance travelled, strokes per minute, and other metrics. Unfortunately, it isn't backlit, so visibility may be an issue in dark environments.
There are two modes of operation available on this magnetic rower – manual and race. The former is great for low-intensity workouts and simple strength training, while the latter is more suitable for advanced athletes who want to challenge their limits. You can try out your racing skills against the computer or against other users. It's a great way to keep things interesting and offer some friendly competition.
The stable frame made of wood is akin to the Ergatta model, but this one comes with a slimmer design. It feels more like an actual boat when you hop in rather than a static machine. This is especially noticeable when the water tank begins to make its signature swooshing sound. Its build quality is top-notch, and you won't have to worry about any rattling or creaking, regardless of whether you're doing an intense workout or a lighter routine.
Pros
Realistic rowing experience with slick and quiet operation
Multilevel water resistance for more challenging workouts
Foldable frame with adjustable design for different heights
Smartphone compatibility and tracking capabilities
Cons
Requires internet connectivity to access live classes and rower workouts
Instructors can be a bit too enthusiastic at times
Requires membership for the full range of features
Key Specs:
| | |
| --- | --- |
| Dimensions | 85" L x 22" W x 45.5" H |
| Machine Weight | 112 lbs |
| Maximum User Weight Capacity | 375 lbs |
| Type of Resistance | Water |
Why It's Great
For an effective workout, you need something more than just a rowing machine. The CityRow Go Max offers that in spades with its unique water-based resistance system. It's surprisingly quiet – you almost forget that it's a machine and not an actual boat on the river. Given the infamous noise levels that most water rowers generate, this one is a breath of fresh air.
The dynamic rowing motion is closer to what you get when rowing on water. From the feel of the oar against your palms to the power you need to move it, you'll get an experience that's as close to the real thing as possible. With each passing stroke and splash, you'll be able to feel your muscles working and adapting to the challenge.
The durable frame accommodates users of various heights and sizes, with simple changes that you can make with just a few turns of the adjustment dial. The connected handle has a rubber grip for extra comfort and stability, while the backrest is molded to fit your body perfectly. Seeing how crucial holding an upright position is when rowing, this is a major plus.
The 19.5-inch display screen is mounted on top of the machine and is backlit for effortless readability. It comes with a wealth of preset programs that target specific areas of your body, with key training diagnostics to back up their effectiveness.
It also interacts with your fitness tracking apps and can be synced to the CityRow Go mobile app for additional data analysis. The only downside is that you need an ongoing subscription to access most of the features. Some individuals might find that to be a bit too pricey and restrictive, as they can get most of what they need from the free version or other devices of similar scope.
When you first lay your eyes on this machine, it doesn't exactly stand out. There's no built-in display screen to adjust your training options, no sleek curves that scream modern design, or even a glossy wooden finish to match your interior decor. However, what it does have is an unmatched performance that more than makes up for its straightforward looks.
Pros
Brand name that's synonymous with quality rower manufacturing
Two different height options based on user preference
Doesn't require a power source to operate
Highly-resilient monorail with a wide range of motion
Cons
The chain-driven flywheel generates slightly noisy air resistance
Higher price tag compared to other models
Key Specs:
| | |
| --- | --- |
| Dimensions | 96" L x 24" W x 14" or 20" H |
| Machine Weight | 57 lbs (standard legs); 68 lbs (tall legs) |
| Maximum User Weight Capacity | 500 lbs |
| Type of Resistance | Air |
Why It's Great
The Concept2 RowErg is the product of years of research and development, resulting in a rowing machine that offers an unparalleled experience. Its air resistance system brings a unique dimension to any kind of challenging workout, with its flywheel creating a steady and efficient intensity. It's connected to a chain drive system, which has a relatively low maintenance level for a machine of this type.
The two-tiered monorail suits users with different heights, while the rower itself can be adjusted to a wide range of positions. Its stable frame is grounded on four solid feet and can support up to 500 pounds. Plus, the transport wheels underneath make relocating it to another room or storage space a breeze. The wheels are made from a special alloy, for additional durability and rust resistance.
The ergonomic handle has a rubberized exterior with textured grips, while the backrest is adjustable and padded to ensure maximum comfort. The cushioned seat is the perfect option for lengthy rowing sessions, while the integrated footrests allow you to hold a consistent upright position. The foot straps are tough enough to handle vigorous use and will keep your feet firmly in place.
Sadly, the lack of a display console with smart features or tracking capabilities is a major downside. You can't exactly log your results or set specific goals, but that depends on the level of training you're looking for. If you want to engage in casual workout sessions and don't require any feedback, then this device can definitely deliver in those aspects.
Rounding off the list with another top-tier compact rower machine is the NordicTrack RW900. This rower boasts a thoroughly contemporary design with its rich black finish, smoothly curving metal frame, and highly-appealing display console. It screams modern, fresh, and fun, but it's also built for serious performance, with a wide range of high-tech features and an incredibly effective resistance system.
Pros
Luxury design with premium features
Fully-integrated, 22-inch display console
Oversized and durable steel frame for increased stability
An impressive range of motion with a wide range of preset programs
Cons
No adjustment buttons on the display console itself
Slightly limited max weight limit
Key Specs:
| | |
| --- | --- |
| Dimensions | 82" L x 22" W x 54" H |
| Machine Weight | 130 lbs |
| Maximum User Weight Capacity | 250 lbs |
| Type of Resistance | Magnetic |
Why It's Great
Perhaps the most striking aspect of this compact rowing machine is that crisp swiveling touch screen that provides you with direct access to a wide range of workout programs, performance metrics, and comprehensive analytics. Its optimized user interface is quite possibly the most intuitive and responsive display of any rowing machine on the market today.
For most rowers, the tricky thing is reaching that dashboard while you're in the full swing of a workout, with most models falling short in this area. But the NordicTrack RW900 has some nifty tricks up its sleeve, allowing you to access the full range of metrics with a single swipe. The easy-to-reach dial offers a sharp and accurate viewing angle, while the high-contrast display ensures that even the tiniest numbers are clearly visible.
The display is close enough to be reached from a comfortable seating position and can be adjusted to your preferred angle depending on whether you prefer a more laid-back stance or something more intense. The contoured seat is flanked by two sturdy sets of foot plates, with adjustable straps to ensure a snug fit. If you're looking for a really smooth motion, then the magnetic resistance system will definitely not disappoint.
Its smart technology isn't just limited to the console, either. The noise that the magnetic tension system produces is quite faint, with the flywheel itself generating no more than a gentle hum. It's also built with smooth motion capabilities, meaning it will respond to your every movement without any stuttering or irregular movements.
The Buying Guide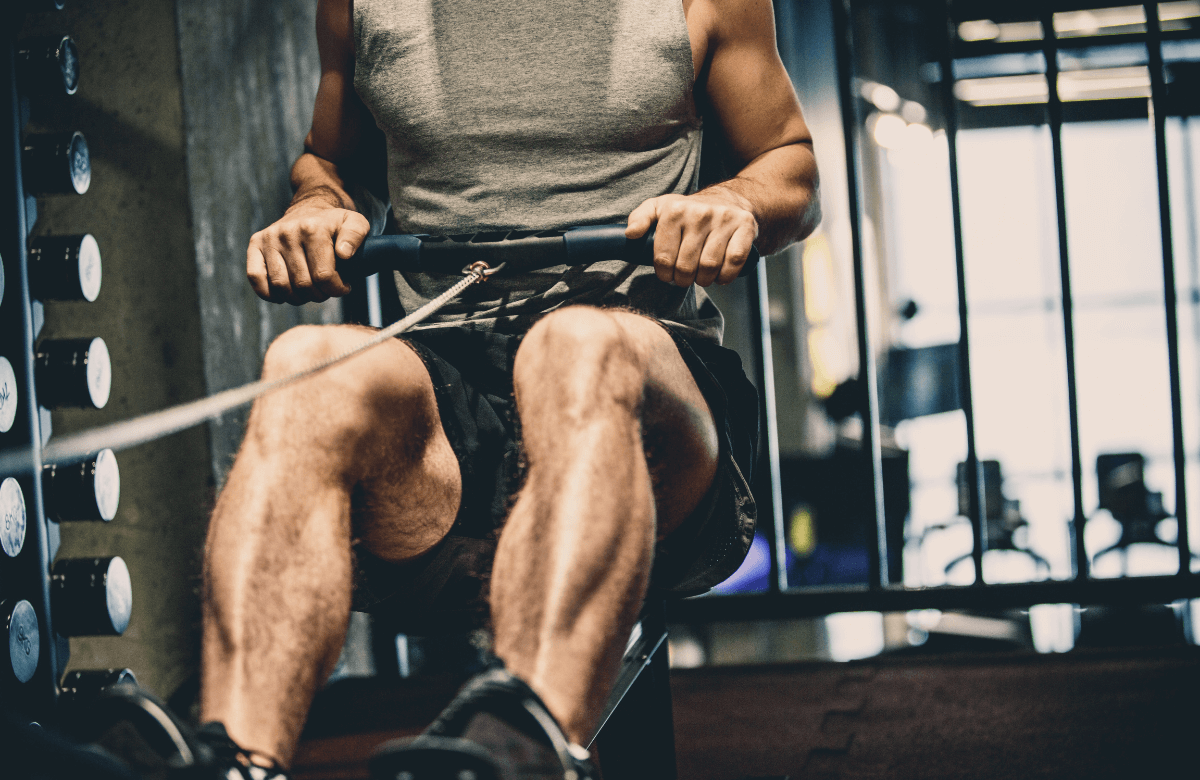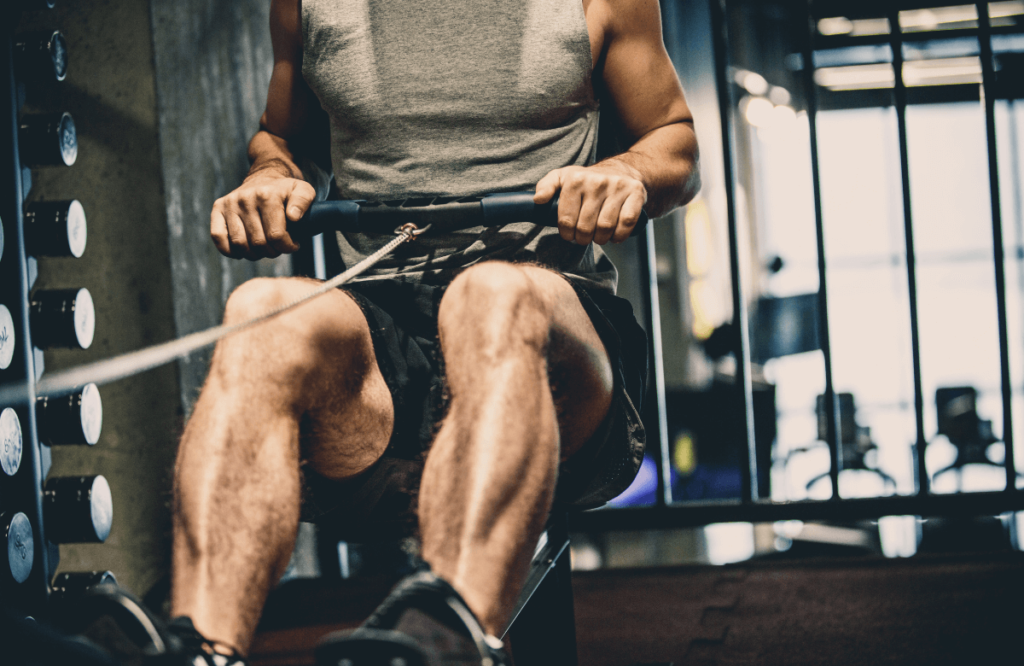 Regardless of the specific piece of exercise equipment you're shopping for, there are certain common denominators that have to be taken into consideration. That also applies to rowers, as some crucial features can make the difference between a successful purchase and an investment you'll regret.
Max Weight Limit
How much weight the device can handle plays a major role in your selection process, as you'll want to ensure that it won't buckle under the strain of your weight and size. This doesn't mean that you have to ignore smaller models, though – many of them can still handle substantial weights, but you'll need to check the specs before taking the plunge.
It's worth noting that for compact rowing machines, manufacturers had to make certain compromises, and that usually translates to a lower weight capacity. The smaller build inherently means that it can only support a certain amount of weight before the frame starts contracting and losing rigidity. Not only can this be dangerous, but it might also limit your progress, as you won't be able to build up strength as effectively or perform as many reps as you'd like.
However, even if you're particularly tall or weigh more than the average person, the max weight limit of many compact rowers can still accommodate your body size. Many of them have a reinforced solid steel body with plenty of reinforcements to handle the excessive weight, while still maintaining a slim profile. The way the device distributes the weight is also important, as it directly affects stability and the prevention of vibrations.
Rail Size
The rail size of a rowing machine is the length from front to back, starting from the connected handle all the way to the back of the seat. This goes hand-in-hand with the weight limit, as it determines how much space one has to move around. Since freedom of movement is one of the key aspects of any rowing workout, you need to pick a device with an appropriate rail length.
Most compact rowing machines have a rail size of between 40 and 45 inches, but this can still vary significantly from model to model. Once again, there had to be some restrictions and limitations in order to produce a device that doesn't take up too much space, but many of these models are still perfectly capable of accommodating larger individuals.
If you're exceptionally tall, though, you might have to look for a device with a larger rail size. While sacrificing on space-efficiency, this will give you the freedom of movement you need to get the most out of your workout and fully extend your legs during each stroke. If you don't have the correct feet angle or distance to the handle, you won't be able to lead with your legs and use your entire body's strength.
Storage Space
Many of us don't have a dedicated space for exercise equipment, which is why having a foldable rowing machine can save us a lot of time and effort. Not only will you have more room to move around, but you'll also be able to put it away once you're done with your workout and keep it out of sight until the next session.
The frame of most compact rowing machines folds in the middle, with several parts you can easily remove in order to reduce their size even more. This is particularly useful for confined spaces and any places with limited storage capacity. Instead of having to move it out of the room after every session or leaving it in a corner, you can just pack it up and place it in a closet.
Depending on the model, you could take advantage of the built-in wheels for ease of transportation and carry the entire device with you, or just remove all of its parts and store them away individually. Either way, this compact design feature is a great way to efficiently manage the storage of your exercise equipment.
Digital Monitor
Having a dashboard with a dedicated display console and control panel will not only track your progress but will also provide you with a wealth of information and exercise features. Some of the preset programs and racing games can make your endorphin-filled workouts even more exciting and entertaining, while a heart rate monitoring feature will help you stay in the optimal fat-burning zone.
Some smart rower models even allow you to connect the console to your phone or tablet and store all the results in an online account. This way, you'll always have access to your data whenever you need it and be able to compare your progress over time or with other athletes. You can also attend live-streaming fitness classes with trained instructors, so you won't be limited in terms of exercise variety.
Warranties
The last thing you'd want is to invest in a rowing machine that suddenly breaks down and needs to be replaced. Of course, you can't predict the course of events, but you can at least rest assured that the manufacturer will cover any damages within a specified period of time. Not only does this give you peace of mind, but it also offers the opportunity to return an item that doesn't quite meet your expectations.
In most cases, a three-year frame warranty and a one-year parts warranty will do the trick, but you can still find other models with different periods of coverage. Beware of any rower with a limited warranty or none at all, as this could be indicative of poor construction and design. Many unknown or less popular brands tend to offer shorter warranties, largely due to their lack of customer confidence.
Any quality rower should come with a warranty that guarantees its condition, performance, and maintenance over time. This is a superb way to protect your investment and make sure that you get the most out of your money. Make sure to read the fine print and ask questions if something is not clear.
Is there a compact rowing machine?
There definitely is a compact machine that has just the right size and weight for home use. These models often have the same features as traditional rowing machines, but with a smaller frame and limited space-saving capabilities.
How long should a beginner use a rowing machine?
For an entry-level rower, going for a 20-minute challenging workout per session should be enough. This is the perfect amount of time to start building up a solid rowing form and gradually increase your strength and endurance while avoiding any potential risk of injury. More experienced rowers can go for 30–40 minutes or even more.
What muscles does rowing not work?
Rowing works pretty much all of your upper body muscles, as well as your lower body ones. However, it doesn't work the muscles in your neck and shoulders very much since the movement is mainly focused on the biceps, triceps, lats, quads, and glutes. Rowing is great for developing different training options targeting different muscle groups, so it's best to mix up your workout plan for a balanced approach.