The cardio machines market is full of great options, and indoor rowers are one of the best and most looked for.
Rowers provide a full-body workout targeting lower and upper-body muscles on every stroke.
In this article, we'll set the debate for the Water Rowing Machines Vs. Air Rower comparison sharing everything you need to pick the best type of rowing machine for your goals.
With no more to add, let's compare these two types of rowers to help you decide which one is best for your goals.
Water Rower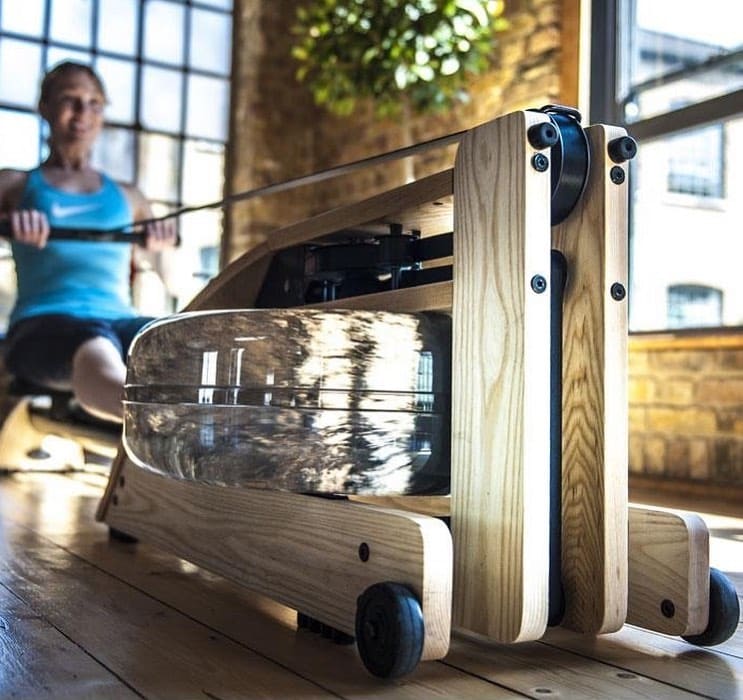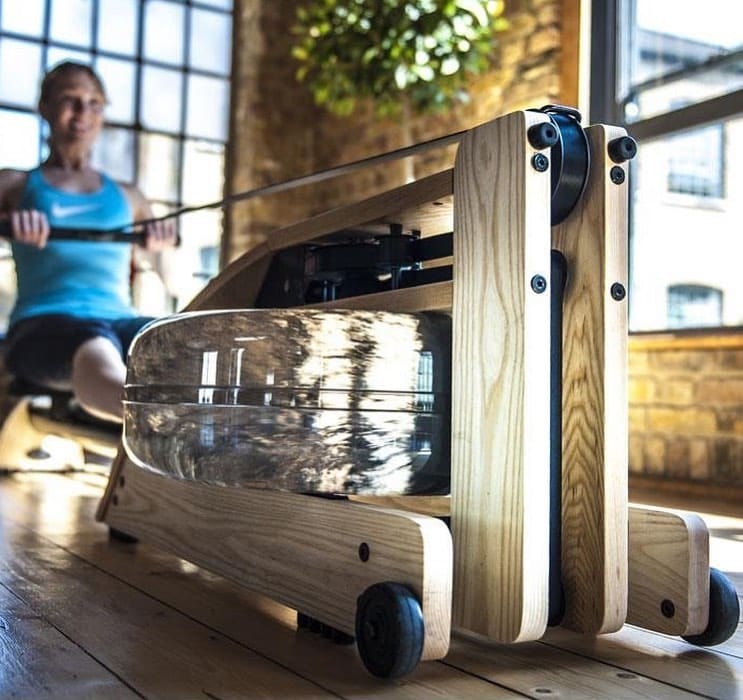 @aeropost.cl
Our Top Pick
Best Rower for Beginner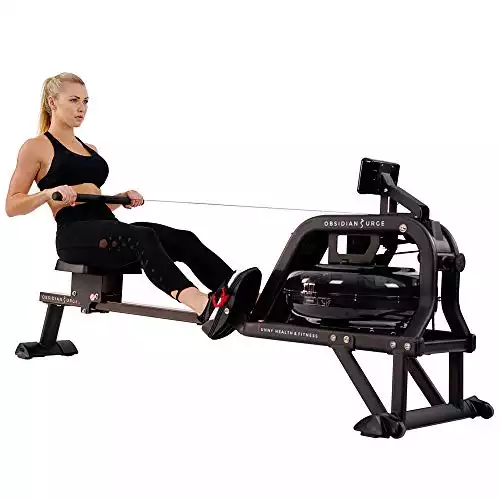 Since rowing is done in water, most will assume that water rowers are the default go-to, but it's never that simple.
Water rowing machines are known for their aesthetic design (commonly built out of wood), low noise, and realistic rowing experience.
They have a water tank at the front end with floating paddles inside. Attached to it, there's the handle and the footplates.
With every stroke, the water is displaced by the paddles, creating drag resistance. The faster your stroke rate, the more water is displaced, making the strokes harder.
The amount of water inside the tank determines the feeling and difficulty of the rowing stroke.
Every year, new and more advanced models continue to arise, providing various options for amateurs and competitive rowers.
For this reason, let's guide you through the main features of the water rowing machines.
Resistance Operation
Resistance is the main differentiator between air and water rowers.
There are four types of rowing machines: hydraulic, magnetic, and the two most common, water and air rowing machines.
Water models use water as their resistance operation.
This mechanism offers multiple benefits and qualities that can't be found in other types of machines.
For instance, water rowers don't have resistance levels. The amount of water inside the tank defines the level of resistance.
That's why it's said that water rowers have infinite and variable resistance!
In other words, the faster and harder you pull, the more resistance you feel, thus increasing the difficulty of every stroke.
Our Top Pick
In physics, this concept is explained by Cube's rule, meaning that to go twice as fast, you need 8x the effort.
This differs from air rowers, whose air resistance operation can't be set beyond 10/10.
Monitor
The monitor is the part of the indoor rower that translates your effort and workout programs into measurable data.
This is where most of the cutting-edge technology is displayed for most rowers. However, water rowers aren't known for having advanced monitors compared to air rowers.
Even a high-end priced water rower will only have the basic-moderate features, such as:
Distance
500 meters split
Stroke rate
Watts
Calories
Heart rate
PC connectivity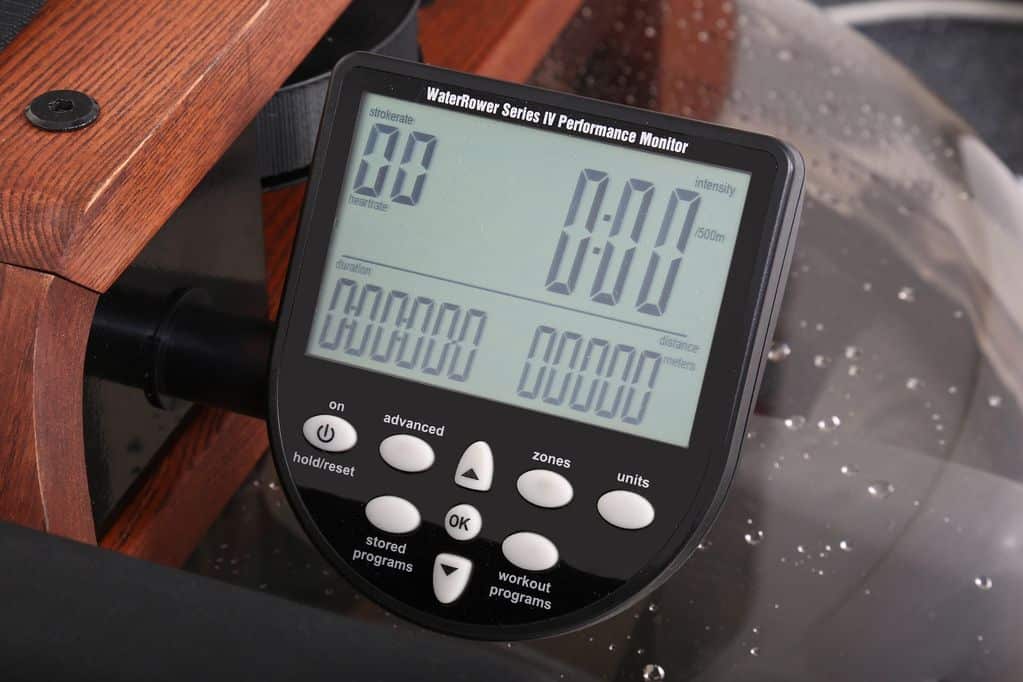 WaterRower's S4 Performance Monitor.
Best Rower for Beginner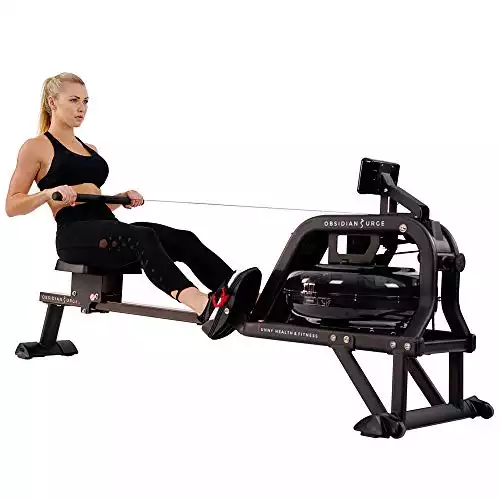 A water rower should satisfy you if you don't need any more than a "basic" monitor.
But if you're a competitive rower looking for more advanced and detailed features that suit your fitness level, consider air rowing machine monitors.
Water Level And Stroke Feel
There is a direct correlation between the water level and the stroke feel.
Therefore, the difficulty and feel of the stroke are measured by the water level in the tank.
A fuller tank means more water to displace, making for higher-effort strokes. Conversely, the less water in the tank, the less effort is required for every pull.
In other words, the tank's water level acts as the boat's weight.
Since an emptier tank requires less effort, the stroke feeling will be smoother and lighter, just as if you were rowing a lightweight boat.
You will need higher water levels for a more vigorous stroke feel, making for more challenging workouts.
Water rowing machines should include marks on the tank or instructions, providing the specific water level for the desired training goal.
Noise Level
The sound of water rowing often provides a calming and zen-like feeling. This is one of the advantages of the water rower over the air rower.
Many water rowers are built with a noise-reducing design.
They use straps instead of chains for the handles, and the wood material also helps isolate the noise.
Although not all water rowers have wooden frames, the most common and high-priced models do.
You can easily watch TV, listen to music, or even have a conversation while using a water rower.
So, if the noise level is a deal-breaker for you, a water rower should do the job. Or you can also consider magnetic rowers.
Maintenance
Indoor rowers require little and sporadical maintenance.
At the moment of purchase, every rower should come with a set of instructions and tools to keep the machine running smoothly.
The typical maintenance includes cleaning the rust, removing the dust, and oiling the seat's rail and handle.
In the case of water rowers, the water tank needs specific care.
Changing the water periodically is optional, but some manufacturers recommend adding one purification table every 3-6 months.
But unless you want to modify the water level for workout purposes drastically, it shouldn't be a recurring problem.
Price
Regarding pricing, water rowers tend to cost more than air rowers.
The average price for water rowers is $1300, and there are many reasons for this.
The wooden material and high-end design are some factors, but the manufacturing process is the leading cause.
The power transfer in water rowers is different from other models, which makes it harder to construct and replicate.
Although you can find some models around $600, the high-end options are well above $2000.
Air Rower
Air rowers are the most popular type of rowing machines partly because they represent a fine mix between efficiency and affordability.
They tend to be lighter, foldable, and easy to carry around. The price starting point is slightly less than most water rowers.
Although the maintenance is more accessible and less frequent, the noise level and stroke feel are subpar compared to water rowers.
Resistance Operation
Unlike water-resistance rowers, air rowers use "air" as the medium to control drag resistance.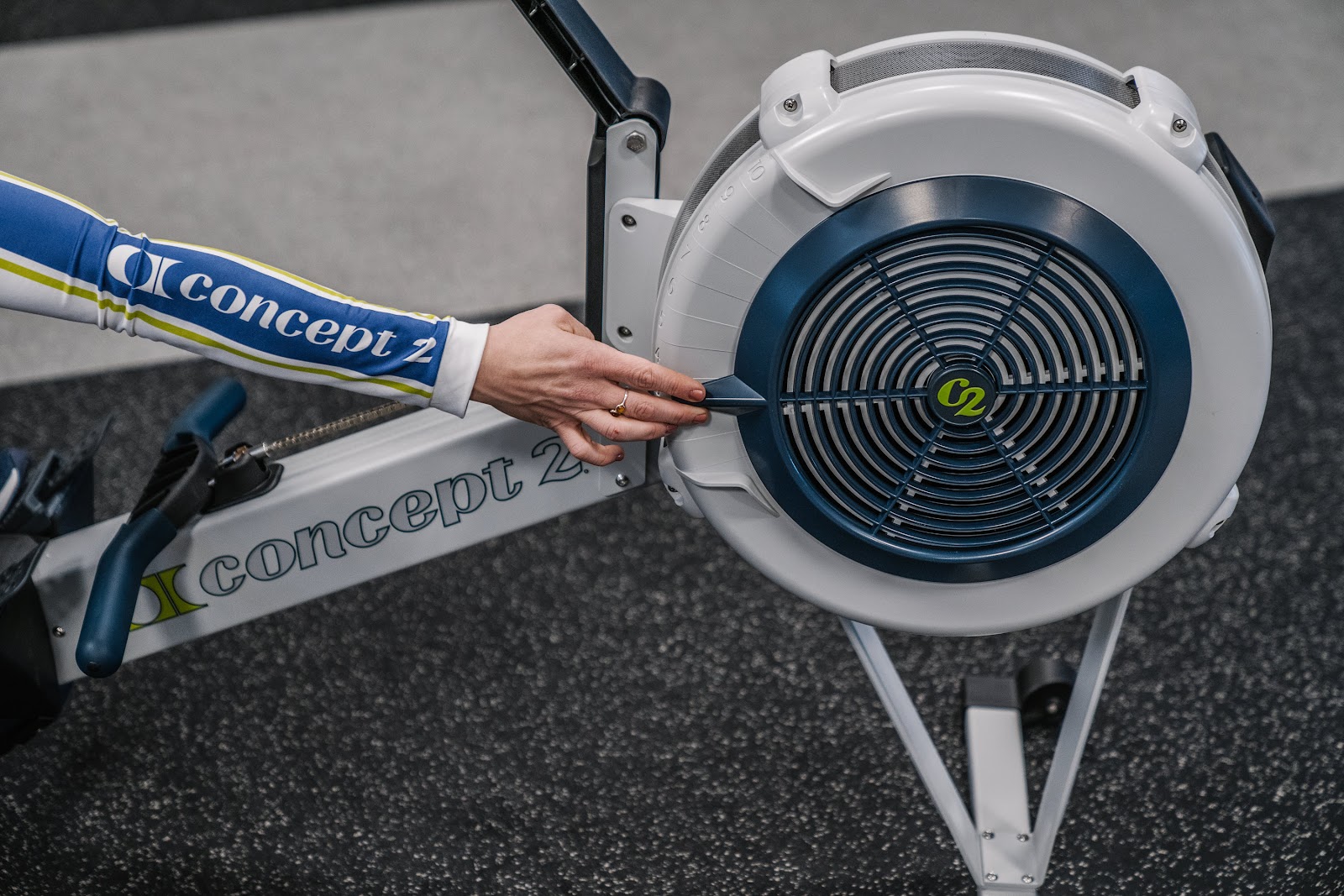 Concept2's Damper and Flywheel
These models have handles attached to a fan flywheel through a chain, which creates movement with every stroke.
Depending on how much air enters the flywheel will determine the amount of pulling resistance and the rowing speed.
There are some similarities in how both machines work in this sense.
The Cube's rule also applies to air rowers. The harder and faster you pull, the higher the drag resistance, and vice versa.
Monitor
This is the main differentiator between these two machines.
The monitor used in some air rowers models is the PM5 found on Concept2's Model D. This is where the rowing machine technology leaps.
The PM5 is the most accurate and precise monitor among all the rowing machines, collecting data in real-time such as the drag factor.
This is crucial for professional and Olympic rowers since it allows them to understand the flywheel deceleration on each stroke better.
On top of that, the monitors measure metrics like calories, watts, distance, 500-meter split, and pace.
The ability to compete with other rowers worldwide and compare times is another reason air rowers are widely used by professional rowers in worldwide competitions.
Damper Setting And Stroke Feel
This is another difference between air rowers and water rowers.
The damper setting goes from 1 to 10. The lower the setting, the less air is available to interact with the flywheel, thus generating less resistance and vice versa.
The ability to instantly adjust the damper settings is an advantage for air rowers. This allows for more immediate changes that can benefit the rower's performance.
Like water rowers, the higher the damper settings, the stronger the strokes feel. A high damper is the equivalent of rowing on a heavy boat.
A low damper setting is recommended if you're looking for a long-steady rowing session. But, if the goal is to engage more muscle for a more intense workout, ramp up the damper.
The rowing experience feels less natural than a water rower, although it shouldn't be a deal breaker for most people since you can still hit an excellent workout.
Noise Level
Compared to water, and magnetic rowers, noise levels are higher on air rowing machines.
The combination of the handle's chain, the fan noise, and the building material are all factors.
Because of its design, every time the chain gets in contact with the frame, it creates noise.
That could be a problem for someone sharing space or looking to keep noise levels to a minimum.
It's also a key feature for people looking for that realistic rowing experience.
Maintenance
Rowing machines don't need a lot of care.
Air rowers are low-maintenance equipment outside the essential oiling, tightening up a few screwdrivers and removing dust.
Conversely, water rowers require water treatment every 3-6 months, which can be a considerable difference.
Price
Air rowers tend to cost less than water rowers on average.
This will also depend on the type of machine and advanced features, but the price starting point is lower than water rowers.
You can find a decent air rower for $600-$1000, with high-end models ranging between $2000-$3000.
Which One Wins?
It all boils down to personal preference since both rowers are useful for all fitness levels.
If you're looking for a beginner-intermediate rower and can afford a water rower, then by all means.
If you have more serious goals and need more data measurement, consider an air rowing machine and its high-end monitors and advanced features.
Both have affordable prices, and the differences aren't that important for the general population.
Protect your investment, and don't be afraid to spend a little more to enjoy high-quality types of rower.
Water Rower Vs. Air Rower: FAQs
Do Water Rowers Build Muscle?
Yes, they do. Increasing the water level will create more drag resistance, thus providing a stronger pull and a more intense full-body workout.
Do Water Rowers Leak?
Although it is unusual, some people have confirmed their tanks were leaking. Even if it leaks, the solution is simple and effective: a tank glue kit.
Do Water Rowers Build Muscle?
Yes, they do. Increasing the water level will create more drag resistance, thus providing a stronger pull and a more intense full-body workout.
Do Water Rowers Leak?
Although it is unusual, some people have confirmed their tanks were leaking. Even if it leaks, the solution is simple and effective: a tank glue kit.