Do you want to harness the full power of a rowing machine, but don't really like the idea of being drowned in the sound it makes? While many people associate these devices with a lot of noise and disruption, the truth is that there are some quieter options out there that can provide excellent performance without all the noise.
So, if you're on the hunt for the quietest rowing machine you can use in your home set-up, look no further. We created this guide to help you find exactly what you're looking for.
In a Hurry? Here are our best picks:
Product's name

Our Top Pick


WaterRower Ash Rowing Machine with S4 Monitor | USA Made | Original...

Great Alternative


Concept2 RowErg Indoor Rowing Machine - PM5 Monitor, Device Holder,...

Perfect for Limited Spaces


Mr. Captain Rowing Machine for Home Use,Water Resistance Natural Wood Rower...

The Budget Option


Sunny Health & Fitness SF-RW1205 Rowing Machine Rower with 12 Level...

Foldable and Easy to Store


MaxKare Rowing Machine Air Rower
Resistance
a smooth even stroke resistance that places minimal strain on joints and the lower back.
Air-resistance flywheel responds to every stroke; control air flow with an easy change of the damper; Damper levels 1-10.
fully adjustable intensity levels and resistance options
12 adjustable resistance levels, still a limited range of motion
Decent resistance range with numerous levels of intensity

Monitor
tracks your stroke rate, heart rate monitor, time and distance as well as take a glance at how far you've gone in terms of calories burned.
User-friendly console with diverse settings and customizable features

The digital monitor is not backlit

time, count, count total, calories, and scan functions.
count, time, calories, distance
Price
$$$$
$$$
$$
$
$
More Info
See at Amazon
See at Amazon
See at Amazon
See at Amazon
View latest price
How Am I Qualified to Write About Quiet Rowing Machines?
I've always had a passion for fitness and a desire to optimize my performance. What started out as the occasional visit to the gym, soon became a full-blown obsession with all things fitness and health. Over the years, I've tried various exercise machines from rowing to ellipticals and treadmills – everything to get the best results without putting too much stress on my body.
As my ever-growing passion reached new heights, I began looking into my own home gym setup and researching the best piece of equipment for my needs. Not surprisingly, rowing machines were at the very top of my mind, with their efficient design and low-impact full-body workout capabilities.
Seeing as their only real downside is their infamous noise levels, I decided to take it upon myself to find the quietest rowing machines available – and that's exactly what I'm here to share with you today. After all, no one wants to be greeted with the sound of a rower revving up every morning. No to mention the distracting noise when you're trying to focus on your workout progress.
Best Rower for Beginner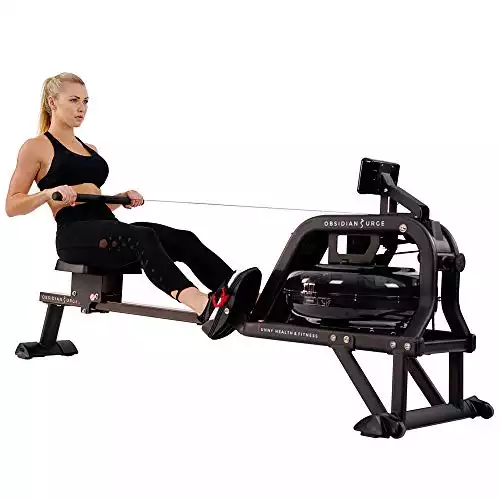 Who Is This Guide For?
Given the hectic schedules and busy lives that we all lead, we don't always have time to focus on each major muscle group with different machines. Not only is it time-consuming, but it's also quite costly – especially if you're considering a full home gym set-up.
If you want to achieve great muscle toning results in a fraction of the time and cost, a rowing machine could be the solution to all your problems. Its admirable workout capabilities and ergonomic design are definitely a must-have for anyone who wants to get fit and stay healthy, without having to commit to regular gym visits or rely on favorable weather conditions for outdoor rowing or exercises.
How We Picked the Best Products
The internet is a vast chasm of information – regardless of what you're looking for, it's likely that someone already wrote about it or has some kind of opinion on the matter. While this can be incredibly helpful, it can also lead to a lot of confusion and misinformation, which can ultimately make the process of finding what you're looking for a lot more difficult.
This is why we chose to rely on reputable websites such as TopFitnessMagazine, RowingMachineGuide, and StartRowing to see what other people have to say about the varying noise levels. They're a great resource that provides expert opinions and reviews in terms of comfort, power output, resistance levels, and overall value for money.
Next up, we decided to turn to the ever-reliable Amazon and other major retailers for some additional information. This was especially helpful when it came to looking up customer reviews and assessing the overall ratings that each product received from its users.
And last but not least, there are always the oh-so-helpful forums and thread discussions on Reddit and Quora where people from all around the world can give their honest feedback on products they've used. We made sure to take a look at as many of these threads as possible in order to get an accurate representation of the customer experience.
How We Compared Each Product
Of course, all devices have their own blueprint of features and structural components, so we made sure to look closer at the individual specs. In an attempt to find some middle ground for comparison, we decided to focus on three main aspects:
Noise Level – The rowing machine noise level is obviously the first and most important feature we had to look at. We wanted to see how loud each device could get and whether it would be suitable for indoor rowing without causing disturbance to you or your housemates.
Power and Performance – The way the device handles varying levels of intensity and power output can have a huge impact on the overall quality of your workout. We checked to see which rowers offer more efficient performance and whether they could handle prolonged usage and varying exercises. We also compared their maximum load capacity and speed.
Resistance Levels – Any budget-friendly or commercial-grade rowing machine should support a range of adjustable levels of resistance. We looked at how many were offered and whether they could be easily modified during the workout. This is an invaluable aspect of any training progress that caters to unlimited user profiles and different experience levels.
Best Quiet Rowing Machine
Once all the playing cards were on the table, it became easy to identify which devices were best suited for ultra-quiet functioning. Although there were a few different models that fit the bill, we ultimately had to narrow it down to five that we believe can provide the best user experience.
Our Top Pick
a smooth even stroke resistance that places minimal strain on joints and the lower back.
The robust and sturdy design of the WaterRower Blanc easily outpaces the competition when it comes to noise levels and performance. Its ash wood base is sustainably sourced from North America's Appalachian Mountain range, and the honey oak finish gives the frame a classic yet modern appeal.
Pros
Soothing sound of liquids sloshing in the water tank
Beautiful and elegant design
Smooth and consistent power output
Excellent monitor display with programmable functions and preset workouts
Cons
The dashboard might be hard to reach for some users
Slightly heavier than the competition
Key Specs:
| | |
| --- | --- |
| Dimensions | 83.0″ L x 22.0″ W x 21.0″ H |
| Machine Weight | 117 lbs |
| Maximum Weight Capacity | 250 lbs |
| Type of Resistance | Water |
Why It's Great
Despite having a seemingly bulky frame, the WaterRower is surprisingly ergonomic and lightweight. The cushioned seat offers reasonable support to your back and the adjustable footrests are conveniently placed to ensure maximum comfort throughout the entire exercise session.
The pedals are quite tough and appropriately sized for a comfortable grip. They can accommodate virtually all shoe sizes without having to make any further adjustments. Moreover, the angled handlebar has a textured surface to provide an extra layer of comfort during long-lasting rowing sessions.
Lastly, the crisp LCD screen is simply brilliant. It allows you to track your stroke rate, heart rate monitor, time, and distance as well as take a glance at how far you've gone in terms of calories burned. You can also connect to the WaterRower Connect App to further enhance your experience and even compare your results with other users from all around the globe.
Great Alternative
Air-resistance flywheel responds to every stroke; control air flow with an easy change of the damper; Damper levels 1-10.
Among big-name rowing manufacturers, Concept2 Model D is a formidable contender who stands tall above the rest. It has been around for quite some time and continues to impress with its seamless performance and great value for money. It has a sleek, powder-coated finish and a smooth-running platform that can support users of all sizes.
Pros
Super-quiet flywheel design for smooth and silent operation
Compact and foldable design for easy storage
User-friendly console with diverse settings and customizable features
Sturdy construction with a molded seat
Cons
Rough handlebar grip with minimal cushioning
Somewhat noisy resistance knob
Key Specs:
| | |
| --- | --- |
| Dimensions | 96.0″ L x 24.0″ W x 14.0″ H |
| Machine Weight | 57 lbs |
| Maximum Weight Capacity | 500 lbs |
| Type of Resistance | Air |
Why It's Great
The smart use of space is perhaps the most impressive aspect of the Concept2 Model D. The design allows you to store it and shift it around without much effort, as it is both lightweight and compact. But this compressed design doesn't mean that it sacrifices performance in any way -there's plenty of space between the housing and the rail for added stability and convenience.
The flywheel is impressively quiet and provides a consistent performance throughout the entire rowing session. The heavy flywheel has an adjustable damper that you can use to increase or decrease the level of resistance. This is a crucial feature since it allows you to gradually progress with your skills and fitness levels. Moreover, the resistance knob can be adjusted quickly and effortlessly with a single turn.
The main console with the backlit display is quite intuitive and provides constant feedback on your progress, calories burned, and intensity levels. You can also switch to the fitness test mode and push yourself further with preset programs and specialized app rowing sessions.
Perfect for Limited Spaces
fully adjustable intensity levels and resistance options.
Anyone who's just on the precipice of their fitness journey and wants to get an authentic rowing experience without breaking the bank should definitely consider Mr Captain Rowing Machine.
It strikes a perfect balance between affordability and quality, often surpassing many of its more expensive competitors in terms of performance. Its compressed design allows it to fit into virtually any space in your house without having to rearrange your furniture.
Pros
Full range of motion that mimics actual rowing in water
Impact-resistant and fully adjustable seat
Non-slip pedals with adjustable foot straps to ensure maximum stability
Easy-to-use settings and a straightforward interface
Cons
Slightly bulky water tank that can be tricky to fill
No backlit digital monitor
Key Specs:
| | |
| --- | --- |
| Dimensions | 82.0″ L x 22.0″ W x 20.0″ H |
| Machine Weight | 59 lbs |
| Maximum Weight Capacity | 320 lbs |
| Type of Resistance | Water |
Why It's Great
The warm tones of its oak walnut finish make it a perfect candidate for anyone who's looking to add some classic style to their home gym. This beautiful rowing machine comes with a high-grade steel frame that can withstand years of rigorous use. But its tiny size doesn't mean it's any less stable, as it is reinforced with steel rails and a sturdy base.
The comfortable 3D seat with varying height adjustments ensures that it conveniently fits anyone who uses it and allows them to maximize their workouts by rowing with a full range of motion. The sturdy transportation wheels at the bottom also make it incredibly easy to move around without too much effort.
Best Rower for Beginner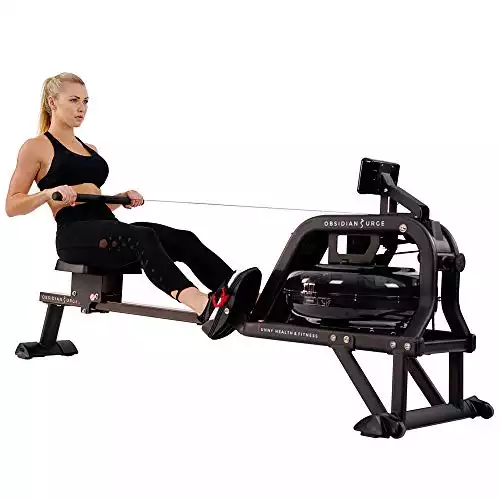 The flywheel is amazingly silent and provides smooth and consistent movement throughout the entire training session. It is powered by a hydraulic resistance system that can be adjusted with a simple turn of the knob. It also has an LCD monitor that provides simple feedback on your progress such as time, speed and calories burned.
The Budget Option
12 adjustable resistance levels, still a limited range of motion.
This seemingly basic-looking machine by Sunny Health & Fitness is a true underdog in the realm of rowing machines. But don't be fooled by its low price tag – this machine has plenty of features and performance to back it up. Its compact design is a godsend for anyone who's tight on space, and its airy construction means that it takes minimal effort to move around.
Pros
High-grade steel construction for added stability
Fully adjustable seat for varied heights and incline control
Removable rowing arms for convenient storage and transportation
Varying resistance levels for custom fitness goals
Cons
No advanced settings or workout programs
No additional lumbar support
Key Specs:
| | |
| --- | --- |
| Dimensions | 54.0″ L x 20.0″ W x 23.0″ H |
| Machine Weight | 21 lbs |
| Maximum Weight Capacity | 220 lbs |
| Type of Resistance | Hydraulic |
Why It's Great
The assembly instructions that come with the Sunny Rowing Machine are incredibly easy to follow, and it takes no more than 30 minutes to put the whole machine together. All the parts are quite resilient, and the flywheel is surprisingly silent even when you're pushing it to its limits.
Additionally, it has one of the best hydraulic resistance systems in its class, giving you full control over the intensity of your exercise sessions. The hydraulic pistons are attached to the seat and offer a whopping 12 adjustable resistance levels, allowing you to increase the intensity gradually as your fitness levels and rowing abilities improve.
Finally, the unique incline control feature on the Sunny Rowing Machine allows you to change the angle of the seat in order to get a more ergonomic rowing experience. The non-slip rowing handle footplates are also a great addition as they provide superior grip so that you don't fall mid-workout.
Foldable and Easy to Store
Decent resistance range with numerous levels of intensity.
This air rower by MaxKare has a unique foldable design that makes it unbelievably compact and simple to store. Its mainframe is made from solid steel that provides remarkable stability, and its ergonomic and comfortable seat ensures a smooth and relaxing workout session.
Pros
Decent resistance range with numerous levels of intensity
Solid safety straps to keep the footrests in place
Easy folding and unfolding design for convenient storage
Foam-covered handlebar with a secure grip
Cons
A bit flimsy footrests
No additional fitness programs
Key Specs:
| | |
| --- | --- |
| Dimensions | 78.0″ L x 17.3″ W x 23.0″ H |
| Machine Weight | 86 lbs |
| Maximum Weight Capacity | 300 lbs |
| Type of Resistance | Air |
Why It's Great
The sheer range of resistance levels is what makes this machine stand out from the rest. You can choose from up to 16 different options, with each one offering a unique level of intensity. The tension adjuster dial is located just below the handlebar, and it allows you to easily switch between different modes.
The accurate monitor on the dashboard also provides you with precise stats and data on your progress so that you can keep track of your fitness goals. From stroke count, calories burned, time, and distance covered, you can use this information to stay motivated and get the most out of your workout sessions.
The best part is that it can be folded up into a surprisingly compact size, with its ergonomic handle and locking system allowing you to quickly and conveniently put it away when you're done. Transportation is also a breeze, thanks to the built-in wheels at the bottom.
The Buying Guide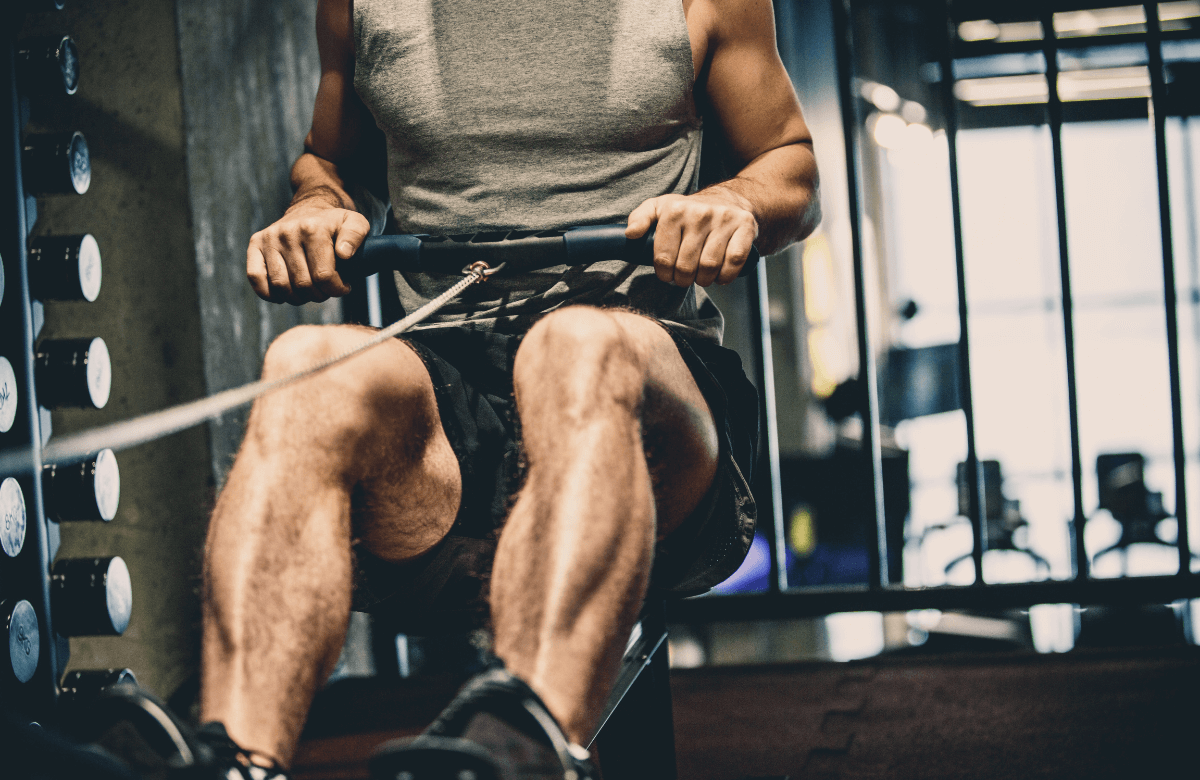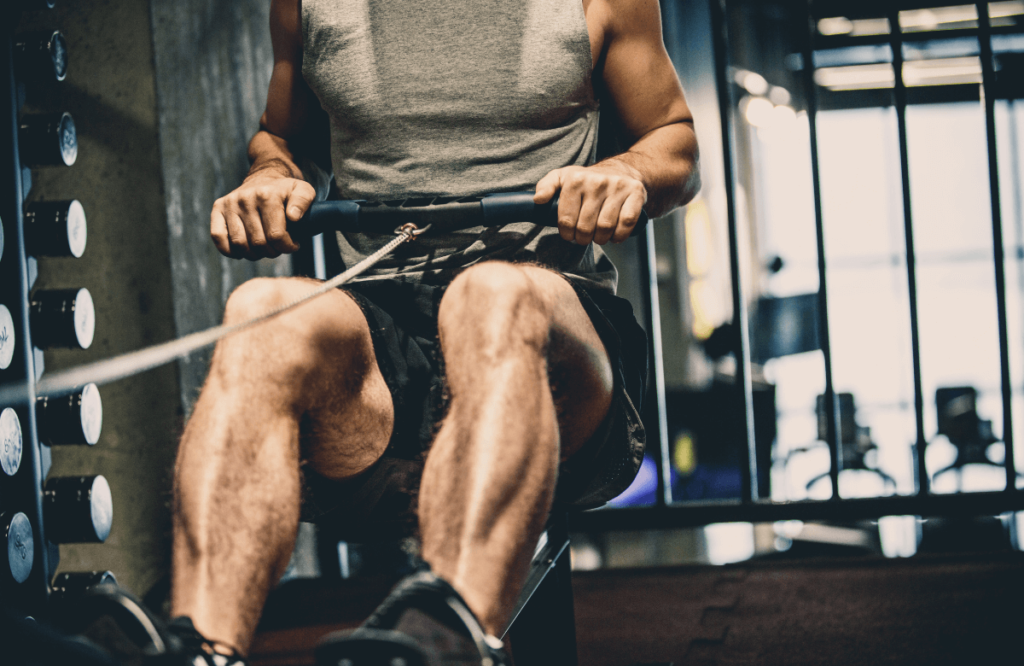 Regardless of your budget or your space constraints, some aspects remain the same in terms of what you should look for in a rowing machine. What you deem as important should depend on your individual goals and preferences, but here are a few key points to consider:
Type of Resistance
How the device generates resistance plays a vital role in the overall performance and feel of the machine. Different models use varying types of resistance, such as air, water, or hydraulic.
Water rowers are designed to simulate outdoor rowing as closely as possible, with the resistance increasing or decreasing in accordance with how hard you pull. Air rowers, on the other hand, typically use a fan to generate resistance, while hydraulic models use pressurized pistons.
Noise Level
This largely depends on the mode of resistance your machine uses. Air rowers tend to be the loudest, albeit not intolerably so, while hydraulic and water resistance models are usually much quieter. All machines produce some level of noise, but the best way to decrease it is to opt for one with a belt drive system, as these are known to run more silently.
Comfort
Having a comfortable rowing posture is essential for a good workout session, so look for machines that come with adjustable handlebar features, contoured seats, properly positioned pedals, and adjustable footrests. This will make your experience more enjoyable, particularly if you're aiming for a longer workout.
Are rowing machines noisy?
Rowing machines will generally produce some level of noise, depending on their inherent design and the type of resistance it uses. Though the sound isn't usually too loud, it can become bothersome if you're constantly subjected to it.
What type of rowing machine is quietest?
Hydraulic and water rowers are typically on the quieter side, as they don't use a fan for resistance. Their air-free and belt-driven systems generate less noise than other models, making them ideal for home usage.
How do I reduce the noise on my rowing machine?
How do I reduce the noise on my rowing machine?
Using a mat or rug underneath the machine can help to muffle some of the noise it produces. If you have a fan-based model, it may lubricate the fan blades and adjust the tension settings. This will not only decrease the noise level but also improve your device's performance.