Do you want to get a full-body workout with an indoor rowing machine, but don't want to splurge on a high-end model? Do you think that the market is oversaturated with flashy indoor rowers that don't offer enough value for money? If this sounds like you, then the Stamina ATS Air Rower 1399 could be the answer to your workout woes.
This excellent rower has generated a lot of buzz since its launch, and justifiably so. With more than decent specs and features at a fraction of the cost of its high-end counterparts, this is the perfect middle-ground for anyone looking to commit to indoor rowing machine workouts without setting their wallets on fire. If you want to learn more about the device, read through our Stamina air rower 1399 review.
In A Hurry? Here's The Main Specs
Product's name

A Great Product for Beginners to Intermediate Rowers


Stamina ATS Air Rower Machine with Smart Workout App -...
Verdict
The great thing about this mechanism is that there's no limit to the intensity or complexity of your workouts - the harder you row, the more resistance you generate.
Dimensions
77″ L x 18″ W x 22″ H
Machine Weight
63 pounds (28.5 kg)
Weight Capacity
250 pounds (113 kg)
Build Material
Alloy Steel
Resistance Type
Dynamic air resistance
Foldability
can be folded for easy storage
Warranty
3-year frame warranty
90-day parts warranty
Price
$
Learn more
See at Amazon
Why You Should Trust Us
Testing out fitness equipment and reviewing products is what the BoxLife team does best. We've built a reputation for being authorities on the subject, thanks to our extensive research and experience in the field. As individuals of different fitness levels and preferences, we bring our collective experience to the table when evaluating products and coming up with unbiased assessments.
At the same time, we are committed to providing our readers with only the most accurate and reliable information available. We are diligent in our tests, focusing on both safety and performance, with the goal of helping them make educated judgments and find the best equipment for their individual needs.
Who Is This Guide For?
If you're tired of overcrowded gyms and the hassle of commuting to a fitness center, then you definitely need to give air rowers a chance. They're designed for indoor workouts that are both efficient and comfortable, so you don't have to worry about the weather or waiting your turn.
Best Rower for Beginner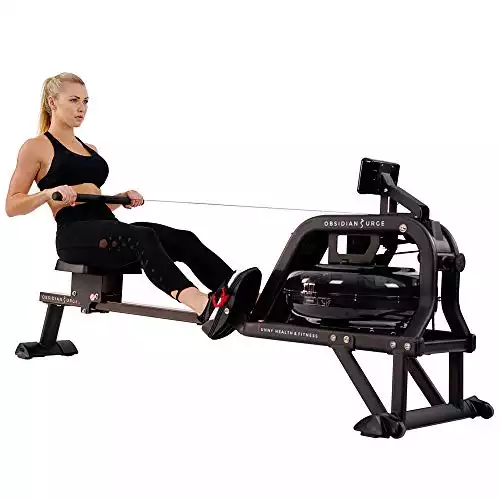 You don't even have to be a fellow expert product tester to understand the sheer value of a top-notch indoor rowing machine. Its versatility and range of uses are good starting points for the average user, while its features can be tweaked to suit even the most advanced users that want to challenge their limits.
How We Graded the Product
Despite the focus being on a single product, we looked at the Stamina air rower through the same critical lens we use when testing any fitness equipment of the same rank. Not only does this enable us to be more impartial and objective, but it also means that we're able to evaluate the product across a variety of criteria.
Levels of Resistance – Most air rowers use an internal flywheel to generate resistance, with a dedicated knob or lever to adjust the intensity. We tested the Stamina's resistance levels across its range of settings, noting how smooth and consistent the experience was.
Design and Build Quality – No matter how well a product performs, if its design is poor, then it won't deliver the intended results. No one wants to use a questionable piece of equipment, and we place a strong emphasis on the quality of materials used and the overall build.
Comfort – Ergonomics is often the underrated aspect of fitness equipment, but its importance cannot be underestimated. Many devices have a padded seat and adjustable footrests, with additional features such as adjustable handles and textured grips for greater maneuverability.
Price Range – We compared the Stamina air rower to other devices of similar specs, weighing up the value for money that each one offers. Does it hold up against the competition? Is it priced fairly?
Stamina ATS Air Rower 1399 – A Great Product for Beginners to Intermediate Rowers
A Great Product for Beginners to Intermediate Rowers
The great thing about this mechanism is that there's no limit to the intensity or complexity of your workouts – the harder you row, the more resistance you generate.
Among budget-friendly machines, the Stamina air rower is a solid choice that allows you to switch things up from the typical gym routine. It provides an optimal combination of sit-down rowing and upper body exercises, with a smooth rowing stroke and a dynamic resistance system for tailored training.
Pros
Resilient and sturdy steel frame
Built-in transport wheels for easy storage and retrieval
Generous level of padding on the upholstered seat, handlebars, and footrests
Multi-function LCD display that tracks basic fitness data
Cons
90-day warranty on labor and parts
The performance monitor isn't backlit
Key Specs
| | |
| --- | --- |
| Machine Size | 77″ L x 18″ W x 22″ H |
| Frame Material | Alloy Steel |
| Maximum User Weight Limit | 250 lbs |
| Type of Resistance | Air |
Why It's Great
By default, air resistance rowers use an integrated flywheel with fan blades and a semi-open chamber with a nylon strap to generate resistance. As you move the handle, air is generated and pushed back against the fan blades, resulting in a slick and dynamic resistance system.
The great thing about this mechanism is that there's no limit to the intensity or complexity of your workouts – the harder you row, the more resistance you generate. This is why it's often referred to as a variable resistance system, as you can decide just how strenuous or gentle your exercise is.
When it comes to mechanical specifications, the steel frame and oversized seat rail provide a sturdy platform for rowing, while the large footrests and adjustable handlebars with textured grips ensure maximum comfort. The overall motion is quite fluid and smooth, closely resembling the natural movement of rowing on open water.
You also have wide front and rear stabilizers on the base for greater balance, which are designed to prevent the machine from wobbling or shifting when you're moving at higher speeds. The two rubberized base caps also help to keep the unit in place, adding an extra layer of stability and security.
There's always a certain level of apprehension and anxiety when getting an affordable option, especially in terms of safety and stability. Despite being a lighter model at just 53 lbs, the Stamina air rower holds up well against heavier machines. It also features an inclined seat rail that allows for a full range of motion, as well as a custom tension knob for greater accuracy.
Moreover, the multi-function monitor does a solid job of tracking fitness data, including speed, distance covered, and calories burned, but no heart rate monitor. Sadly, it doesn't come with preset workout programs or on-demand classes with a personal trainer, but that's to be expected among budget rowers. But you can still cycle through existing data sets with the function button on the side and track your progress.
And lastly, the device folds for storage easily, which basically cuts its overall footprint in half. All you have to do is remove the pull pin from the foldable frame and roll it away without having to strain your back. The built-in wheels are another notable addition, giving you the freedom to move it around freely.
The Buying Guide
When shopping around for fitness products, you can't just go with the first option you see. Even if the Stamina Air Rower has some admirable features, you should carefully consider your own needs before committing to a purchase.
Workout Plan
Since the LCD monitor offers basic data tracking with no preset program options, you'll have to devise your own training routine. Many users opt for a high-intensity interval workout by switching between rowing and upper body exercises, but you could also use a rowing app to map out your weekly exercises.
If you want to get in touch with a personal trainer, you could try subscription-based services that offer live and on-demand fitness classes. That way, you can get professional advice and a tailored training plan to help you reach your goals.
Placement and Available Space
Despite being a folding rower with a relatively small footprint, you should still measure your workout area to make sure the product will fit comfortably. You'll also need to account for your own height, as well as the vertical clearance of any doors or stairways you have to go through.
Consider placing floor protectors under the device to preserve the integrity and grip of your flooring. Not only does this prevent scratches and dings, but it also reduces the noise level of your exercise and minimizes slip-and-fall hazards.
Body Types
Since the maximum weight capacity of the device is around 250 lbs, you need to factor in your own body weight and lifestyle. We all have different starting points and distinct fitness goals, so you need to find a product that's suitable for your specific demands.
If you're above the suggested limit, the device may not offer the resistance and stability you need. In that case, it's better to opt for a higher-end model with a more resilient frame and reinforced mechanisms that can hold up the extra weight.
Assembly
Most average users only need basic DIY skills to assemble the device, as all you have to do is attach the two stabilizers and secure them with a few bolts. You'll get a detailed user manual for extra guidance, and everything should be ready to go in under an hour.
Even if you're not very handy with tools, you don't need to hire a third-party assembly service, as the task is actually quite straightforward. For additional help, you can always refer to online video tutorials or contact the manufacturers directly if you have any technical questions.
Safety Features
Even though rowing might seem like a low-impact exercise, there's still a risk of joint strain and muscle aches without the proper form. To ensure your safety, you should always warm up before starting your session and stretch afterward.
Best Rower for Beginner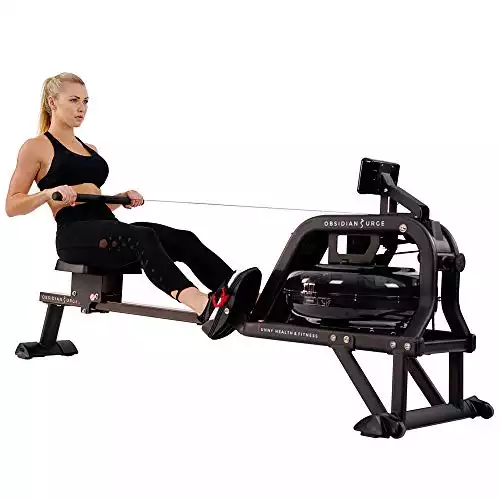 A lot of manufacturers have integrated safety features into their products to help mitigate any potential risks. As mentioned previously in our Stamina air rower 1399 review, this product has adjustable footrests and foam grips that provide support during the exercise. It also has an intuitive design to reduce your risk of slippage or falling off the machine.
Warranty
All fitness products have a certain shelf life and can be prone to malfunctions, regardless of how often you use them or how diligently you take care of them. While we'd all want lifetime warranties, these aren't always available, so you should at least look for a decent return policy or an extended service plan.
Ideally, the standard 3-year warranty is what you should aim for, but given the 90-day warranty for both parts and labor on the Stamina air rower, you won't have the same long-term protection. The manufacturer offers direct replacements and repairs in case of a warranty claim, but you may want to consider additional plans if you plan on using the device for more than a couple of months.
Is Stamina a good rowing machine?
Given the brand's extensive selection of fitness products and its commitment to quality control, Stamina is a reputable brand for rowing machines. The company's air rowers offer reliable performance and some great features, like the multi-function LCD monitor and adjustable resistance settings.
What does 30 minutes of rowing do?
Rowing is seen as both a cardio and aerobic workout, often targeting multiple muscle groups at the same time. Depending on your intensity level, you could burn anywhere from 250 to 400 calories in a 30-minute session. By incorporating interval exercises, you can increase your calorie-burn rate and boost your endurance.
How quickly will I see results from rowing?
Although every individual has different body types and goals, you can expect to see some changes in about 90 days. The key is consistency and progression, so if you stick to your routine and gradually modify your intensity, you should get the desired results. Additionally, make sure to keep a healthy diet and stay well-hydrated throughout your training sessions to prevent any setbacks.