Bumper plates are a popular fitness equipment choice for weightlifters with all different sets of goals and backgrounds. While they offer benefits that iron plates and steel plates can't for training, there are circumstances where traditional weight plates might be the better choice if you're considering buying bumper plates.
In this guide, learn how bumper plates are made, the benefits of more affordable options like hi temp bumper plates, and what type of weight plates you should get for a CrossFit gym, garage gym, or powerlifting setup.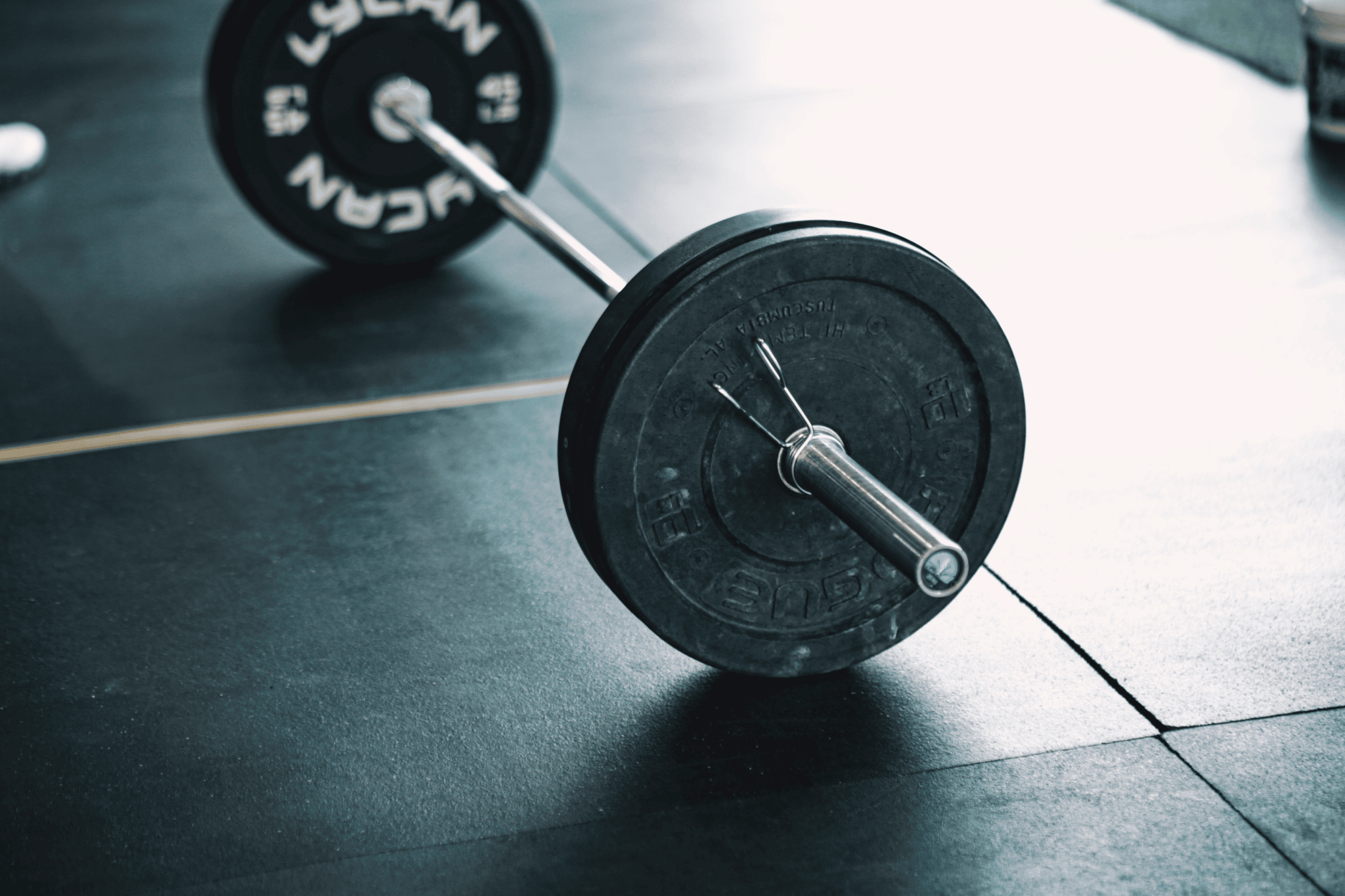 What Is a Bumper Plate?
Rubber bumper plates are, generally speaking, made using virgin rubber or by pouring molten iron to create a heavy a heavy metal core, then coating them in an another layer of thick rubber protective coating or urethane.
This type of equipment enable weightlifters, CrossFitters, and home gym owners to perform a variety of barbell exercises safely. It's an optimal choice over iron plates because it allows athletes to do more exercises in a wider variety of fitness spaces (i.e. garage floors, driveways, etc.).
Different Types of Bumper Plates
There are a few types of weight plate you might find when you buy bumper plates:
Our Top Pick
Transparent Labs Creatine HMB
Based on our testing, this is the best creatine for most people. It has the perfect dosage of creatine monohydrate per serving, which has been proven to increase muscle mass.
Pros:
Promote strength and muscle gains

Tested for purity and safety

Free from artificial colors
See on Amazon
See on Transparent Labs
Thin rubber coating – urethane or rubber coated weight plates
Steel core – iron or steel circle, covered with additional materials
Hi temp bumper plates – more affordable, made using recycled material
Olympic weightlifting bumper plates – designed specifically to be used for competition bumpers
Technique plates – light weight and not meant to be dropped, for teaching purposes
Indoor vs. Outdoor Bumper Plates
Indoor and outdoor high quality bumper plates are typically made using rubber or urethane, while iron or steel core products made by pouring molten iron typically cost the most, but should only be used indoors.
The thick coating of material allows you to drop a loaded barbell without damaging the bar or floor.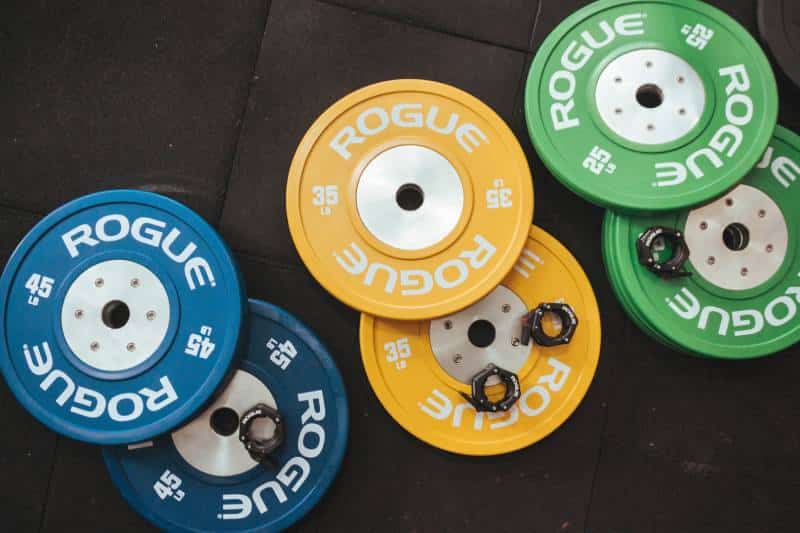 What Are Olympic Bumper Plates Used For?
It's very common to find bumper plates in an Olympic weightlifting gym. That's because the two major Olympic lifts, the clean and jerk and snatch, are both much safer to perform when the athlete can drop heavy weights from over their head as opposed to traditional iron plates.
Olympic bumper plates are also typically color coded (red, blue, yellow, and green) to make them easier for loaders/spotters to put weight on a bar (and for spectators/judges to tally the weight being lifted).
Olympic Plates vs. Iron Plates for CrossFit/Oly Lifting
This is also the case for the CrossFit Games, which us competition bumper plates made by their major sponsor, Rogue.
Olympic bumper plates are usually used in conjunction with an Olympic weightlifting platform made from wood and rubber. A standard Oly lifting platform is 4 feet by 8 feet to account for barbell and plate size.
Virgin rubber is the same material used to line many gym floors. More affordable bumper plate products may use recycled rubber during the manufacturing process.
When Should I Use Bumper Plates?
The best time to use bumper plates are:
When an exercise is more safe to perform with bumper plates.
When weights will be repeatedly dropped or hitting the ground in between repetitions.
When you're learning a new weightlifting technique.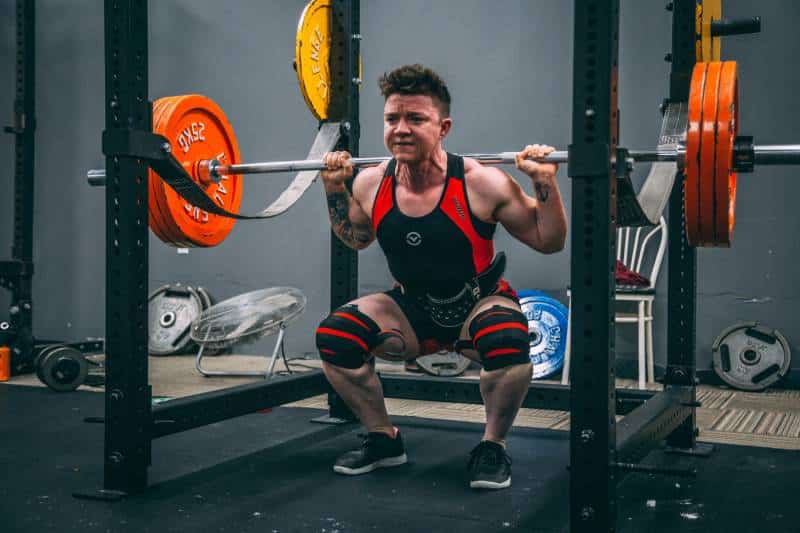 Bumper Plates vs. Iron Plates
Bumper plates and iron weight plates both offer advantages. Here are some of each to help you decide when you buy bumper plates.
Benefits of Bumper Plates
Bumper plates are:
Extremely durable.
Good for protecting floors from damage.
Always the same diameter.
Good for heavy lifting (up to about 405lbs)
To protect floors, a powerlifting or CrossFit gym might encourage really strong athletes to use a combination of bumper plates and iron weight plates.
Benefits of Iron Plates
Iron weight plates allow you:
Stack heavier weights on a barbell to perform power focused exercises like back squats, deadlifts, or power cleans.
Compete or practice for strength sports like powerlifting.
Last a long time, when used indoors on proper equipment.
Are Bumper Plates or Iron Plates Better?
For a GPP-focused program like CrossFit, bumper plates used with a standard Olympic barbell are probably your best bet. You'll give yourself freedom to perform the most exercises this way.
If pure strength is your goal, or you want to compete in powerlifting, the best weight plates will likely be iron plates. You'll be limited with bumper plates for both the squat and deadlift after several months/years of training.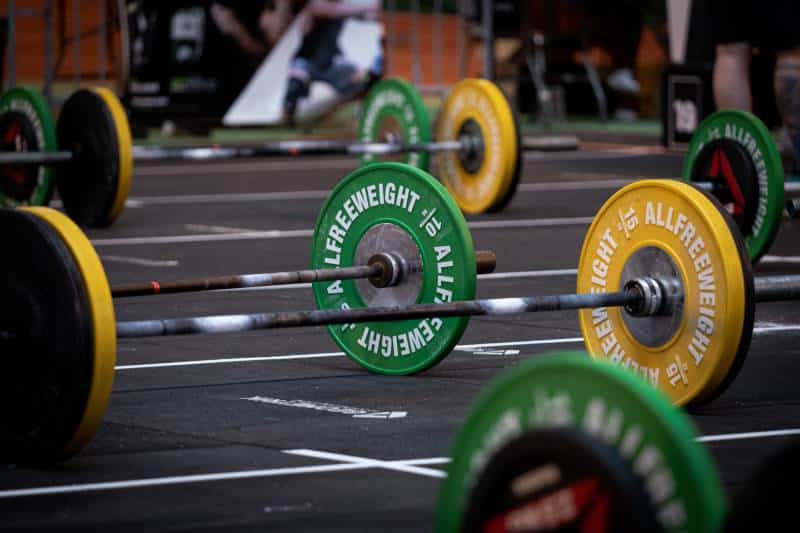 Olympic Plates vs. Bumper Plates
Olympic plates offer more of a dead bounce than bumper plates or iron weight plates. The barbell won't bounce all over the place or go higher than your knees, like some older virgin rubber products might.
Our Top Pick
That said, an Olympic plate typically costs more than a bumper plate or iron plate. You may have to build your set up slowly as you expand your gym.
Benefits of Olympic Weightlifting Plates
Competition plates are thinner than other types of plates. They're also made with a steel core which means they're weighted to exact specifications. (Over time, virgin rubber bumper plates can wear down and may look some uniformity/weight.)
Of note: using Olympic competition plates on surfaces like gravel can damage your plates permanently, which may make it hard for them stay accurately weighted. They're best used with an Olympic weightlifting platform, which you can either buy or build DIY.
Are Olympic Plates Better?
Olympic plates tend to cost more than any other training plates. If you're strong and have the budget, they are probably the best bet for most types of programming.
The International Weightlifting Federation uses their own standard weight plates to ensure all plates are accurately weighted during competition.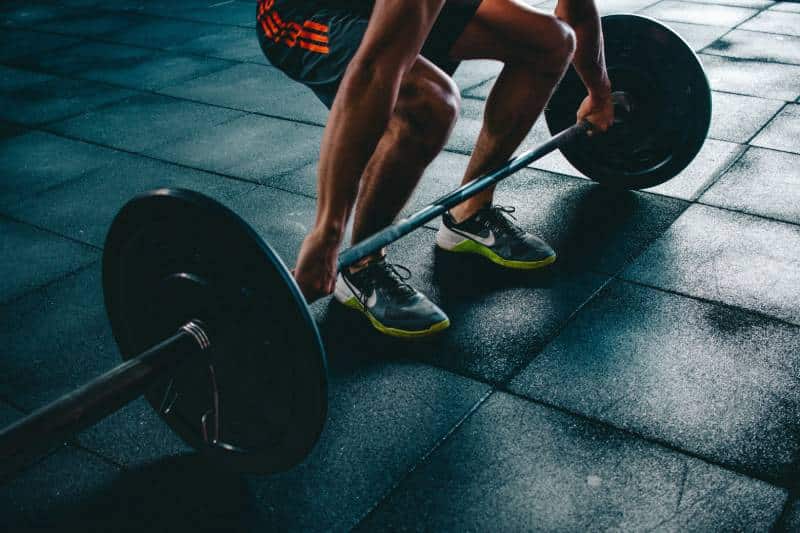 Bumper Plates for CrossFit Movements
Many choose bumper plates over other types of weight plates for a GPP program like CrossFit.
Here are some of the movements CrossFit athletes use bumper plates for:
Power focused exercises like deadlifts, squats, cleans.
Metcon staples like sumo deadlift high pulls, bar over burpees,
Core exercises like weighted planks and Russian twists.
Grip training exercises like plate holds.
CrossFit bumper weight plates should always be a uniform diameter. This ensures you can drop the weight properly and do things like bar over burpees without any trouble.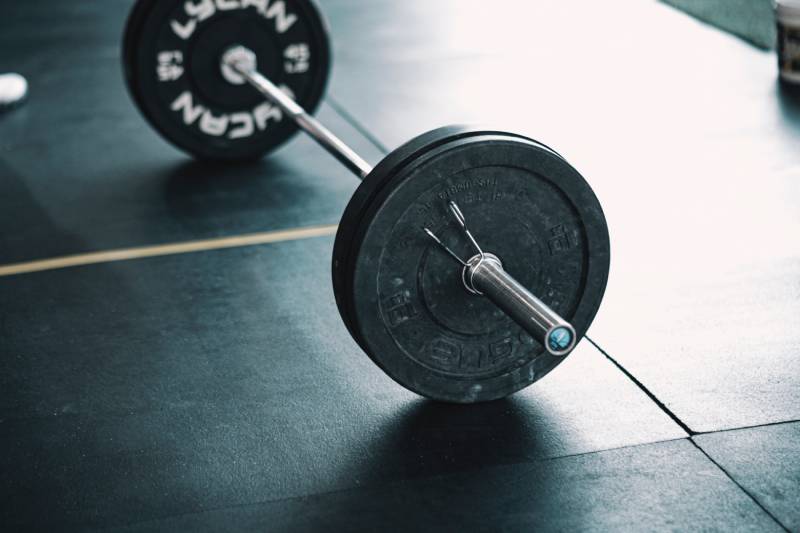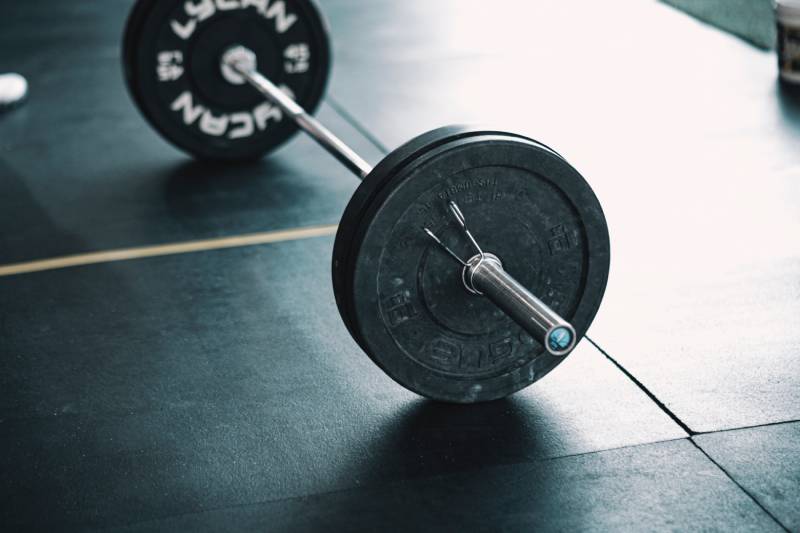 Bumper Plates: FAQ
Are Bumper Plates Worth It?
For a home gym or CrossFit setting, bumper plates are definitely worth the investment. You'll save your floors and reduce noise by investing in the plates.
Cast iron plates may be the better choice for equipping a home gym if you aspire to compete in powerlifting. Standard barbells can hold four rubber coated weight plates or urethane bumper plates on either side, unless they are the thinner competition bumper plates.
Are Bumper Plates Easier to Lift?
Nope! Strength matters above all else. Unless you figure out a way to defy gravity when lifting weights, bumper plates will feel the same as cast iron plates, steel plates, or any other type of standard weight plates.
Do You Need Bumper Plates for Deadlifts?
You don't need them, but having bumper plates can make deadlifting in commercial gyms, second floor fitness facilities, or areas with hard floors more accessible.
Do You Need Bumper Plates for Power Cleans?
No, but they're strongly encouraged, especially when you start out. In CrossFit, where high rep power cleans are programmed and the bar is repeatedly dropped, it's definitely a good idea to have access to bumpers. If, for whatever reason, you decide to lift weight plates without bumpers, make sure you are working on a good virgin rubber floor. Otherwise, you'll damage both the floor and plates.
Can You Use Bumper Plates for Bench Press?
Just like a squat rack, bumper plates can easily be loaded with bumper weight plates on each side of a bar for bench presses. Keep in mind, though, the thickness of the plates may load one side of a bar more than traditional iron plates do—meaning you may have to load one plate at a time on each side.
Will Bumper Plates Damage Concrete?
Unlike iron plates, virgin rubber bumper plates won't damage concrete—assuming it isn't old and/or cracked already. An iron weight plate will definitely crack concrete if dropped repeatedly, especially from a hang or overhead position. The latter scenario should never be considered for strength athletes of any experience.
Can Bumper Plates Be Left Outside?
No matter the material, you shouldn't leave bumper plates (or barbells, for that matter) outside. Weightlifting equipment can be damaged if left in the rain, snow, or even after long-term exposure to humidity. Home gym equipment is expensive, so it's best to protect your equipment by keeping it indoors whenever possible, even if that means hauling it outside each time you lift weights.