Do you want to take your full-body workout to the next level? Wondering which rowing machine between Concept 2 model D vs E is the best?
Among the most popular and well-known brands in rowing machines, Concept2 offers models that are highly regarded for their quality and performance. But how exactly do they fare against each other? Let's find out in our Concept2 Model D vs E comparison.
In A Hurry? Here's a Quick Comparison
Pros:

Stainless Steel

Higher off the ground

Durable yet foldable frame

High-performance monitor (PM5)

Pros:

More affordable

High-performance monitor (PM5)
Our Top Pick
Pros:
Stainless Steel

Higher off the ground

Durable yet foldable frame

High-performance monitor (PM5)
Best Price
Pros:
More affordable

High-performance monitor (PM5)
In short, what are the key differences between the Concept2 Model D and E?
The Concept2 Model D and Model E rowers primarily differ in their design and height. While both offer the same resistance mechanism and performance monitor, the Model E is taller, making it easier to get on and off, and it has a more robust frame with a higher seat position relative to the Model D.
How Am I Qualified to Write About These Products?
As someone who's always had a consistent workout schedule, I've had the pleasure of trying out all sorts of exercise equipment as part of my gym-going experience. But even among those high-tech and broad-spectrum offerings, you can't exactly take on every machine.
Not only do you need to sift through a lot of models, but you also need to understand the special features that make one machine better than another. Some have specialized parts that allow you to customize your workout, whereas others are designed for a more intense session.
Best Rower for Beginner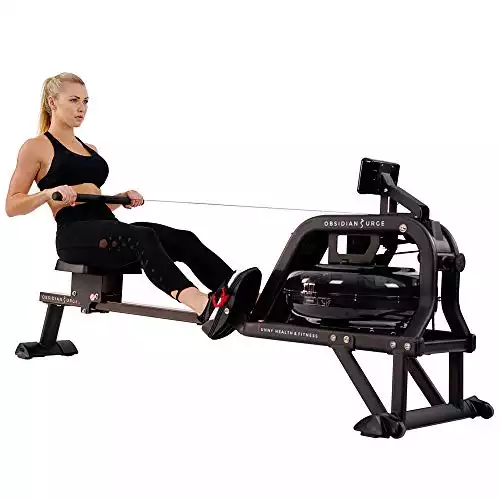 In my case, I wanted to try indoor rowing machines and see what kind of experience I'd get from them. Seeing as most of them can be used in the comfort of your own home, you don't have to worry about long lines or waiting for your turn. After giving both devices a good run and comparing their characteristics, I have good insight into the key contrasts between them and how each one can benefit you.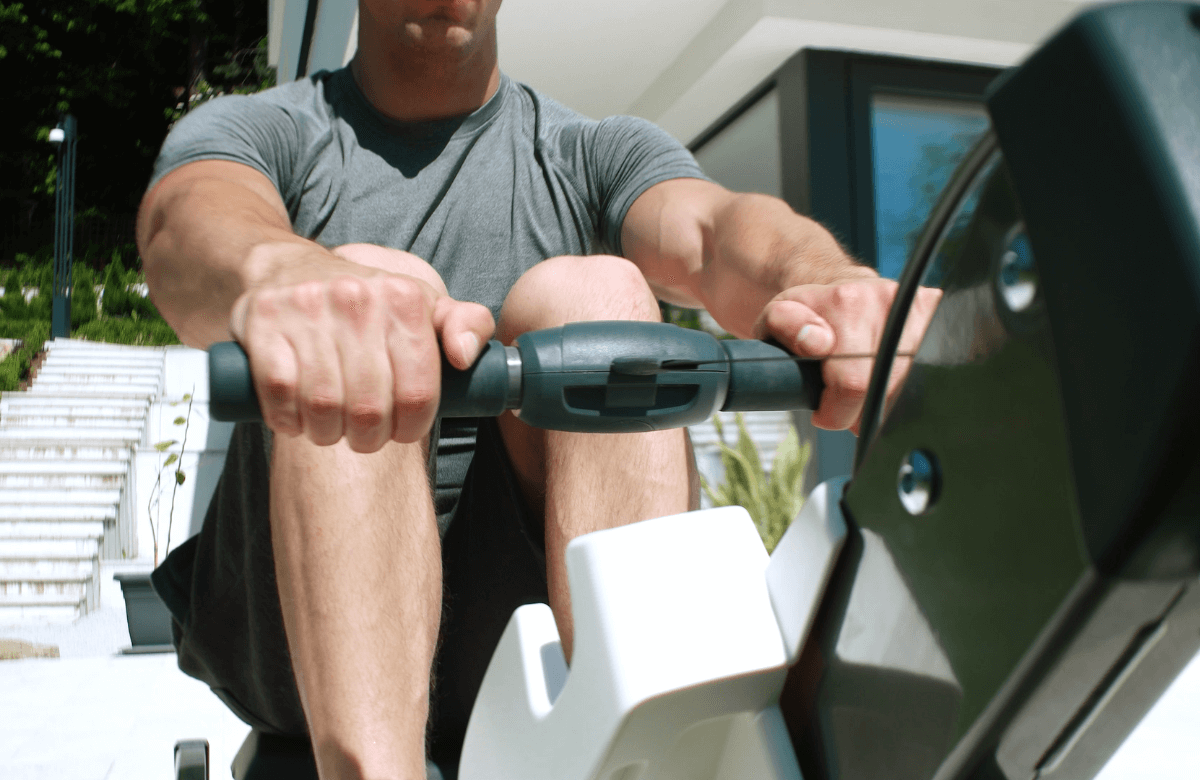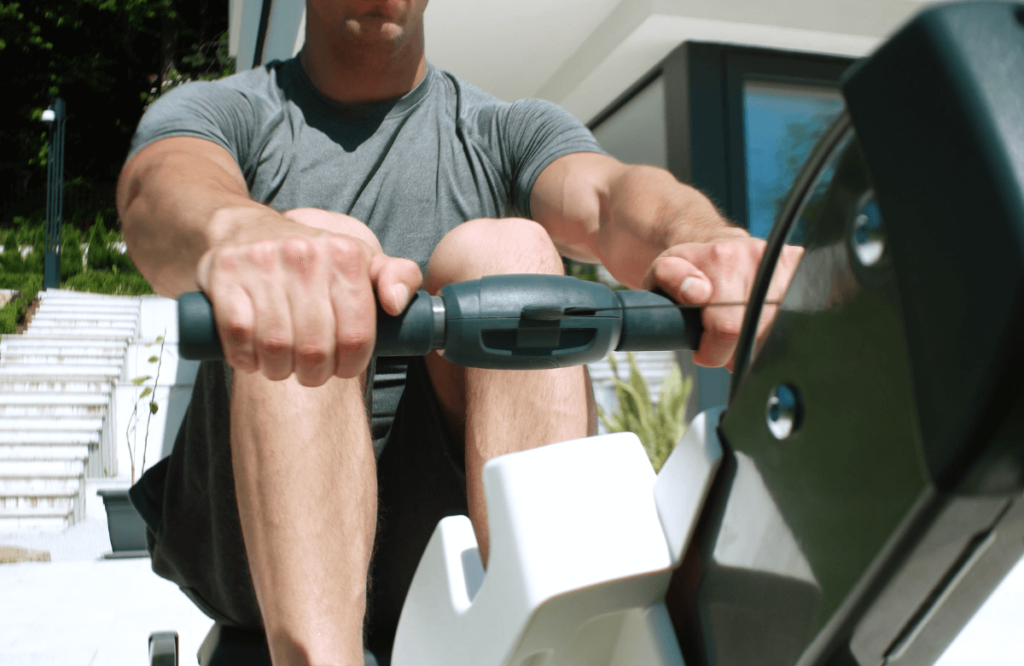 Who Is This Guide For?
The specific rowing stroke of these machines lays down the groundwork for effective workouts and cardiovascular training. If you're the type of person who likes to focus on various muscle groups at a time and build strength simultaneously, then you'll certainly want to take a peek at Concept2's offerings.
But this doesn't mean that it's tailored towards competitive athletes or experienced gym-goers. In fact, it's ideal for anyone who wants to take the fitness world into their own hands and perform different exercises without having to leave their house. The movements are simple enough to be handled by newcomers, and the range of difficulty can also help you stay motivated throughout your fitness journey.
How We Picked Each Product
When there's an avalanche of information and products on the internet, there's a certain degree of research that needs to be done to navigate the information. Naturally, we checked out some of the internet's most candid online forums in the form of Reddit and Quora. This is where the hidden gems truly lie, with people giving detailed accounts of their thoughts and opinions on the products they've used.
We also made sure to look into customer reviews on major retail platforms like Amazon, Rogue, and Titan, and read up on any reports that may be available. This gives us a better perspective of how the products have been received in the market and what kind of features are available.
And of course, we dabbled in some of the more technical aspects and read up on professional reviews by reputable websites like Rowing Machine Guide and Garage Gym Reviews. In this way, we're essentially leaving no stone unturned in our pursuit of the latest scoop on these amazing rowing machines.
Concept 2 Model D vs E: How We Compared These Rowers?
Even with two Concept2 rowing machines that seemingly offer the same level of performance, they're not exactly the same. To make the comparison easier to digest, we tackled several aspects of the devices that are crucial for a successful full-body workout. We drew lines between the two models and their respective designs on the following features:
Resistance levels – The way the machines handle resistance can greatly affect how intense your rowing session will be. Not everyone has the same strength training goals, so the machines must be able to adjust accordingly.
Build and Design – Even though both machines are made by Concept2, their construction and shape differ in a few ways. This can affect the overall feel of your workouts and how much space they take up in a house.
Weight Capacity – For a consistent weight loss program, the machines need to withstand a few extra pounds, to begin with. No one wants to be stuck with a Concept2 rowing machine they can't use because of its limited weight capacity.
Price Range – Depending on your budget, one might be more suitable than the other. We can't forget to include this aspect in our comparison, since money is still a major determining factor for most home gym setups.
The Products
And now it's time to dive into the real meat of the matter. What can you expect from either of the two options and how can they actually support your fitness level and goals?
Best Overall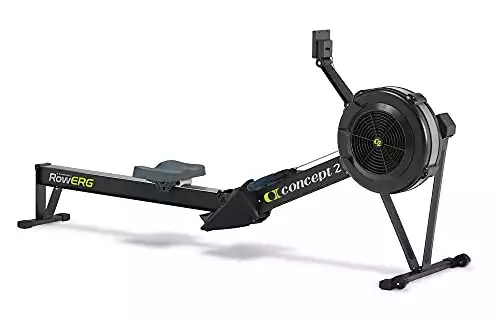 Concept2 Model D
While this rower falls on the higher end of the price spectrum, its exceptional build quality and comprehensive feature set make it a valuable investment for rowing enthusiasts.
Pros:
More affordable

High-performance monitor (PM5)
See at Amazon
See at Rogue
Perhaps one of the most widespread rowing machines out there, the Model D has earned its place in the hearts of novice and Olympic athletes alike. It's a fantastic entry-level device with a few additional features thrown in for good measure, all packed in a sleek matte black finish that definitely speaks for itself.
Pros
Often considered the gold standard in the rowing industry
Straightforward and smooth rowing operation
High-performance monitor (PM5) with several modes
Durable yet foldable frame for reliable operation and convenient storage
Cons
Lower on the ground

Somewhat loud flywheel compared to other models
Key Specs
| | |
| --- | --- |
| Size | 24″D x 96″W x 14″H |
| Resistance Type | Air |
| Max User Capacity | 500 lbs |
| Frame Material | Stainless Steel, Aluminum |
Why It's Great
The semi-open fan at the end of the frame is large enough to provide admirable resistance levels without overwhelming the user. For most air-resistance rowers, the harder you pull, the more resistance you get – and this is exactly what happens with the Model D.
The damper setting has a total of 10 different levels, giving you complete control over the type of full-body workout you want. Keep in mind that cranking it straight up to 10 for a rigorous session isn't exactly the best idea – although it may sound tempting, the high levels can cause your muscles to tire more quickly.
Finally, the performance monitor is quite the powerhouse. The PM5 is a massive upgrade from the previous versions and comes loaded with plenty of metrics that help you keep track of your progress. This includes pace, calories, watts, distance, and strokes per minute. It's entirely Bluetooth-compatible and offers wireless connectivity for data sharing and tracking.
Our Top Pick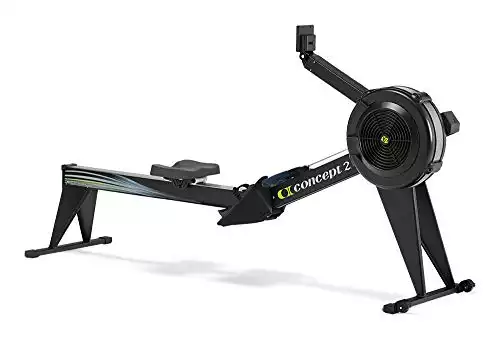 Concept2 Model E
The focus on ergonomic design with the Model E is quite clear. It has a comfortable seat height that goes just above what most other rowing machines offer, and is overall more durable.
Pros:
Stainless Steel

Higher off the ground

Durable yet foldable frame

High-performance monitor (PM5)
Materials: Stainless steel
See at Amazon
See at Rogue
The Concept2 Model D's older sibling, the Model E carries the same sleek design but with a few extra inches in height for additional comfort. Its flywheel is quieter than the Model D's and its frame takes up more space, but it still manages to pull ahead in other areas.
Pros
Heightened seat rail for less strain
Wide footrests with adjustable straps
Ergonomic handle with a convenient 10-degree bend
Can be divided into two for compact storage
Cons
A bit heavy to move around
Larger footprint due to the added height
Key Specs
| | |
| --- | --- |
| Size | 24″D x 96″W x 20″H |
| Resistance Type | Air |
| Max User Capacity | 500 lbs |
| Frame Material | Alloy Steel, Aluminum |
Why It's Great
The focus on ergonomic design with the Model E is quite clear. It has a comfortable seat height that goes just above what most other rowing machines offer, which allows for a more fluid motion and minimal seat travel. The adjustable footrests are also quite handy, with straps that secure your feet while rowing.
The nickel-plated steel chain is a reliable and smooth-running addition to ensure the stroke is always consistent and dependable. The sturdy build is unlikely to give in, but if you ever notice the occasional stutter, simply apply some chain lubricant oil to get it back on track.
Lastly, the impressive performance monitor is the same as found in the Model D – you have access to all wireless heart rate monitoring, data tracking, and sharing options. The backlit display with a decent viewing angle and adjustable monitor arm are nifty little extras that make using the machine a breeze.
The Buying Guide
If you're struggling to figure out which air-resistance rowing machine can give you that impactful workout that you'd expect from going to fitness clubs, you'll need to consider other aspects of their build to replicate the experience.
Size and Storage
While the shipping dimensions may be one of the major differences between the two models, you'll need some additional space around the machine for a comfortable workout session. The footprint of either device may vary depending on how you use them – if you plan to fold it or keep it out in the open – but they both require at least a seven-foot area.
Best Rower for Beginner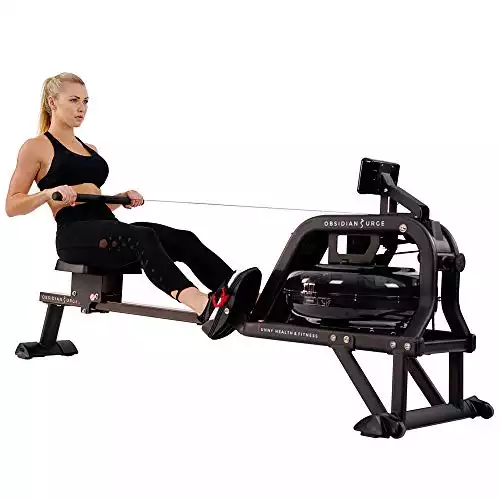 Assembly
Both options are relatively easy to put together, with all the necessary tools pre-packed and detailed instructions included in the manual. The Model E may take longer to assemble due to its height, but it's still a relatively straightforward task that doesn't require any special skills.
FAQ
What is the difference between Concept 2 Model D and E?
While they may look quite similar and come with the same display console options, the Model E has a longer monitor arm and an adjustable viewing angle. But it doesn't fold as easily as the Model D and its design takes up more space.
Is 20 minutes of rowing enough?
Absolutely – you can get an amazing workout with a 20-minute session. Of course, the intensity and resistance levels will determine how much extra weight you shed, but you should be able to see some results nonetheless.