Are you torn between these two gold-standard rowing machines – the Water Rower vs Concept 2? Not quite sure which one would suit your current fitness level and lifestyle in the best way? As much as the two options are hailed as the best in the market, there's a lot more to them than meets the eye.
To help you grasp their core differences, we need to go back to basics and break down all their specs.
In A Hurry? Here's The Main Specs
Product's name

Premium Option


WaterRower Ash Rowing Machine with S4 Monitor | USA Made |...

Compact Option


Concept2 RowErg Indoor Rowing Machine - PM5 Monitor, Device...
Verdict
Given the water-based functionalities of the WaterRower, the movements are quite fluid and seemingly effortless.
Each motion is consistent and predictable, with minimal effort required to maintain a steady stroke.
Deck Size
paddle resistance generated by maneuvering it inside the tank;
air-resistance system with an adjustable damper setting that can be changed to fit your needs and abilities
Rowing Feel
Realistic rowing sensation with adjustable resistance controllable through the dashboard

responsive pull and smooth movements without jerks or stutters
Size and Construction
long frame and more spacious water tank offer greater levels of resistance; minimized knee compression mainly due to its optimized design and smart features
slightly quieter than other air resistance models
Maintenance
simple to set up and requires minimal maintenance throughout;
Easy maintenance and a durable base

Price
$$
$$
Learn more
See at Amazon
See at Amazon
How Am I Qualified to Write About the Two Machines?
When it comes to gym equipment and training, I've always had a knack for identifying the most effective and practical products. I've been an avid gym-goer for as long as I can remember, often experimenting with different machines and approaches to assess their efficiency. It's more than just a hobby – it's an absolute passion, and I'm always excited to share my findings.
The WaterRower vs Concept2 debate is no exception – I've used both models extensively over the years, testing them in different fitness contexts. Some of the things I've looked for include how naturally the machines simulate a real rowing experience, as well as their maintenance and performance requirements.
For a home set-up, both options have their own unique strengths, which certainly deserve consideration. In such a private fitness setting, there isn't usually the same level of competitive focus that you might find in a gym.
Best Rower for Beginner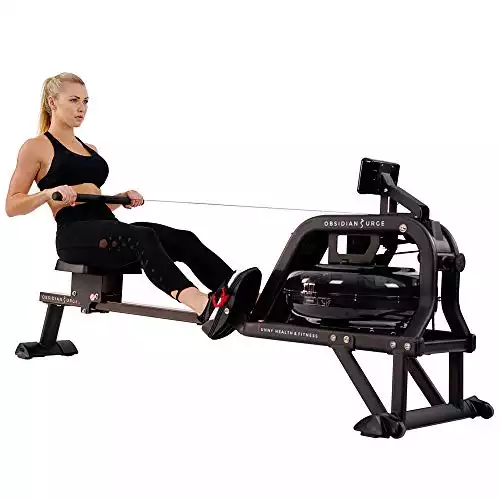 The needs of each user may also differ, depending on what they're looking to get out of the experience and how much they're willing to push themselves in search of their ultimate fitness dream. To uncover some of the ways in which these two options can aid in the process, we need to compare them head-to-head across several categories.
Who Is This Guide For?
It's simple really – it's for anyone who wants a full-body workout with the use of indoor rowers as a means to mimic actual rowing on water. Whether you're a die-hard athlete who's looking to up their game or a beginner who just wants to get in shape, having the right rowing machine can be instrumental to the success of your fitness journey.
The way these specific devices stand out in the gym equipment market is certainly worth exploring. Their features and capabilities are tailored to the needs of a wide range of users, with different levels of gym experience and various fitness goals. There aren't any major prerequisites to use either machine, and no complex installation process involved.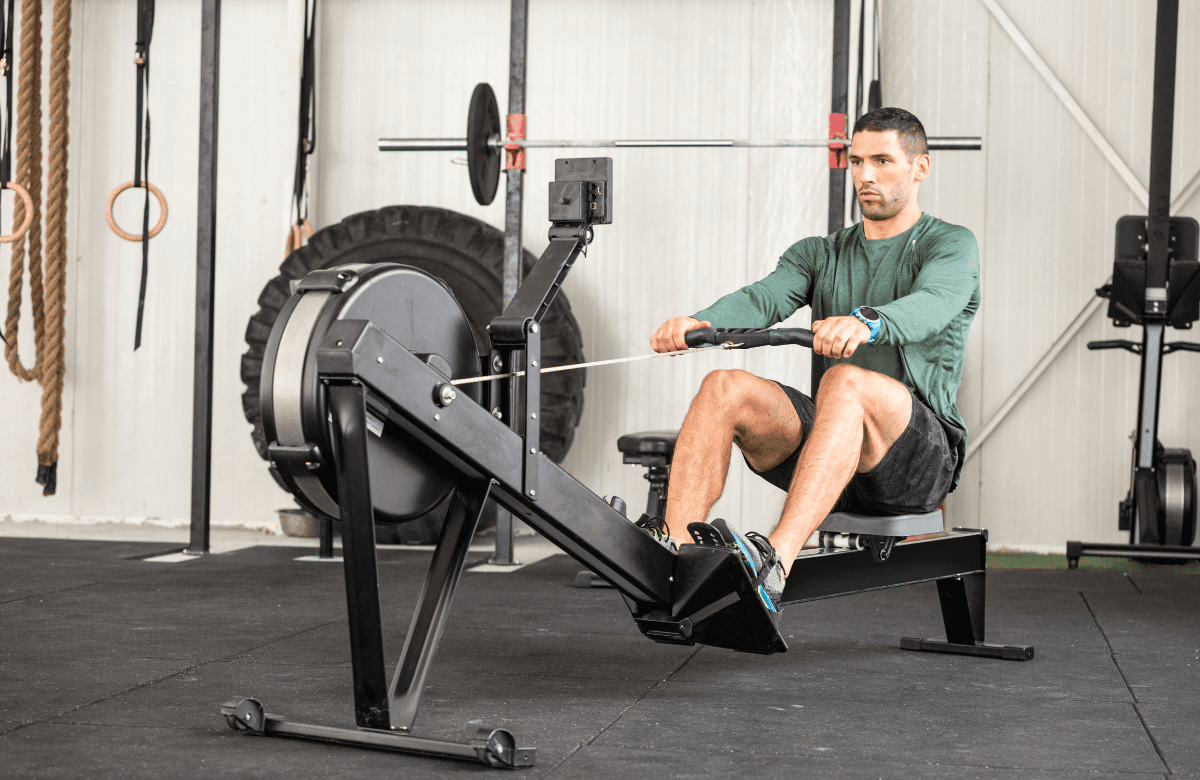 How We Picked the Best Products
For the utmost accuracy in the indoor rowing experience, the machines had to be chosen carefully while paying close attention to the details that made a huge difference in practice. To ensure we covered all angles of the debate, we had to scan the market and perform background checks on reputable websites such as RowingMachineGuide and TreadmillReviewGuru.
We also tapped into major forums like Quora and Reddit for honest user reviews and potential mishaps to look out for when making a purchase. People can be really vocal about the things that they like and super-critical when it comes to the things they don't. Their honest feedback was essential to a balanced assessment.
Of course, we had to visit the actual retailers too and see prices, delivery times, and other factors that go into making a sound buying decision. Amazon is definitely the leader when it comes to the availability of typical home gym equipment, offering competitive prices and a wide range of machines. And even there you can catch a glimpse of customer reviews and star ratings for each product.
How We Compared Water Rower vs Concept 2?
To settle the score between the Concept2 rowing machine and its water-based counterpart, we had to compare the two options side by side and assess them in different categories. Although they're essentially designed to do the same thing, there are still a lot of subtle differences in performance.
Type of Resistance – The way the resistance is generated and how it interacts with your body during your workout programs can make a huge difference. Not only does it affect the general feel when rowing, but it also determines the actual intensity of your session. Some users like the dynamic feel of water propulsion, while others prefer the uniform response that air resistance provides.
Rowing Feel – How your body interacts with the machine itself can be the deciding factor when it comes to choosing between the two. Rowing machines are all about the feel, with a slight difference in design making a huge difference in practice. As this is the core feature of the machines, it has a tremendous impact on the way you experience the workouts.

Size and Construction – Naturally, the size and construction of each machine play a huge role in the overall experience. Not only are they important when it comes to storage, but they also reflect their overall performance and durability. No matter how great the features are, a machine that doesn't last won't be worth your money.
Maintenance – Getting the most out of your rowing sessions requires some basic maintenance and upkeep of your device, regardless of which one you go for. You have to understand the implications of each machine in terms of how much energy and resources you'll need to invest in order to ensure smooth operation.
Price – There's a price to pay for quality, but that doesn't necessarily mean you have to break the bank. We took a closer look at the pricing schemes of each machine and discovered which one is more wallet-friendly in the long run. Having the best products is one thing, but having the most practical option is even better.
The Products
With that in mind, we'll now delve a little deeper into each of the machines and explore what sets them apart in the gym equipment market. Some might be content with the basic performance of one machine, while others might crave an intense rowing experience the other is known for.
Premium Option
Given the water-based functionalities of the WaterRower, the movements are quite fluid and seemingly effortless.
As the name suggests, the water rowing machine uses a water-powered flywheel to simulate a more authentic rowing experience on a real body of water. It's usually positioned at the front of the machine and generates resistance through a paddle that interacts with the liquid inside the reservoir. This particular design ensures an even and smooth stroke, without jerky movements or sudden stops.
Pros
Sleek design that fits in any home gym
Realistic rowing sensation with adjustable resistance controllable through the dashboard
Easy maintenance and a durable base
Minimal knee compression due to the flywheel design
Cons
The premium price tag might deter some buyers
Slightly bulky and takes up more space
The backlit screen is somewhat basic given its price point
Key Specs:
| | |
| --- | --- |
| Size | 82.25" L x 22.25" W x 20" H |
| Machine Weight | 66 lbs |
| Type of Resistance | Water |
| Max User Weight Capacity | 700 lbs |
Why It's Great
Given the water-based functionalities of the WaterRower, the movements are quite fluid and seemingly effortless. The machine requires more coordination but is ultimately more satisfying, as it mimics real-life rowing. The water drum inside the machine also cushions your stroke and gives you a smoother ride throughout.
The WaterRower is a bit bigger than the Concept2, but this is due to its more complex design. Its longer frame and larger water drum give it a solid build, making this piece of equipment feel more sturdy and reliable than its air-resistance counterpart. The handle also tends to be a bit more comfortable as it moves in the water tank, with an ergonomic design that feels natural when rowing.
Although it's a bit more intricate, it doesn't require a lot to keep it running. The only thing you really need to do is occasionally top up the water tank and check for signs of wear and tear on the handle and other parts. The reservoir itself is quite simple to fill up, and it's usually just a matter of minutes before you're ready to go.
Compact Option
Each motion is consistent and predictable, with minimal effort required to maintain a steady stroke.
On the other hand, the Concept2 uses a damper lever that's based on your relative strength and how hard you're pushing against the flywheel. It's an air-resistance system with an adjustable damper setting that can be changed to fit your needs and abilities. Its design ensures a responsive pull and prevents any sudden stops or jerks, despite being a more basic system.
Pros
Intuitive tracking programs and training options
Compact and beautiful design with ergonomic features
Dynamic rower resistance based on your effort
Low maintenance and easy assembly
Cons
A bit noisy in comparison to the WaterRower
Doesn't quite feel like you're on a real boat
Somewhat limited range of motion
Key Specs:
| | |
| --- | --- |
| Size | 96" L x 24" W x 14" H |
| Machine Weight | 57 lbs |
| Type of Resistance | Air |
| Max User Weight Capacity | 500 lbs |
Why It's Great
The air flywheel of the Concept2 is designed to be compact and lightweight, with the damper setting giving you more control over your resistance level and intensity. Each motion is consistent and predictable, with minimal effort required to maintain a steady stroke. It also gives you a sense of speed and power, making it quite appealing to athletes who need an intense workout in a short period of time.
The air rower is also relatively quiet, which can be a bonus for those who live in close quarters and need to be mindful of the noise. Plus, its operation is more straightforward, as there's no water to worry about. However, the air flywheel does require a bit more attention, as the settings can easily be changed and lead to a less efficient workout. You'll need to check for any loose bolts or parts and adjust them accordingly.
The Buying Guide
Even the most popular rowing machines have certain features that can make or break the deal for you. Knowing what you need and how you can use the machine to its fullest potential could save you a lot of time and money, as well as push you to reach your fitness goals.
Performance
All fitness enthusiasts will undoubtedly want a challenging workout that pushes their limits. If you're serious about rowing, you should look for features like a steady and responsive flywheel, numerous resistance levels and adjustable settings.
For the more competitive rower, each stroke should feel effortless and consistent, as this allows for better progress and results. If you're doing longer sessions on your machine, you need to make sure that your body can handle the intensity of each movement.
The high-strength cord of both the Concept2 and the WaterRower is particularly handy if you want to do high stroke rates and have an efficient workout. Its reliable form and construction also ensure that your muscles and joints are properly engaged, protecting them from strain.
In addition, the device should also be stable and secure, without any rattling or vibrating during your workout. Even though machines with water resistance offer a smoother ride, the air flywheels of the Concept2 provide more immediate feedback and make it easier to adjust the intensity of your stroke.
Best Rower for Beginner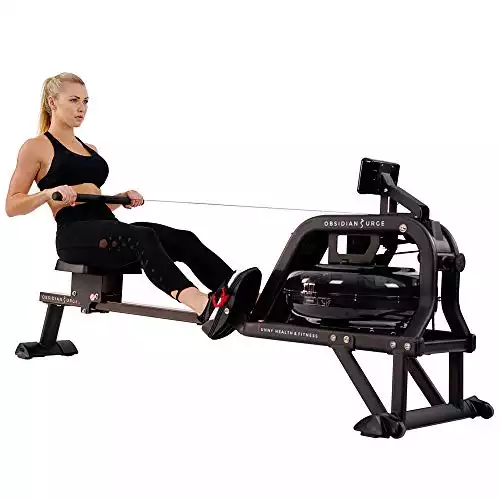 Comfort and Customization
As is the case with any typical home gym equipment, having an adequate design and good ergonomic elements is essential. Among the most important ones are adjustable footrests and handlebars that can be moved to your desired height. Not everyone's body is the same, so you'll want a rowing machine that can accommodate people of different shapes and sizes.
In addition, a contoured seat and shock-absorbing rollers can also contribute to a more comfortable experience. You don't want your joints to take the brunt of all that exercise, so it's best to equip yourself with a device that can provide some cushioning and support to these areas.
The height of the machine's legs should also be taken into consideration. If you're tall, you'll want to make sure that the frame itself is tall enough so that your feet won't have to dangle as you row. Likewise, if you're shorter or have limited mobility, a lower frame can provide easier access and greater comfort.
Material and Color
Water rowers normally consist of a wooden frame, while air rowers are often made of metal. The type of material used can affect the overall feel and look of your machine, as well as its durability and resistance to scratching or rusting.
Given the constant contact with liquids, wooden frames require more frequent maintenance, which can be a hassle for some. On the other hand, metal flywheels tend to provide more stability and are less likely to be affected by moisture.
In terms of color, the majority of water-based devices come in a variety of brownish shades, while air rowers often have a more modern look and feel with brighter hues. There's no right or wrong answer here, so it's all about finding the color that best matches your style and home decor.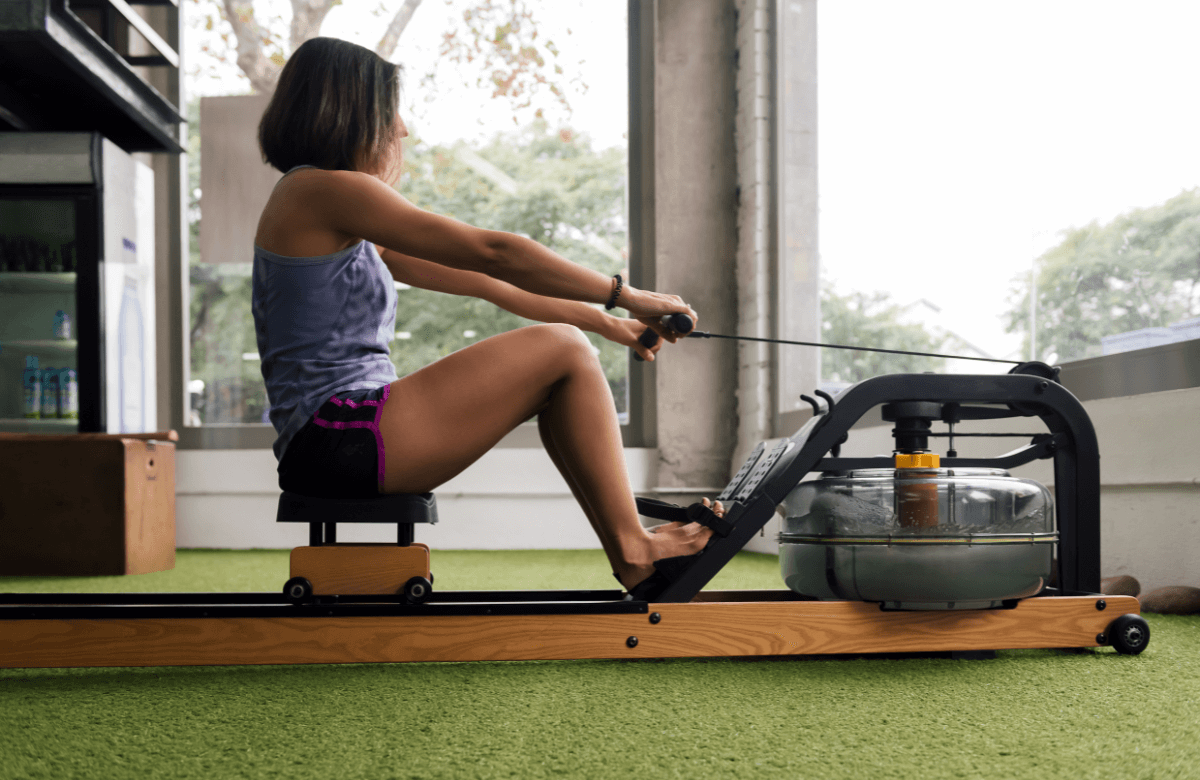 Performance Monitors
Most fitness products feature some kind of tracking feature that can help you monitor your progress. This usually includes heart rate monitors, calories burned, and other metrics that can help you stay on top of your performance.
If you're into more advanced rowing techniques, you should also look for options like interval training, race simulators and competitions with other users. This can help you challenge yourself further and stay motivated with your workouts. Plus, you can compare your stats with family, friends and other users worldwide.
Is WaterRower harder than Concept2?
In general, there isn't much difference in terms of difficulty or intensity between the two machines. Your rower of choice should really depend on your personal preference for resistance type, design and customization options.
What is the most realistic rowing machine?
Water rowers are typically seen as the most realistic, since they use natural water resistance to mimic the feel of rowing on a boat. However, Concept2's air flywheel can be adjusted to provide a similar experience and feel, albeit a bit noisier.
Can you get ripped by rowing?
Yes, rowing is a great full-body workout that can help you burn fat and build muscle. Depending on the intensity of your exercises, your progress will vary. You can also use interval training and other techniques to speed up the process and help tone different parts of your body.