During the '80s, spinning bikes and treadmills revolutionized the health and fitness industry, just like Sony's Walkman did with music.
But, despite all this, rowing machines didn't stay behind for long.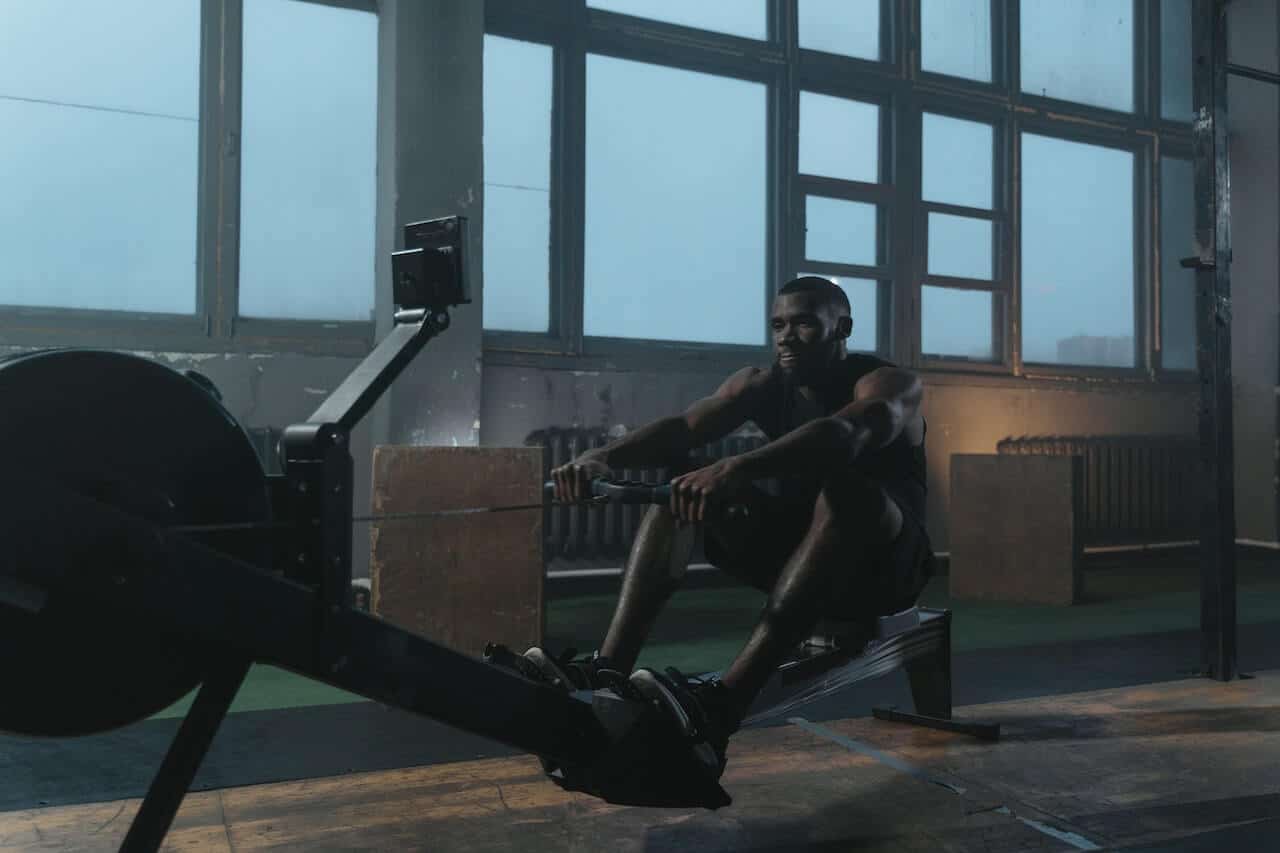 Indoor rowers were first designed in the Mid-19th Century to help professional rowers improve their stroke mechanics and enhance their performance throughout the season. 
Little did they know it was going to transform an entire industry.
Best Rower for Beginner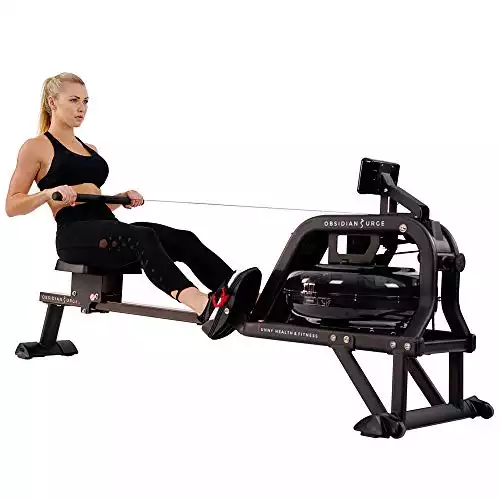 Do rowing machine help you lose weight?
Rowing requires the activation of major muscle groups such as the quadriceps ("quads"), latissimus dorsi ("lats"), and spinal erectors (mid-low back). 
All are responsible for a vital energy expenditure originating from each stroke.
Since our goal here is to lose unnecessary weight, we need to reduce our calorie intake or increase energy expenditure.
Rowing happens to be great at the latter and with a lesser impact on our joints.
According to Wisconsin's Health Services Department, a 60-minute rowing session at moderate intensity can help us burn up to 600 calories and more than 4,000 calories per week.
This article will teach us how to row our weight off, learn the basics of rowing, and a few workouts to get us on track.
Understanding weight loss
Many strategies can help us lose weight. Independent of diets and exercise regimes, it all comes down to a net calorie deficit.
Meaning our calorie intake needs to be less than our calorie output. Or bluntly put: we need to move more than what we eat.
It does not matter if we try Keto diets, Paleo, Carnivore, or Vegan. As long as we maintain a caloric deficit, we are on target.
Understanding that losing weight is a nonlinear process can help us endure the inevitable ups and downs since it can rapidly become psychological warfare.
Although the first 8-12 weeks can be encouraging for beginners, looking at the longer term (24 weeks and beyond), only 10-20% maintain the weight loss, which is nothing short of frustrating.
Obesity remains a significant and increasing health problem worldwide, with more than 40% of Americans suffering from overweight and cardiovascular diseases.
But, it doesn't have to be this way.
Benefits of losing weight
Taking a broader, more patient approach to health (losing weight in this case) can bring enormous benefits to our lives and those around us. 
For example, dropping around 5-10% of weight can improve our self-esteem, depressive symptoms, body image, and vitality.
These variables have a decisive say in our relationships, work environment, and mental health, mainly because of the negative stigma surrounding overweight.
Compared to individuals with a healthy weight, people who are obese or overweight have a higher risk of cancer, sleep apnea, and mental illness.
By 2030, 51% of U.S. population will become obese, says Finkelstein, et al (2012.)
Ward ZJ, et al. (2019)
Hence, it is wise to work towards our weight loss goals since it improves the quality of our lives and even increases our life span.
Best Rower for Beginner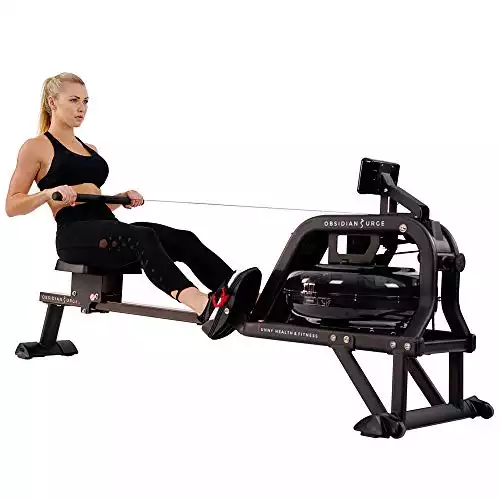 We can sense a feeling of positivity and optimism towards our daily duties when the scale numbers start going down and our strength and fitness level rapidly increases.
Losing weight has little to no downsides, and indoor rowing workouts can keep it fun and simple in a short period of time.
Rowing as a physical activity
The Obesity Reviews Journal defines physical activity (P.A.) as any bodily movement that results in energy expenditure.
45% of U.S. adults are insufficiently active, and more than 80% do not meet guidelines for body exercise.
Aerobic and Strength training are P.A. subcategories, with indoor rowing workouts fitting in aerobic training.
According to Jean‐Michel Oppert, et al, 20-30min of any aerobic exercise daily at a moderate intensity (50-70% of maximum heart rate) can help us prevent gaining weight.
Recommended Intensity and Heart Rate Zones
Intensity, strokes per minute, and calorie burn go hand to hand; thus, owning a heart rate monitor (myZone, Garmin, Apple Watch) becomes valuable.
Heart rate training allows us to be more specific with the rowing intensity required to get the most out of any rowing session.
Using the "220- age" formula, we get an estimate of our heart rate max (HRM), which fits into five zones ranging from 50-60% to 90-100% of our HRM.
A low-intensity workout is zone 1-3, while a high-intensity interval training (HIIT) is zone 4-5. Keeping the exercise intensity high will help burn more calories per day.
Today, the American College of Sports Medicine (ACSM) recommends more than 250 minutes of moderate P.A. per week to achieve significant weight loss.
International open-class and lightweight experienced rowers can burn more than 5,000 calories a week, says Messonnier et al.
During a high volume, high intensity, or tapering week, it can burn close to 3,000 calories per day, showing us the sport's intensity and caloric deficit.
A proper diet, strength training, and consistently rowing can make all the difference for most of us.
Luckily, our health status remains our responsibility, and any indoor rowing machine can aid in our quest to lose extra weight.
Learning the indoor rower
Besides its intuitive design, indoor rowers are built-in with a variety of preset workouts that will immerse anyone into all the possibilities available.
Concept 2 is the leading manufactures with more than 40 years in the market. They have launched five successful models, each with its features.
Model D, renamed "Rowerg" after April 2021, is their most recent. This is the same machine that Olympic and elite athletes use to train for their sport.
CrossFit, Inc. is famous for including indoor rowers in their training. They even had the athletes row a full 41k marathon on the 2018's CrossFit Games.
Other brands, such as Regatta and Hydrow, have their market share, with WaterRowers providing models with a water flywheel.
Most include tests such as 2k, 5k, and 10k meters row to help us adhere to the workouts. 
During a session, the monitor can show us our pace, watts, stroke rate, and calories which come in handy for tracking our progress.
Regardless of the brand, they are all valid options for anyone rowing for weight loss, and most require little to no maintenance.
Basics of Rowing Technique
There are four rowing moments that we need to pay attention to:
1) Catch.
2) Drive.
3) Finish.
4) Recovery.
Each of these parts plays a vital role in our stroke efficiency.
In this video, we can appreciate a fluent and efficient rowing stroke. Pulling too early, trying to create length, and resting in transitions are mistakes to be avoided.
The smoother we move, the more benefit we'll get from any workout routine; hence, investing time in bettering our rowing technique can quickly pay dividends.
Usually, it takes no more than a few weeks to start feeling comfortable on the seat and increase our calorie output. 
Calorie burning workouts
As aerobic training, rowing activates approximately nine muscle groups and 85% of the body's musculature through one full stroke, says Dr. Cameron Nichol, a British MD, and Olympic medalist rower.
During a stroke, the legs push through the quadriceps. At the same time, the upper body (spinal erectors, lats, posterior deltoids, neck extensors, trapezius muscles, and biceps) are all followed by the pulling.
The muscles involved create a push-pull synergy that gets the calorie burning going. Given this context, we can appreciate how rowing is a full-body workout guaranteed to strengthen our muscle tone.
Experienced rowers tend to be stronger than other endurance athletes based on typical strength tests such as leg extensions, says Dr. Stephen Seiler, a Sport Scientific from Norway.
A vital component of successful weight loss and maintenance is consistency. Many people start, but few rarely persist. 
To build momentum, we need to make it easier to keep coming back to the rower and nail a minimum of 8-11 weekly workouts.
Rowing Workouts: Beginners, Intermediates, and Advanced.
Concept 2, for example, has a Training Guide to help us with weight loss, and here's a hint of what we will find:
Longer Intervals — 4 minutes in length or longer:

3 rounds x 1,500 meters, with 3-5 minutes rest.
2 rounds x 2,000 meters, with 4-6 minutes rest.

Short intervals — less than 4 minutes in length:

30 seconds hard / 1:30 easy.
1 minute hard / 1 minute easy.

Variables length intervals — pyramids, step-ups, step-downs:

1-2-3-4-3-2-1 minutes hard, with rest equal to the work time.
3 rounds x500 meters, 3 rounds x250 meters, with 2 minutes rest in between rounds.
Combining rowing with bodyweight movements is also a fun way to mix it up.
In this 30-Minute rowing workout, the goal is to complete as many rounds as possible in the given time frame:
1,000 meters row
50 air squats
25 push-ups
Concept 2 also uploads daily workouts on its webpage, which can be convenient for some of us who lack time to prepare and structure a training program.
Whether we are beginners, intermediates, or advanced, anyone can do these workouts anywhere with little to no equipment.
Should you buy a rower?
Taking the first step to bettering our health has its merits to celebrate, but deciding to buy an indoor rowing machine requires some consideration.
To make your life easier, we compiled the advantages and disadvantages of owning an indoor rower in a world flooded with options.
Advantages:

Portable.
High ROI.
Durable.
Multiple workouts.
Bluetooth Phone connectivity.
Quiet.
Comfortable.

Disadvantages:
Concept 2 Rowergs cost up to 1,200 dollars per unit, while a "W1" WaterRower can get close to 3,000 dollars which might be out of reach for many.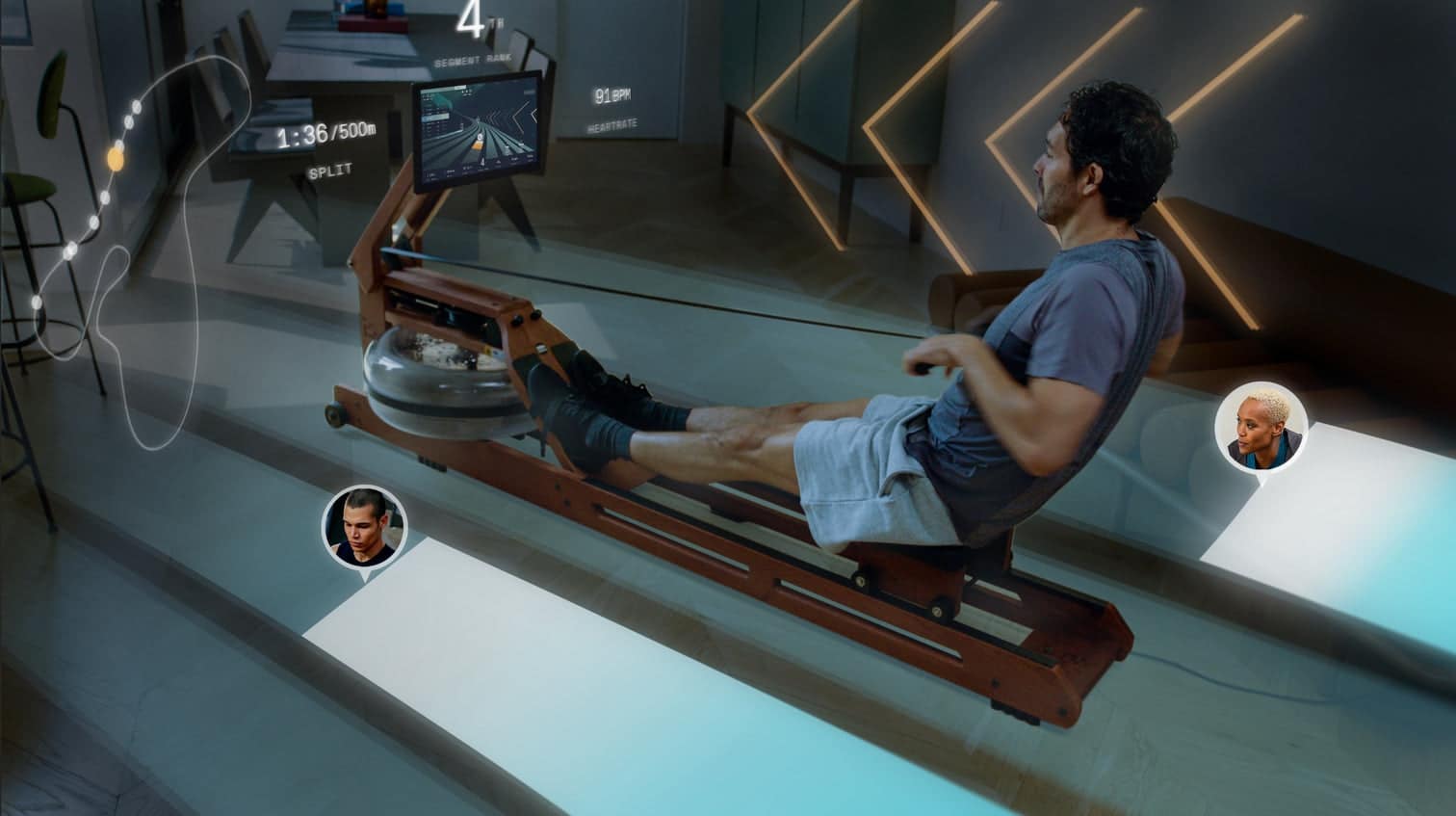 Nevertheless, having an indoor rower has many benefits that can easily overthrow the price tag. Plus, it is a single investment that will last in time.
Summary
Rowing has multiple benefits to our cardiovascular health and muscle strength. The affordability, portability, and variety of workouts make it a wise investment.
Compared to biking, running, and swimming, rowing is a very low-impact exercise that can be done anywhere, at any time, and by anyone.
Once we learn the basics of the technique, we can begin rowing our weight off.