Out of all the training options available to the modern fitness enthusiast, treadmills continue to reign supreme. With the help of digital technology, they've seen a major upgrade in recent years and are now more accurate, efficient, and fun to use than ever before.
Among the range of treadmill options now available, Peloton and NordicTrack have emerged as the two most sought-after brands. But how well do both brands fare against each other? To answer this question, we've put together an in-depth comparison of the Peloton vs NordicTrack treadmills.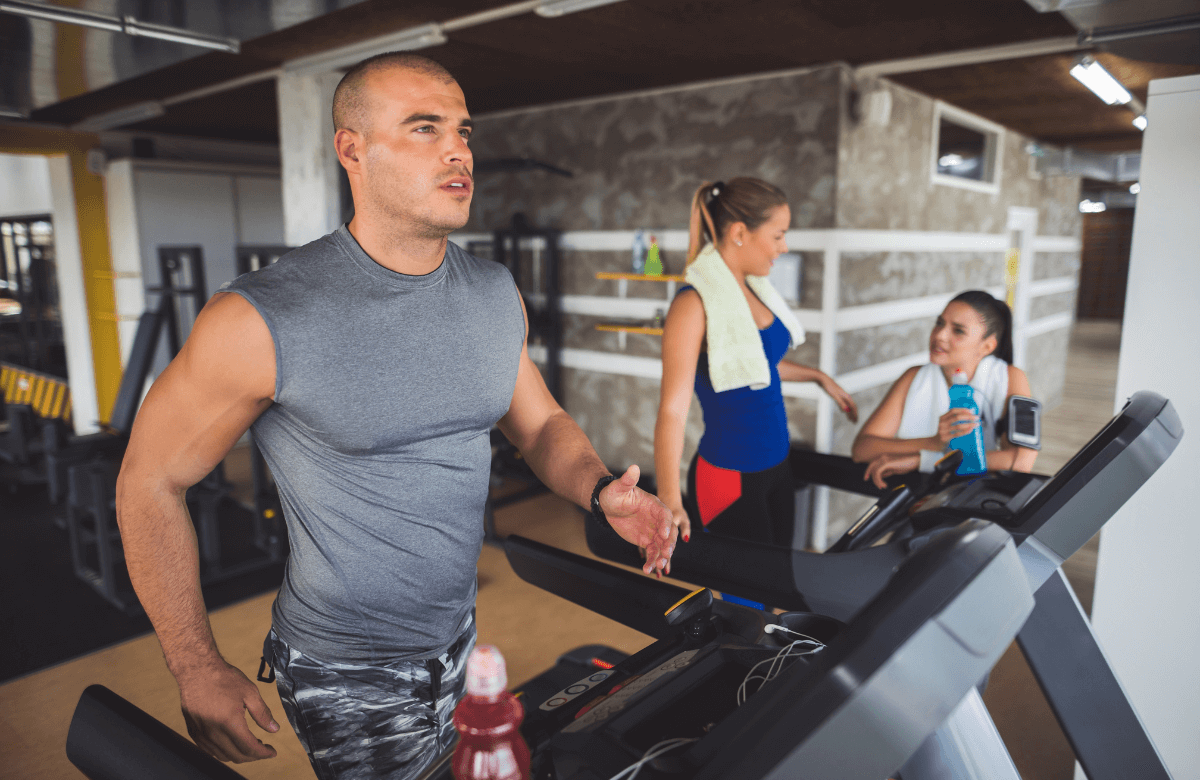 In A Hurry? Here's Our Best Picks
Product's name

Best Overall


NordicTrack Commercial 1750 Treadmill + 30-Day iFit...

Great Alternative


Peloton Tread

Best Incline Range


NordicTrack Commercial X32i Incline Treadmill with 32"...
Final Thought
The ridiculously sturdy and stable frame of the Commercial 1750 gives you the confidence to push it to its limits without worrying about any safety concerns.
The contemporary and attractive build of the Peloton Tread is an instant standout when you first lay your eyes on the machine.
Aside from being a literal beast of a machine, the Commercial X32i's incline adjustments are where the real magic happens.
Machine Size
80" L x 38" W x 65" H
68" L x 33" W x 62" H
76" L x 40" W x 73" H
Motor Capacity
3.5 HP
3 HP
4.25 HP
Max Speed
12 mph
12.5 mph
12 mph
Incline Range
-3% to 15%
0 to 12.5%
-6% to 40%
Max User Weight Capacity
300 lbs
300 lbs
 300 lbs
Price
$
$$
$$$
Learn more
See at Amazon
See at Peloton
See at Amazon
Why You Should Trust Us
When the BoxLife team came onto the fitness scene, we quickly proved our mettle to become the primary and authentic source of knowledge and content on the latest trends in workout equipment. Our reviews are always honest and thorough, with a dedicated blend of expert research and customer feedback.
We understand the struggles that plague the average gym-goer and the importance of having access to reliable information. We've come across a myriad of fitness products throughout the years and we've taken a deliberately thorough and unbiased approach to user experience and product grading.
Who Is This Guide For?
Have you seen the names Peloton and NordicTrack being brought up in most fitness-related conversations and want to know what all the fuss is about? Perhaps you're just dipping your toes into the workout world and you're really careful about which machine you put your money into. If all this sounds all too familiar, then this guide is for you.
Sunny Health & Fitness Electric Treadmill
Based on our testing, this is the best budget treadmill for beginners. For less than 400$, it has most essential features that you've come to expect, it's small and sturdy, frankly it offers great value for money. It's also backed with an 8 years warranty.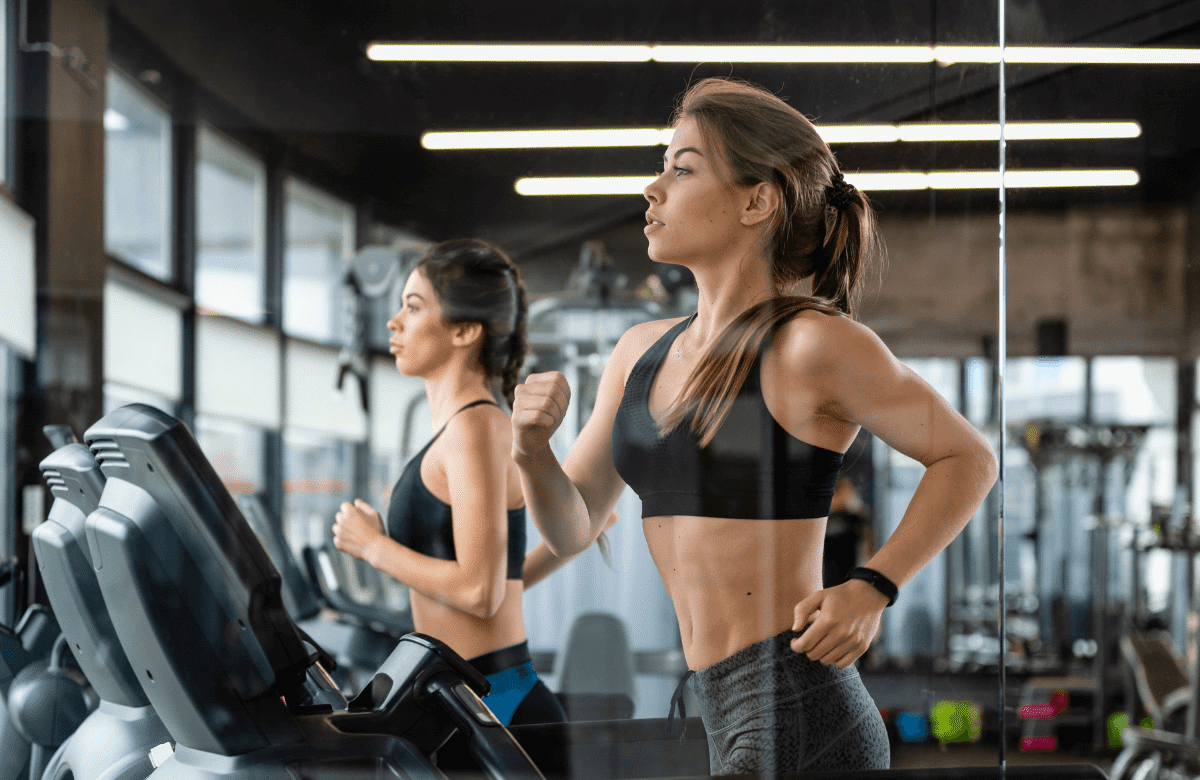 How We Picked the Best Products
In addition to our experience in the fitness industry, we consulted numerous users across the internet for their own take on the Peloton Tread vs NordicTrack treadmill rivalry. Naturally, we scoured social media platforms like Reddit and Quora for unfiltered and unbiased opinions from customers who had actually used the product.
We also looked up reviews from all the major retail stores like Amazon, Titan, and Rogue Fitness. This gave us a more generalized view of how each option holds up in the real world and whether it actually lives up to the hype.
How We Graded Each Product
After checking numerous customer ratings and reviews, we shortlisted a handful of products that made the cut and compared them to our list of carefully-selected criteria. Some models put a greater emphasis on customizability while others preferred advanced tech features, but in general, they followed a grading system that looked into factors such as:
Performance – We can't possibly evaluate a treadmill without considering its performance metrics. This refers to the general feel and response of the machine during different kinds of workouts. No one wants to invest in a piece of equipment that falls short of expectations or worse, can't even handle a basic jog.
Build Quality – Regardless of what kind of strength training you're engaging in, the build of the machine should be able to handle it. We analyzed how durable and long-lasting each product was, with an emphasis on the frame, drive motor, and belt components. They should be able to resist wear and tear while also staying true to their manufacturer's specs.
Tech Features – While both Peloton and NordicTrack offer a similar range of integrated features and extras, they have their own spin on how they make use of them. Based on our research, we looked into how useful and reliable each feature is, and how well it worked in tandem with the product's overall design.
Value for Money – Like it or not, a product's price range is a huge factor in how appealing it can be to the average consumer. We evaluated each machine's specs and features against its cost and provided an objective ranking of how well they justified their price. Sometimes, word of mouth gives a certain product an unjustified reputation, and it's our job to make sure that those are dispelled in favor of more deserving models.
The Products
Our handy scoring system eventually yielded conclusive results on the performance of each contender, and we were able to categorize them based on how they fared overall. Some of the top-tier machines in our selection included:
In a tough race, it was the Commercial 1750 that surged ahead of the competition, with its innovative design and comprehensive tech features. NordicTrack has hit the sweet spot with this model, balancing a multitude of features both inside and outside the console. Regardless of your fitness level or desired results, this machine packs a wide range of features that are more than enough to satisfy even the pickiest of users.
Pros
Streamlined and user-friendly console with a 14-inch HD adjustable touchscreen
Shorter deck height and slimmer motor housing for a sleek design
Both manual and automatic speed and incline adjustments
Folding frame and soft-drop deck for easier storage
Cons
Requires a continuous monthly subscription to iFIT to access all features
Doesn't have adjustable cushioning on the deck
Key Specs
| | |
| --- | --- |
| Machine Size | 80" L x 38" W x 65" H |
| Motor Capacity | 3.5 HP |
| Max Speed | 12 mph |
| Incline Range | -3% to 15% |
| Max User Weight Capacity | 300 lbs |
Why It's Great
The ridiculously sturdy and stable frame of the Commercial 1750 gives you the confidence to push it to its limits without worrying about any safety concerns. It packs a stainless steel frame with side stabilizers for extra strength, and its innovative console design puts the basics at your fingertips. The deck uses a hydraulic soft-drop mechanism to reach the floor, with reinforced support for the console to ensure a smooth and seamless transition.
Speaking of the console, it sits comfortably between the handlebars and uses a wide 14-inch touch screen to fit all your on-demand fitness classes, stats tracking, and other extras like music streaming and Netflix binging. You can tilt the display to suit your height and personal preference, while the crisp visuals and detailed metrics make it a pleasure to use.
Moreover, the quick-adjust speed and incline controls along the sides of the screen give you access to a wider range of levels, from 0-12 mph and -3% to 15% incline. You can customize these variables through pre-determined increments, for a less strenuous or a more challenging workout. Plus, the 30-day iFIT membership straight out of the box gives you access to a full library of workouts with personal trainers, and the Google Maps plug-in for virtual training is simply icing on the cake.
As far as ergonomics go, the soft cushioning on the deck has a thicker and more durable construction than the plastic on its counterparts. It's supposed to limit joint impact by 30%, which could explain its slightly more padded nature. But as much as it helps mitigate the shock, it does lack the adjustable cushioning seen in other models.
Who It's Best For
The Commercial 1750 caters to a wide variety of users. Its diverse speed and incline settings are a fantastic addition for both low-level exercisers and more experienced fitness fanatics, while its interactive console appeals to tech-savvy users. Its intuitive design and adjustability result in a treadmill that is both versatile and customizable, creating a complete tool for home workouts.
By no means is Peloton an underdog in this race – in fact, it's more than a worthy adversary to its NordicTrack counterparts. It has many of the same features as the Commercial 1750, with a similarly user-friendly console and fully customizable incline training and speed range, but it adds its own programming and safety features that instantly catapult its status to the top.
Pros
Active subscription with on-demand classes with Peloton professionals
23.8-inch high-definition touchscreen with responsive controls
Smartly-placed and well-positioned slats on the deck
Passcode lock to prevent children from interacting with the machine
Cons
The larger screen may wobble during fast-paced workouts
More expensive than other options of the same range
Key Specs
| | |
| --- | --- |
| Machine Size | 68" L x 33" W x 62" H |
| Motor Capacity | 3 HP |
| Max Speed | 12.5 mph |
| Incline Range | 0 to 12.5% |
| Max User Weight Capacity | 300 lbs |
Why It's Great
The contemporary and attractive build of the Peloton Tread is an instant standout when you first lay your eyes on the machine. Its minimalist and purposeful design doesn't stick out like an eyesore in any room and blends with your furniture without looking overly garish. The deck comes in at 8 inches tall, with four adjustable levelers to create an even base.
But since the uprights are directly connected to the frame instead of using separate stabilizers, the central console moves in the same way the handles do, which could be a nuisance for some users. The screen itself doesn't necessarily cause the wobbling, but rather the uprights that attach it to the frame.
Staying on the topic of the console though, the 23.8-inch HD touchscreen is a real pleasure to look at. The minimalist bezels on the sides guide your full attention to what's on the screen, and the responsive controls make it a breeze to navigate through your workout programs. And oh boy, is there a lot of them on the Peloton App.
From live studio classes to on-demand workouts from the pros, you have full control over which exercises you want to participate in. Plus, you can make good use of the outdoor routes, which include a manual running mode or a scenic run with drone-recorded footage from real-life landscapes. Both options are incredibly immersive and engaging, with a good blend of resistance and incline training thrown in for good measure.
Who It's Best For
Given its wealth of interactive features and variety of classes, the Peloton Tread is best suited for users with a keen interest in tracking their improvement on a regular basis with the use of technology. The console's responsiveness makes navigating through the different workouts easy and far less clunky than other immersive treadmills on the market.
When it comes to incline models, it doesn't get better than the Commercial X32i. With a massive 40-percent incline range and a powerful motor to back up the speed and resistance, it creates an intense workout experience worthy of a commercial gym. Not only does it help you push your limits, but the X32i also stands tall in aesthetics and comfort.
Pros
User-friendly and sizable 32-inch touchscreen
Reflex soft cushioning to minimize the impact by 40%
Longer tread belt with stabilizing rollers
Bluetooth-compatible heart rate monitor with chest strap included
Cons
Quite heavy and needs two people to move it
The cushioned deck can get a bit bouncy after 9 mph
Key Specs
| | |
| --- | --- |
| Machine Size | 76" L x 40" W x 73" H |
| Motor Capacity | 4.25 HP |
| Max Speed | 12 mph |
| Incline Range | -6% to 40% |
| Max User Weight Capacity | 300 lbs |
Why It's Great
Aside from being a literal beast of a machine, the Commercial X32i's incline adjustments are where the real magic happens. With a 40% maximum incline, your workouts get a serious intensity boost as soon as you hit the up arrow, effectively targeting your glutes and hamstrings to minimize quad dominance and engage more muscles.
The 32-inch touchscreen is also quite the visual feast for your training, with intuitive and responsive controls to help you navigate seamlessly from light walking to more energized running. The base pivots up and down gently, giving you a full view of useful metrics like your heart rate, speed, and running time. The only downside is that you can only use it with the iFIT subscription since it syncs with the service automatically upon setup.
But having the iFIT service isn't exactly a setback – sure, it does come at a cost after the 30-day free trial but the access to professional workouts, advanced routes, and tech-enhanced metrics is worth every penny. You can choose the kind of strength workout you want, from hiking and running sessions to full-body workouts and even yoga stretches that target multiple muscle groups at once.
Finally, the ergonomics department has all bases covered. The deck is cushioned to reduce the impact on your joints and the extra-long tread belt of 60 inches has more than enough room for even the longest of strides. Two pairs of 3-inch steel springs, one at the base and another one in the middle, offer unmatched stability and the included Bluetooth-compatible heart rate monitors on the padded handlebars help you stay in your target zone with precision.
Who It's Best For
Most incline trainers are heavy and take up a lot of space, but the Commercial X32i manages to pack all the features in a relatively compact and lightweight package. Plus, it boasts an admirable incline and decline range for high-intensity interval training and improved muscle-building without having to leave your home.
The Buying Guide
Even though all fitness equipment basically serves the same purpose – getting your limbs moving and your heart pumping faster – there are certain variables that determine the overall quality of your workouts. Of course, the manufacturer's unique features are definitely a selling point, but some universal categories are equally as crucial to consider when buying a treadmill.
Safety Features
We've all seen at least one of those videos where people lose their footing on a treadmill and fall face-first onto the deck, but you'd be surprised at how often this happens. A safety key is the difference between an injury-free workout and a trip to the ER, so make sure the machine you're getting has some sort of safety feature included.
This can be in the form of a clip-on key that you attach to your clothing and plug into the corresponding port on the machine, the so-called kill switch that stops the belt when you trip, or even a low-profile emergency shutoff that lets you hit the big red button in case of an accident.
Sunny Health & Fitness Electric Treadmill
Based on our testing, this is the best budget treadmill for beginners. For less than 400$, it has most essential features that you've come to expect, it's small and sturdy, frankly it offers great value for money. It's also backed with an 8 years warranty.
In addition to this, certain machines come with built-in features that enhance your overall safety and comfort. A wider running platform can be especially useful for tall users with long strides, offering a greater sense of stability than traditional models with shorter decks. Not only does this contribute to the overall safety of your training, but it increases the effectiveness of your workouts.
Furthermore, look for models that come with a padded handlebar with adjustable height and touch controls that let you keep track of your speed and incline without ever having to interrupt your routine.
The deck height in particular is an often overlooked feature that greatly affects your safety when stepping onto and off the machine. Lower models are usually easier to get used to and require less effort when changing positions, while higher decks can be more difficult to manage for people with joint problems.
Display and Connectivity
Back in the day when treadmills were a novelty, the most advanced models had nothing more than an LCD display with basic metrics and a few buttons for controlling the speed. It's not that this arrangement had no merits – after all, it worked just fine for tracking your progress. But with the advancement of technology, manufacturers have upped the ante by introducing full-color touchscreens and Wi-Fi connectivity on their machines.
This means that, in addition to the basic metrics, you can now keep track of your heart rate and performance with the help of the included Bluetooth-compatible chest straps, which sync up with your favorite fitness apps or even the machine's proprietary software. This gives you better insight into your training and offers more opportunities for progression – something that was simply impossible with older models.
Moreover, with built-in TV screens and a wide selection of streaming apps like Netflix and Hulu, you can now watch your favorite shows or movies while you run, bringing some of the comforts of leisure activities into your workout. The only downside is that not all models support this kind of functionality, so if this is something you're interested in, make sure to check the specifications of each machine before committing to one.
But if you're not entirely sold on tech-heavy models, then you can always go with the more traditional displays that offer a more rudimentary array of metrics and no extra features. This doesn't mean that your training has to take a hit, as these simpler machines still provide the core components you need – such as speed and incline controls – without all the extra bells and whistles.
Motor Capacity
As the driving force behind your treadmill, the motor plays a vital role in how it performs. The main thing to look at here is its capacity – that is, how much power it offers. Higher-capacity motors are usually more powerful and efficient, relying on fewer revolutions per minute to get the job done. This translates into a slicker, more durable experience and ultimately longer life expectancy for your machine.
On the other hand, lower-capacity motors are often less powerful and require more effort to get up to speed. This makes them a better fit for casual users who only plan on taking part in occasional workouts and don't need all of the advanced features that come with higher-end models. The trade-off is that these machines tend to be less reliable and require more maintenance, which can quickly add up in the long run.
Incline and Decline Options
While the maximum speed is objectively important, it's the incline and decline options that will help to take your workouts to the next level. A high incline or decline angle can simulate various terrain types, from city streets to mountain trails, and provide a much more dynamic workout than the traditional flat option.
Think of it this way – is it more challenging to run on flat ground or up a steep hill? The answer is obvious, and the same principle applies to treadmills. Most models have both automatic and manual incline settings, so you can tailor your workouts to exactly how you want them. If you're just starting out, then opt for the automatic settings – they'll be less challenging at first and will help to build your strength before advancing to manual.
Warranties and Return Policies
The standard warranty for most treadmill frames is usually 15 years, which is plenty of time to get your money's worth. As for the motor and other components, most manufacturers offer between 1-3 years of coverage depending on the model. Sometimes, additional cover is offered, though this usually comes with an extra cost.
In addition to a warranty, it's also good practice to check the return policies of each manufacturer. This will give you peace of mind that if the machine fails to meet your expectations, you have a way out without losing out on your purchase. You might have to pay a return shipping charge, but compared to the cost of a complete replacement, it's still worth it.
Budget and Available Space
As much as we all want to break free from the shackles of financial constraints, there's no escaping it – the cost of treadmills varies greatly, and if you're on a budget, then your options will be limited. That being said, there are plenty of decent models available at an affordable price, so you don't have to opt for the top-of-the-line machines if you don't want to.
Also, keep in mind that treadmills can range from compact and lightweight to large and cumbersome. If they come with a foldable design, then space won't be as much of an issue, but if you plan on dedicating a room (or corner) of your house to exercise, then you'll need to make sure that the option you choose can fit comfortably. This is a particularly important consideration for those living in small apartments.
FAQ
Can you do Peloton workouts on NordicTrack treadmills?
In short, yes. The beauty of technology is that it's constantly evolving and improving. As such, cross-training on the NordicTrack with your Peloton App is definitely a possibility. You get to experience the same great workouts, on a different platform. Just keep in mind that you might make better use of NordicTrack's iFIT if you already have their machine since the instructors can better control your exercise settings.
Is the Peloton treadmill for beginners?
Despite relying heavily on technology, Peloton's treadmills are still suitable for beginners. The machines themselves have a fairly straightforward mode of operation, with quick start buttons and intuitive controls. Additionally, the Peloton App includes a wide selection of tutorials and beginner-friendly workouts, giving you a solid starting point for your training regimen.
Is NordicTrack a good brand?
With a rich heritage and award-winning products, NordicTrack is one of the most respected names in the fitness industry. Their treadmills are especially popular, thanks to their advanced technology, smart design, and reliable motors. The brand's dedication to user experience and customer satisfaction has only added to its reputation, with many customers vouching for the quality of its products.