If you're planning on adding an elliptical to your home exercise equipment, you need to choose one that not only suits your exercise needs, but gives you the best bang for your buck.
The Sole E35 elliptical is one of our favorite ellipticals. It's the company's best-selling machine, and user reviews show that it's a much-loved piece of equipment.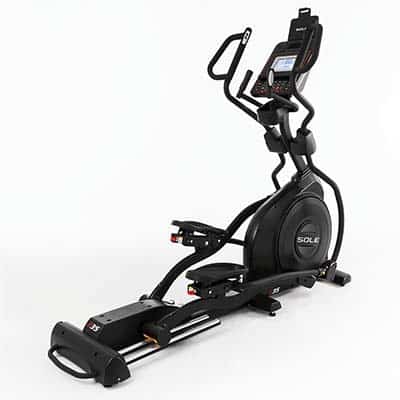 Whether you're a newbie to the elliptical or you've got plenty of experience behind you, this machine has everything you need to get an amazing workout—from an impressively sturdy build to a superb accompanying app. All with a friendly price tag!
We've put our elliptical knowledge and our internet search skills to the test to bring you a detailed Sole E35 elliptical review.
In A Hurry? Here's The Main Specs
Product's name

A Versatile Product


SOLE Fitness E35 2020 Model Indoor Elliptical, Home and Gym...
Final Thought
The Sole E35 is an excellent elliptical for those who want something just a step up from an entry-level machine.
Floor Space
71" H x 82" L x 31" W
Weight Capacity
375 lbs
Stride Length
20" Stride length
Resistance Levels
20 Levels of eddy current resistance
Programms
10 Preloaded workouts: 6 Standard Programs
2 Custom Programs
2 Heart Programs
Warranty
Lifetime Frame
5 Years Electronics
5 Years Parts
2 Years Labor
Price
$$
Learn more
See at Amazon
There's a reason this is Sole Fitness's best-selling elliptical machine. It offers a great range of features at a very reasonable price that's affordable for almost everyone. It's well-priced but still a step up from the company's E25.
Sunny Health & Fitness Magnetic Elliptical
Based on our testing, this is the best budget Elliptical for beginners. For less than 475$, it has most essential features that you've come to expect. It's compact and sturdy, frankly it offers great value for money. It's also backed with an 3 years warranty.
It's got a great range of resistance, an excellent stride length for average to tall users, and a decently-sized flywheel for good drive. You'll find a ton of other features built into this elliptical, plus it's compatible with Sole's partner platform, STUDIO, adding a whole new element to your training.
Custom-designed and adjustable foot pedals make the experience of using the E35 comfortable and easy. One of the other things we really love about this elliptical is that it's covered by Sole's impressive warranty, which we'll explain in detail later on.
Pros
10 built-in programs that don't need internet to run
20 Power Incline levels for a new lower body challenge
Wireless HR sensors and includes a chest heart rate strap
Highly adjustable foot pedals designed for comfort and ease of use
Excellent warranty for its price range
Cons
Stride length isn't adjustable
It's quite sizeable and doesn't fold
Who Is the Sole E35 Elliptical For?
The Sole E35 is an excellent elliptical for those who want something just a step up from an entry-level machine. It remains within an affordable price range, but with a few more performance features than you'd find on a cheap elliptical.
People looking for a way to stay lean and toned will enjoy the E35. It provides enough challenge for both the upper and lower body. Those who enjoy being entertained while working out—listening to music or watching TV—will appreciate how quiet this machine is.
It's low-impact enough for even those with joint issues to get a great workout. Plus, the ergonomic pedals help retain circulation in the feet, which means those with conditions like neuropathy can still use it fairly comfortably.
Also, those who want to use their elliptical without connecting to the internet will love the fact that the E35 can be used without connectivity.
Sole E35 Specs at a Glance
The Sole E35 has a host of excellent functions that are comparable to more expensive models These features include:
20 levels of resistance
20 levels of Power Incline
20-inch stride length
25-pound flywheel
10 preloaded programs
Adjustable ergonomic pedals
Wireless heart rate monitoring
Includes a chest heart rate strap
Quiet ECD resistance
Multiple extras
These features make for a superb machine, especially for its price range. Let's take a look at the Sole E35 elliptical in more detail so you can decide if it's the right machine for you!
In-Depth Sole E35 Elliptical Review
Ready to find out all the features users love about the Sole E35? Here's our detailed review to help you figure out if it's the right one for you.
Frame
The E35 features a front-drive design and a solid, heavy-duty steel frame that makes it feel sturdy and nicely weighted. It has 3 weighted stabilizer beams to distribute the weight evenly.
You'll find dual heavy-duty rails that hold the pedals. These are robust and stable, giving you a feeling of safety and security while you're working out.
The movable handlebars connect straight to the foot pedals. You'll also find stationary handlebars if you want to anchor yourself nicely while getting a great lower-body workout.
Footprint and Portability
The Sole E35 is a sizable machine, at 71 x 82 x 31 inches in size. It unfortunately doesn't fold, so you need to make sure it's going to fit in your space before buying.
Although it doesn't fold, built-in transport wheels means you can move it around if necessary. However, it does weigh a hefty 231 lbs, so you may need help to wheel it around if you want to move it.
Don't neglect to check the ceiling height. With a step-up height of 14 inches and 20 incline levels, taller users will come closer to the ceiling when using it on an incline.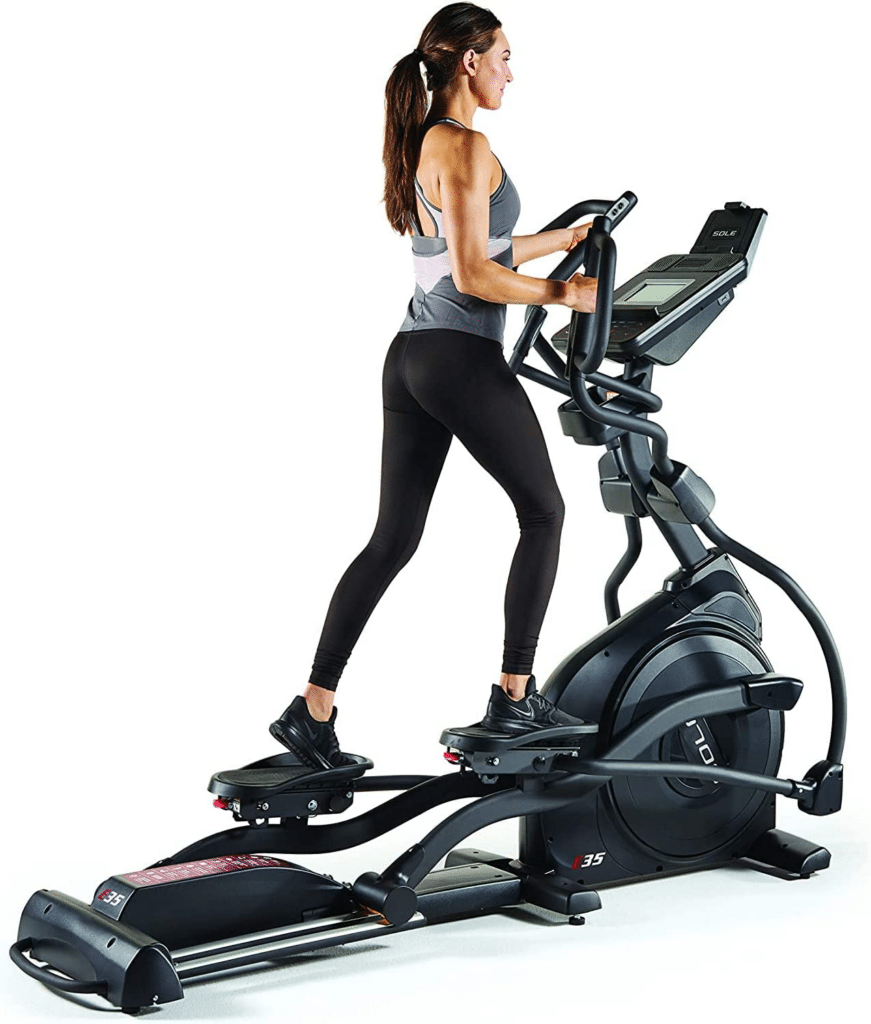 Flywheel
The 25-pound flywheel is set in a front-drive system, providing a smooth, natural motion every time you use it. It uses eddy current resistance to provide something for you to work against.
It's also surprisingly quiet, so if you're looking for a machine you can use in an apartment, it should be perfectly okay. It's not a very heavy flywheel in comparison to some, but it does the job really well.
Stride Length
The stride length plays a big role in the E35 being one of the most popular ellipticals. At 20 inches, it's enough for even taller users to be comfortable as they work out. Most people find this stride length to be ideal; however, if you're noticeably shorter or taller than average, it may not quite work for you. It's categorized as being suitable for people between 4'11" and 6'3".
Unlike Sole's top-tier offering, the stride length isn't adjustable. An adjustable stride length is nice to have, but it's not absolutely necessary, unless you've got multiple people of vastly different heights using the machine.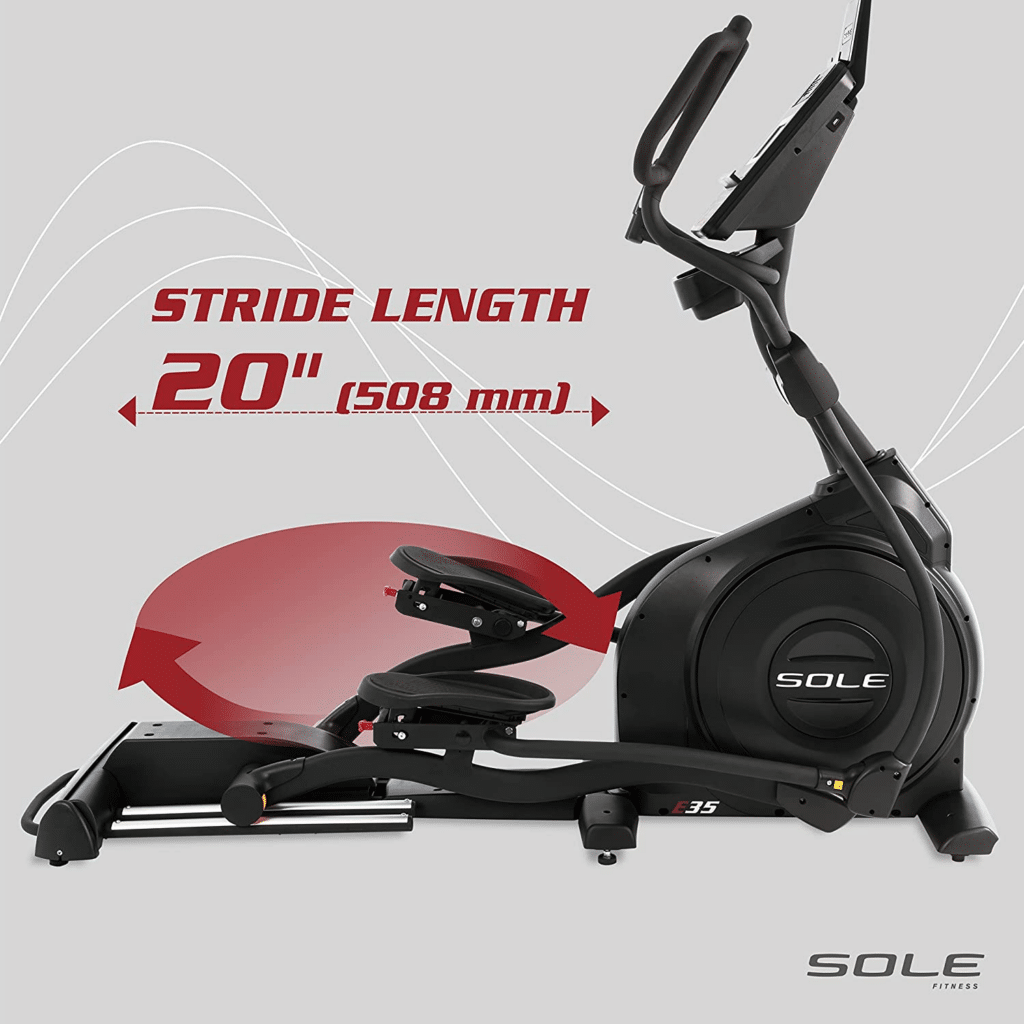 Handles
You'll find both stationary and moving handles on the E35. This gives you the most versatility in terms of targeting either upper and lower body, or placing more emphasis on the lower body.
The stationary handlebars provide an excellent anchor point for when you really want to get that lower body working. They're also handy to grab when getting on and off the elliptical.
If you want a full body workout, you can take advantage of the movable handlebars, which are connected directly to the foot pedals.
Both the static and moving handlebars have custom-molded sponge grips that are ergonomic and comfortable to hold. You'll also find easy-access controls for resistance and incline, within a finger's reach.
The static handlebars have built-in pulse rate monitors, so you can measure it on the go. Don't forget that wireless heart rate monitoring is also available and it's likely to be much more accurate than what the handlebars will show.
One of the best things about these handlebars is the number of different grip positions you can choose from. The reverse-P-shaped handlebar allows for two vertical and two horizontal grip positions, so you can get comfortable from hand to foot.
Sunny Health & Fitness Magnetic Elliptical
Based on our testing, this is the best budget Elliptical for beginners. For less than 475$, it has most essential features that you've come to expect. It's compact and sturdy, frankly it offers great value for money. It's also backed with an 3 years warranty.
Adjustable Pedals
The oversized foot pedals on the Sole E35 elliptical are lightly cushioned and textured for a high level of comfort. A ridge runs around the toe-edge of the pedal to stop your foot from sliding off while you're busy.
One of the Sole ellipticals' biggest features is their angled pedals. They're carefully designed with a 2-degree inward slope that takes strain off the feet, ankles, and knees as you pedal. 
However, there's also a handy little dial on the back of each pedal, that allows you to make custom incremental adjustments to suit your own foot and gait. This should eliminate the common "numb toes" problem!
It's also worth noting that the pedals can move in reverse motion. This adds an extra element of challenge to the workout and uses your muscles a little differently!
Resistance
With 20 resistance levels, there's always something to work towards on this elliptical! Using eddy current resistance makes this elliptical super quiet, but the multiple levels offer a challenging workout every time.
Perfect for small spaces and working out in the middle of the night if you want to! You can change the resistance on the go using the easy buttons on the handlebars.
Incline
The E35 features 20 Power Incline levels. Add these to the resistance levels, and you've got one great formula for serious exercise!
In manual mode, you can change the incline to suit you. The onboard programs also use the incline to add challenge, so you'll feel the POwer Incline feature kick in automatically as you're going.
Pre-Programmed Workouts
The Sole E35 elliptical has 10 pre-loaded workouts: 6 standard programs, 2 heart rate programs, and 2 custom ones. The standard programs include:
Hill Workout
Fat Burn
HIIT Workout
Cardio
Strength
These are all pre-programmed to change the resistance and incline while you're working out. This adds an element of realism, as it's similar to what you might experience on the actual road.
Or, you can create your own program to your liking and save it in one of the custom workout slots. None of the programs require an internet connection to use.
If you like more choice, the E35 comes with a free 30-day trial of an app called STUDIO. Try it out—it gives you access to over 3,000 on-demand classes.
Do an elliptical workout or try a combined cardio and strength workout tat works the entire body. It syncs to your heart rate monitor to deliver real-time metrics so you can track your progress accurately.
If you choose to continue after the 30 days, it'll cost you just $19,99 a month or $199,99 if you choose to pay upfront for a year.
Screen
There's nothing too fancy about the console on the E35. It contains a 7.5-inch LCD screen with a white back light, which shows you all the relevant data at a glance while you're exercising.
There are large, easy-to-see and press buttons. Keep in mind that if you're using the STUDIO app, you won't be able to use it on the elliptical screen—you'll need to use a phone or tablet.
Warranty
Sole's warranty is spectacular for this price point. The solid steel frame comes with a lifetime warranty, plus 5 years on parts and electronics, and 2 years on labor. This is far above what others in the same price bracket offer, making it a definite USP.
Sole E35 Features
Here are some of the unique features that you can enjoy when you buy and start exercising on a Sole E35.
Bluetooth Compatible
This elliptical has Bluetooth compatibility, which is what allows it to connect to a heart rate chest strap, phone apps, music players, and the STUDIO app.
USB-Port Charging
A handy little feature on this elliptical trainer that's much appreciated is USB-port charging. A single USB port on the side of the elliptical console allows you to charge your device while you're using the elliptical.
You can still use the device while charging it, which is a bonus if your device happens to be a little short on charge when you want to work out.
Built-In Cooling Fan
There is a fan built into the console. However, it's on the high side—probably the right height for taller users, but may go over the heads (literally) of shorter users.
It's also not the strongest of fans. If you like to feel the breeze in your hair to simulate real-world running, then you may want to use an external fan, rather than the built-in fan on the E35.
Tablet Holder
Right underneath the screen is a ledge on which you can stand a tablet or phone. Take note that using this for your device means the screen will be blocked, so you won't be able to see your stats at a glance.
If you want to use the STUDIO app, you'll need a separate device, as the console's screen won't cut it. But you can also use the integrated tablet holder for watching a TV series or movie, reading a book or magazine, or following along to a workout on YouTube.
Water Bottle Holder
It doesn't matter if you're exercising indoors, outdoors, intensely, or in a relaxed manner. Staying hydrated is essential, so the addition of a water bottle holder is much appreciated. It's right below the console, and fits most bottles comfortably.
Built-In Speakers
Also on the console you'll find Bluetooth speakers. Sync up using your phone, tablet, or MP3 player, and you can listen to music right through the elliptical itself. This is a handy feature that's a nice touch.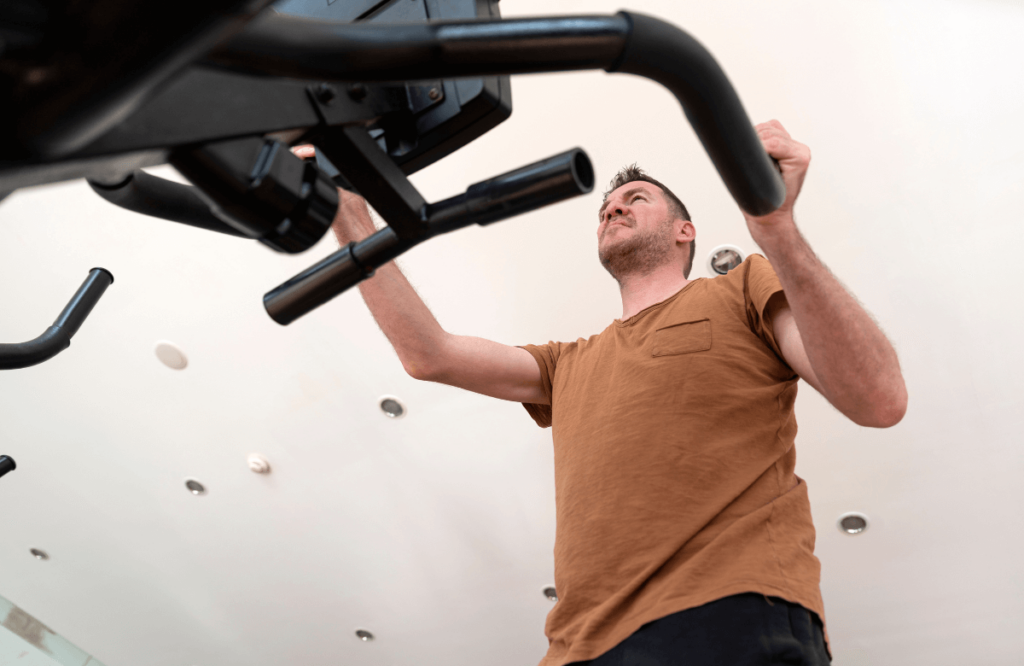 Is the Sole E35 Elliptical Easy to Assemble and Store?
Assembling the Sole E35 elliptical can be a little tricky. At over 200 lbs, it's not the easiest thing to put together and move, especially if there's only one of you. 
You will receive all the necessary tools and detailed assembly instructions with the disassembled machine. However, these things are notoriously difficult to follow along with, so it's a good idea to set aside an afternoon for the full assembly process. 
If you're worried about getting it right, you can get a pro from Sole Fitness to assemble it for you. However, professional assembly will set you back a few hundred dollars. 
As for storage, this particular elliptical doesn't fold, so it may be difficult to hide away. However, it does fit nicely in a corner against the wall, and has wheels for moving it around if necessary.
Is the Sole E35 Elliptical Compatible With Any Other Fitness Apps?
Sole has their own app, which acts more as a workout record than anything. And then of course, there's STUDIO, their partner app. 
If there's another app you particularly like using, there's good news—the Sole E35 is compatible with a number of other fitness apps as well. 
You can sync your data up to Fitbit, Apple Health, MapMyRun, and a number of other popular fitness apps.
Is the Sole E35 Elliptical Heavy?
The Sole E35 elliptical weighs 231 pounds when fully assembled. This is quite a bit of weight, so take this into consideration when you're looking for an elliptical. Despite having built-in wheels, it's not easy for a single person to move.
Is the Sole E35 Elliptical Worth It?
Absolutely. In comparison to others in the same price range, the Sole E35 elliptical offers a wide variety of excellent features. The shining star is its warranty, which is near impossible to find in the same category. 
If you're looking for something that won't put you out of pocket but offers top-tier features, we highly recommend the Sole E35!