If you're in the bodybuilding community, you've definitely heard the name, Tristyn Lee. He's an up-and-coming bodybuilder who's making an impact already at such a young age.
In this article, we have everything from his upbringing, his diet, his meal plan, the common exercises he has in his routine, how he got his start, his net worth, and so much more. Consider this the bible of Tristyn Lee with everything you'll ever need to know about him.
Who Is Tristyn Lee?
Tristyn Lee is a Canadian bodybuilder who is well-known for his exceptional soccer skills and for sharing his personal life and fitness journey with everyone on the internet. Besides being a fitness influencer, Tristyn Lee has his own pre-workout brand and get's to train around the world with well-known names in the bodybuilding community. To know more about how such a young man got to such an elite level, keep reading.
Physical Appearance Stats:
Aside from having a fantastic physique, there are some unusual and outstanding stats that might surprise you, starting with his height.
Tristyn Lee's Height:
Though his body size is ginormous, he stands at only 5′ 3" (160cm)
Tristyn Lee's Weight:
He typically weighs in at 115 – 125lbs (52.2 – 56.7kg)
Tristyn Lee's Age:
He's currently 21 years old as of 2023
Tristyn Lee's Body Fat:
He normally has around 4-5% body fat (according to the hydrostatic body fat test)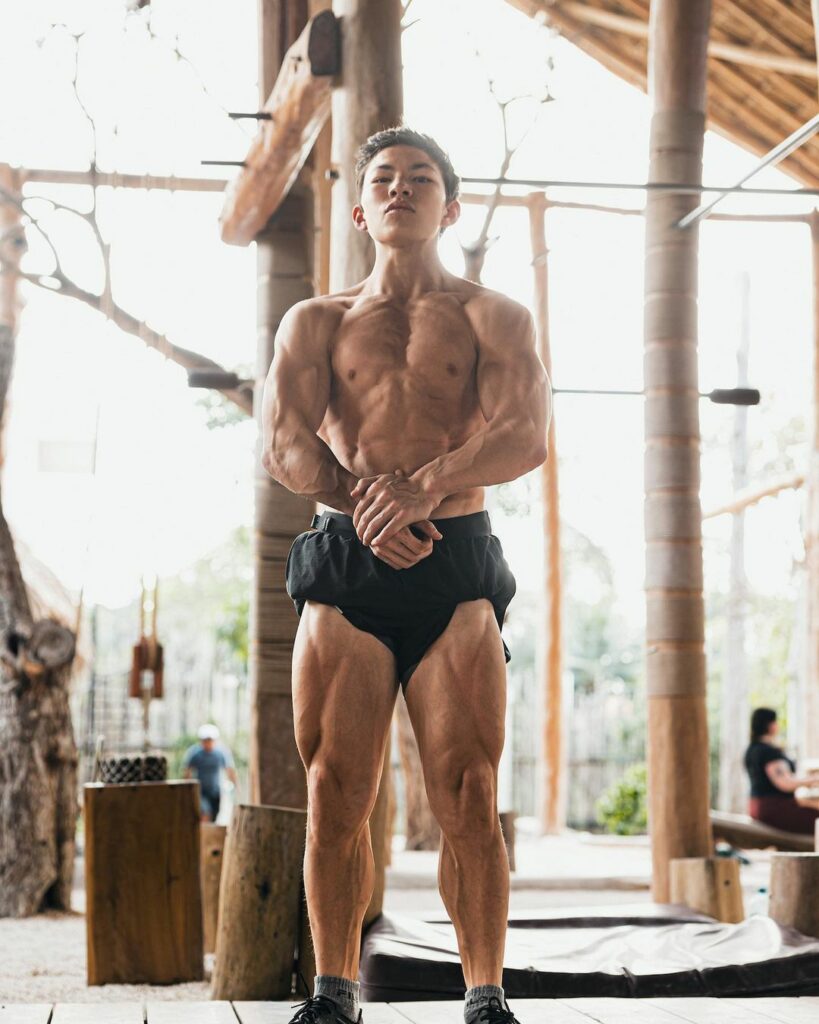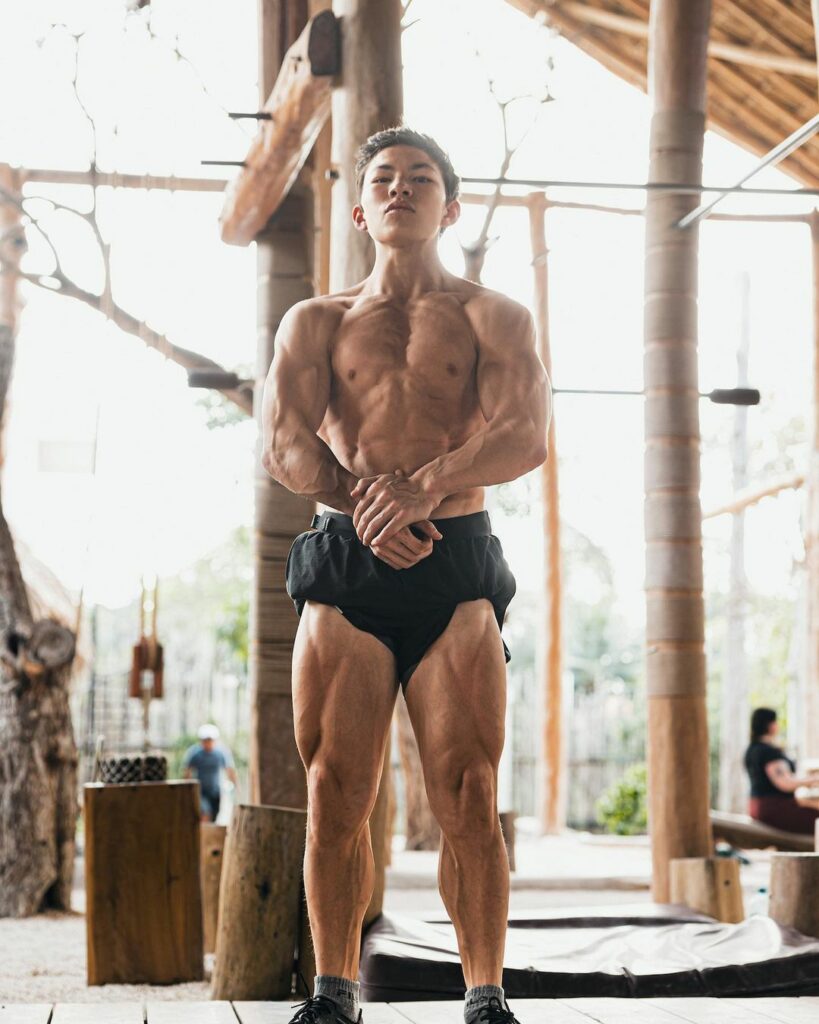 Credits:@tristynleeofficial
Tristyn Lee's Youth:
Born on August 20th of 2002, 21-year-old Tristyn Lee (as of 2023) was born and brought up in a Christian family from Whitby, Ontario, Canada with his two elder brothers Tyler and Braedon Lee, who are both active in the fitness world. Though, now he lives in Los Angeles, California, United States, making videos and working out regularly with his brothers.
Tristyn has been serious about bodybuilding since the age of 15. However, bodybuilding is not his only passion. When Lee was only 5 years old, he discovered his passion for soccer. Ever since then, he has dreamed of going professional and has flown over to Europe several times to train with the pros and high-level coaches.
A Dive Into His Career
Tristyn created his Instagram account in 2015 and then his YouTube channel in 2017 to show off his soccer-related content and then over time the content shifted more towards bodybuilding when he won the Unstoppable Athlete Award. This includes workouts, meals, and vlogs of his life.
Since then, his audience soared to new heights. Lee now has 1.83 million subscribers on YouTube and 2.2 million followers on Instagram. He is a renowned star among North American bodybuilders and has trained with icons like Bradley Martin, Simeon Panda, and Larry Wheels.
He also went on to create his own workout supplement brand with his brothers Chimera Nutrition and continues to share his lifestyle, meals, and exercise routines on his social media.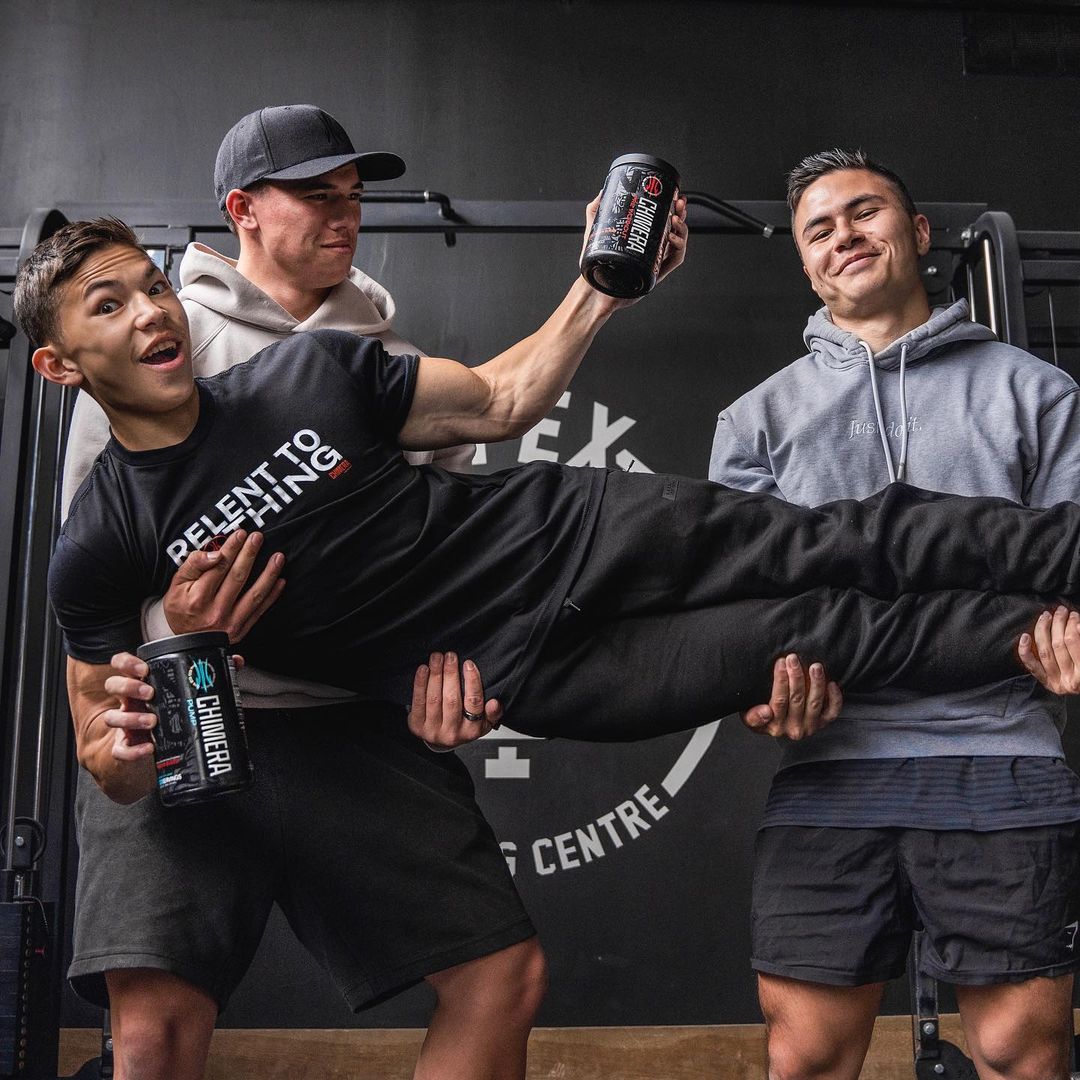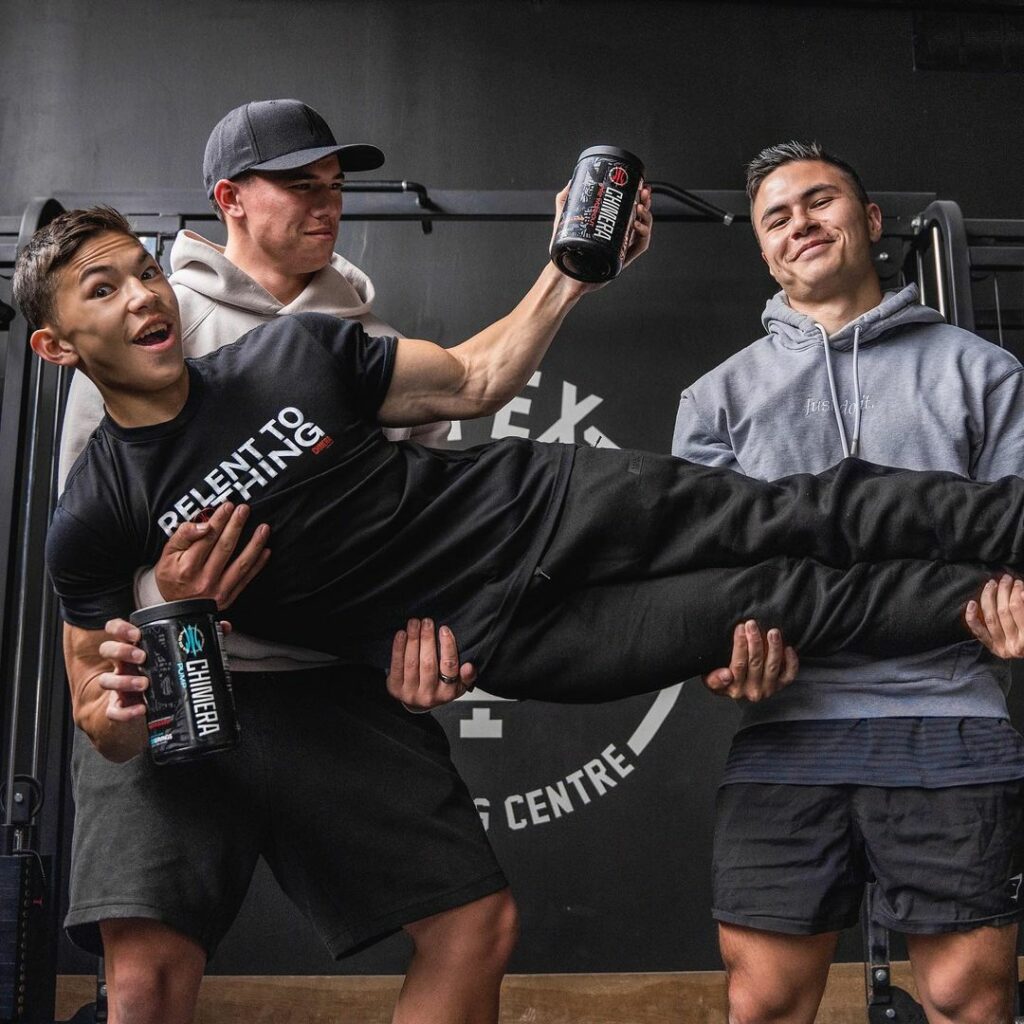 Credits:@tristynleeofficial
Is Tristyn Lee Natural?
When Lee was only 17 years old, there were a ton of controversial questions surrounding the idea that he was using steroids. With the doctor's documentation and uploading a video of him working out on a timer for everyone to see as proof, he was able to show that he was, in fact, clean. The YouTube sensation stated that there were no traces of steroids whatsoever in his system, so as far as anyone is concerned he is steroid free.
Tristyn Lee's Net Worth:
As of 2022, Lee's net worth is estimated to be one million between his Tiktok, Youtube, Instagram, brand deals, companies, and competitions as a fitness athlete, bodybuilder, and internet personality. It's said he gets about an average of $300 – $600 per Instagram post.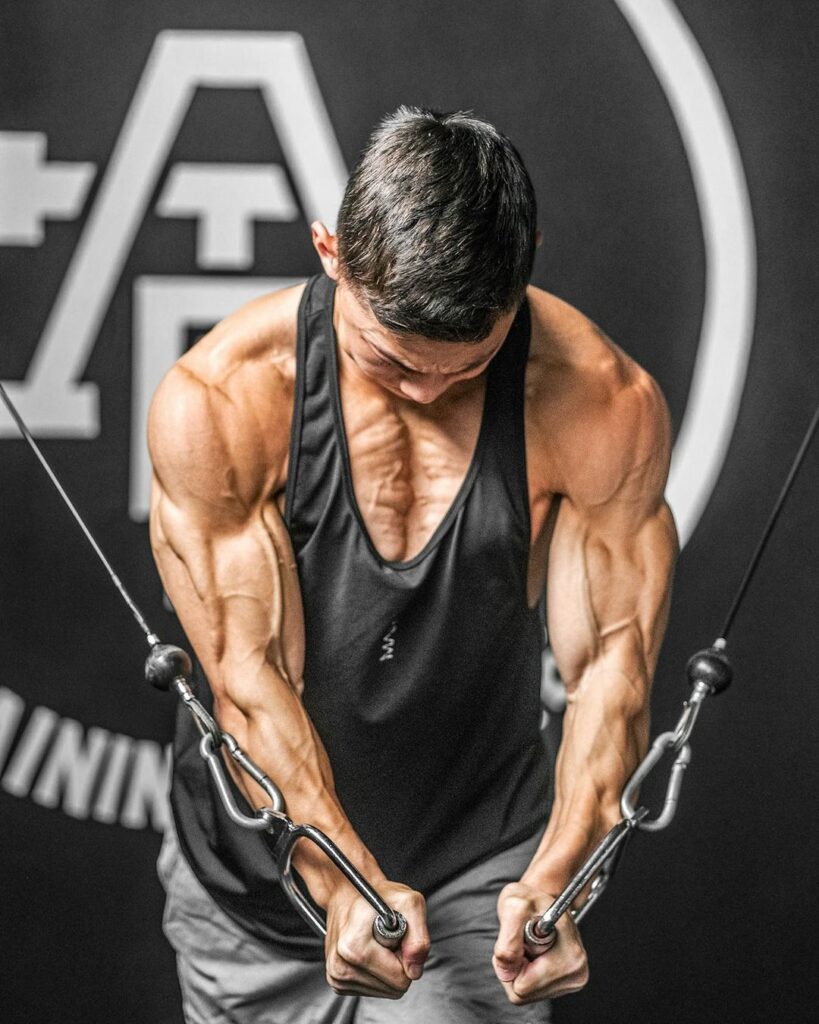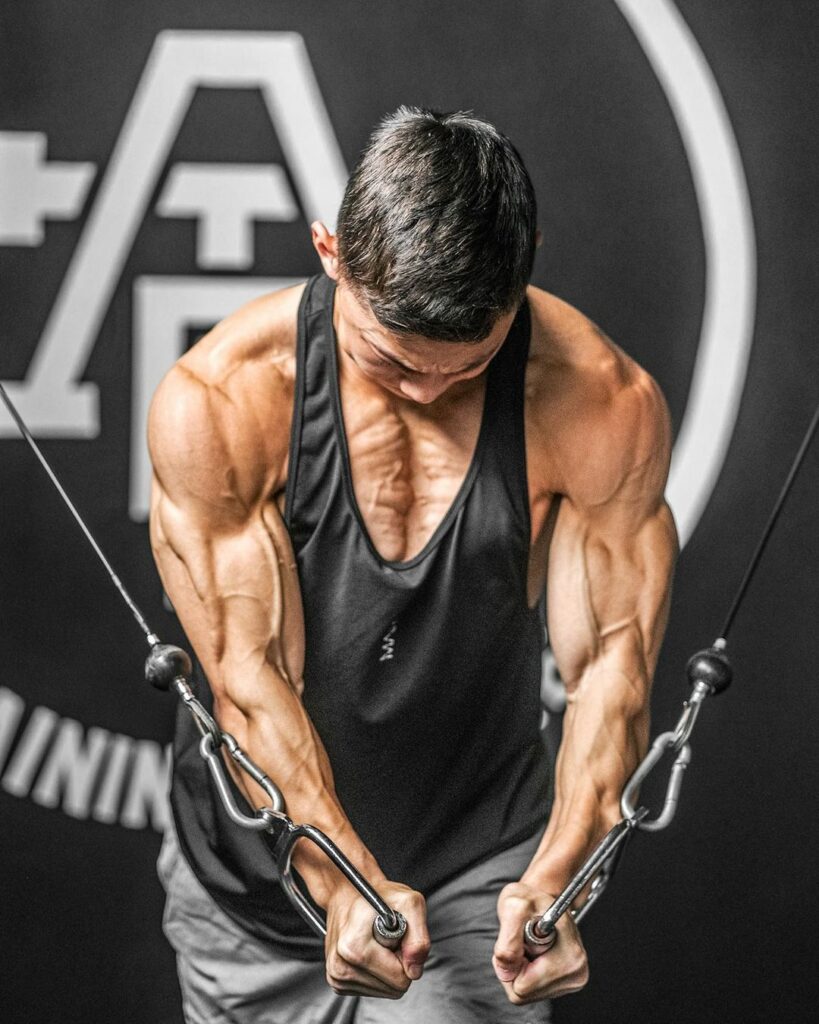 Credits:@tristynleeofficial
Tristyn Lee's Diet:
Tristyn is considered to have a more carnivore diet with his macros looking like this:
Tristyn's found that his body runs better on fats than carbs as his energy source so with a keto-type diet, his body enters a state of 'ketosis', where he uses fat for energy instead of glucose, which means he eats about three pounds of meat per day.
And as a soccer player, he plays long matches, meaning his body requires a constant supply of calories. This is where dietary fats give him the edge. They give him a sustained energy supply as opposed to simple carbs, which tend to spike his blood glucose levels for a short window of time.
He eats a lot of pasture-raised eggs, grass-fed beef, salmon, sardines, beef liver, protein shakes, and shrimp, and usually gets around 2500 calories and over 215 grams of protein every single day. Lee is very precise when it comes to his meals, also making sure to get no more than 130 grams of fat and 9 grams of carbs a day as well.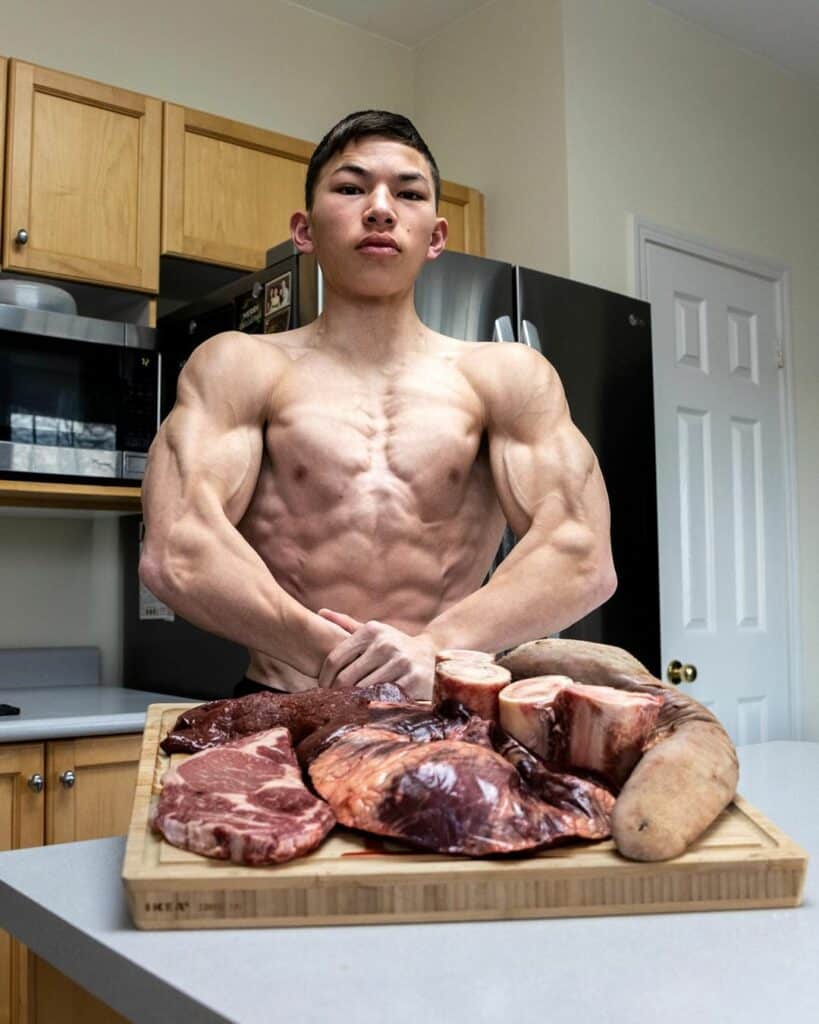 Credits:@tristynleeofficial
"Some people do work better on carbs. But I'm not one of those people. Being a football/soccer player I feel extremely lethargic and heavy when I'm running off of carbs." – Tristyn
Tristyn Lee's Workouts:
Tristyn typically trains two times, per day, in the gym. Obviously, if you're a beginner you won't be working out as much, but even starting at 3-5 days per week(an hour or two each time) is a great way to start.
But if you're interested in wanting to know what kinds of workouts Tristyn Lee does on the daily, here are a few exercises he does in each muscle group.
Arm:
Lee starts his arm workouts with lighter weights. Then, as he goes through his sets, he'll gradually increase the weight so that by his last set, he lifts as heavy as he possibly can and does exercises like:
Hammer Curls, 3-4 sets of 8-12 reps
Dumbbell Triceps Extensions, 5 sets of 8-12 reps
Barbell Curls, 3-4 sets of 8-12 reps
Biceps Curls, 3-4 sets of 8-12 reps
Close-Grip Bench Press, 4-5 sets of 10-12 reps with the last set to failure
Cable Triceps Extensions, 3-4 sets of 10-12 reps with the last set to failure
Legs:
Lee's favorite leg-building exercises are squats. Though, he won't do extra heavy squats until he feels confident his legs are fully warmed-up and ready.
Here's an example of Tristyn's leg workout:
Squats, 3-5 sets of 10-12 reps
Leg Press, 3-5 sets of 8-12 reps
Leg Extensions (Quads), 3-5 sets of 8-12 reps
Chest:
Dumbbell Incline Press – 3 sets 8-12 reps
Flat Bench Press – 3 sets 8-12 reps
Smith Machine Flat Bench – 3 sets 8-12 reps
Machine Chest Press – 3 sets 8-12 reps
Shoulder:
Dumbbell Lateral Raises – 5 sets 12-15 reps
Smith Machine Shoulder Press – 4 sets 12-15 reps
Cable Front Raises – 4 sets 12-15 reps
Machine Lateral Raises – 3 sets 12-15 reps (superset)
Dumbbell Rear Delt Fly – 3 sets 12-15 reps
Back:
Wide Grip Lat Pulldown – 4 sets 12-15 reps
¾ Deadlift – 4 sets 8-12 reps
Machine High Row – 4 sets 8-12 reps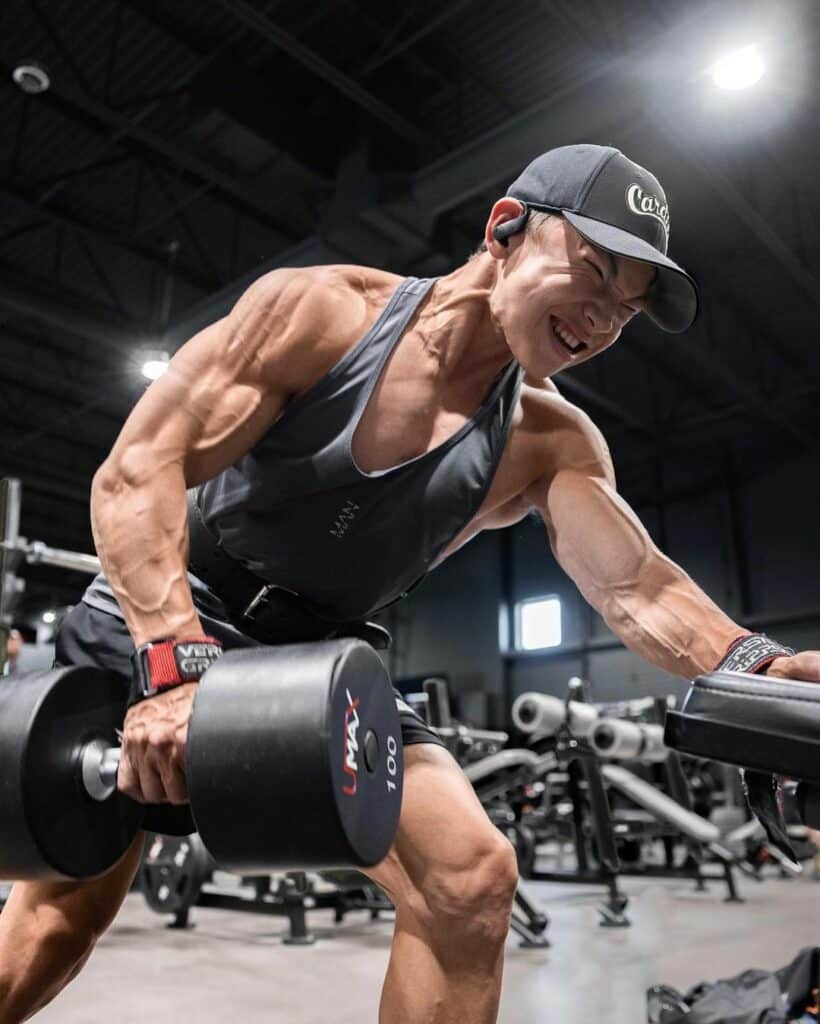 Credits:@tristynleeofficial
What We Can Learn From This
Age is just a number. You can set your mind to whatever you want, whenever you want, and at whatever stage you are in life. Tristyn started by following his passion for soccer and kept going, striving and pushing even harder with each accomplishment. If we all cared a little less about what everyone else thought and how society tells us to live our lives, we might end up a little more like Tristyn Lee.