Fitness guru, social media personality, and champion bodybuilder with intense muscle mass, Chris Bumstead is making a wave and bringing new heights to body perfection. As the current IFBB Classic Physique Professional bodybuilder champion in his 20s, CBum can only go up from here. Though, there are lots of questions surrounding his life, including how he became an IFBB Pro, his body measurements, net worth, and so much more. And we're making it a one-stop shop by going into detail about everything in this article, so let's get right into it.
Chris Bumstead: Who Is He?
Cbum Age:
Chris Bumstead is 28 years old and was born on February 2, 1995, in Ottawa, Ontario, Canada.
Cbum Measurements:
Cbum's height is 6'1" (185 cm) and his weight varies from 230lbs to 264lbs (104-120 kg).
Chris Bumstead vs Average Male Measurements
Chris Bumstead Average Male
| | | |
| --- | --- | --- |
| Waist | 30″ (76 cm) | 40″ (102 cm) |
| Chest | 51″ (130 cm) | 40″ (102 cm) |
| Arms | 20″ (51 cm) | 14.6″ (37 cm) |
| Thighs | 30″ (76 cm) | 21″ (53 cm) |
| Calves | 20″ (51 cm) | 15″ (38 cm) |
Bumstead's body measurements, as you can see above, are pretty different than the average person's. Even compared to the ideal measurements of a special bodybuilder's body, Bumbstead's body ratios are very unique and many people often consider his body as oddly superhuman and a perfect championship physique.
Our Top Pick
As a comparison, Steve Reeves was the equivalent of Chris Bumstead in the 1950s. He won the Mr. America and Mr. Universe contests in what is considered the pre-steroid era of bodybuilding. Reeves was 6'1″ tall and his stage weight was 214 lbs, and as you can see, Reeves was nowhere near as massive or shredded as Bumstead.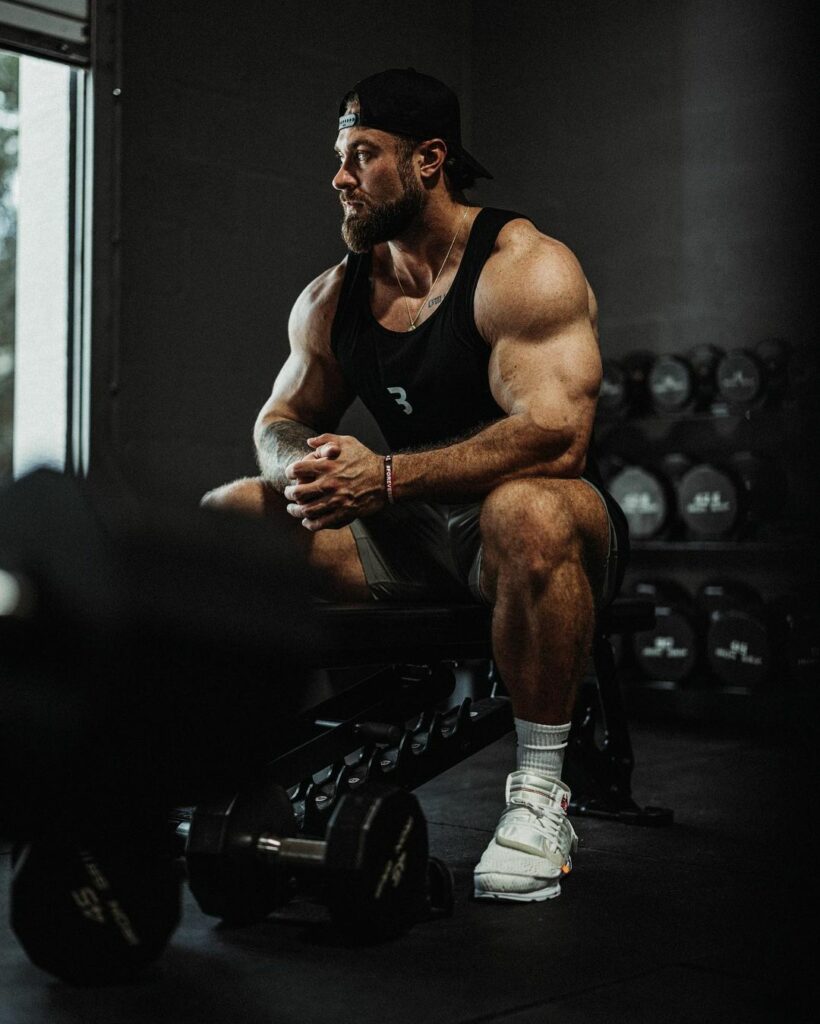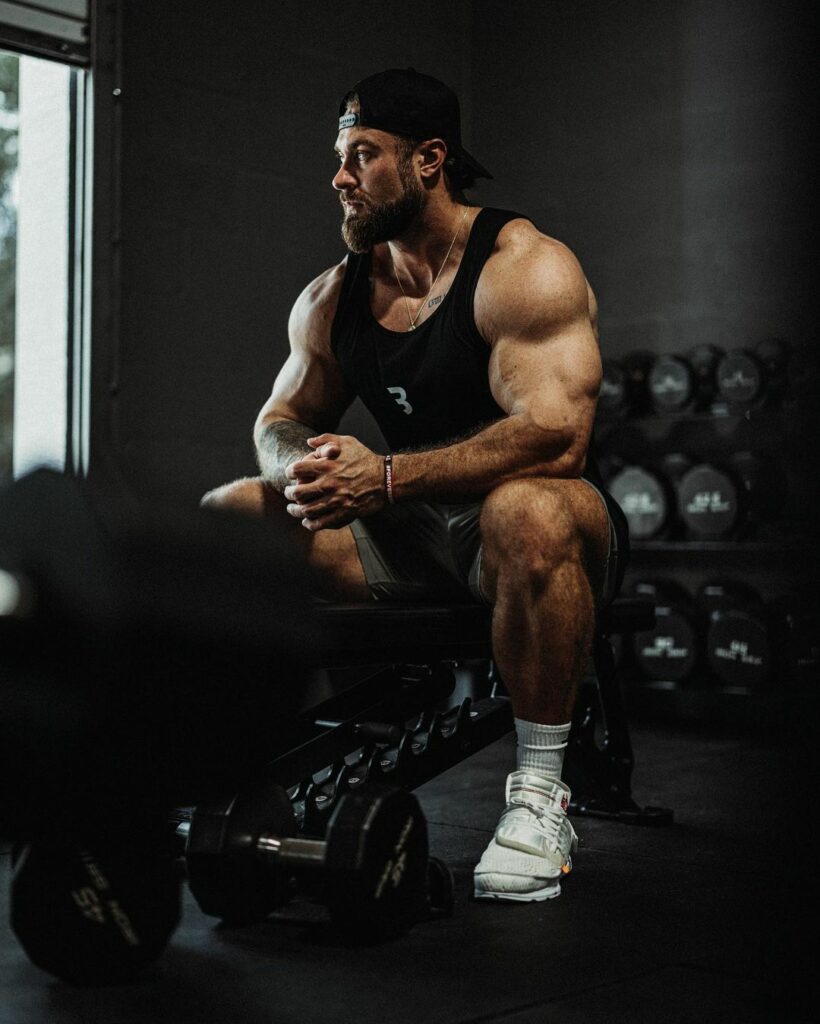 Credits: @cbum
Is Chris Bumstead Natural?
So with this superhuman size and unbelievable proportions, it's only natural to ask if Chris Bumstead is (no pun intended), natural.
When you have an impressive physique like Chris Bumstead, you're guaranteed to get lots of questions when it comes to how the physique was crafted. Because of this, bodybuilders rarely comment on steroids for both legal and business reasons. So rarely can anyone get a straight answer from the competitors themselves, unless information and tests are leaked.
So since CBum hasn't come out and confirmed or denied steroid use, we must rely on the physical evidence and key indicators of steroid use that include the appearance of side effects, muscle density and proportions, and fat-free mass index (FFMI). This can be shown as hair loss, acne, and flushed skin and since CBum has a full head of hair and relatively clear skin, he certainly passes those tests. However, if you look closely his skin does have a red hue in pictures without the spray tan.
Another indicator of steroid use is the size and dimensions of Bumstead's shoulder caps. They appear almost cartoonishly angular, which is a very common side effect of steroid use due to the higher concentration of androgen receptors in the deltoids. Especially with that blocky, oversized look in comparison with his arms and chest, it's certainly pointing toward steroids.
Chris Bumstead's Life:
Christopher Adam Bumstead was a sports fan from a young age and was always a gifted athlete. He would compete in basketball, baseball, and football and because of that, Chris found himself at 14 spending time in a weight room. Between 9th to 12th grade he went from 170lbs to a heavy 225lbs and began weight training more seriously.
It wasn't until Iain Valliere, Chris' sister's boyfriend who was a professional bodybuilder himself, took him under his wing and started training with Bumstead on the ins and outs of bodybuilding. And then when he was just 19, he started training for his first show which he competed in with his sister Melissa Valliere.
To this day, Bumstead still credits Iain Valliere with being his main source of inspiration and the man responsible for getting him to where he is today.
However, aside from being an accomplished bodybuilder and athlete, Chris Bumstead is very active on social media and has over 15 million followers on Instagram and close to 3 million subscribers on YouTube that showcase his training, nutrition, competition photos, and how he lives his life. Bumstead is also a part owner of the Raw Nutrition Brand based in Stuart, Florida. He is also an ambassador for the R3VIVE anti-aging company also owned by Dom Iacovone on top of running a podcast and doing online coaching so others can learn from his techniques to better their lives and give a guide for athletes.
Chris Bumsteads Relationship:
CBum is currently engaged to former IFBB Bikini Pro, Courtney King. She was born in Chicago on September 13, 1993, and the 28-year-old grew up with a huge interest in sports like Bumstead did. She was into basketball, soccer, and gymnastics, as well as being on the swimming and cross-country teams. As an adult, she's been able to build a career for herself as a bikini model, trainer, successful bodybuilder, and former Ms. Olympia.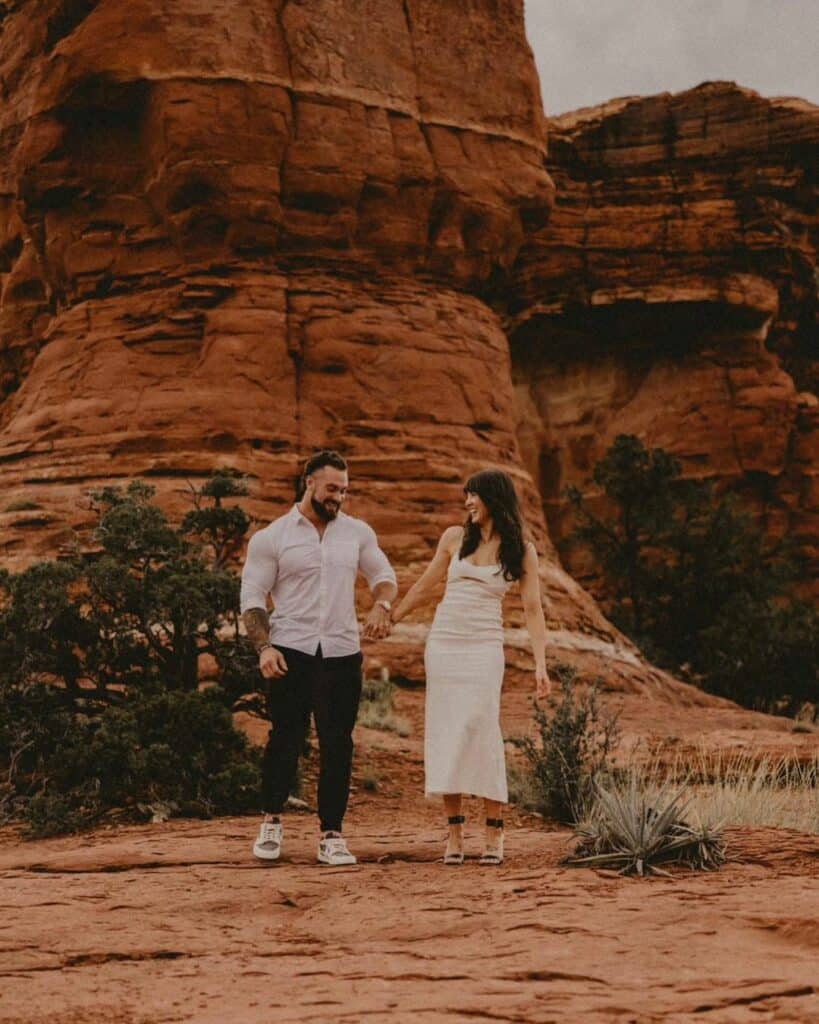 Credits:@courtneykiing
Chris Bumsteads Net Worth:
Chris Bumstead has an estimated net worth of $10 million dollars from competing in professional bodybuilding competitions, earning YouTube ad revenue, and selling exclusive CBum merchandise and supplements. It's gauged that he makes about $50,000 per month strictly on YouTube videos alone.
Bodybuilding And Career: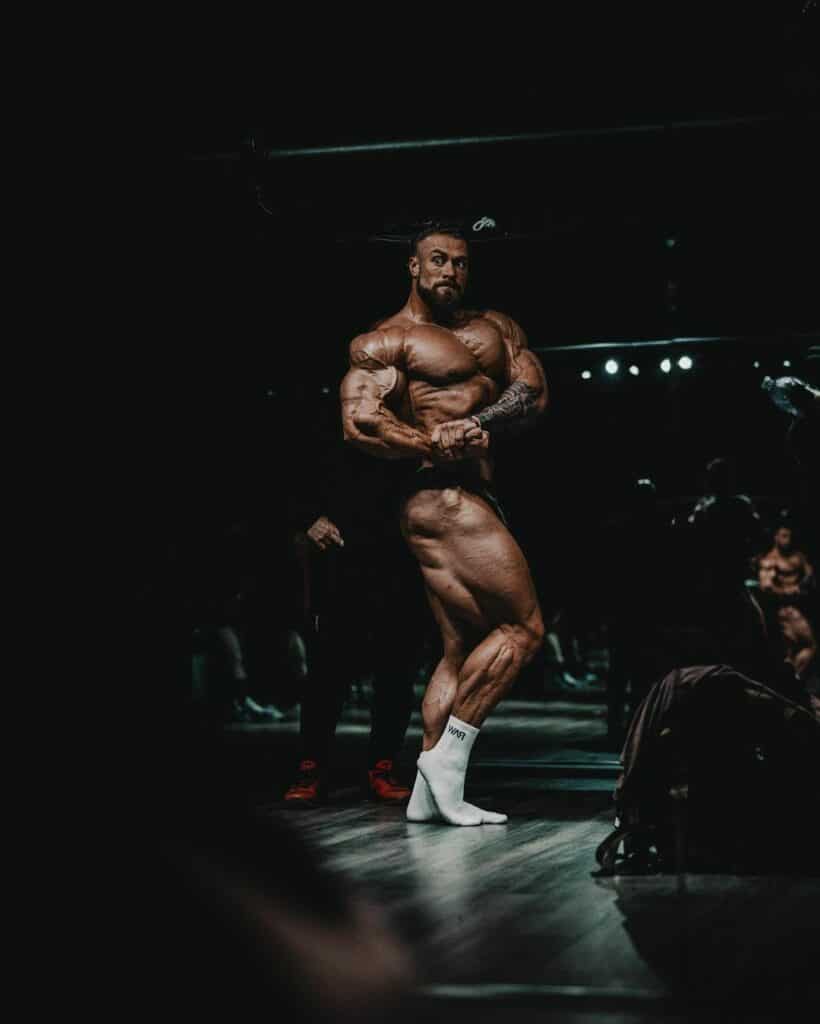 Credits:@cbum
Chris Bumstead got his chance to step on stage in 2015 and competed in his first contest. Only two years later, at the age of 21, he earned his pro card and became an IFBB pro bodybuilder when he won the 2016 IFBB North American Bodybuilding Championships. After this, he started picking up multiple sponsorships and endorsement deals including Gymshark, and got featured in various fitness magazines and in photoshoots.
Our Top Pick
Transparent Labs Creatine HMB
Based on our testing, this is the best creatine for most people. It has the perfect dosage of creatine monohydrate per serving, which has been proven to increase muscle mass.
Pros:
Promote strength and muscle gains

Tested for purity and safety

Free from artificial colors
See on Amazon
See on Transparent Labs
He competed in a handful of contests but it wasn't until 2017 that Bumstead made his Mr. Olympia debut in the Olympia Classic Physique Division and finished as runner-up. Almost a year later, he went back and again finished as a runner-up. On both occasions, he lost to Breon Ansley, however, CBum was able to get redemption in 2019, when he finally finished in 1st place in the Classic Physique Division even though he'd just recovered from a hernia surgery.
In 2020, 2021, and 2022 he went on to get 1st place three years in a row, making him the current reigning champ in that particular division.
Chris Bumstead's Contest Records & History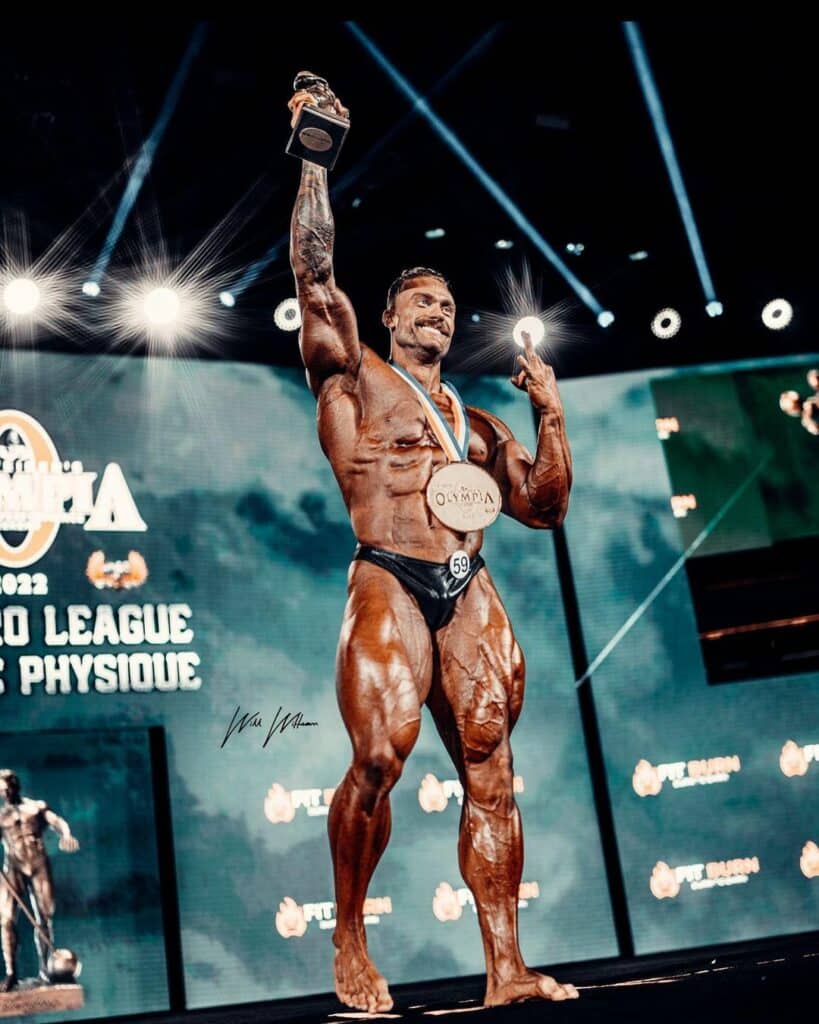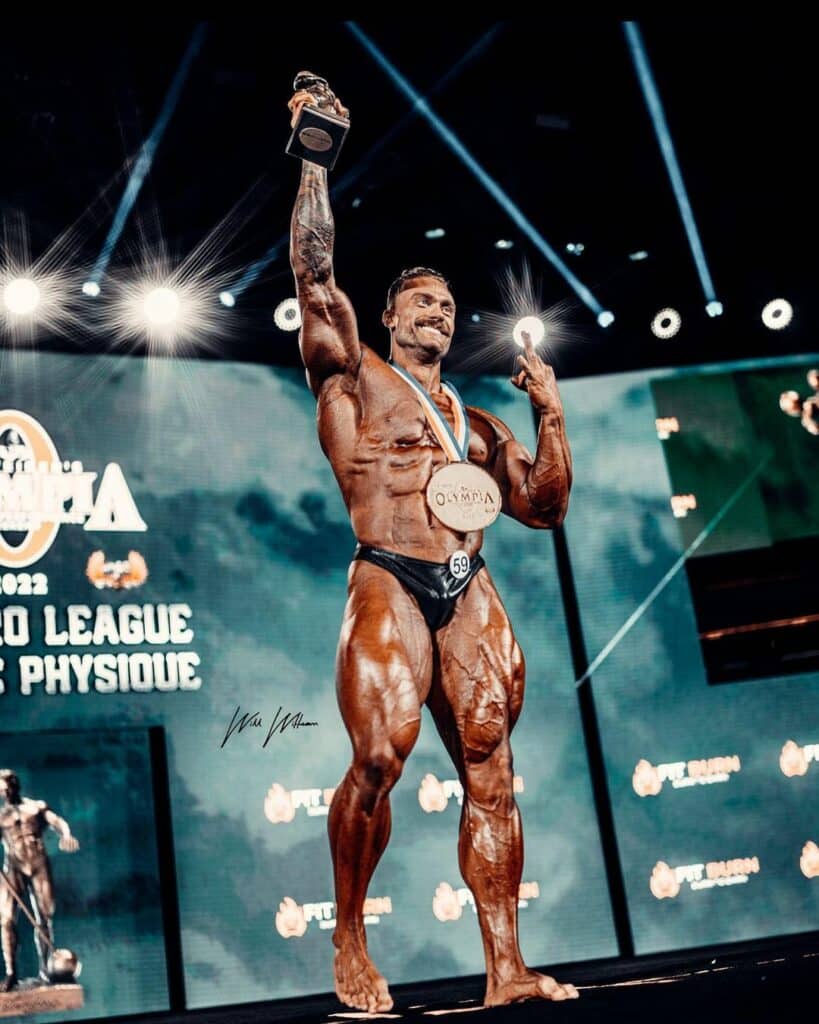 Credits:@cbum
2022 Olympia Classic Physique, 1st
2021 Olympia Classic Physique, 1st
2020 Olympia Classic Physique, 1st
2019 Olympia Classic Physique, 1st
2018 Olympia Classic Physique, 2nd
2017 Olympia Classic Physique, 2nd
2016 IFBB North American Bodybuilding Championships, 1st (Pro Card)
2016 CBBF Bodybuilding Championships Open Heavyweight Division, 2nd
2015 CBBF Canadian National Bodybuilding Championship Men's Junior Division, 1st
Chris Bumstead's Training Regime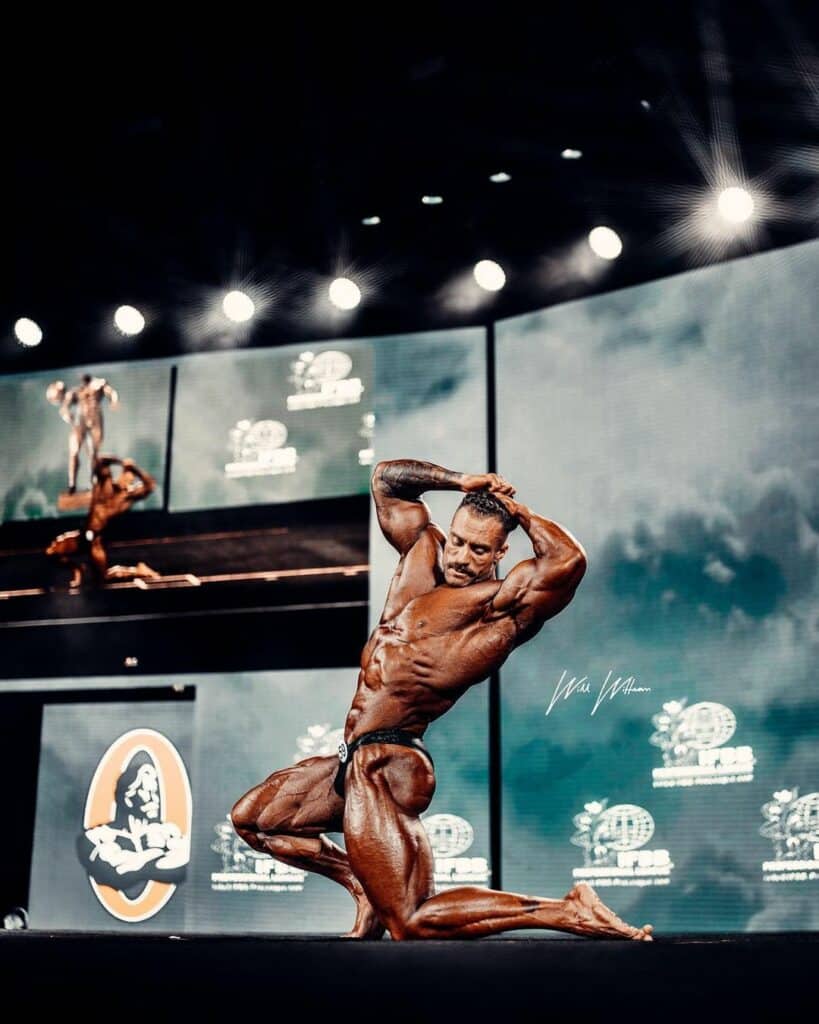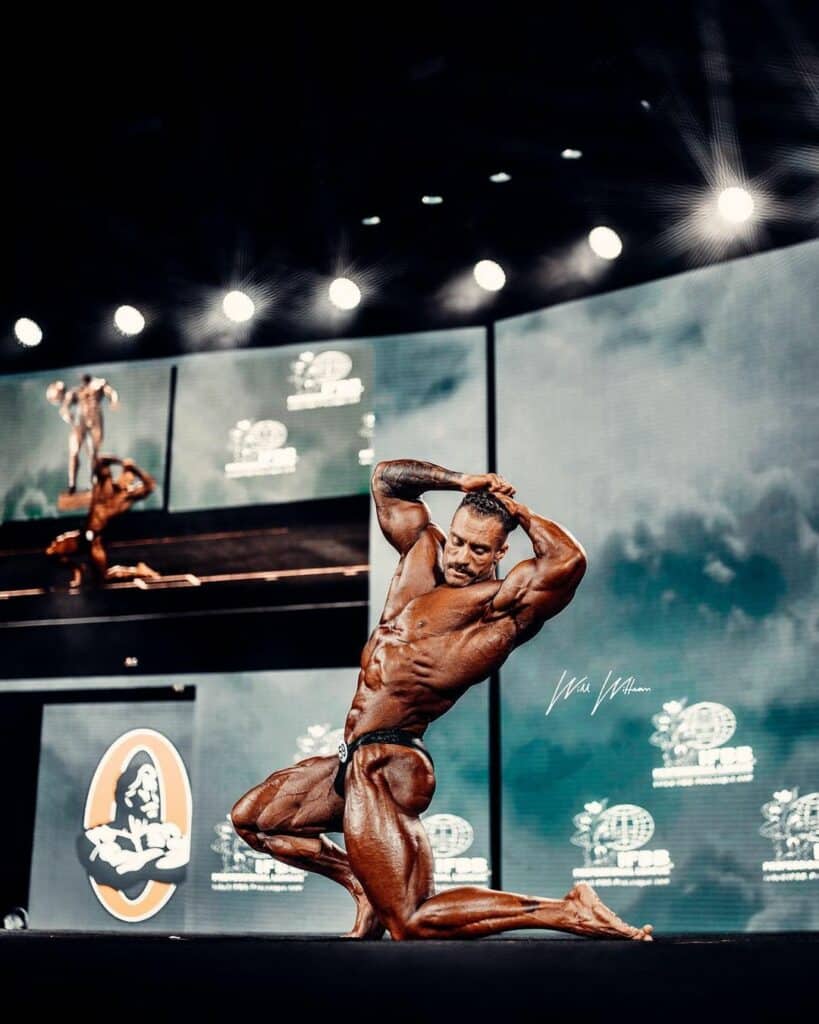 Credits:@cbum
Typically most bodybuilders end up tweaking their training routines for many reasons and it often depends on their goals and if they have an off-season, contest prep, or to change things up to prevent boredom. 
An example of one of his splits looks something like quads and arms and then shoulders, hamstrings, back, and chest on their own days and he also uses drop sets and super sets in his training which are very effective muscle-building methods.
But here are a few of the exercises CBum's done recently:
Legs:
Arms and shoulders:
Back:
Chest:
Chris Bumstead Diet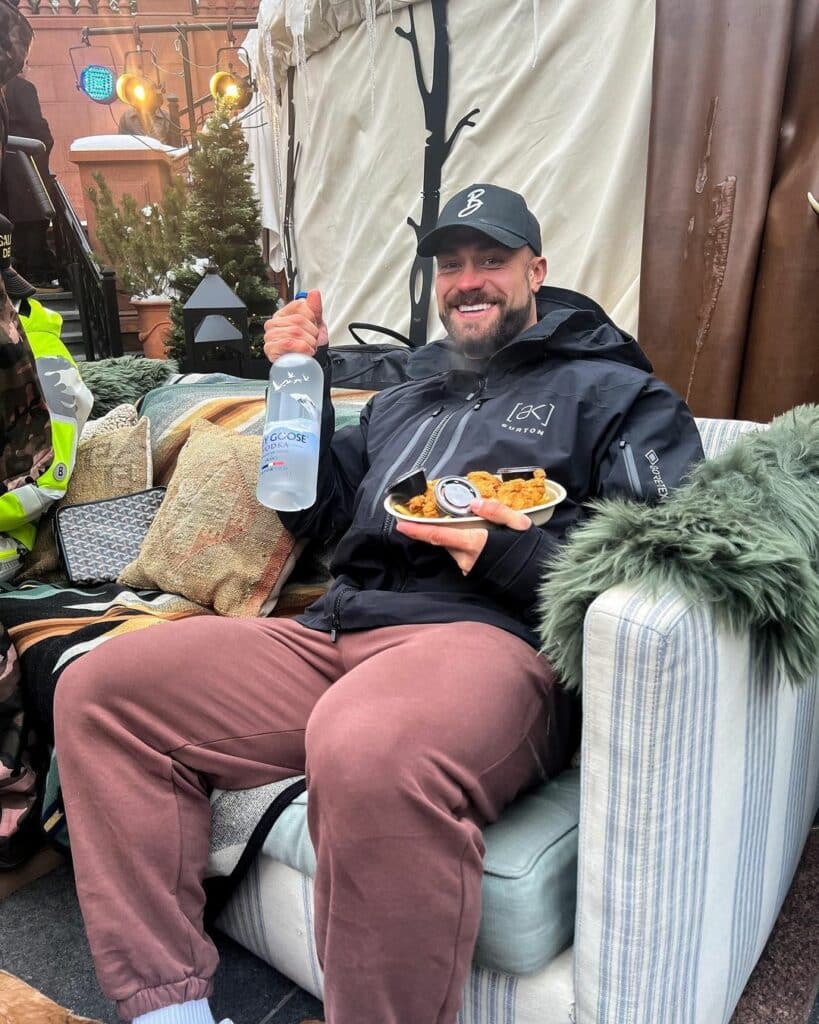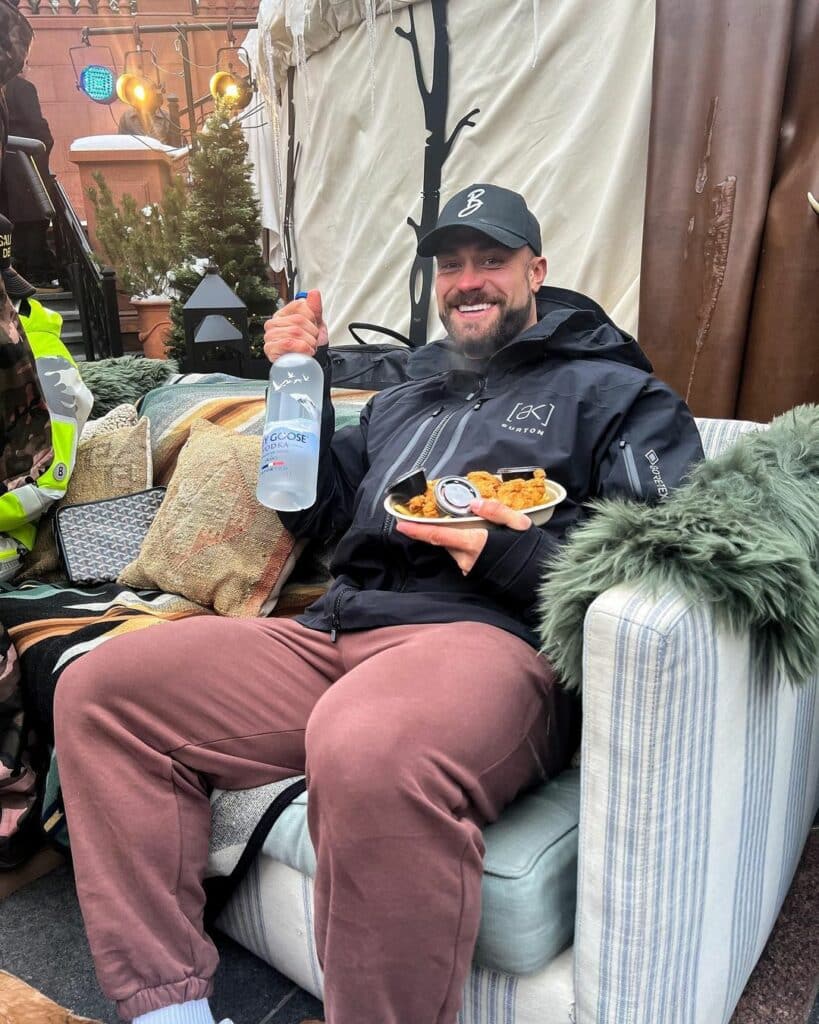 Credits:@cbum
Chris Bumstead is very precise when it comes down to his balanced diet plan and eats the same 7 meals a day leading up to a competition. The reason he goes into this contest prep phase is to help him determine what his body may need so he can make small changes with less error.
The 7 meals look a little like this:
Meal 1: 1 ½ cups egg whites, 2 whole eggs, and 1 cup oats
Meal 2: 8 ounces chicken, 1 cup jasmine rice, and 11 ounces mixed vegetables
Meal 3: 8 ounces white fish, 7 ounces sweet potato, and 11 ounces mixed vegetables
Meal 4: 7 ounces white fish and 2 cups jasmine rice
Meal 5: (Post Workout Shake) 50g 100% whey Isolate mixed in water
Meal 6: 8 ounces Chicken, 6 ounces sweet potato, 2 ounces broccoli, and 2 ounces asparagus
Meal 7: 2 ½ cups egg whites, 3 whole eggs, and 11 ounces of mixed vegetables
Though don't get us wrong, just like any normal person, he has cheat days too.