If you're looking for a way to get a full-body workout without leaving the comfort of your own home, then the Concept 2 Model E rowing machine might just be the answer. Designed with both the casual home exerciser and professional athlete in mind, this machine offers a range of features that make it stand out in the crowded world of fitness equipment.
From its sleek, durable design to its intuitive and easy-to-use interface, the Concept 2 Model E is a rowing machine that delivers on both form and function. Whether you're a seasoned rower or just getting started, this machine has everything you need to reach your fitness goals and achieve a new level of physical health and wellness.
To help you choose the best rower, we've prepared for you a Concept 2 Model E review. So, if you're ready to take your fitness to the next level, let's dive in and explore everything that the Concept2 Model E rowing machine has to offer.
In A Hurry? Here's The Main Specs
Product's name
Great Product Overall

Concept2 RowErg Indoor Rowing Machine with Tall Legs - PM5...
Verdict
The Concept2 Model E is a versatile and well-built rowing machine that is suitable for a wide range of users, from beginners to more advanced athletes.

Maximum User Weight
500 lbs
Resistance Type
Air resistance
Warranty
Frame: 5 years from the date of purchase
Monitor and moving parts: 2 years from the date of purchase
Footprint
Length: 96 inches (244 cm)
Width: 24 inches (61 cm)
Seat Height: 20 inches (51 cm)
Machine Weight: 65 lbs (29.5 kg)
Price
$$
Learn more
See at Amazon
Why Trust BoxLife?
The BoxLife team is the real deal when it comes to exercise experience. We've worked out on so many rowing machine brands that we've lost count! As fitness fanatics, we're obsessed with machines that provide safe and comfortable exercise because we definitely don't have time for injuries. That's why we approach rowing machines with a critical eye and a deep appreciation for the little things – like motors and comfort features.
We're all about pushing ourselves to the limit, so we've done our homework to make sure we know exactly how far we can go on any machine. With all our experience, knowledge, and research, we've put together this ultimate Concept 2 Model E review to help you decide if this is the right rowing machine for you.
Best Rower for Beginner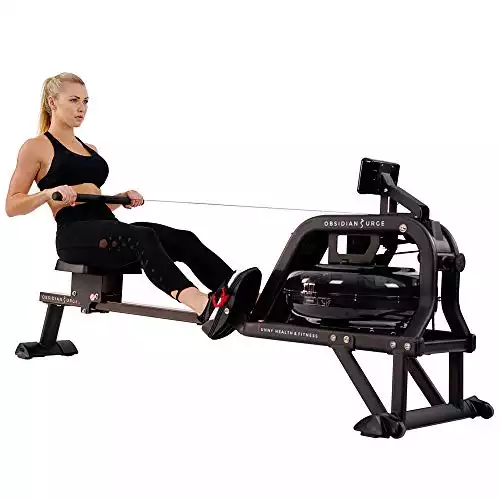 Who Is This Guide For?
Looking to take your workout game to the next level? The Concept2 Model E rowing machine is the answer to your fitness prayers. Whether you're an elite athlete looking to smash your personal bests or a newbie fitness enthusiast eager to improve your health, this machine will help you smash your fitness goals in no time.
The beauty of this rowing machine is its sturdy frame. It's a dream come true for those who are carrying a bit of extra weight and need a reliable machine that can handle it. With its robust design, the Model E can take all the active use you can throw at it, providing a rock-solid base for intense workouts day after day.
How We Graded This Product
After conducting thorough research and analysis, we've created a comprehensive Concept 2 Model E review. To ensure an objective evaluation, we scoured various sources, including social media, online retailers, and fitness forums, to gather feedback from existing users.
Our research included examining the product's consumer ratings on Amazon, Rogue Fitness, and Titan to gain a real understanding of its performance and get to know its appealing features. To grade this indoor rower, we evaluated it based on the following criteria:
Design and Stability – We assessed the durability of the machine to ensure it can withstand intense workouts without breaking down or tipping over.
Resistance Level and Performance – We examined the efficiency of the rowing resistance method used by the Concept2 Model E and how it performs in real-life situations. We evaluated how easy it is to adjust or switch up the level of resistance and whether it offers a steady and consistent performance for every stroke rate. Having a comfortable rowing stroke is of utmost importance.
Fitness Technology – We considered the fitness technology included with the Concept2 Model E, such as companion apps that track workout data and allow customization of routines.
Ergonomics – We evaluated the design of the machine and took into account the contoured and padded seat, the adjustable footrests, and the ergonomic handle – all of which can help ensure proper posture during use.
Cost – We analyzed the current price of the Concept2 Model E compared to its competitors to determine whether it has a fair price and determine its value in the market.
By considering all of these factors, we can offer you a comprehensive and objective Concept2 Model E Review.
The best, most standard Rower
The Concept2 Model E Indoor Rowing Machine is an exceptional piece of fitness equipment that offers a complete body workout suitable for people of all fitness levels.
Concept2 is a reputable rowing machine company based in Vermont which has been manufacturing fitness equipment since 1976. The Model E Indoor Rower is no exception and comes with a decent warranty, making it a reliable choice.
The Concept2 Model E Indoor Rowing Machine is an exceptional piece of fitness equipment that offers a complete body workout suitable for people of all fitness levels. Its flywheel design guarantees a smooth operation with minimal noise, while its portability makes it easy to store and move around. Let's take a look at some of its amazing features.
Computer Features
The PM5 Performance Monitor on the Model E rower offers a range of impressive additional features. It wirelessly connects with the included Garmin chest-strap heart monitor to help you achieve your optimal heart rate zone during workouts.
In addition to the standard display functions, the PM5 also includes fun games like racing against another rower or competing against your previous workout records to motivate you to improve your personal performance. The monitor also comes with a memory card that enables you to store and transfer your workout data to a computer or connect it to online apps.
Easy to Use
Despite its complex appearance, the Concept2 Model E is actually quite user-friendly. Users can assemble the two boxes in as little as 15 minutes, according to some consumer reviews. The 20-inch seat height makes it easy to get on and off the rower. This elevated height makes the rower more comfortable to use and provides a natural rowing motion.
The various computer features are also easy to navigate without referring to the instruction manual. With Model E, users can quickly set up their rower and start their workout without spending hours decoding the assembly instructions.
Built Well
Concept2 has established a strong reputation as one of the best manufacturers in the fitness industry over the years. Originally designed for use in commercial and heavy-duty settings such as gyms and military facilities, the Model E Indoor Rower has now been adapted for home use, while still maintaining its sturdy and durable construction.
This rowing machine is built to last with high-quality materials, and it comes with a solid warranty that ensures its functionality for a long time.
Why Is the Concept2 Model E Rower So Great – The Technical Part
The Concept 2 Model E rowing machine is 8 feet long and can be quickly divided into two parts without having to use any tools. The front caster wheels make it very easy to push the fan wheel out of the way and store it. Compared to Concept2 Model D, Model E has an elevated seat height of 6 inches, making it easier for seniors and people with limited mobility to get on and off the machine.
The balanced air flywheel on the Model E creates wind resistance, providing users with tension without any friction or wear and tear on brake pads or tension straps. The footrests come with straps that can be adjusted and used by people wearing shoe sizes 4-13.
Best Rower for Beginner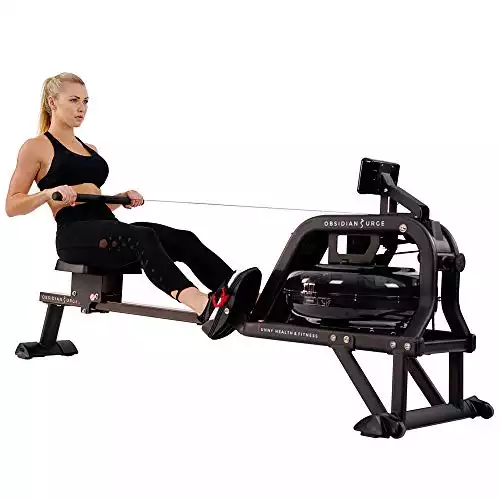 The chain housing on the Model E is fully enclosed, unlike the partially enclosed housing on the Model D. The spiral damper controls the airflow to the flywheel, allowing the user to adjust the feel of rowing from that of a fast, heavy boat to a light, sleek boat.
The PM5 is an excellent monitor which features readouts for Time, Distance, 500/m Split time, SPM, Calories, and more. It also comes with Bluetooth and ANT+ wireless technology, a feature that the previous PM4 and PM3 monitors lacked.
This enables users to wirelessly monitor their heart rate with greater accuracy and sync their workout data with the best fitness apps with the help of the free Concept2 ErgData app. This is an excellent way to track your progress and set fitness goals.
Pros
Suitable for in-home workouts
Hitting all major muscle groups and providing a good challenge
Easy to setup and use
PM5 Performance Monitor with great features
Wireless heart rate monitoring
Store and transfer workout data
Cons
Large size
Requires significant open space
Seat comfort
Fan noise
Key Specs
| | |
| --- | --- |
| Frame Length/Seat Height: | 95″ x 20″ |
| Machine Weight: | 65 pounds |
| Maximum User Weight | 500 lbs |
| Connectivity: | Bluetooth and ANT + capability |
| Transport: | Caster Wheels, Separating Frame |
| Warranty: | 5 years frame, 2 years electronics & moving parts |
| Price: | $1,110 |
Who It's Best For
The Concept2 Model E Indoor Rower is an excellent choice for anyone looking for a high-quality and durable rowing machine for home use. Its design and great additional features make it particularly well-suited for seniors or people with less mobility, as the additional height of the seat and easy assembly make it more accessible.
The rowing machine is also a great choice for anyone who wants a full-body, low-impact workout, as it provides an effective cardiovascular workout and engages multiple muscle groups at once. The various computer features and wireless technology also make it a good choice for people who want to track their progress and use fitness apps to enhance their workout experience.
Overall, the Concept2 Model E is a versatile and well-built rowing machine that is suitable for a wide range of users, from beginners to more advanced athletes.
The Buying Guide
To ensure a comfortable and effective workout, it's essential to check for certain features when shopping for an air-resistance rowing machine. Our experts recommend considering the following:
Noise level
If you plan to use your rower in an open space or apartment, the noise level can be an important factor.
Ease of maintenance
Machines with many detachable parts can be easier to fix than those with more complicated parts, like a chain and a fan.
Size and storage
Rowers can take up a lot of floor space, so it's important to consider whether the machine is easy to store out of the way when not in use and how the entire storage process would go. Your best bet is to look for a rower that can be stored vertically or one that can be folded.
Specific features
In addition to the above-mentioned features, consider the following ones when looking at air rowers.
Comfortable seat: The seat should be comfortable and fit your body well to avoid detracting from workout performance and focus. Always make sure to choose a comfortable rower, and if needed, look for air resistance rowers with an additional seat height, like the Model E Concept2 rower.
Adjustable foot straps: Straps should be adjustable enough to ensure a snug fit for your feet, especially if you have larger or smaller than average feet.
Dashboard stats: Look for a user-friendly dashboard or screen that displays basic stats, or opt for a more in-depth tracking option if you're looking to get a competitive edge or improve on specific rowing goals.
Available add-ons: Brands are constantly offering high-tech features as add-ons, such as bigger screens or monitors. If these are important to you, be sure to ask the company beforehand what they offer.
Built-in screen positioning: If your rowing machine comes with a built-in display screen, ensure it's positioned at eye level for comfortable viewing without compromising form.
Smart features: Preset workouts, custom workouts, streaming capabilities, Bluetooth headphone connection, Wi-Fi connection, and syncing with third-party apps or having compatible heart rate monitors, can significantly enhance the rowing experience for many consumers.
Frequently Asked Questions About the Concept2 Model E Rowing Machine
What is the difference between Concept 2 Model D and E?
The Concept 2 Model E and Model D are two different models of rowing machines produced by Concept 2, with some key differences:
Height: The Model E is approximately 6 inches higher off the ground than the Model D, making it easier to get on and off the machine. This extra height also makes it more accessible for people with mobility issues or injuries.

Monitor Arm: The Model E has a higher and more adjustable monitor arm than the Model D. This allows for better visibility of the performance monitor and makes it easier to adjust the monitor's position to suit your needs.

Aesthetics: The Model E has a more refined, high-end look than the Model D. It has a glossy, metallic finish and a sleeker design.

Price: The Model E is generally more expensive than the Model D, due to its larger size, improved monitor arm, and more upscale appearance.

Other than these differences, the two models have similar features and performance specifications, including the same spinning flywheel and damper level, and the same overall dimensions for the main body of the machine. Both models are also very popular and highly regarded by rowers and fitness enthusiasts, and either one would be a great choice if you're looking for a high-quality rowing machine.
When did Concept 2 Model E come out?
In August 2006, the Model E Indoor Rower was introduced by Concept2, in addition to the Model D. This rower includes a PM4 monitor, a 6-inches taller seat height for improved accessibility, a more robust frame, a double-coated finish for increased longevity, and a durable nickel-plated steel chain.
How long is Concept 2 Model E?
The Concept2 Model E is a rowing machine with a frame length of 95 inches (244 cm) and a seat height of 20 inches. It weighs 65 pounds and has a maximum user weight capacity of 500 pounds.
Is the Concept2 Model E rowing machine loud?
The Concept2 Model E rowing machine is considered to be relatively quiet. Model E Concept2 noise level depends on several factors, such as the user's rowing technique and the type of flooring the machine is placed on.However, the Model E is designed to have a smooth and quiet operation, and it is equipped with a flywheel and damper that help to minimize noise. Additionally, the machine's nickel-plated chain and enclosed chain housing also help to reduce noise. While you may still hear some noise when using the machine, it should not be overly loud or disruptive.