Thinking of starting rowing? It's a fantastic cardio workout, but choosing the right rowing machine can make or break your experience.
Choose the wrong one and you might end up hating rowing forever! But select the right one, and you could fall in love with the exercise and see amazing results.
So how do you know which one is going to be your new favorite exercise machine? That's what we're here for. We've put together a list of all the rowers you should consider if you want to buy the best rowing machine for beginners.
Our rower of choice is the Concept2 RowERG. It's one of the best rowing machines that has ever been designed, and it's considered the "gold standard" of rowers. It's a little on the pricier side, but you can't go wrong with it at all.
If you'd prefer to start with someone a little less elite, we've reviewed 7 different rowing machines below so you can find something that suits your budget, your space, and your fitness level.
Best Rower for Beginner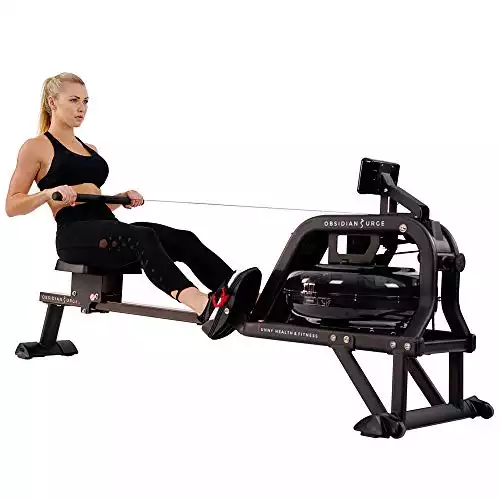 In a Hurry? Here are our best picks:
| Product Image | Product Name / Primary Rating / Primary Button |
| --- | --- |
| | |
| | |
| | |
| | |
| | |
| | |
| | |
Why Trust BoxLife?
The team at BoxLife is packed with extremely experienced CrossFit athletes. We've been rowing for years—decades, if you add our experience together! Between all of our team members, we've rowed on and experimented with almost every type of rowing machine on the market.
Which means we know all there is to know about these machines. We know how they feel, and which one feels the most like getting out on the water. We know which one works for which situations. And we know what to look for when it comes to buying a rower to meet your goals.
In addition to our rowing experience, we're accomplished researchers. Like all fitness enthusiasts, we're great at finding all we need to know on the internet, and we've put those skills to use in these reviews so you can make an informed decision.
Who Is This Guide For?
If you're building a home gym and looking for the best cardio machine to add to it (but you've never rowed before), this guide will be helpful for you. We'll delve into the details of each machine to help you understand what you should be looking for.
While we're specifically reviewing these rowers in the context of beginner rowers, they're all suitable for more advanced rowers too.
How We Chose the Best Rowing Machines for Beginners
All of us here at BoxLife are experienced rowers. We know what makes an excellent rowing machine, but we're also aware that new rowers may see things differently to us. Which is why we went out of our way to speak to beginner rowers and get their opinions on rowing machines.
We studied reviews on multiple different websites. Our team members spoke to rowing machine sales people. Some of us visited sporting goods stores to see what the store owners knew about the machines.
But we didn't stop there. We spoke to real new rowers on forum sites like Reddit, Quora, and others. We heard their thoughts, their opinions, and their concerns. Our own research and the experiences of others came together to help us choose the right machines for this guide.
How We Tested Them
Once we'd filled the spaces on this list with the best rowing machines for beginners, we set about testing them. Here are the features we focused on:
Resistance Type
Resistance Levels
Comfort
Floor Space
Cost
Our aim is to show you everything you need to know about each rower so you can choose the one that's right for you. Everything from performance to comfort to convenience falls under these features, so you'll be able to get a good idea of which rower might be best for you.
The Best Rowing Machine for Beginners – Our Top Picks
Best Overall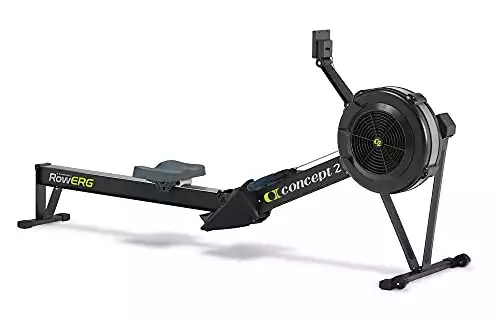 Concept2 Model D
While this rower falls on the higher end of the price spectrum, its exceptional build quality and comprehensive feature set make it a valuable investment for rowing enthusiasts.
Pros:
More affordable

High-performance monitor (PM5)
See at Amazon
See at Rogue
The Gold Standard, the elite, the one and only. All rowers, from beginners to elite athletes, know about the Concept2 RowERG. It's the best of the best, and has a surprisingly friendly price tag for its quality. Despite its reputation, it's an excellent choice for beginners.
Why We Like It
There's nothing NOT to like about the Concept2 indoor rowing machine. Firstly, it's of exceptional build quality, especially considering its competitive price tag. With aluminum front legs and monorail, plus steel back legs and seat rack, it can easily handle up to 500 pounds of weight and comfortably fit rowers up to 6'65" in height.
Secondly, every single rowing app out there is compatible with the Concept2, which is very convenient. You don't have to use an app, though—the built-in Performance Monitor 5 has built-in workouts and wireless connectivity so you can use your own heart rate monitor.
As well as workouts, it tracks an abundance of data, including time, distance, strokes per minute, calories, watts, 500m split time, and more.
It's also super comfortable. As well as the smooth, natural rowing feel of actual rowing, rowers can enjoy a contoured and ergonomic seat with extra padding, an ergonomic handle with sweat-absorbing rubber grips, heel rests, and spacious, flexible, non-slip pedals.
Like most air resistance rowing machines, the Concept2 has 10 damper settings to choose from. Whichever setting you choose, the harder you row, the more the resistance increases, making it great for rowers of all levels.
To cap it off, you can enjoy a five-year warranty on the frame and two years on the parts and electronics.
Pros
Gold standard rowing machine 
Exceptionally affordable for its quality 
Ergonomic design for high level of comfort 
 Perfect for rowers of all fitness levels 
Cons
The display can't be used for other kinds of entertainment
Noisy rowing machine
Key Specs
| | |
| --- | --- |
| Resistance Type | Air |
| Resistance Levels | 10 damper settings |
| Comfort | Excellent |
| Floor Space | 24″ x 96″ x 14″ |
| Cost | <$1000 |
Best of the Best
There's a reason Olympic rowers train on the Concept2. If you want an elite-level rowing machine for an extremely affordable price, you can't go wrong with this one.
2. Hydrow Wave – Best Magnetic Rower
Best Magnetic Rower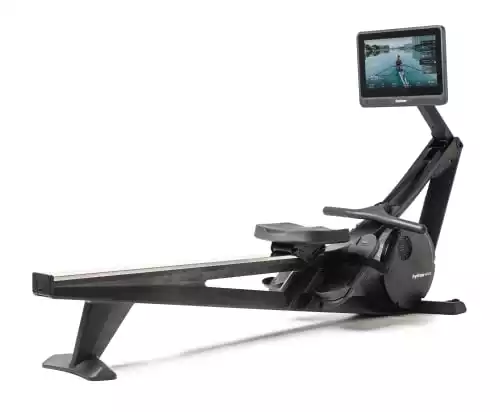 Hydrow Wave Rowing Machine
Those who love following along to online, instructor-led workouts will love the features the Hydrow Wave offers.
Best Rower for Beginner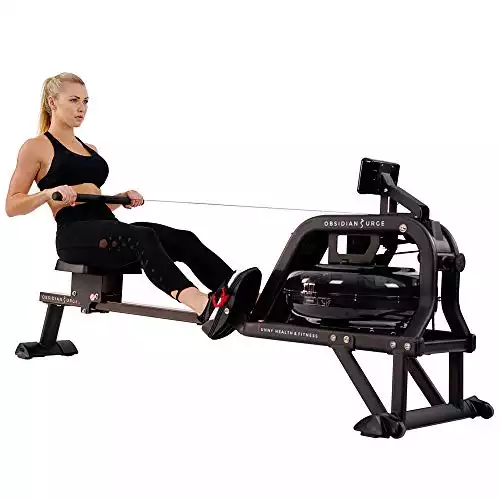 Pros:
Quiet enough for use without disturbing others in the house

Wi-Fi and Bluetooth-enabled
Cons:
Need to buy the $80 upright storage kit if you want to be able to store it
See latest price
Don't let the name confuse you—the Hydrow is a magnetic rower, not a water one. This makes it quiet and smooth, and if you're a fan of interactive features, you'll love this one, no matter what your level of skill.
Why We Like It
The Hydrow Wave is a sleek-looking rowing machine! It has a hollow body, but the design is still robust and weighs in at just over 100 lbs. This makes it easy to move around if you need to, but be aware that it's not going to be storable unless you shell out for the Upright Storage Kit (or make your own?).
One of the most notable features of the Hydrow Wave is its interactive app. If you sign up, you'll have access to thousands of on-demand rowing workouts, any time of day or night. Also, you'll have access to off-rower workouts as well.
It also provides an initial form-check, provided by an Olympic rower, Aquil Abdullah. You can find multiple video tutorials to help you perfect your form and understand your metrics, which is nice to see on an interactive rower instead of being all fun!
The screen is a spectacular 16-inch high-definition touchscreen, ideal for following on-screen workouts. Ever wondered what it would be like rowing the Thames on a cool, cloudy day? You can do that virtually with this app.
If you don't want the added features of the app, you can row freely without creating an account. But considering the higher price tag of this rower, if you aren't planning on using the app, you may as well buy the Concept2.
Just a note on resistance settings. The Hydrow uses a "drag factor scale" instead of your conventional resistance levels. It runs from 50 to 300, and can only be adjusted on the monitor. Play around with it to get a feel for it!
Pros
Quiet enough for use without disturbing others in the house 
Wi-Fi and Bluetooth-enabled 
Stunning 16-inch HD touchscreen 
Over 4,300 workouts on the app 
Cons
Need to buy the $80 upright storage kit if you want to be able to store it 
Monthly subscription needed to stream app workouts 
Resistance setting can be confusing 
Key Specs
| | |
| --- | --- |
| Resistance Type | Magnetic |
| Resistance Levels | 50 to 300 drag factor |
| Comfort | High |
| Floor Space | 80" x 19" x 43" |
| Cost | $1400 to $1700 (with financing options) |
For the Fans of Online Classes
Those who love following along to online, instructor-led workouts will love the features the Hydrow Wave offers. It's best suited to those with a higher budget and a willingness to pay a fee every month for the workouts.
Best Hybrid Rower
SOLE SR500 2020
This rower is a hybrid air/magnetic rowing machine, which offers the best of both worlds for beginners.
Pros:
Ability to adjust resistance on the handle

Includes heart rate training
See latest price
This rower is a hybrid air/magnetic rowing machine, which offers the best of both worlds for beginners. That means that although it's a little noisy, it isn't as loud as a proper air rower and it offers a smooth rowing motion thanks to the magnetic influence.
Why We Like It
The Sole Fitness SR500 is a high-quality hybrid rowing machine that's ideal for beginners. The smooth rowing stroke is great for beginners to get used to the feeling of rowing.
One of the things we really like about this rowing machine is that you can switch between the 16 resistance levels quickly and easily without even stopping your motion. On the handle, there's an up/down button, so you can easily add more or less challenge in the middle of your exercise.
It's built for comfort. The anti-slip pedals are able to be adjusted to 6 different positions to suit your comfort level, the handle is foam-coated and sweat-resistant, and the padded seat is gentle on the body.
It's longer and sturdier than most in its price bracket. At close to 100" in length, even taller users will find it comfortable. And with a weight capacity of 515 lbs, almost anyone can get on it for a workout. The seat also sits 20" off the floor, making it comfy for taller rowers to get on and off.
We like that there's a sizable 5.5-inch backlit screen that shows you all the data you need to know. There's also a tablet holder, so you can watch a show or follow along in your fitness app on your smart device.
You'll find 14 built-in programs in this rower; 12 standard workouts, 1 customizable program, and 1 heart rate program. You can also connect a Bluetooth heart rate monitor if you want to do heart rate training.
You can fold the Sole SR500 in half when you're finished your rowing session, and it becomes so narrow that it can slide under a bed or behind a coach quite easily.
Pros
Ability to adjust resistance on the handle 
Includes heart rate training 
5.5-inch LCD screen and tablet holder 
Higher seat makes it easy for tall rowers to get on and off 
Cons
Rower can be noisy 
Requires electricity to work 
Key Specs
| | |
| --- | --- |
| Resistance Type | Air & magnetic |
| Resistance Levels | 16 resistance levels |
| Comfort | Good |
| Floor Space | 97″ x 18″ x 38″ |
| Cost | <$1000 |
Best of Both Worlds
This hybrid rowing machine offers the best features of air rowers, with significantly less noise. However, it's much more budget-friendly than a regular magnetic rower, so this is an excellent choice for beginners on a budget who want a natural-feeling rower. Also excellent for taller and heavier rowers!
Best for HIIT Training
If you're a beginner but looking for a machine that can handle high-intensity workouts as you progress, this is the one for you. It weighs a solid 157 lbs, and a dual-chain belt-drive facilitates a faster recovery so you can up your stroke rate.
Why We Like It
The build quality of this rowing machine is exceptional. It's solid and strong, made of steel, has a leveling system, and has significant weight behind it. This makes it an excellent choice for HIIT workouts as it can stand up to the rigorous motion and handle a weight of up to 350 lbs.
It also features a HIIT-specific program in its built-in workouts. On the other hand, you can create a custom workout based on heart rate if you'd prefer, and the rower is Bluetooth-enabled so you can connect your own heart rate monitor.
It's important to note that this rowing machine doesn't have a damper, like most air rowers do. The resistance is entirely dependent on how hard you row, so you can't set it to any specific resistance level.
One of the things we like about this rowing machine is that the foot plates can be extended to fit all feet sizes. Considering it can accommodate tall users of up to 6'5", this is a handy function.
A comfortable handle, padded seat, and sweat-proof design creates a high level of comfort and hygiene. It doesn't fold, but you can stand it up to store it. However, its sheer weight means this may not be a great idea!
Pros
8 preload programs, including HIIT 
Bluetooth-enabled for HRM use 
Extremely durable and strong 
Adjustable-length pedals for all sized feet 
Cons
Louder than other rowers 
No damper on the flywheel 
Key Specs
| | |
| --- | --- |
| Resistance Type | Air |
| Resistance Levels | User-determined |
| Comfort | Great |
| Floor Space | 92" x 20" x 49" |
| Cost | From $1200 to $1300 |
HIIT-Worthy Rowing Machine
The robust build and carefully-created built-in programs on this machine make it excellent for rowers who want to add HIIT workouts to their repertoire. Comfortable workout experiences no matter the intensity!
Best Smart Rower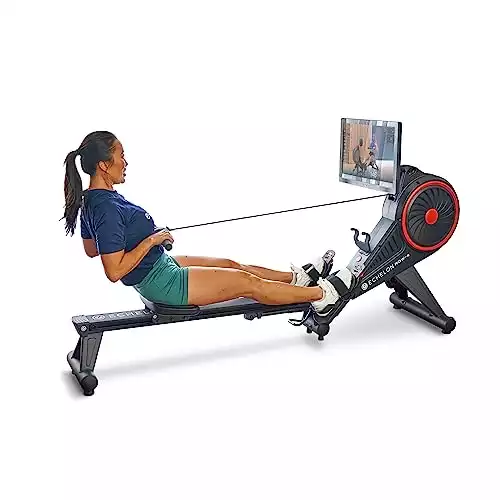 Echelon Row S
Love the 32 resistance levels. Smart functions make it more fun and versatile.
Pros:
Comes in 2 versions

Can stream Netflix, Hulu, and more
Cons:
Shorter length than many others
See latest price
Smart rowers can be one of the most fun ways to get an amazing workout in. It's not as comprehensive as some workout collections, but it's more than enough for beginners to progress and enjoy themselves while doing it.
Why We Like It
Upfront, it's important to note that this compact rower comes in 2 versions—the regular rower and the Row-S. If you choose the regular rower, you'll need to provide your own screen, but you can easily use a tablet or a smartphone. The Row-S comes with a superb 22-inch touchscreen, but an equivalent price tag.
It's also good to know first and foremost that to make the most of the smart features, you should sign up for an Echelon monthly membership. It's around $34.99 a month (a little less if you pay yearly), but it'll be the best way to make the most of this machine. The bonus is that you get multiple profiles under this membership.
One of the best things about this rowing machine is that it comes with a staggering 32 levels of resistance. You can even change the resistance on the handlebar, so you don't need to interrupt your row to make it more or less challenging.
Once you're logged into the app, you can take part in live classes led by high-energy instructors, choose from over 900 on-demand workouts, and even do non-rowing exercises like strength training, meditation, boxing, and more. You can also stream Netflix, Hulu, or Disney+ as you row!
Both machines have the same footprint—a compact design—and can be folded up to store it away safely. The selection of 2 rowers means there's something for all budgets.
Pros
Comes in 2 versions 
Can stream Netflix, Hulu, and more 
Adjust resistance on handlebars 
32 magnetic resistance levels 
Cons
Shorter length than many others 
Monthly membership for smart features 
Key Specs
| | |
| --- | --- |
| Resistance Type | Magnetic |
| Resistance Levels | 32 resistance levels |
| Comfort | Excellent |
| Floor Space | 20.47″ x 84.65″ x 43.7″ |
| Cost | >$2000 (Row-S), <$1000 (rower) |
Smart Rowing for Beginners
If you're considering a smart rower and don't want the full virtual reality experience, the Echelon Row Smart Rowing Machine is a good choice. It's suitable for beginners who enjoy the smart experience and have the budget for a smart machine.
Best Water Rower
WaterRower Natural
Beautiful design. Those looking for a water rower should definitely consder it i they have the budget.
Pros:
Attractive and inviting wood design

Natural feeling and soothing sound
Cons:
No adjustable resistance levels
See latest price
This stunning water rower is pricey but highly recommended for beginner rowers who particularly want the real-world water rowing experience and sound. Once you sit on this rowing machine and experience the realistic rowing simulation, you'll never go back!
Why We Like It
This beautiful rower looks like a piece of furniture. The water rower body is crafted from wood, giving it a natural and unique look. Aside from being an attractive design, it gives you a tranquil swishing sound when you row, both feeling and sounding like you're rowing on the real water.
It's got a serious 700 lbs weight limit, which makes it excellent for beginners who really want to lose a lot of weight. It uses a dual rail system which is quite sturdy, and features a comfortable seat with leg contours.
This indoor rower features basic workouts, plus 8 advanced onboard workouts. Beginners will find more than enough to help them progress, but it's also suitable for intermediate and advanced rowers as well.
The built-in screen is small, but you don't need anything more. You can store the rower upright when you're not using it.
Pros
Attractive and inviting wood design 
Natural feeling and soothing sound 
Multiple built-in programs 
Can be stored upright
Cons
No adjustable resistance levels 
Small monitor 
Low rail height may be tricky for some 
Key Specs
| | |
| --- | --- |
| Resistance Type | Water |
| Resistance Levels | User-determined |
| Comfort | Excellent |
| Floor Space | 82" x 22" x 21" |
| Cost | From $1000 to $1200 |
The Most Stylish & Comfortable Water Rower
You won't find a prettier or sleeker water rower than this. It's attractive and inviting, so if you're after a water rower, you won't find better than this! It may be a little out of the budget for some, but it's absolutely worth the price.
Best Budget Rowing Machine
If you're a beginner in the fitness world and you aren't sure if you're going to like rowing, we highly recommend the Sunny Health & Fitness SF-RW5515. It's a magnetic resistance rower so it's silent and has a smooth rowing action.
Why We Like It
This is one of the best rowers you can find under $500, which makes it perfect for beginners who are budget-conscious. 8 resistance levels are enough for beginners to have some space to progress, but not suitable for intermediate or experienced rowers.
An LCD screen displays all the data you need to know without being overwhelming. Time on the rower, calorie count, and stroke count.; no distance, though! The calorie count may be inaccurate as there's no way to calibrate to your own body measurements.
Even though it's a budget rower, it's sturdy and can handle up to 250 lbs of weight. The rail is close to 7 feet long, which means even tall people can row comfortably. A comfortable seat and padded handles make it comfortable for anyone to use.
Surprisingly for a budget rowing machine, this rower has a decent warranty. It comes with a 3-year warranty on the frame and a 180-day warranty on parts.
Pros
High-quality for its price 
Very quiet, ideal for home  use 
8 magnetic resistance levels 
Good warranty for a budget machine 
Cons
Beginners may outgrow this machine eventually 
No built-in workouts 
Key Specs
| | |
| --- | --- |
| Ease of Use | Magnetic |
| Resistance Type | Magnetic |
| Resistance Levels | 8 resistance levels |
| Comfort | Excellent for its price |
| Floor Space | 82" x 19" x 23" |
| Cost | <$500 |
Best Beginner Budget Machine
Complete beginners on a budget (or who aren't sure they'll like rowing) should seriously consider this machine. It's an excellent rower for beginners to learn on and can accommodate their progress as they learn.
Buyer's Guide: How to Choose a Rowing Machine For Beginners
If you're new to rowing, it can be a bit intimidating to start comparing rowing machine models. There's a huge variation between rowing machine types and models. If you're shopping, it's worthwhile knowing what to look for so you can choose something that's perfect for you and your needs.
Resistance Type
All rowing machines serve the same purpose, but not all resistance types are equal! Here's what you'll be able to choose from:
Air: Powered by a large fan flywheel that generates air resistance. Natural rowing feel, but noisy. Resistance increases the harder you row. Easy to change the resistance level, using a damper.
Magnetic: A flywheel uses magnets to create tension, creating resistance. Very quiet and fairly smooth. Easy to change the resistance level.
Water: Rotor blades in a tank of water create resistance, which increases the harder you row. Feels extremely natural and sounds like being on the water! Not easy to change the resistance level.
Hybrid: An air/magnetic cross. Provides excellent resistance and a smooth feeling, but is a little on the noisy side.
Hydraulic: The most affordable rowers. Hydraulic pistons provide the rowing motion, which is often jerky and the least natural of all rowers.
Price
Price varies immensely across the different types of rowers. Hydraulic machines can start at around $100, with more advanced rowers going for $2000 to $3000 and above! Water rowers are the most pricey, followed by air rowers and magnetic rowers.
It's a good idea to do some specific research based on the type of rower you want. While you can find more affordable options of each type of rower, basing your choice on budget alone isn't always a good idea.
Lower-priced machines are often a sign of poor build quality, lower-quality materials, a high noise level, or other potential problems.
Frame Construction
A solid, sturdy frame lasts for a long time. Nobody wants to replace their rower after a few months! Look for a rower made of solid material like steel, so that you can be guaranteed of strength and many years of use.
If you're looking at water rowers, some of them are made of wood. The WaterRower—the gold standard water rower—comes in versions of ash, cherry, oak, and walnut wood.
Make sure the rower is sturdy on the ground and stands on the ground in a stable way. Instabilities in the frame can indicate a lower-quality rower.
Monitor
Monitors can vary immensely. Cheaper rowers will most likely have very basic screens that show a few metrics, including strokes per minute, training time, and possibly pace.
More expensive rowers may have color screens, show more metrics, and allow for more interactive use.
Foldability
If you live in a small apartment, a hydraulic rower is an excellent choice. But you don't need to be limited to that type of rower—most other rowers are foldable so you can store them easily when you aren't using them.
It's important to note that foldable rowers, although built to be rugged, might have a slightly weaker frame than those that are stored upright. In most cases, the build quality is still good enough for you to use for many years, as long as you take care when folding and unfolding the machine!
Noise
If you live in an apartment with other people, it's a good idea to choose a rowing machine that's quiet. That way, you can row any time of day or night without disturbing anyone!
Magnetic rowers are the best rowing machine for beginners if you want something fairly silent. However, they're also a little more expensive than others. Air rowers are the noisiest of all rowers, and water rowers also make a sound but it's a more soothing flowing-water kind of sound.
Warranty
A great warranty is an indication that the manufacturer is confident in their workmanship and knows that the machine is of high quality. It also gives you some peace of mind in case something does happen.
Many rowers offer a lifetime warranty on the frame, so this is the standard you should look for. Parts usually have a 3 to 5-year warranty, 2 years or so for electronics, and a one-year labor warranty is normal.
We advise staying away from any rower that doesn't offer a good warranty, as it's a sign of a machine made from low-quality materials.
FAQs
What Are The Benefits of a Rowing Machine? 
Rowing machines have multiple benefits. Here are some of the benefits you can expect when investing in a rowing machine: 
– Excellent cardiovascular workout 
– Builds multiple large muscle groups 
– Small footprint can fit in apartment spaces 
– Many are foldable for easy storage 
– Available at multiple price points 
Can Rowing Be Dangerous? 
Rowing can be dangerous if you're using the incorrect form. As a beginner, learning how to use proper rowing form is essential if you want to remain injury-free and progress quickly. 
If you start rowing without paying attention to your form or try to push yourself too quickly, you'll be at a high risk of injuring yourself. Don't fall into this trap—take the time to learn the proper form from the start so that your muscle memory develops with the right form! 
How Much Does a Rowing Machine for Beginners Cost? 
The cost of a rowing machine for beginners depends on many factors. For example, hydraulic rowing machines are the most affordable you can find, ranging from $100 to $600. A quality magnetic rower will cost you $500 or more, and water rowers will cost you even more. 
Ultimately, it depends on your budget and if you have a preference for a particular type of rowing machine. You can expect to pay anything between $100 and $3000, so it's a good idea to do your research!